Whether you're planning on going hiking or your baby just loves to be held, a baby backpack can take the strain off your arms and free up your hands. Outdoor companies understand that taking your children out in nature can be difficult. Thanks to modern technology, you can enjoy an ergonomic kid carrier that comes with dozens and dozens of features.
We reviewed dozens of baby backpacks to identify the best of the best. We considered comfort, weight, ventilation, weight capacity, storage, customer reviews, and durability when selecting each harness.
After carefully reviewing dozens of products, the ClevrPlus Urban Explorer Baby Backpack rose to the top as the best backpack money can buy. It is lightweight and comfortable for both parent and baby. The straps and hip belt come with plenty of comfortable padding, and there is plenty of storage for diapers, changes of clothes, and changing pads.
The 5 Top-Rated Baby Backpacks
*Ratings are from Amazon at the time of publication and can change
Best Baby Backpack Overall: ClevrPlus Urban Explorer Baby Backpack
After careful review, we selected the ClevrPlus Urban Explorer Baby Backpack as our top pick. It is lightweight and comfortable for everyone involved. Because it is designed for extended use, the straps and hip belt come with plenty of padding. The lumbar padding, in particular, is designed to absorb shocks and extra energy, making the ride much smoother for baby and you.
This pack also comes with plenty of storage, so you can take whatever you need on your day trip. There are multiple different storage containers, allowing you to easily divide your belongings. A sun cover keeps your baby cool and dry during rain showers. Multiple safety belts and foot stirrups ensure that your baby doesn't move from a safe position and keeps them comfortable during the ride. A drool pad protects the carrier and gives your baby somewhere soft for them to lay their head.
This carrier is designed to be used for babies 9 to 48 months of age and can hold a maximum of 42 pounds. This is a bit more than most packs, so this one is especially suitable for those who plan on bringing lots of stuff with you. It comes with a one-year limited warranty as well.
ClevrPlus Urban Explorer Baby Backpack Key Features:
One-year limited warranty
Sun cover
Washable drool cloth
Lots of storage
Best Baby Hiking Backpack: ClevrPlus Cros Country Baby Backpack
For hiking, the ClevrPlus Cros Country Baby Backpack is a great option. It is designed to be used for long periods on rough terrain and is built to last out in the elements. There are a few different color options available, and most of them are unisex. The frame is very lightweight and weighs only 5 pounds in all. It is also very sturdy, with padded straps and a hip belt. The lumbar padding is designed to absorb energy while also allowing enough airflow to keep you cool. This bag also includes a large storage area. It is decently large and can hold a changing pad, bottle, diapers, sweaters, and smaller personal items, like your phone. With this backpack, no extra carrying back is necessary.
An included sun canopy keeps the sun and rain off of your baby. The safety belts and foot stirrups help keep your baby in a safe, comfortable position. Furthermore, a washable drool pad protects the exterior of the pack and provides a comfortable place for your baby to rest their head.
This carrier can be used for children between 9-48 months and has a maximum weight capacity of 3 pounds. It also comes with a one-year limited warranty.
ClevrPlus Cros Country Baby Backpack Key Features:
Designed to be used for children 9 to 48 months
One-year limited warranty
Sun canopy
Lightweight
Best Budget Baby Backpack: Chicco SmartSupport Backpack Carrier
The Chicco SmartSupport Backpack Carrier is both high-quality and inexpensive. It features lots of padding and has a high-adjustable seat, so you should be able to use it no matter your height. The 5-point harness ensures safety and comfort. It is very adjustable, ensuring that it fits you snuggly without rubbing. Furthermore, the harness also prevents the backpack carrier from coming loss. A canopy provides shade to both you and your child. It is also very adjustable, allowing you to adjust it based on your child's height.
The frame is made of extremely lightweight aluminum. The waist and shoulder straps are both padded, while the lumbar padding is designed to absorb extra energy and shocks. This feature makes the ride more comfortable for your child and prevents unnecessary back strain for you. The unique shape of the lumbar padding allows air to flow along your back, cooling you down and preventing unnecessary rubbing. The whole thing folds flat for secure storage and transportation. A kickstand makes loading and unloading very easy – even when you're by yourself.
This pack is designed to be used for children 17-40 pounds, which is approximately six months to 3 years. Of course, the weight of each child will vary quite a bit.
Chicco SmartSupport Backpack Carrier Key Features:
Padded lumbar support
Canopy for shade
Very adjustable
Lightweight aluminum frame
Best Baby Backpack for Toddlers: Toddler Hiking Backpack Carrier
If you're looking for something just for older babies, this Toddler Hiking Backpack Carrier might be a reliable option. It comes in a few different colors and is made out of oxford cloth, ensuring extra comfort for you and the baby. It is approved by the American Society of Testing Materials and can withstand the outdoor elements and daily use. The metal frame is very durable and lightweight.
We particularly liked this pack because of the very secure cocoon the toddler rides in. Compared to many packs, it is incredibly safe and offers two levels of protection to prevent falls. It also features an entirely retractable canopy that can keep the sun and rain off of your toddler.
The maximum weight on this pack is 50 pounds – one of the highest in the industry. The joints are adjustable, and a metal stand allows it to sit upright. The whole thing folds for secure storage and portability. This pack also provides a small amount of storage. It has one large pocket as well as a few smaller ones. The back pocket is an excellent option for diapers and other necessities.
A four-point safety belt keeps you comfortable and your baby safe. The safety belts and pads can be adjusted for maximum comfort.
Toddler Hiking Backpack Carrier Key Features:
50 pounds of weight capacity
Multiple pockets for storage
4-point safety belt
Detachable sun canopy
Best Ergonomic Baby Backpack: Luvdbaby Premium Baby Backpack Carrier for Hiking with Kids
The Luvdbaby Premium Baby Backpack Carrier for Hiking with Kids is designed with comfort in mind. It allows you to carry your baby on your back safely and comfortably. The entirety of the child seat is padded for safety and comfort. All the straps are padded as well to be as comfortable for the parent as possible. The carrier is completely adjustable and should be useable for a variety of different heights. It comes with a sun visor that is entirely removable and adjustable. However, it is not suitable for keeping your baby dry, as it is made out of a mesh – not a solid piece of plastic like some other options.
There are multiple pockets included for storage, including an insulated one for bottles and other beverages that need to stay cold. There is an unusually large pocket in the back that is perfect for diapers and changes of clothes. With this carrier, you will not have to bring along an extra one. The bag also comes with a free diaper changing pad that is foldable and fits into the large pocket very easily. It is washable with a damp rag or even a baby wipe.
Luvdbaby Premium Baby Backpack Carrier for Hiking with Kids Key Features:
Made of ripstop polyester
Lots of storage pockets
Extensive padding
Very adjustable
Who Should Buy a Baby Backpack
Baby backpacks are designed mostly for hiking and long walks. Your toddler can only walk so far, especially if the terrain isn't flat. However, that doesn't mean you have to wait to get out in nature until your baby is older. Outside time is crucial for children and one of their first introductions to science. It is in your and your child's best interest to get them out into nature as early and often as possible. Baby backpacks can help this happen.
This backpack-like carrying gear is designed to hold your child safely on your back while you're hiking. It is akin to a small seat attached to your back. YOU become the stroller. Most packs also come with plenty of storage room, so you won't have to bring an extra bag to carry all of your stuff. In other words, a baby backpack is all you need.
We recommend these excellent devices to the parents of toddlers. Even if you aren't hiking very far, they make getting out into nature much more comfortable. For shorter jaunts, or for alternative carrying options, check out The Best Baby Strollers or The Best Baby Carriers.
Important Features to Consider
A baby backpack should have a few essential features. Here's what to consider when selecting a baby backpack:
Safety. When your child is in a baby backpack, you cannot have your eye on them 24/7. They are on your back, after all. Because of this, it is essential that any baby backpack you choose be extremely safe. Not only should it have belts to keep your baby properly in the seat, but it should also be free of any potential suffocation hazards.
Durability. Your baby backpack is likely going to be out in the elements a lot. Even if you aren't using it every day, these carriers are put through a lot every time they are used. They must be made out of durable materials. They'll be dragged through forests and rainstorms. Plus, they'll have the usual baby messes to deal with as well.
Lightweight. You are going to be carrying the backpack on your back along with your baby, so the backpack must be as lightweight as possible. Otherwise, you may find yourself having difficulties carrying it for long periods. We highly recommend choosing a backpack with a lightweight frame that only weighs a few pounds at most.
Style. This isn't going to be important for all of our readers. However, since you are going to be carrying the bag around, you should try to choose a bag that you like. This will matter to some more than others. If you're someone who cares about style, be sure to choose a bag that comes in color and design that you like.
Storage. You cannot carry a baby backpack on your back alongside another bag. So, it is vital that the backpack also has enough storage for all your necessities – like diapers and bottles. This is where bags begin to differ from each other. Some only have a few small bags for personal items, like your phone and keys. Other bags have multiple large storage containers for you to use. Debate your own storage needs and choose a bag that can carry everything you need to take with you.
Frequently Asked Questions
What is a baby backpack?
A baby backpack is a type of carrier that goes on your back. It differs from a common carrier in that it contains a full seat for your baby, as well as various storage pockets to carry your gear. It is not made to be worn around the house. Instead, these backpacks are often used on hikes, where a long-term solution for carrying your baby is necessary.
What age can you put a baby in a backpack?
This varies depending on the exact bag you purchase. However, the lowest age you'll likely be able to find is six months. Babies need to be sitting up by themselves before you put them into a backpack since there is often not very much support to keep your baby upright.
How do you wear a child carrier backpack?
The exact instructions depend on the bag you purchase. Typically, you can find videos online of people putting on the specific bag you decide to purchase. These videos will help you figure out how to put the bag on.
In most cases, though, the concept is pretty simple. There are usually shoulder straps and a hip strap at the very least, though some bags come with other straps as well. You simply position the bag on your back and then buckle your straps. An adjustment will probably be necessary if this is the first time you have worn the backpack.
How much does a baby backpack cost?
Usually, you'll pay somewhere between $100 to $200. One significant component of the cost is how much storage the bag comes with.  More storage is typically going to drive the price up. You can find backpacks with lots and lots of storage for just under $200 and bags with hardly any storage for just over $100.
The material and frame design also have an impact on the price. Those designed to hold more weight are typically going to be more expensive.
Other Baby Backpacks We Reviewed
We looked at 20 other baby backpacks. Even though they didn't make our best baby backpack list, they're the best of the rest, and each is still an excellent option for your baby. The information you'll need to compare each one is including with the listing.
 Baby Hiking Backpacks
ClevrPlus Canyonero Camping Baby Backpack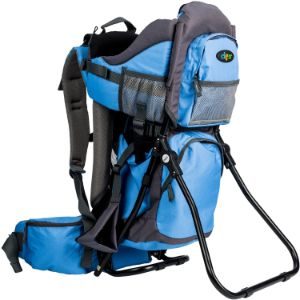 This carrier is made by ClevrPlus, one of the top baby backpack makers on the market. It is made of strong and durable materials to ensure it lasts through extensive use.
Key Features:
One-year warranty
Waterproof
Max weight capacity of 42 pounds
Cost: $140
ClevrPlus Deluxe Baby Backpack for Hiking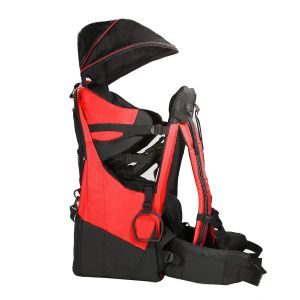 This carrier is lightweight and comfortable with extra-large storage compartments for longer trips. It has a sun canopy that also functions as a rain cover to keep your baby dry and protected.
Key Features:
Max carrying weight of 33 pounds
One-year warranty
Extra-large storage areas
Cost: $95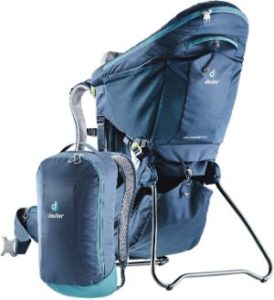 With unparalleled ventilated mesh, this carrier keeps both you and your baby cool. It comes with many different pockets to hold all sorts of belongings.
Key Features:
Color-coded buckles
Efficient straps
Designed for comfort
Cost: $290
Kelty Journey PerfectFIT Elite Child Carrier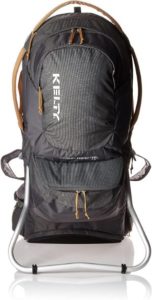 With a 5-point safety harness and a padded aluminum roll cage, this is one of the safest carriers on the market. It also has a reservoir sleeve that can be used by both the child and the parent.
Key Features:
Integrated sunshade
Suspension system for comfortable rides
Reservoir sleeve
Cost: $225
Kelty Journey PerfectFIT Signature Series Child Carrier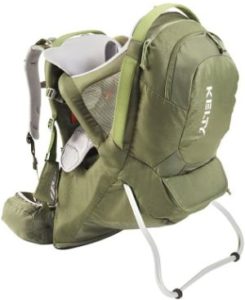 With a broad seat base and adjustable foot stirrups, this carrier is extremely comfortable. It comes with multiple grab handles for moving the carrier around when it isn't strapped to your back.
Key Features:
Integrated sunshine
5-point safety harness
Zippered hip belt pockets
Cost: $195
This carrier comes with a washable and removable drool pad and has a max carrying capacity of 48.5 pounds. It has an external hydration sleeve and various storage compartments.
Key Features:
16 to 48.5 pounds carry capacity
Adjustable torso
Washable
Cost: $289
Osprey Poco Plus Child Carrier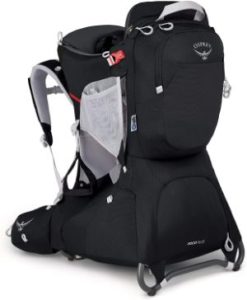 This deluxe child carrier comes with a double halo child harness and adjustable foot stirrups. It has a lower zippered compartment and an external hydration sleeve.
Key Features:
Built-in sunscreen
16-pound to 48.5-pound capacity
Adjustable
Cost: $330
 Baby Backpacks for Toddlers
This pack is designed specifically for women and active children, including toddlers. It is very adjustable and comes with the VeriQuick back length adjustment system for extra comfort.
Key Features:
Plush
Machine washable pats
Back length
Cost: $179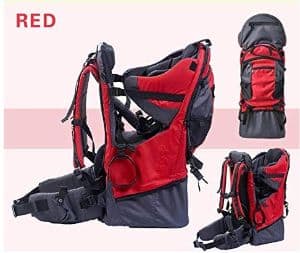 With ample storage areas, this baby backpack is perfect for longer trips. It includes an ultra-comfort carrying system and a waterproof cover.
Key Features:
Lightweight
Lots of storage
Adjustable
Cost: $110
Lillebaby CarryOn Airflow 3-in-1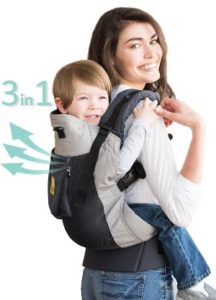 This comfortable carrier is perfect for shorter trips. It carries children 20 to 60 pounds, allowing it to carry much bigger children than most others on the market.
Key Features:
Hands-free
Made explicitly for growing toddlers
Holds up to 60 pounds
Cost: $150
Piggyback Rider Scout Standing Toddler Carrier
This carrier is for older children who would like to stand while they ride. We especially liked this carrier because it is easy for children to get off and on, which is perfect for toddlers who love to explore.
Key Features:
Perfect for youngsters who like to explore
For children over 25 pounds
Many accessories available
Cost: $105
Made specifically for older children, this is a suitable option for older toddlers. It is minimalist and features a unique buckle system.
Key Features:
Easy to use
Meets CPSC standards
25 to 80 pounds
Cost: $300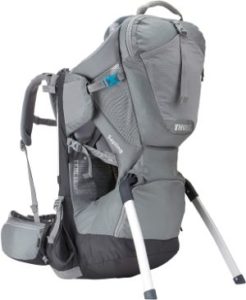 This carrier is designed for both hiking and everyday use. It has two quick-access pockets and a hip belt to keep toys within reach.
Key Features:
Quick and simple adjustments
Load stabilizer straps
Fully adjustable
Cost: $225
Thule Sapling Elite Child Carrier Backpack
This premium carrier comes with a fully adjustable back panel and an adjustable hip belt for a perfect fit. It also comes with a removable backpack for longer excursions.
Key Features:
Plush
Height adjustable
Load stabilizer
Cost: $280
 Ergonomic Baby Backpack
With nine different carrying positions, this carrier is extremely versatile. It is ergonomic for both parents and baby. The 3D seat protects the baby's hips and provides plenty of support.
Key Features:
Cotton
Hip strap absorbs weight
3D seat
Cost: $46
Bebamour Baby Carrier with Hip Seat
This carrier can be worn in a variety of different ways, including on your back. It is made of cotton and polyester for plenty of breathability.
Key Features:
Large pocket for daily use
Can also be used as a waist bag
Very adjustable
Cost: $63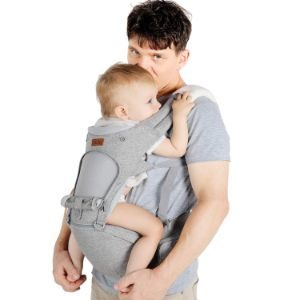 This carrier can be used in 6 different positions, including on your back. It has a secure structure to protect the baby's spine and comes with many practical accessories.
Key Features:
Two straps included
Suitable for all seasons
Six carrying methods
Cost: $40
Lictin Baby Carrier for Newborns
For newborns, this is a great option. It can be worn on your front or back and is made to protect a newborn's hips. It can be used up to toddlers.
Key Features:
Pocket breathability window
Great for all seasons
Ergonomic designs
Cost: $29
Lillebaby Complete All Seasons
With six different carry positions, this baby carrier can also be worn on your back. The zip-down front allows you to adjust the breathability for the season and keep your baby warm in the winter.
Key Features:
Six different carrying positions
Hands-free
Large storage pocket
Cost: $99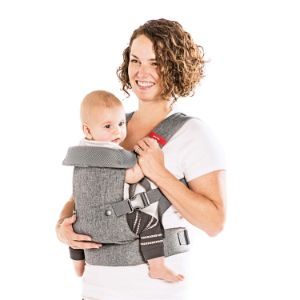 This carrier can be used in four different positions. It is designed for everyday wear as well as hiking, making it extremely versatile. It is very adjustable and should fit most parents.
Key Features:
Four different ways to carry
Comes with a bib
8-32 pounds carrying capacity
Cost: $30