The ease of feeding your baby, for a lot of parents, comes down to the quality of the bottle. You may not even start out with the intention of bottle feeding but would rather nurse – it's always good to be prepared, and with a baby, that rings even more true. If the mother chooses to formula feed, breastfeed, pump, or some combination of these methods – a bottle is always useful to give the baby the versatility of options.
We reviewed dozens of baby bottles to identify the best of the best. We found bottles that make weaning easier and those that will help your little one transition better from breast to bottle and back again. We looked at bottles best for colic and bottles with different flow speeds. No matter what you're looking for in a baby bottle, we have the right one for your little one.
Early in our research, we determined there was a clear winner of our top spot. The MAM Easy Start Anti-Colic Bottle has a venting anti-colic nipple that, combined with the price point gives an incredible value that you're sure to appreciate.
The 5 Top-Rated Baby Bottles
*Ratings are from Amazon at the time of publication and can change
Best Baby Bottle Overall: MAM Easy Start Anti-Colic Bottle
The MAM Easy Start Anti-Colic Bottle is designed with an elongated nipple that helps your baby both adjust to a nipple different than the breast and to minimize the effects of colic, as well. The air valves prevent the nipple from collapsing and allows milk to flow to your baby evenly. This will prevent unnecessary gas and reflux and any parent that's been through that knows that's a huge perk. The nine-ounce bottles are also offered in a variety of colors, so you can make the bottle a gender-neutral one, making it one of the few things you can buy before you find out the gender.
This bottle boasts a 94% acceptance with babies, and that's a big number to celebrate. And if you appreciate that kind of positive number, you'll also be pleased to see the reviews and ratings. There are over 1,300 customer reviews for these bottles on Amazon, and it has an impressive overall rating of 4.8 stars! That's enough to convince anyone of the quality of this bottle.
MAM Easy Start Anti-Colic Bottle Key Features:
BPA-free
Includes 3 bottles, lids, and medium flow nipples
6 color options
Best Baby Bottle Graduate Set: Dr. Brown's Options+ Baby Bottles Pink Gift Set
The Dr. Brown's Options+ Baby Bottles Pink Gift Set has all you'll need to feed your baby from birth to toddler. Not only will it give you smaller bottles (4-ounce size) for immediate, newborn use, but it also has the larger bottles (8-ounce) for older babies, and a supply cup to help with the transition away from bottles entirely. They also provide a teether and bottle brush, so you're also covered for cleaning the bottles (though the bottles are dishwasher-safe if that's your preference) and the pain of teething.
You can use the bottles with or without the inner, anti-colic vent system that will reduce spit-up, colic, and gas. Though it certainly can only give you added benefits, you may still be comforted by the thought that you don't need the extra pieces – so you can still use these bottles, even if you misplace the inner vent. The nipples that come with the set are broken into two different speed levels so that your little one will get more milk faster, when that's an age-appropriate milestone. The set really has thought of everything in the bottle graduating process.
Dr. Brown's Options+ Baby Bottles Pink Gift Set Key Features:
Includes (3) 8-oz bottles, (3) 4-oz bottles, sippy cup, bottle brush, and teether
2 color options
Bottles and teether are dishwasher-safe
Best Budget Baby Bottle: Evenflo Feeding Classic Clear Plastic Standard Neck Bottles
The Evenflo Feeding Classic Clear Plastic Standard Neck Bottles are exactly the kind of bottle you think of when you picture a baby bottle. They're a "traditional" design, and that design is a classic for a reason – it works! It simulates a nipple, and with the patented micro air vents will help prevent the nipple collapsing and your little one from building up extra gas. They come with lids, and that makes them ultra-portable.
Let's be honest; babies are expensive. Diapers, wipes, formula – it adds up fast! And when you can cut a cost, you will definitely want to consider that as an option. Though you may find your baby is a picky sort who won't allow you to choose bottles as you see fit, there's an equally good chance your little one is going to latch just as easily to these bottles as any other. And when these bottles are less than a dollar each, it's worth a try, to be sure! And if you're only planning on bottle-feeding your little one on the rare occasion, then why would you want to spend a fortune on the rare occurrence?
When it comes to numbers, these bottles have plenty to brag about – They have over 2,000 customer reviews on Amazon with an overall rating of 4.5 stars. Our favorite number associated with these bottles, though is the cost. You can get this set of twelve bottles, for right around $10! It's a total steal.
Evenflo Feeding Classic Clear Plastic Standard Neck Bottles Key Features:
Connects directly to most breast pumps
100% BPA, PVC, and phthalate-free
3 color options
Best Baby Bottle for a Newborn: NUK Smooth Flow Anti-Colic Bottle Newborn Gift Set
The NUK Smooth Flow Anti-Colic Bottle Newborn Gift Set has a nipple that your little one will be able to latch to easily – though it's not an exact replica of mother's nipple, it simulates it decently enough with the wide circumference that your little one's mouth will fit it perfectly. The nipple is designed ergonomically so that the flat of her tongue will rub against the flat of the nipple while the flow is released from the top holes. This means that there are a top and bottom of the bottle, and that may actually take out some of the guesswork for feeding. After all, if you know exactly how to put the bottle in your baby's mouth you won't have to wonder if she's struggling because you're doing something wrong.
We do want to take the time to mention that, though this isn't a graduate set if you're looking for a consistent bottle line that will make the transition to sippy easier, the NUK wide nipple bottles are excellent for this. When it comes time to move to the next developmental stage of drinking, you can use the same bottles and attach the bottle or top NUK brand handles (they come off for cleaning) so your little one can learn to hold his own cup. After they have a good handle (pun intended) on that, you can switch the bottle nipple to the soft silicone sippy nipple and the transition is seamlessly complete.
Over 500 people have felt strongly enough about this bottle set to come back onto Amazon and leave a review, and when they've given it an overall rating of 4.5 stars, that' plenty enough to convince us.
NUK Smooth Flow Anti-Colic Bottle Newborn Gift Set Key Features:
10 style options
2 size options
BPA free and dishwasher safe
Best Baby Bottle for Weaning: nanobebe Breastfeeding Baby Bottles Starter Set
Weaning your baby is difficult, both for you and for your baby. The nanobebe Breastfeeding Baby Bottles Starter Set makes the transition a bit easier on your little one (sorry, there's not much we can do to make the loss of that breastfeeding bonding easier on you – but if you're looking into how to make the transition easier on your baby – you're a good mom.) The nanobebe bottle is designed to simulate the nipple, size, and feel of a breast so that your little one is less likely to experience nipple confusion and more likely to latch right away. Along with a tight and easy latch will come fewer messes and tantrums as the struggle is less and less each time he uses the bottle. You'll still be able to hold him close, or you can allow others to feed him – this is especially helpful for dads who want to bond with feeding, too. Once your baby is used to not getting breast for his meals, then the transition is easier to other bottles, if need be, or to a sippy, even – depending on the age you're weaning.
With nearly 900 customer reviews on Amazon and an overall rating od 4.2 stars, there's plenty to suggest that your little one will struggle less with this bottle than he would with others. Just bear in mind that some babies handle change better than others, and if your little one is averse to change, this can definitely ease some of his anxiety during the switch.
nanobebe Breastfeeding Baby Bottles Starter Set Key Features:
Includes smart warmer, 4 bottles, 4 nipples, 2 pacifiers
Connects directly to most breast pumps with adapter
100% BPA, PVC, and phthalate-free
Who Should Buy a Baby Bottle
If you're pregnant and prepping for your baby's arrival, you'll want to make sure you have a stick pile of bottles. Whether you buy specific bottles yourself or you add them to your registry, bottles are a must-have item for your baby. That also means that if you're giving a gift to a pregnant woman, then a bottle is a useful gift you can be sure she'll use.
You may think that if your plan is to breastfeed you won't need a stockpile of bottles, and that's true – to an extent. The truth is that it's better to be prepared and having a backup plan for feeding your baby is definitely one of those things you'll want to consider. Because the last thing you want is to discover at 3 am that your milk supply is insufficient to feed your little one and you're without a way to feed him your backup method. Even if it's pumped milk you've kept in the freezer, a bottle is going to be how you give those nutrients to him.
If your baby has trouble latching to the bottle or has nipple confusion, you may need to buy more than one type of bottle. It may save you some time to have a couple types on hand, and that may very well be taken care of with the gifts from your baby shower. If it's not, then you should consider getting one or two high-end bottles, again, just in case.
Important Features to Consider
A baby bottle should have a few important features. Here's what to consider when selecting a bottle for your baby:
Glass. While most plastic bottles are now made with far more discerning materials, (no BPAs, phthalates, PVCs, etc.) the idea of heating plastic to make your baby's formula or milk the desired temperature for your little one still makes a lot of parents uncomfortable. Glass is a more durable bottle that you'll be able to run in the dishwasher and won't have to worry about any chemicals transferring to the milk contained within while you heat it.
Flow speed. Your baby will be more or less able to handle a faster speed flow from the bottle's nipple. You may find that a faster speed will keep your baby from getting frustrated when he's hungry and a slower one may be safer to prevent them choking on too much milk too fast.
Angle. If your bottle is at an angle, then the chances of the baby swallowing air are decreased, and that will go a long way towards minimizing your struggles to burp her. If your little one struggles getting those burps out after feeding time, then the angled bottle may be your best bet.
Colic. Thought minimizing the air swallowed will help with any kind of gas, colic isn't, unfortunately, that simple to prevent. There are several tips and tricks to make the colic of a baby less prominent in their day-to-day, but there aren't any universal eliminators. You may have luck minimizing the colic with a bottle that allows him to remain sitting upright while they eat, though.
Transitions. It's not unreasonable to expect your baby to have a favorite type of bottle, but there are some bottles that are designed to make the transition from breast to bottle and back again easier. If the bottle is wider with a larger circumference nipple, it's more likely to feel less drastically different from your baby when switching occurs. You may not want a bottle that is designed to too closely resemble the breast if you're trying to wean from breastfeeding entirely, but you can help that transition with allowing others to feed your baby or holding him a bit further away from your chest, as well.
Frequently Asked Questions
How long should a baby use a bottle?
Your baby will need to use a bottle to get the nutrition he needs when he's still classified as a baby. The American Academy of Pediatrics says you should wean before 18 months to avoid tooth decay and to avoid ingesting too much milk. (At that age they should be getting most of their sustenance from other foods.) At one, a baby can drink cow's milk rather than just breast milk and formula, so you'll probably be making the transition to that around the same time as you ditch the bottle. At one, they're capable of using a sippy and drinking without the bottle to help them. If you need something to help you remember, one old wives' tale says, "One and done (of bottles)."
What is the average cost of a baby bottle?
You'll see a pretty wide range in price for your baby's bottles. Though there are always exceptions to prove the rule, you should know that the "you get what you pay for" saying rings true with bottles. Bottles that are on the higher end of the cost range will inevitably be more durable, and more than that; they'll have more features – lids, ventilation, flow alternation, for example. All things considered, though, you'll find most bottles between $1 to $6 for each bottle.
How many bottles should I buy for my newborn?
How many bottles you want will differ based on your plan for feeding your baby. If you're planning on nursing exclusively, then you may not need as many bottles, but it may also mean that you'll need to buy a variety before you find the one that your baby can latch to without later being confused by the variety in bottle to breast. You can also count on getting too tired one night and slacking on the bottle washing, so running out of bottles may sneak up on you. The good news is that they are still making bottles, and you can always get more if you find you can use the buffer. You will probably want to start with at least five bottles, though. In the beginning, you'll stick to the four or five-ounce bottles, and then as your baby grows, you should move to the eight to ten-ounce bottles. If you're the planning sort, you could know that you don't really know when the eating will jump, so having the larger bottles on hand from the get-go may be clever.
Bottom line? We recommend having five to ten bottles when you bring your baby home.
What are the best bottles for colic?
We don't know the exact cause of colic – nor do we have a discernable cure. However, we do know things that make it worse and, alternatively, things that can help. Bad gas will exasperate the colic problem, and that means for a lot of babies, the colic can be helped dramatically by your choice in bottle. If you're looking for a colic bottle, you're looking for a bottle that minimizes the extra air swallowed while the baby eats. Something that will vent out air from the bottle will help, as will an angled bottle. Drop-in liners were once the best bet to make sure the baby gets no extra air, but in recent years, the venting has really proven to be the most effective.
Other Baby Bottles We Reviewed
We looked at 20 other baby bottles. Even though they didn't make our 5 best baby bottles list, they're the best of the rest and each is still a great option for your baby. The information you'll need to compare each one is included with the listing.
Baby Bottles for Colic
Avima 10 oz Anti Colic Baby Bottles
These narrow bottles will give you vented milk that provides even flow for your little one.
Key Features:
Includes 8 bottles, nipples, and lids
Medium-flow nipples
BPA, PVC, and phthalate-free
Cost: $25
Avima 12 oz Anti Colic Infant Bottles
These bottles will give you the same kind of vented nipple that prevents collapse, but in a wider design that your baby may appreciate as a more breast-like, and your older babies will like the greater capacity.
Key Features:
3 size options
Fast-flow nipples
BPA, PVC, and phthalate-free
Cost: $20
Philips Avent Anti-colic Baby Bottle with AirFree vent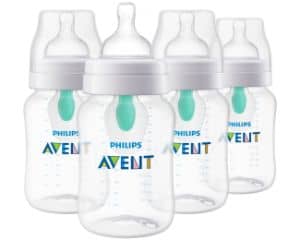 These bottles feature an AirFree vent that will keep the nipple full of milk until the very last drop to prevent gas.
Key Features:
9 oz bottles
3 packaging options
2 colors available
Cost: $25
Playtex Baby Nurser Bottle with Pre-Sterilized Disposable Drop-Ins Liners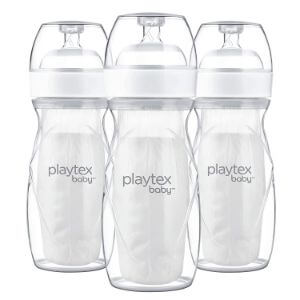 You can fill these bottles with a disposable drop-in liner that can come in handy not just to prevent the excess air blending with the milk, but also to minimize how many bottles you need to pack while you're out and about.
Key Features:
2 size options
Pre-sterilized for ready-to-use bottles
Liners warm fast
Cost: $10
Tinukim iFeed 9 Ounce Self Feeding Baby Bottle with Tube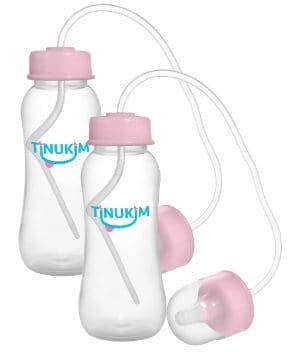 This may be the most comfortable (and therefore the preferred method for some babies) way to eat while sitting up to prevent the effects of colic.
Key Features:
2 sizes available
3 color options
BPA, phthalate, PVC, and lead-free
Baby Bottles with a Traditional Nipple
These bottles have a vent that allows your baby to have vacuumed milk or formula without any extra air being swallowed.
Key Features:
8 oz bottles
4-pack
Dishwasher-safe
Cost: $20
Evenflo Feeding Angled Premium Proflo Vented Plus Baby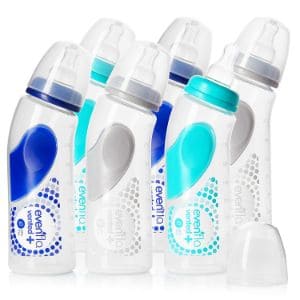 The angle of these bottles will allow you to feed your baby the last little bit of her meal, even when they're inclined.
Key Features:
BPA, phthalate, and PVC-free
Pack of 6
2 size options
Cost: $20
Nuby 3-Pack Non-Drip Standard Neck Bottles
You may not be able to control the colors you get with these bottles, but they're hard to beat when it comes to value – you can get these bottles for under $10 total!
Key Features:
3-pack
10 oz
Vari-flow valve to control flow
Cost: $9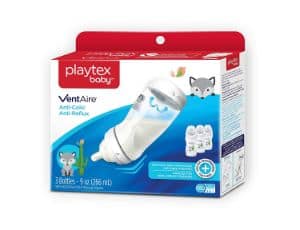 Along the bottom of this bottle is a vent that will eliminate excess air and prevent your baby from swallowing it.
Key Features:
3-pack
9 oz
Naturalatch silicone made to feel like mom
Glass Baby Bottles
Evenflo Feeding Glass Premium Proflo Vented Plus Bottles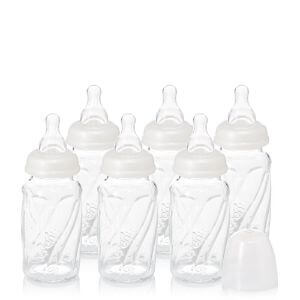 This pack includes six glass bottles along with their complementing PVC, BOA, and phthalate-free nipples and lids.
Key Features:
2 size options
3 color choices
Ergonomic twist bottle design
Cost: $20
Lifefactory 4 Bottle Starter Set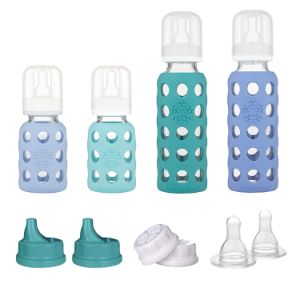 These glass bottles are an excellent candidate for a transition, as they have both bottle and sippy nipples as well as two size capacities.
Key Features:
2 color packs options
4 or 6 bottle packs available
Silicone sleeve for non-slip surface
Cost: $70
NUK Simply Natural Glass Bottles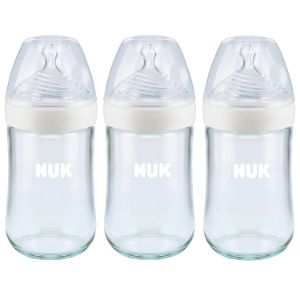 You can purchase a set of just the bottles or opt for a gift set that also includes five bottles, two pacifiers, 2 different flow speeds among 8 nipples, and a bottle brush.
Key Features:
3-pack
2 sizes available
96% acceptance success
Cost: $25
Pigeon Breast Milk Feel the Heat Baby Bottles
You'll appreciate that this bottle is both slim in design and resistant to heat, so you'll easily be able to warm your baby's meal.
Key Features:
8 oz
Recommended for 3+ month
Dishwasher-safe
Baby Bottles for Easy Transitions
The nipples of these bottles are designed for an easy latch and vented to ensure your little one doesn't suck down excess air.
Key Features:
2-pack
2 color options
100% food-safe silicone
Cost: $25
Dr. Brown's Options+ Wide-Neck bottle
Like the other Dr. Brown bottles, these have a vent that you can use or opt-out of, as the baby grows to no longer need it.
Key Features:
Slow-flow nipple
4-pack
2 sizes available
Cost: $25
NUK Simply Natural Bottles Gift Set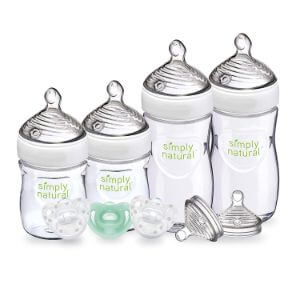 These bottles mimic mother's breast to make the transition from breast to bottle an easier one for your little one.
Key Features:
2 size choices
3 colors available
4 packaging options
Cost: $20
Perry Mackin Silicone Baby Bottles
These soft bottles are made with a food-safe silicone that is easy to clean and gives your baby a more natural feel while he eats.
Key Features:
3 colors available
2 size options
2 packaging choices
Cost: $35
Philips Avent Natural Baby Bottle Newborn Starter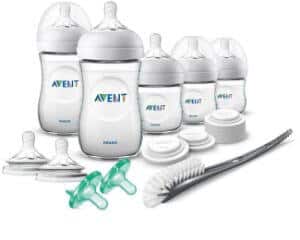 This set will have you set for months with your baby's feeding – not only do you have two bottle sizes and pacifiers, you even have a bottle brush specially designed to clean them.
Key Features:
Includes 5 bottles (2 sizes), slow and newborn nipples, soothie pacifiers, sealing disks, and bottle brush
Pacifier made with hospital-safe silicone
Airflex vented nipple design reduces gas
Cost: $30
PopYum 5 oz Anti-Colic Formula Making Mixing Dispenser Baby Bottles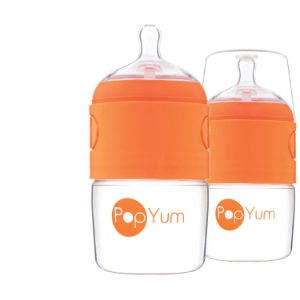 This bottle set is a formula-friendly one that makes it easy to make one-handed bottles by pushing a button to release the stored formula on the top to drop into the water below.
Key Features:
2 sizes available
2-pack
BPA-free
Cost: $25
Tommee Tippee Closer to Nature Baby Bottle
The valve in the nipple is one that vents out excess air and simulates the mother's breast for an easy latch for your little one.
Key Features:
5 packaging options
9 oz
BPA, phthalate-free
Cost: $15