It may seem like your baby doesn't do much the first few months, so by the time they're old enough to eat "solid" foods, then chances are, you'll be even more excited than they are about those first few foods. You can always opt for the extra easy button and buy the food pre-made, but some foods are so easy that buying them pre-made just seems like a waste of money. And for such a big milestone, you may want a more hands-on approach. If that's the case, then you'll be interested in finding the right baby food maker for you.
We reviewed dozens of baby food makers to identify the best of the best. We found the manual grinders and mashers for your softer foods, as well as the steamer and pureeing machines for a more all-inclusive. We looked at food processors and baby food pouch makers for the most portable baby foods available. No matter what your preferences in baby food, we have the maker that's right for your little one.
BEABA Babycook Plus
If you're worried about being overwhelmed by making your little one's food, the BEABA Babycook Plus will give you all you need to make it easy!
For a one-machine-does-it-all baby food maker, the BEABA Babycook Plus is the way to go. It will steam your baby's food, puree it and the pouring spout will easily pour the mixture into whatever storage you want to use.
The 5 Top-Rated Baby Food Makers
*Ratings are from Amazon at the time of publication and can change
Best Baby Food Maker Overall: BEABA Babycook Plus
The BEABA Babycook Plus is a baby food maker that will minimize your dirty dishes so well, you'll find yourself making baby's food on a regular basis without much change to your routine at all. You can even pop it in the dishwasher for clean up, making it all the easier. You'll prepare your baby's food in this cooker via steam, which allows you to maintain the most nutritional content. After the food is soft enough, you'll be able to strain it and use the same dish to prepare it into a puree of your desired consistency.
This model of the BabyCook will let you do twice the work at one time and if you've ever attempted to make baby food in bulk, you'll know exactly how valuable this is. You can have one steaming while you're pureeing in the other or do it all at once to make sure you're minimizing the time you need to do hands-on work with your baby food prep.
There are over 250 customer reviews for this baby food maker and it has an overall rating of 4.2 stars on Amazon. Considering this is just one version of the same amazing product that Beaba manufactures, though, you can take a look at their other products to see similarly positive ratings and reviews. When it comes to baby food makers, this is a brand that says "quality."
BEABA Babycook Plus Key Features:
2 cookers; each 4.7-cup capacity
Includes spatula, mixing lid/smoothie filter, and recipe booklet
3 color options
Best Baby Food Maker with Steamer: EVLA's Baby Food Maker
EVLA's Baby Food Maker
If you want to make sure you're giving your baby the most of each meal, then you'll want to check out the EVLA's Baby Food Maker.
The EVLA's Baby Food Maker will allow you to steam your baby's food efficiently, giving you more time to interact with your baby. After you use the included steam basket, you'll dump the cooked food chunks back into the bowl and puree with the sharp blades. There is even a quick-view cheat-sheet printed directly on the machine to give you the times you should steam common baby foods.
The touchscreen control does more than increase the overall quality, it also creates a one-handed operation that is so valuable when you're doing baby food prep along with chasing your newly-mobile baby. It even has a self-cleaning function to make it all the easier for you. – And even though this machine makes it easy without that, you'll still appreciate the time saved with it.
With well over 650 customer reviews on Amazon and an impressive overall rating of 4.8 stars, we think it's a pretty likely scenario that if you buy this baby food maker, that you'll absolutely love it!
EVLA's Baby Food Maker Key Features:
Bonus 6 reusable food pouches
2 color choices
100% money-back guarantee
Best Budget Baby Food Maker: BLACK+DECKER 1.5-Cup Electric Food Chopper
The BLACK+DECKER 1.5-Cup Electric Food Chopper will chop your baby's food into small bites to create the perfect bite-size pieces – helping him develop his fine motor skills and giving him a bit more independence, too. Don't worry, you'll be able to use it when your baby is first starting on solids, too. It will efficiently puree the soft, starter foods your baby needs with ease – just make sure you're adding some of the juices it was cooked in to create a smoother blend.
You won't be able to use this machine to cook your baby's food, but if you're planning on giving your baby table foods that mirror your own, then this is an excellent way to do so. And when you're done with preparing foods differently for your baby, this will still have plenty of use in your kitchen. You can later use it for salsa, chopping onions, or anything else you'd use a food processor for.
There's plenty to praise when it comes to this baby food maker. Not only does it have an overall rating of 4.0 stars and a whopping 3,900+ customer reviews on Amazon, but it also has another pretty impressive number: the price! You can get this for right around $15!
BLACK+DECKER 1.5-Cup Electric Food Chopper Key Features:
2-year warranty
1.5 cup capacity
Dishwasher-safe
Best Squeeze Pouch Baby Food Maker: Infantino Squeeze Station Baby Food Maker
The Infantino Squeeze Station Baby Food Maker makes sure that you won't be limiting yourself by making your baby's food yourself. You can still take advantage of the incredibly handy food pouches, even if you're the one putting the food in it. Without this machine, you're stuck with spooning food into your baby's mouth the slow way. It can be tricky to get the food into your baby when you're out and about and even in the comforts of your own home, the time spent spooning food into little one's mouth can be tedious. The food pouches are an excellent method to get your baby that same high-quality food you always make, as efficiently as possible.
You'll utilize the funneling system on this machine to make it a hassle and mess-free creation and you'll appreciate that you won't have extra messes. There are three tubes so you can make three pouches at once and those tubes and the parts are each dishwasher-safe.
For the numbers conscious consumer, this stacks up to be a spectacular purchase. With well over 2,200 customer reviews on Amazon and an overall rating of 4.6 stars, there's clearly something to the quality. Statistically, you're likely to be one of the 89% satisfied customers, should you purchase this squeeze station baby food maker.
Infantino Squeeze Station Baby Food Maker Key Features:
Includes 10 reusable pouches
BPA., PVC, and phthalate-free
Nonskid base
Hand Blender for Baby Food: green sprouts Fresh Baby Food Mill
If you're familiar with manual baby food makers, then there's a good chance you're already familiar with the green sprouts Fresh Baby Food Mill. You'll simply put soft foods into this hand blender baby food maker, and grind it into an appropriately sized meal for your baby. You're only limited by the softness of the food and the strength of your arms.
It's also an incredibly portable maker, meaning you'll be able to take your baby with you for longer jaunts out, and during those excursions you won't be stuck without anything for your little one to eat. Even packing formula or milk won't keep the baby full or ensure he's getting the proper nutrition from his meals. Once your little one can eat "solids" you'll want to make sure he's getting them – and this food mill will allow you to do that. If you can eat, then so can your baby.
With close to 700 customer reviews on Amazon and an overall rating of 4.1 stars is a strong indication of the superior quality of this product.
green sprouts Fresh Baby Food Mill Key Features:
Separate seeds & skins from puree
Built-in feed bowl
Dishwasher-safe
Who Should Buy a Baby Food Maker
While saving money may not be your biggest motivating factor, it's certainly not a thing you want to overlook entirely. – Because if you do it right, you can save a small fortune on making your baby's food rather than buying it pre-made. Hop over to a farmer's market, get your seasonal fruits and veggies for cheap and stock up! You can store pureed fruits and vegetables while maintaining optimal nutrition for up to three months. If you don't mind a slight bit of nutrition depletion by longer-term storage, then you can still safely store pureed baby foods for up to six months. If you take heed to sales and seasonal items, you can make your baby's meals for pennies.
If you're not as concerned with the potential savings of a baby food maker, then you may be attracted to the idea that you'll be able to monitor what your baby's eating far more closely when you're making the food yourself. You can opt for the freshest produce at the grocery store, or you can make your baby's food from ingredients in your own garden. You can even, when it's age-appropriate, combine ingredients so much easier with a baby food maker. You can even start early and give your baby blander versions of your own meals. And if you can prevent yourself from making separate meals for each family member, you'll start a habit that will save you a lot of time and fighting.
If your baby is still breast-fed, then you may be worried about your supply when he starts eating solid foods, too. If that's the case, you may want to take a look at The Best Breast Pumps to make sure you're comfortable each step of the way.
BEABA Babycook Plus
If you're worried about being overwhelmed by making your little one's food, the BEABA Babycook Plus will give you all you need to make it easy!
Important Features to Consider
A baby food maker should do several things well. Here's what to consider when selecting a baby food maker:
Consistency variety. When you first start your baby on solids, the name is awfully deceiving. Though it's not "solid" enough to require chewing, it will give your baby practice in the chewing motion and that will help for more solid foods along the way. You can help your baby with a few "in-between" stages that are easily made with a baby food maker. Less blended food will give a few, soft, chunks to give them more experience with chewing before you go straight to eating steak. Though that's a dramatic overstatement, watching your baby choke when they try to eat new foods is no fun and can certainly feel like that.
All-in-One. Often baby food makers come with a way to cook and puree the food. Most often the food will be steamed because that maintains the most nutrients. After it's steamed, some baby food makers will allow you to switch a few buttons and puree the food in the exact same container. It should be noted that this really only prepares a handful of meals at one time, though. But the time you save on the dishes when you do the entire thing in one machine is a big plus you can't ignore!
Bulk. When you're preparing in bulk, you allow yourself to spend the time to make your baby's food when you actually have the time. That means you won't feel the pressure of a fussy baby when you're trying to sort out making his dinner. It means you'll have a stockpile to use as a safety net no matter what happens. Keep your bulk food in the freezer with specialized silicone baby food trays or even just mini storage containers or ice cube trays. We highly recommend splitting it up over a few days, if you're overwhelmed by bulk prep. Grocery shop one day, steam and puree the next, freeze the last day. If you use less than airtight containers, you may want to look into vacuum sealers for maximum freshness, too.
Manual means portable. If your older baby eats all kinds of foods and you just want him to eat a pureed version of what you're eating, then a grinder os an excellent way to make sure you're still giving your baby quality foods even on the go. You can slip a manual grinder into your purse or diaper bag and pull out and use as you need. This is an excellent option for visiting family and friends for meals.
Squeeze pouches. Another highly portable option is to prepare your baby's food into squeeze pouches. This helps by giving your baby those nutritious, no filler foods you prepare with care even while you're on-the-go. For a fast-paced lifestyle, nothing beats handing your toddler a food pouch and letting him squeeze it into his mouth while you're driving across the country. For littler ones, it's still the fastest way to get the baby fed – just pop it in his mouth and squeeze a tiny bit at a time, and soon he'll be sucking that pouch dry all on his own. (Just make sure you're supervising in early-days to make sure he's not painting himself with the pureed food).
Frequently Asked Questions
What is a baby food maker and how does it work?
Something has to happen to your baby's food to get it from hard, raw fruits and vegetables to a pureed, easy to swallow, no-chew food. If you're buying it at the store, pre-made, you won't have to "make" the food at all, but if you're planning on making any of your baby's food yourself, then a baby food maker will make the task an easy one. You can get a baby food maker that just mashes soft foods (already cooked veggies or bananas or avocados, for example) in a more effective way or an electric, all-in-one food maker that will cook and puree your baby's food in the same bowl or container. There are also pouch makers so that you can make your own, ultra-portable baby foods. If you can buy it in the store for your baby, then there's a good chance you'll be able to do it yourself for a fraction of the cost.
Should I get a baby food maker?
If you plan to buy your baby food, then you may think you won't need any kind of baby food maker but you shouldn't discount it right away. You may want a back-up or options. You don't necessarily need a full-service, all-in-one baby food maker, but a manual grinder is so easy and inexpensive, it's almost silly not to use one. You can mash a banana with a fork, but with a manual baby food masher, it takes almost less time than just peeling back the seal on a store-bought banana food. – And if you've ever tried baby food, you know there's just something in that puree that makes it taste a bit worse than fresh.
If you're on the fence of whether or not you should make your baby's food yourself but are just concerned about how difficult it is, then we highly recommend trying it before you purchase a baby food maker – even making it by steaming sweet potatoes and then mashing them to a pureed consistency will be so easy you may just get the confidence to add some wind to your sails. It isn't as difficult as you may think and bulk prep is a sure-fire way to make sure you're only spending time on it when you have the time.
Can you make baby food with a food processor?
Absolutely! In fact, if you plan on making your baby's food in bulk, you'll very likely want to use a food processor. There are several options that are specifically designed for baby food, (some are included in our list), so you'll want to look out for the features that make it optimal for baby food. Steaming a large portion of vegetables at once (you can use a slow cooker to do that, too) will help you get through the cooking process quickly and the food processor with the pureeing blade will whip through making a lot of baby's food in a little time. You can freeze it in silicone baby
What do you blend baby food with?
If you're asking this to find what blends your baby's foods best, then a food processor or a pureeing baby food maker is going to give you the smoothest puree. You'll set it and forget it, in a way – You turn the puree function and let it go. No pulsing or careful consideration to make sure it's not too smooth like you would for a salsa. The more pureed the better for baby food!
If, however, you're wondering how to blend drier foods, then you may want to look into what your method of cooking is. If you're steaming, then some of the water you used to steam the veggies is a good option to get a smoother consistency. If there is no water reserved, then stick with a little bit of your bottle water – distilled or purified, preferably. If you would rather not waste the nutritional opportunity, then add in some breast milk or formula. (Note, though that the same rules of how long the liquid is safe will remain with the baby food, then, too.)
Other Baby Food Makers We Reviewed
BEABA Babycook Plus
If you're worried about being overwhelmed by making your little one's food, the BEABA Babycook Plus will give you all you need to make it easy!
We looked at 20 other baby food makers. Even though they didn't make our 5 best baby food makers list, they're the best of the rest and each is still a great option for your little one. The information you'll need to compare each one is included with the listing.
All-In-One Baby Food Makers
Baby Bullet BSR-0801N Turbo Food Steamer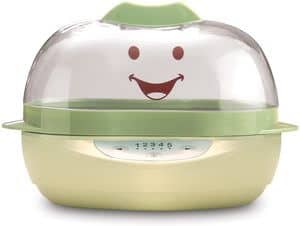 While this isn't an excellent option for pureed baby food if you plan on giving your toddler-aged baby some options with chunks, this may be the quickest way to a healthy meal.
Key Features:
Includes steamer lid, sterilizing tray, egg cooking tray, cooking tray, 2 defrosting trays, and measuring cup
5 cook settings
10.04″W x 6.1″H x 6.5″D
Cost: $55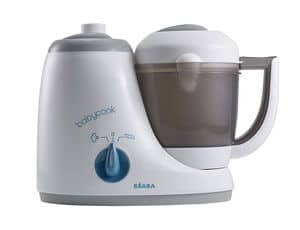 A single steam and puree baby food maker is the original version of our top pick, making it a pretty solid option for you, as well.
Key Features:
Auto shut-off
3.7 cup capacity
3 color options
Cost: $100
Bubos 5-in-1 Smart Baby Food Maker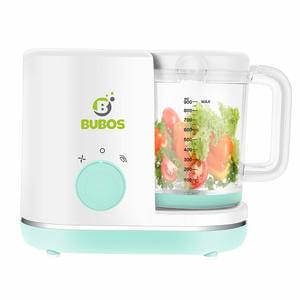 You'll love the precise measurements printed along the side that will make sure you know exactly how much food you've prepared for your little one.
Key Features:
Auto shut-off
BPA and lead-free
Bowl and blade are dishwasher-safe
Cost: $65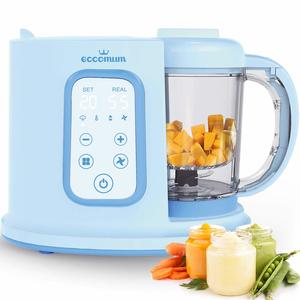 Steam and puree your fruits and vegetables for a smooth blend that your baby can swallow without chewing at all.
Key Features:
4 cook settings
LCD control panel
20 oz capacity
Cost: $70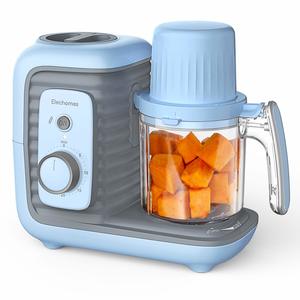 A turn knob will allow you to control the speed of the blades and therefore the consistency of your baby's food.
Key Features:
Safety lock
BPA, phthalate, and lead-free
Self-cleaning function
Cost: $85
Elechomes Digital Baby Food Maker Machine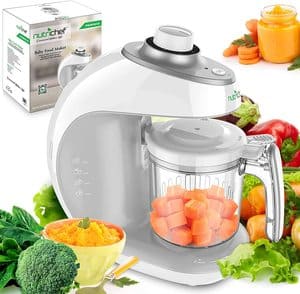 You'll fill a water reservoir to create an effective steaming machine, and then switch over, and puree that food in the same container.
Key Features:
3,000 rpm blades
10.2 oz capacity
Up to 30-minute cook timer
Cost: $70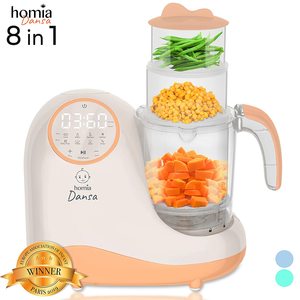 You'll easily be able to steam a wide variety of foods for your baby and create combinations that will give your baby a variety and hide the foods they dislike.
Key Features:
3-tier design means you can cook three meals at once
3 color options
Hidden drawer for easy storage
Cost: $110
minne QOOC 4-in-1 Mini Baby Food Maker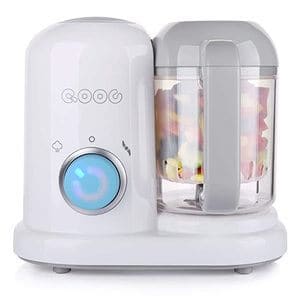 This 4-in-1 baby food maker will take care of your baby's food, from start to finish.
Key Features:
Steam, blend, reheat, defrost functions
One-hand controls
Dishwasher-safe
Cost: $70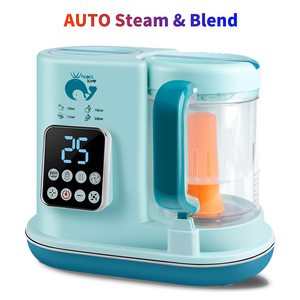 With a digital and button control panel, you'll be able to determine your baby foods cook time and consistency.
Key Features:
Self-cleaning mode
Bottle warmer in water reservoir
Auto shut-off
Baby Food Processors
Braun FP3020 12 Cup Food Processor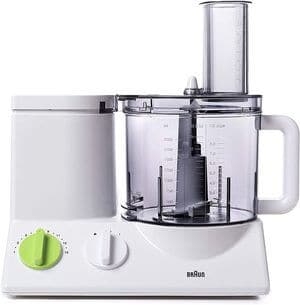 Add more as you puree from the top and make the exact kind of consistency that your baby needs, no matter his chewing capability.
Key Features:
600-watt motor
1-year warranty
11 speeds
Cost: $210
Cuisinart Mini Prep Plus Food Processor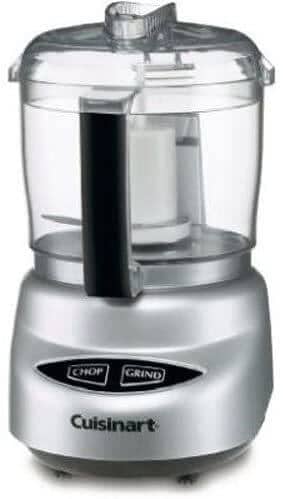 Getting your baby's food chopped and ground to a fine, smooth consistency is easy peasy, lemon squeezy with this processor.
Key Features:
5″L x 7″W x 9″H
Dishwasher-safe
5 color options
Cost: $40
Hamilton Beach Stack & Snap Food Processor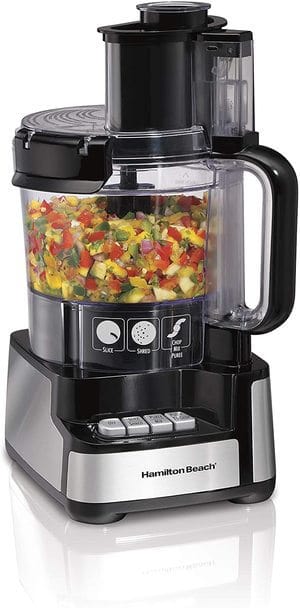 With three primary settings, you'll be able to get your baby's food in pieces, or into a puree for whatever stage of development he has currently reached.
Key Features:
12-cup capacity
BPA-free in all food zones
450-watt motor
Cost: $50
Magic Bullet Baby Bullet Baby Care System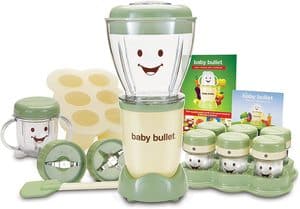 You can blend your baby's food with precision and to your exact consistency with this kit's multiple blades.
Key Features:
Storage included: 6 date dial storage cups, 1 short cup, and silicon-based batch tray
200-watt motor
20-piece set
Cost: $75
Nuby Garden Fresh Mighty Blender with Cook Book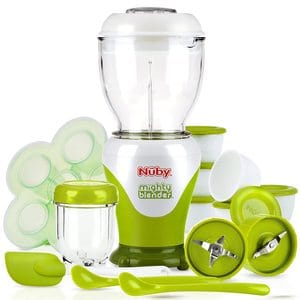 Though you won't get a cooking method with this set, you will get everything else to meal prep for your baby,  including storage and a recipe book.
Key Features:
Free cookbook included
2 blades for blending and grinding
3 stages for weening foods
Manual Baby Food Makers
Fill n Squeeze Baby Food Maker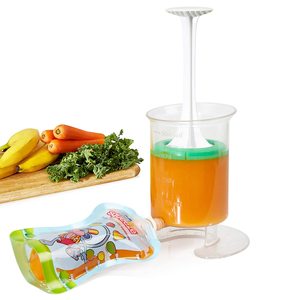 This food pouch baby food maker will help you get your homemade goodness into a pouch to make it easier than ever to feed your baby.
Key Features:
Includes 15 reusable food pouches
100% BPA-free
Suitable for all fruits, veggies, and meats
Cost: $35
Kidalog Baby Food Mill Grinder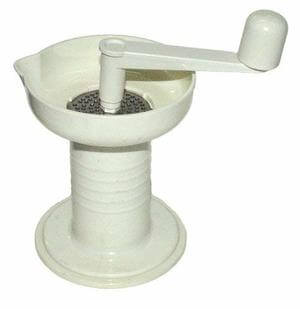 Grinding the food with this manual baby food maker means you'll be able to feed your baby even more foods, in even more places.
Key Features:
Stainless steel blade
Top rack dishwasher-safe
6.3″H x 4.9″L x 3.9″W
Cost: $30
Nuby Garden Fresh Mash N' Feed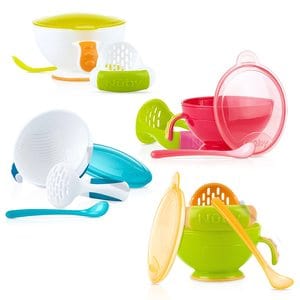 You can mash soft foods (cooked or just naturally soft – avocado or bananas, for example) and store uneaten foods conveniently with each included lid.
Key Features:
Includes bowl, spoon, masher, and bowl
BPA-free
Dishwasher-safe
Cost: $10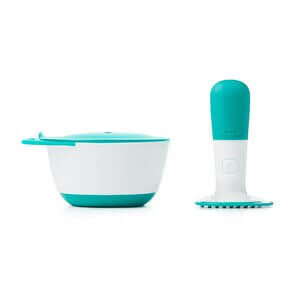 If you can create a puree of food by mashing it, this baby food maker will allow you to so so effectively with great speed, making feeding your baby all the more convenient.
Key Features:
Masher disassembles and stores within bowl
Bowl and masher contains ridges for easy mashing
5.20″W x 5.80″H
Cost: $10
Sprout Cups Baby Food Maker for Infants & Toddlers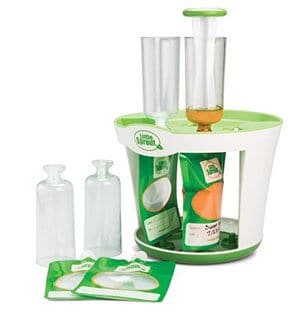 You'll be able to fill baby food pouches with your homemade food en masse with this baby food maker.
Key Features:
11 piece set
Dishwasher safe
Pouches hold 6 oz of food
Cost: $20
WINGOFFLY 9 in 1 Food Masher Maker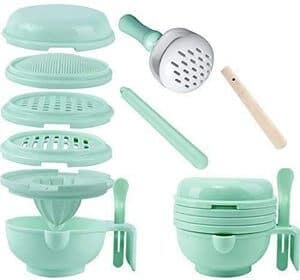 This baby food maker does so much and so conveniently, you'll be hard-pressed to find a kind of baby food that this won't make easier.
Key Features:
Made with non-toxic PP material
4 grinding filters for finer textures
4.7″W x 4.3″H
Cost: $15