Babies of all ages love to swing. For newborns, swinging mimics the motion they felt in the womb, and babies often find the motions soothing and fun through toddlerhood and beyond. A baby swing is often considered a must-have item for parents-to-be. There are many types available, from newborn swings that include rockers or bouncers to swings for older babies that are suspended from a doorframe, swingset, or tree branch!
We evaluated dozens of baby swings of all types so we could show you some of the best. We looked at safety, the different features each one has, and how Amazon users rated them. The information you'll need to compare them is included in the "key features" section of each listing.
Overall, our favorite baby swing is the 4moms mamaRoo 4 Baby Swing. It doesn't look like a traditional swing, but it offers various swinging and bouncing motions that will keep your baby happy and soothe him or her to sleep. It also features a variety of soothing sounds and it plugs into the wall outlet, so you never have to worry about running out of battery life at a critical time. We highly recommend this baby swing to any parents-to-be, and it would make a great baby shower gift, too.
The 5 Top-Rated Baby Swings
*Ratings are from Amazon and might change over time.
Best Baby Swing Overall: 4moms mamaRoo 4 Baby Swing
The 4moms mamaRoo 4 Baby Swing earned a spot at the very top of our list. You might notice that it doesn't have the same appearance as most baby swings. This one is a solid black, but it's also available in white, gray, and a print pattern, so it will look great in any room depending on your decor choice. The swing has five unique motion patterns: car ride, kangaroo, tree swing, rock-a-bye, and wave. You can experiment with these to see which your baby likes best, or switch things up to keep baby happy while you're occupied for a few minutes. Because it's bluetooth-enabled, you will be able to turn it on and change the pattern from your phone.
You won't need to change batteries, because this swing has an AC adaptor and simply plugs into a regular outlet. The seat recline adjusts, making it comfortable for your baby no matter what level of recline he or she tends to prefer. The cover of this swing is made of a smooth nylon material; you can wipe it down or take it off to put in the washing machine. There are four different sounds to choose from as well as three colorful balls made of different materials to keep baby happy and interested.
This swing is appropriate for babies under 25 lbs who cannot yet sit unassisted.
4moms mamaRoo 4 Baby Swing Key Features:
5 unique motions to choose from
4 sounds
Includes three colorful balls
AC adaptor
Several recline options
Machine-washable cover
Best Baby Swing and Rocker: Graco DuetSoothe Baby Swing and Rocker
The Graco DuetSoothe Baby Swing and Rocker is our top choice in this category. You can use it as a typical swing or you can remove the seat and use it as a rocker on the floor. While using it as a swing, it can be positioned to sway from side to side or from front to back, so you can see which way your little one likes it best. The removable seat also has a carry handle, so you can use it to conveniently carry your baby around the house with you.
In addition to the swinging and rocking features, this swing has a vibrating feature. Many babies are soothed by vibrations, so this will help if you are hoping to get your little one to fall asleep or simply to settle down. You can plug it in or use batteries. You can also choose between various musical melodies and nature sounds to help relax your baby.
The rocker can be used for babies up to 18 lbs and the swing can be used for babies up to 30 lbs.
Graco DuetSoothe Baby Swing and Rocker Key Features:
Removable seat to use as a rocker
Includes a carrying handle
Vibrating feature
Plug in or use batteries
Various musical and nature sounds
Also available in green
Best Budget Baby Swing: Ingenuity Cozy Kingdom Portable Swing
If you are looking for a baby swing on a budget, our top pick is the Ingenuity Cozy Kingdom Portable Swing. This is a portable swing, so you can use it in any area of your home as well as take it on vacation or to grandparents' or friends' homes. The swing folds up easily into a compact shape to make it easy to take on the go.
The swing's seat is plush and comfortable, so your little one will love being in it. It has six speeds, so you can match it to your baby's preferences and level of alertness; a drowsy baby might like a slower speed to encourage them to drift off to sleep before you move them to a crib or bassinet. You can also turn on the swing's calming music, and it comes with two brightly colored stuffed animals to catch baby's attention.
This swing is for babies weighing between 6 and 20 lbs.
Ingenuity Cozy Kingdom Portable Swing Key Features:
Swing is portable
Folds down nearly flat
Plush, comfortable seat
Six speeds of motion
Calming music
Includes two mobile toys
Best Newborn Swing: Fisher-Price Elephant Safari Cradle n Swing
The Fisher-Price Elephant Safari Cradle n Swing is our favorite newborn swing. The adorable elephant insert is perfect for cradling little heads and giving your newborn some much-needed neck support. As he or she grows and has more muscle control, you can take the insert out. The swing is deep and comfortable, so it will keep your new little one feeling snuggled and secure.
This swing has two swinging motions, side to side and front to back. It also has a mobile overhead with three stuffed elephants to catch your baby's attention. There are two reclining positions, six swing speeds, and 16 sounds. The swing comes with an AC plug, so there's no need for batteries, and it's easy to assemble right out of the box.
Fisher-Price Elephant Safari Cradle n Swing Key Features:
For newborns to 25 lbs
Deep, comfortable seat
Plus elephant insert with head support
Two swinging motions
Two reclining positions
Has 16 sounds
Easy to assemble
Best Swing and Bouncer: RONBEI Portable Baby Swing Bouncer
The RONBEI Portable Baby Swing Bouncer is our top choice for baby swings with bouncers. This one moves side to side in a gentle swinging motion, and your baby's natural movements will make it bounce lightly, too. This combination of movements can soothe even the fussiest small baby. This bouncer/swing is suitable for babies up to 6 months of age who haven't started sitting up on their own yet.
The seat has two reclining modes so you can make sure your baby's head, neck, and back are properly supported. It has eight sounds, including five melodies and three nature sounds, so your little one will be able to relax. You can remove the cover and machine-wash it. The motions and sounds can be changed via an included remote control, making it simple to make changes without approaching your drowsy baby.
RONBEI Portable Baby Swing Bouncer Key Features:
Side to side motion
Bouncing motion
For babies up to 6 months old
Two reclining modes
Eight sounds to choose from
Remote control
Machine washable cover
Who Should Buy a Baby Swing
If you are an expectant parent (or if you are the loved one of an expectant parent who is looking for a great gift), you should seriously consider getting a baby swing. Even if you already have a baby, a swing can give you a place to put him or her down while you attend to matters such as washing the dishes or taking a shower.
Soon-to-be grandparents and caregivers might also like to invest in a baby swing. While there are portable swings (and we have reviewed some below!), it's often easier if a house that a baby frequents already has things like baby swings. And while you're at it, you might want to look at our lists of the best baby bouncers and jumpers, too!
Important Features to Consider
There are several features that some baby swings have. What you choose will depend on what's most important to you! Here are some of the considerations to keep in mind as you shop.
Weight limit. Be sure that you are choosing a swing that will accommodate your baby. Some swings can be used by toddlers, but others can only be used until a baby begins sitting up on his or her own.
Music. Many baby swings have music or nature sounds. Since white noise can soothe babies, this is a nice feature to look for.
Different motions. Babies have different preferences; some like to swing back and forth, while others prefer a side to side motion. Many swings offer both options, but if you choose one that has just one option, be sure it's the one your baby likes best.
Toys and mobiles. Toys suspended overhead give your baby something to look at while swinging and relaxing.
Plug in vs battery. Having the option to plug in the swing means that you won't lose battery life at an inopportune time, like when your baby is just about to drift off to sleep. On the other hand, having the option to use batteries means you can use your swing anywhere.
Frequently Asked Questions
When can a baby use a swing?
Newborns can go in baby swings that recline fully. As your baby begins to get bigger, you'll want to sit the swing up more. Older babies who can sit up on their own should go in bucket swings.
Is there a baby swing for toddlers?
Yes, you can purchase a hanging bucket swing for your toddler. These usually attach to a doorframe, a swingset frame outside, or even a tree branch. A regular baby swing is not good for a toddler to use, particularly if they are over the weight limit.
Why can't babies sleep in swings?
Swings do not support a small baby's head well enough to prevent suffocation. If your baby's head falls forward, they could struggle to breathe and not be able to lift their head back up. Babies should sleep on flat, firm surfaces such as a crib mattress.
When should you stop using a baby swing?
When your baby reaches the weight limit on the swing, they should not use it anymore. Also, look at whether your baby can use the swing after he or she can sit up unassisted and follow those directions. An older baby can be transitioned to a hanging swing.
Other Baby Swings We Reviewed
We looked at 20 baby swings in addition to the ones listed above. While these didn't make our top 5 list, they are still the best of the rest and worth considering if you want to buy a swing for the new baby in your life.
Bluetooth Baby Swings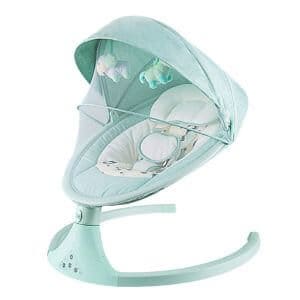 This Bluetooth-enabled chair features swinging, rocking, and vibrating motions to keep your baby soothed and happy while you cook, shower, or read a magazine.
Key Features:
Various movements to choose from
Has music
Can hold 20 lbs
Cost: $280
Primo 2-in-1 Smart Voyager Convertible Infant Swing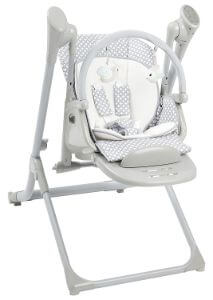 If your baby wakes up and cries while this swing is off, it will turn on the lowest mode to soothe him or her back to sleep. Converts to a high chair when baby is over 6 months old.
Key Features:
Automatic cry response
Converts to a high chair
Built-in music
Portable and Compact Baby Swings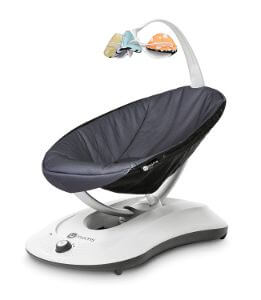 This is a compact version of the baby swing that made our #1 spot. It has a front to back gliding motion and includes a cute mobile.
Key Features:
1/3 the size of the full-size swing
5 different speeds
Machine washable seat
Cost: $180
Bright Starts Whimsical Wild Compact Swing
This is a small, budget-friendly baby swing that is great for taking along to an in-home child care provider, grandparents' house, or on vacation.
Key Features:
Two-position recline
Quiet operation
Tags on the side for pulling and playing with
Cost: $50
Fisher-Price Deluxe Take-Along Swing & Seat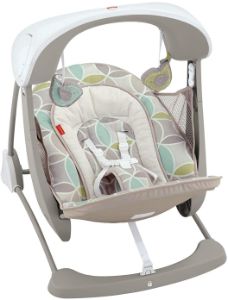 With six speeds, calming vibrations, and adorable overhead toys, this compact, and portable baby swing will have your little one relaxed wherever you may roam.
Key Features:
Six speeds
Has music
Easy-fold frame
Cost: $80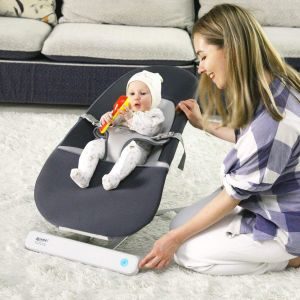 This is the compact version of our favorite swing with bouncer listed above in our top 5 list. This bounces and sways from side to side to soothe little ones.
Key Features:
Folds up easily for travel
8 built-in melodies
Newborn head support
Cost: $130
Vastfafa Soothing Portable Swing
This compact swing can accommodate kids up to 55 lbs, making it a great option for toddlers who want to continue using a swing for soothing.
Key Features:
6 speeds
Five-point safety belt
No-tool assembly
Hanging Baby Swings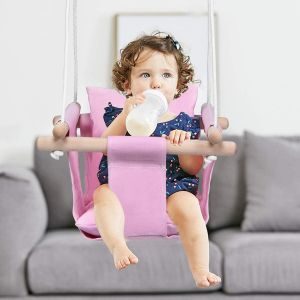 This cute swing comes with a cushion that can help keep your older baby upright. You can remove it as he or she grows.
Key Features:
Made of 100% cotton canvas
Easy to assemble
For babies and toddlers over 6 months of age
Cost: $50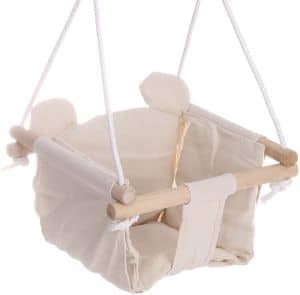 Use this durable canvas swing indoors or outdoors to keep your baby or toddler happy and entertained. For babies who can sit up through three years old.
Key Features:
Safe and smooth design
Detachable cushion
Beige tones
Cost: $18
FUNNY SUPPLY Hanging Swing Seat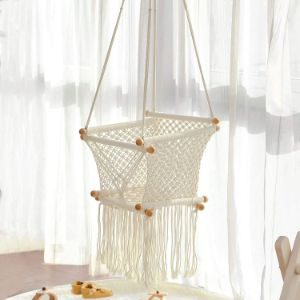 Made of natural cotton and wood, this sweet and simple design will look beautiful in any room of your home or outdoors as it keeps your little one safely swinging.
Key Features:
Made of natural materials
Hardware not included
For babies 6 months to 3 years
Cost: $65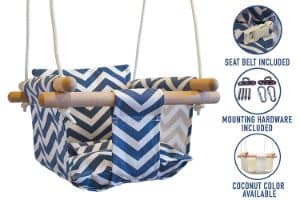 A secure seatbelt and a supportive cushion help to keep your baby safe and secure. This is available in both chevron blue or a coconut color.
Key Features:
Removable cushion included
Use indoors or outdoors
Includes a seatbelt
Cost: $60
hnhm Pink Canvas Hanging Swing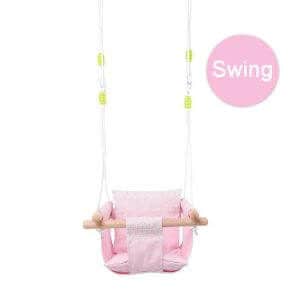 Install this swing in your doorframe, from the ceiling, or even on a tree branch outside. Note that the hardware is not included.
Key Features:
Smooth, long-lasting rope
Easy to install
For babies 6 months to 3 years
Cost: $40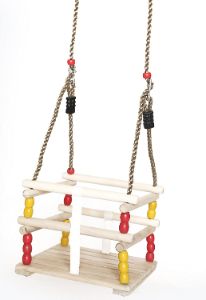 This is a unique swing made of wood in natural and primary colors. Your baby should be able to sit up unassisted to use this swing.
Key Features:
Hardware is included
Ready to hang
For babies 6 months to 3 years
Cost: $35
Svava Organic Raw Fabric Nursery Swing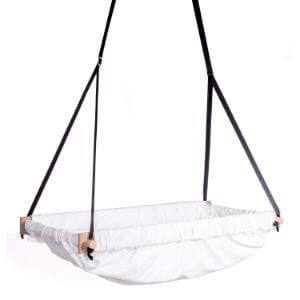 Organic raw fabric cradles your baby in a lying position, while toddlers might choose to sit. You can use this hanging swing from birth until two years of age.
Key Features:
Made of organic materials
Includes a seatbelt
Installs in minutes
Other Baby Swings
Costzon 5 in 1 Baby Cradle Swing
This is a swing that rocks like a cradle while swinging baby in a front to back motion. It also has vibration and music, and it's safe for your baby to sleep in.
Key Features:
Can be used for sleeping
For babies birth to three years (40 lbs)
Has a toy bar and awning
Cost: $135
Electric Cradle Automatic Baby Swing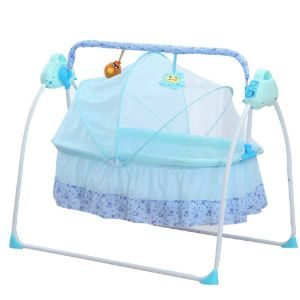 This is another cradle that swings to put your little one to sleep. It includes netting to help filter sunlight and to keep insects from bothering baby outside.
Key Features:
Can be used for sleeping
Has an automatic timer
For babies birth to 3 years
Fisher-Price Sweet Snugapuppy Dreams Cradle 'n Swing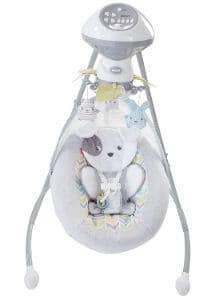 Your little one can snuggle into the plush puppy lining this swing. It goes back and forth as well as side to side to satisfy any baby.
Key Features:
Adorable puppy motif
Six speeds
Two reclining options
Cost: $160
This swing will detect your baby's cries and will adjust the swinging speed until he or she settles down. It also plays music.
Key Features:
Cry detection technology
8 different motions
15 songs and sounds
Cost: $250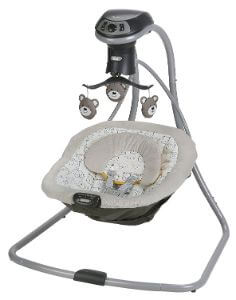 Your baby will enjoy swinging in different directions while being soothed by the vibrations and melodies that this swing offers.
Key Features:
Multidirectional swinging
15 soothing melodies
6 swing speeds
Cost: $125
Ingenuity DreamComfort InLighten Cradling Swing
The breathable cover of this swing will help keep your baby cool and comfortable. The mobile lights up and there are gentle music options to choose from.
Key Features:
Machine washable cover
Adorable sleeping animal mobile
AC adaptor
Cost: $160