If you are a new parent or a parent-to-be, you have probably heard some of the debates about co-sleeping versus having your baby sleep in a crib. While either of these can be great solutions for your family, there are a few dangers associated with co-sleeping with a small infant. These can be largely mitigated if you use a co-sleeper, which is a baby bed that either goes in your bed with you or attaches to the side of your bed. This gives the baby his or her own sleeping space and prevents you or your partner from pulling the blankets up over the baby or rolling onto the baby, both of which are potentially dangerous.
And if you've chosen to go the route of putting your baby in his or her own crib or it's time to transition the little one to a separate sleep space, we also have a list of the best crib mattresses that you should check out.
There are several types of co-sleepers available, and we took a look at dozens of them so we could make you a list of the ones we liked best. We considered the different types if they had any special features, and how parents just like you felt about them.
Mamibaby Baby Nest
This super soft, breathable co-sleeper will leave you and your newborn having sweet dreams.
Our top pick among all co-sleepers is the Mamibaby Baby Nest. It mimics your baby's experience of being in the womb so your newborn feels cozy, snuggled, and right at home. The design is reversible, and the fabric is breathable for your little one's safety. With this co-sleeper on your bed, you will be able to stay nice and close to your baby without the risks of traditional co-sleeping.
The 5 Top-Rated Co-Sleepers
*Ratings are from Amazon and might change over time.
Best Co-Sleeper Overall: Mamibaby Baby Nest
The Mamibaby Baby Nest earned our top spot. It is best for newborns and small babies because it is snug and cozy, just like your womb was. The cotton pad acts as a guardrail of sorts, preventing your baby from rolling out of it and, more importantly lowering the risk that you will roll onto your baby. Because it weighs only 3.5 lbs, it's also easy to take with you if you are traveling.
The cover and the pad are machine-washable, which is a relief to tired moms and dads whose little ones dribble, drool, and otherwise make messes on the regular! The cover is also reversible: Simply untie the cord running around the perimeter, stretch out the edge of the cover, flip the co-sleeper, and re-tie. It's very simple and you'll get double the mileage thanks to the option to use both sides.
Mamibaby Baby Nest Key Features:
Best for newborns
Snug and cozy
Breathable fabric
Machine washable
Reversible cover
Best Co-Sleeper Bassinet: KoolerThings 3 in 1 Baby Bassinet
If you prefer a co-sleeper bassinet that stands up next to your bed, we recommend KoolerThings 3 in 1 Baby Bassinet as our top choice. This sets right against your bed, giving your little one his or her own sleeping space while also allowing you to simply reach over to check the baby or to pull them over for a feeding. The height is adjustable so you can position it perfectly, and one side zips down for co-sleeping mode.
When you're not co-sleeping, you can zip up the side and use it as a standalone bassinet in any room of your home. It has silent wheels, so you can roll it to where you need it to be, and then put on the brakes to keep the wheels locked and in place. It also folds down easily if you need to take it with you in the car.
KoolerThings 3 in 1 Baby Bassinet Key Features:
Bassinet style co-sleeper
Sets up against your bed
Adjustable height
Zip-down side
Can be used as a standalone bassinet
Folds down easily for travel
Best Budget Co-Sleeper: Little Grape Land Store Co-Sleeper for Baby
The Little Grape Land Store Co-Sleeper for Baby is our favorite budget-friendly co-sleeper. You use it in your bed, either between you and the wall or between you and your partner, and it helps prevent you from pulling a cover-up over baby or rolling over onto him or her. This co-sleeper adjusts, allowing you to use it for a small baby by keeping all four sides zipped up, or for a larger baby or young toddler by unzipping the bottom cushion to provide more room.
This co-sleeper will come apart so you can put the reversible cover in the washing machine as needed. The cover has two designs, so you can choose the one you like best. You can also take it with you when you travel, as it's under 3 lbs and will stow away easily in the back seat or trunk of the car. You could even put it in a suitcase if you will be flying.
Little Grape Land Store Co-Sleeper for Baby Key Features:
Budget-friendly
Adjustable for size
Reversible cover
Cover is machine-washable
Folds up easily for travel
Best Portable Co-Sleeper: Baby Delight Snuggle Nest Afterglow Infant Sleeper
If you are planning to travel with your baby, the Baby Delight Snuggle Nest Afterglow Infant Sleeper earned the top spot among portable co-sleepers. This is designed for babies who are under 15 lbs and who are not yet able to roll over or push up on their hands and knees. The walls are more rigid than those on some of the softer co-sleepers, which make it a great choice for parents who might not wake up as easily if they were to roll onto a soft-sided co-sleeper.
The sleeper folds up compactly and includes a nightlight, which allows you to easily check on your baby whether you are at home, in a hotel, or camping out. It has its own waterproof foam mattress and also has a sheet, which can be removed for laundering. When you zip it closed for travel, you can place some small items inside, and there's even a handle to make it easier to carry.
Baby Delight Snuggle Nest Afterglow Infant Sleeper Key Features:
For babies under 15 lbs
Rigid walls
Folds up compactly
Includes a nightlight
Has a waterproof mattress and sheet
Handle for easy carrying
Best Co-Sleeper With Motion: SwaddleMe by Your Side Sleeper
The SwaddleMe by Your Side Sleeper is our favorite co-sleeper that includes motion. It has mesh sides that you can see through, so you don't need to lift your head to check on your baby. The mesh is also very breathable and will allow your little one to stay nice and cool throughout the night. It has a metal frame, making it more rigid than some of the softer co-sleepers. It also has a mattress pad and comes with its own fitted sheet.
The detachable sound and motion unit plays nature sounds and music while also vibrating. Your baby can listen to a simulation of a heartbeat to mimic what he or she heard in the womb. This, combined with the vibration, can help him or her drift off to sleep easily–this, in turn, allows you to also drift off to sleep more easily.
SwaddleMe by Your Side Sleeper Key Features:
Clear mesh sides
Breathable
Metal frame, rigid sides
Detachable sound and motion unit
Vibration
Heartbeat sounds
Who Should Buy a Co-Sleeper
Any new parent who is considering sleeping with their young baby in bed with them should consider a co-sleeper. This is a great way to keep your little one safer while sharing your bed, and it also helps prevent minor inconveniences such as waking up to a sweet little foot in your face. Even if you are planning on having your baby sleep in his or her own crib, you might consider a co-sleeper for when you travel or if you need to put him or her to sleep while visiting a grandparent or friend.
A co-sleeper makes a wonderful baby shower gift, too, if you happen to know someone who will be having a baby in the coming weeks or months. For more gift ideas for parents-to-be, take a look at Simply Mom to Be.
Mamibaby Baby Nest
This super soft, breathable co-sleeper will leave you and your newborn having sweet dreams.
Important Features to Consider
When looking for a co-sleeper for your little one, there are some features you will want to look for and, in some cases, features you'll want to avoid. Here are some things to keep in mind as you decide which product is best for your baby.
Side softness. When you are buying a co-sleeper that goes in an adult bed, consider whether you'd like one with soft or rigid sides. Those with softer sides are often more snuggly for baby, but those with rigid sides can be more breathable and can be more of a deterrent for parents who might roll over in their sleep.
Ease of travel. Whether or not you are planning a trip in the near future, knowing that you can easily take your co-sleeper with you takes one more concern off of your mind when packing.
Bassinet features. If you are looking at the bassinet type of co-sleeper, you'll want to be sure that it has locking feet or wheels. Also, think about whether you will want to move it around in your home and whether it will be easy to move.
Age or weight limit. Some co-sleepers can be used for a year or more, while others are only for newborns or very small babies. The risks of co-sleeping decline after a baby is a year old, so if you plan on co-sleeping that long, consider looking for one that will accommodate a baby past the newborn stage.
Frequently Asked Questions
What is a co-sleeper and how does it work?
A co-sleeper is a place for babies to sleep either in or right up against their parents' bed. Some fit in the bed and should be positioned either between the parents or between a parent and the wall. Others are bassinet-style and provide a separate sleeping space that touches the bigger bed.
It works by preventing mom or dad from rolling onto the baby or pulling the blankets or a pillow over the baby's face, as all of these are risk factors for sudden infant death syndrome, or SIDS, caused by suffocation. At the same time, it keeps the baby very close to the parents, which makes breastfeeding easier and promotes bonding and better sleep for all involved.
Are co-sleepers safe?
Co-sleepers make co-sleeping safer. The American Academy of Pediatrics recommends room-sharing, but not necessarily bed-sharing. Using a co-sleeper can make it safer to share a bed if that is what you choose to do. A bassinet-style co-sleeper might be safer, as it gives your baby his or her own sleeping space. Co-sleeping can also be made safer by not using a pillow, by breastfeeding, and by never co-sleeping, if one or both parents are under the influence of drugs, alcohol, or any type of medication or a health condition that might promote deeper sleep than usual. You could also choose to share a room with your baby in his or her own crib if you don't want to co-sleep but still want your baby nearby. Talk to your pediatrician about the different types of co-sleeping so you can decide which is safest in your particular situation.
Does co-sleeping cause separation anxiety?
Babies and young children often prefer to sleep with their parents. This is common to all mammals. In time, all children eventually learn to sleep on their own. When this happens can be the choice of the parents or the child, depending on your preferences. A baby who co-sleeps might have trouble sleeping when you are not there, but there won't be any long-term separation anxiety. Most babies do go through periods of developmentally appropriate separation anxiety no matter where they sleep. Talk to your baby's doctor about this if you have concerns.
How long can babies sleep in a co-sleeper?
This depends on the type and style of the co-sleeper. Read the weight, size, and age limits for the ones you are considering. In general, the risk of SIDS or suffocation for most babies decreases beginning at around six months of age and is very low after one year of age (as long as safe sleeping practices are observed). So even if you continue co-sleeping well into toddlerhood or beyond, you probably will no longer need a co-sleeper. If your child has any type of medical condition, the advice could be different, so talk to your pediatrician if you are concerned.
Other Co-Sleepers We Reviewed
Mamibaby Baby Nest
This super soft, breathable co-sleeper will leave you and your newborn having sweet dreams.
In addition to the ones that made our top 5 list above, we also evaluated 20 other co-sleepers. We've separated them into categories and included the important information so you can compare them and make the choice that is best for you and your baby.
Soft Co-Sleepers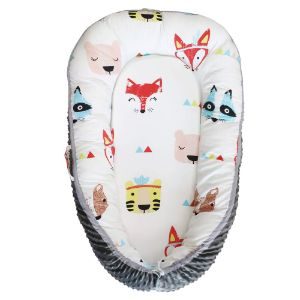 You and your baby will sleep easy with this adorable red fox-printed co-sleeper. It's hypoallergenic and breathable for restful nights.
Key Features:
Adjustable – grows with your baby
Available in many colors and prints
For babies up to one-year-old
Cost: $60
This co-sleeper is soft and cozy, but also has a firm mattress pad for safety and support. The breathable cotton cover is machine-washable.
Key Features:
Soft, breathable cotton
Firm mattress pad
Great for awake tummy time
Cost: $100
DHJZM Baby Lounger and Baby Nest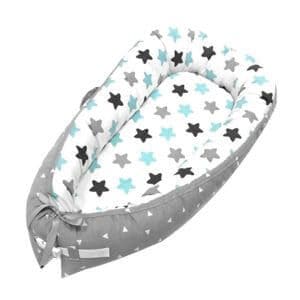 The cotton cover on this co-sleeper is 100% organic, so if organic or natural living is important to you, this might be your #1 choice.
Key Features:
Snug and soothing
Lightweight
Machine Washable
Cost: $60
Contoured velvet and 100% organic cotton combine to create a soft, supportive nest for your little one to sleep in while sharing your bed.
Key Features:
Includes a mattress pad
Mimics the womb
Machine washable
Cost: $50
JoJo Infant and Toddler Co-Sleeping Baby Bed
This co-sleeper can be used for newborns on up to toddlers 24 months old. The raised and padded perimeter keeps small babies in place.
Key Features:
100% cotton
Use for up to 24 months
Machine washable
Cost: $120
Lalame Organic Newborn Lounger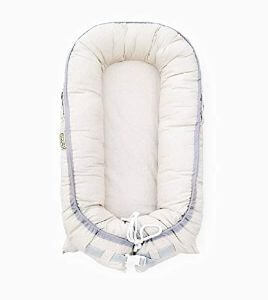 The fabric of this co-sleeper is 100% certified organic, making it a safe choice for your baby. The cover is also water-resistant.
Key Features:
Organic fabric
Water-resistant cover
Compatible with arch toys
Cost: $100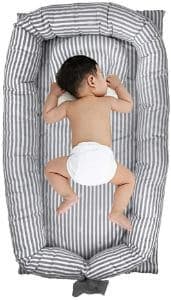 Convenient zippers allow you to easily remove the inner pad of this co-sleeper so you can wash the cover. Perfect for sensitive skin.
Key Features:
Softcover
Use for newborns up to 24 months
Machine washable
Co-Sleepers With Rigid Sides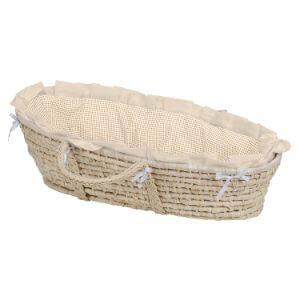 This adorable Moses basket makes a great co-sleeper for babies under 15 lbs who can't roll over or push up on their hands and knees.
Key Features:
Includes foam pad, liner, and fitted sheet
Bedding is machine washable
For babies up to 15 lbs
Cost: $45
Hoohobbers Tailored Moses Basket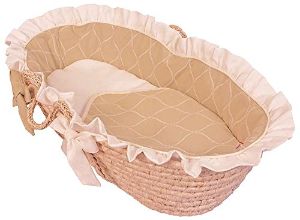 This basket-style co-sleeper has padded bumpers to combine the safety of the firmer edges with the comfort of extra padding.
Key Features:
High-quality linens
Padded bumpers
Includes a sheet and receiving blanket
Cost: $125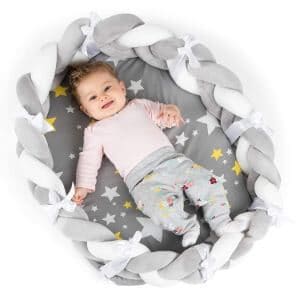 The braided edge of this co-sleeper is eight inches high, giving your baby a safe place to snooze that he or she can't roll out of.
Key Features:
Two pieces (pad and braided sides)
For babies who can't rollover
Cute starry design
Bassinette Co-Sleepers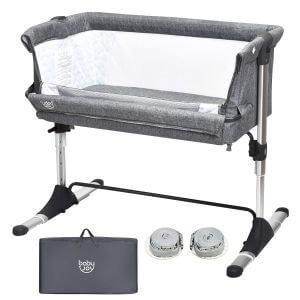 A detachable sidebar and breathable mesh make it easy for you to keep your eyes (and your hands) on baby at all times of the day or night.
Key Features:
Retractable feet
Height and angle adjustment
Easy to clean
Cost: $170
Your baby will enjoy a stable bed with a supportive mattress, and you'll enjoy having him or her literally at your fingertips.
Key Features:
7 height positions
Easy-open side panel
Suitable for babies under 5 months and 33 lbs
Cost: $170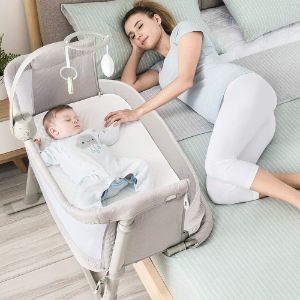 This co-sleeper has a music box and a detachable toy, so it will help the baby stay settled and quiet even if he or she wakes up first.
Key Features:
Microfiber padding
Mesh on both sides
Easy assembly
Cost: $200
With six height levels, you'll be able to find the one that's best for your bed. This co-sleeper has lots of ventilation for maximum airflow.
Key Features:
Easy to adjust
Easy to move around the house
Good mattress support
Cost: $200
Venice Child California Dreaming Co-Sleeper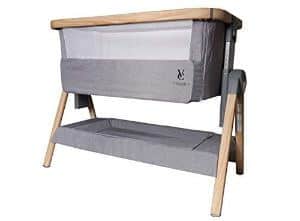 This bedside co-sleeper has a mattress made of compressed cotton and a soft bamboo liner for your baby's comfort. It's easy to take with you on a trip, too.
Key Features:
Soft bamboo liner
Easy to clean
Includes a travel bag
Portable Co-Sleepers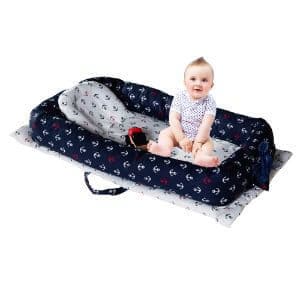 This portable co-sleeper can be used anywhere you find yourself. The fabric is 100% cotton, making it easy to wash and care for.
Key Features:
Easy-carry handles
Machine washable
Includes pillow pad for older babies
Cost: $65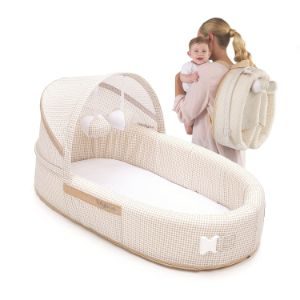 Snuggle up next to your little one at night with this bassinet, then flip it into an easy-to-carry backpack for the next time you're out and about.
Key Features:
Removable activity bar
Waterproof bottom
Three cute colors
Cost: $75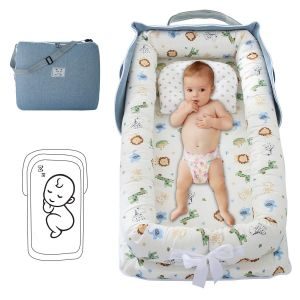 This portable co-sleeper is adjustable, so you can use it with your newborn up until he or she is 24 months old. Includes a zippered cover.
Key Features:
Machine washable
Length is adjustable
Includes a cover with handle
Cost: $65
Surpcos 4 in 1 Portable Bassinet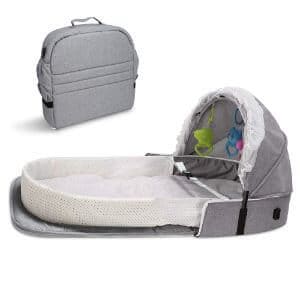 Know your baby has a comfortable place to sleep right next to you with this co-sleeping bassinet. It includes a canopy and mosquito net.
Key Features:
Can be used as a backpack
Includes removable canopy
Machine washable lining
Cost: $45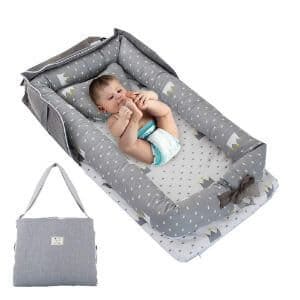 This portable co-sleeper is made of soft cotton, making it good for babies with sensitive skin. Includes its own travel bag for trips.
Key Features:
Breathable material
Comes with a pillow
Easy to clean
Cost: $70