Babies don't come with instructions, but it does seem like they come with a lot of stuff. If you've ever had a blow out diaper in the middle of a store or a meltdown out of boredom at an appointment, you know exactly how important some of that stuff is to take with you. When a little one has to eat as often as a baby does, you'll need to make sure you're prepared. If you're not quite sure what type of diaper bag you need, though, don't stress! We've done the legwork for you.
We reviewed dozens of diaper bags to identify the best of the best. We looked at insulated diaper bags and diaper bags that have a large capacity. We found the diaper bags with easy access and those that can be worn ergonomically for longer trips. No matter what you're looking for in a diaper bag, we have the right one for you.
When you're on the go, then you may want to have a better range of motion and what better way than to free your hands up while carrying your baby? For this scenario, you won't want to miss The Best Baby Carriers. If you'd prefer to take them on walks, though, then you may be better off checking out The Best Baby Strollers.
Early in our research, it because very clear that there was only one possibility for our best overall diaper pick. The SoHo Collection, Grand Central Station 7 pieces Diaper Bag set has a bag for anything you'll need, and inside those bags, specific pouches and pockets that will keep your baby well-supplied.
The 5 Top-Rated Diaper Bags
*Ratings are from Amazon at the time of publication and can change
Best Diaper Bag Overall: SoHo Collection, Grand Central Station 7 pieces Diaper Bag set
The SoHo Collection, Grand Central Station 7 pieces Diaper Bag set has everything you could possibly need for taking your baby virtually anywhere. You'll have a more compact bag for quick trips and the large tote for your longer ones. (Or for the parent who likes to prepare for any scenario.) There's an insulated separate bottle holder so that you can keep it separate from the rest of the bag's contents to make sure you're keeping it the right temperature. You can put it in the bag for extra insulation, or connect it to the outside with the included strap if you'd prefer.
You'll also have a matching changing pad and a diaper organizing pouch so that you can keep your diapers and wipes separate for quick changes – the last thing you'll want is to have to dig around for a diaper when the dirty one is leaking through.
Nearly 900 customers felt strongly enough after purchasing this diaper bag set to come back on Amazon to leave their review and rating. And when that many people leave a rating as high at 4.6 stars, you have every reason to believe this is a quality product.
SoHo Collection, Grand Central Station 7 pieces Diaper Bag set Key Features:
Matching set includes 5 bags, changing pad, and stroller straps
1-year warranty
3 pattern options
Best Men's Diaper Bag: HSD Diaper Bag Backpack for Dad
The HSD Diaper Bag Backpack for Dad has all the pouches and pockets that are handy in a diaper bag – but in a bag that dad will have no problem carrying. It's a tactical backpack from the outside, with absolutely no indication that the contents are all baby-related so if Dad is having a problem with the subtlety of a diaper bag with baby monkeys on it, this is the fastest way to stop that complaint.
There is a baby wipe pocket that is secured with elastic to make for an easy one-handed pull, and when not in use, it's zippered up out of sight. The front pouch will also zipper up, but contained within are several baby item-specific pockets that will keep things like pacifiers, hand sanitizer, boogie wipes, fingernail clippers – and even dad's tactical items safe and secured. There's even a zippered pouch to organize your little one's diapers, keeping them separate and sorted.
With over a thousand customer reviews on Amazon, you can be confident in the accuracy of this product's rating – which is all the better because the rating is an impressive 4.8 stars! Better still? It also comes with a lifetime warranty.
HSD Diaper Bag Backpack for Dad Key Features:
5 color options
Stroller straps included
Comes with coordinating changing pad
Best Budget Diaper Bag: Dikaslon Convertible Unisex Travel Back Pack Maternity Baby Bag
The Dikaslon Convertible Unisex Travel Back Pack Maternity Baby Bag is an excellent diaper bag to make sure you have all the specialized pouches with no fuss, no muss. Its simple design will let you use it without losing your items in the complicated zippers and pockets. There's still enough organization contained within that you'll have a designated spot for each of your common baby items; diapers and wipes in one pouch, and another for a change of clothes and toys.
There's also an anti-theft pocket on the back of the backpack and is hidden enough that you won't have to worry about anyone reaching it while you're wearing it. In fact, even when you're not wearing it, it's still difficult to access unless you know where it is.
Though there is plenty to be pleased with for this diaper bag, the numbers are our favorite part. There are nearly 400 customer reviews on Amazon leaving it with an overall rating of 4.7 stars.  – But that's not the nest part! You can get this bag for under $25!
Dikaslon Convertible Unisex Travel Back Pack Maternity Baby Bag Key Features:
Waterproof design
Padded laptop pouch
2 insulated bottle pouches
Best Diaper Bag Backpack: Hafmall Diaper Bag Backpack
Hafmall Diaper Bag Backpack
If you're interested in a diaper bag that you can toss on your back and wear for long trips, then consider the Hafmall Diaper Bag Backpack.
The Hafmall Diaper Bag Backpack is a compact enough backpack that you won't struggle lugging it around no matter how you carry or wear it. The padded straps of the backpack are perfect for long-wear and you'll feel little to no back pain, no matter how heavily it's packed. Included with purchase are two stroller straps to make sure that you can take a break when you want, too.
There are two insulated bottle pouches for keeping baby's bottles warm or cool, depending on what you have contained within. The mesh-lined pouch in the front zippered pocket will let you see what you're grabbing so you won't have to go rooting around for what you need and the side features a tissue pocket so you can pull one out, one-handed.
This diaper backpack bag sits with right around 2,000 customer reviews on Amazon, earning it an overall rating of 4.8 stars. Any way you slice it, that's certain to make the bag pretty tempting – two thousand people can't be wrong, after all.
Hafmall Diaper Bag Backpack Key Features:
10.6″W x 8.2″D x 16.5″H
6 color choices
13 separate pockets
Best Stylish Diaper Bag: mommore Diaper Bag Large Totes Handbag
The mommore Diaper Bag Large Totes Handbag looks just like a stylish tote from the outside, but contained within are all sorts of hidden treasure features that make it ideal for a baby bag. The top zips closed or you can keep it open – you'll get to choose whether you want to opt for ease of access or for hiding baby supplies to pass as sleek professional.
The included stroller hoops are easily hidden within the bag and when needed, pull out just as easily. You can comfortably wear this tote over your shoulder with the reinforced straps and the large capacity will make sure you're able to keep your possessions in the bag as well as your baby's. If you're a working mom or just a mom with a sense of style, this bag may very well be the fit for which you're looking.
This diaper bag has an overall rating of 4.6 stars and unlike a lot of designer diaper bags you find, this one will only set you back just under $50, making you look stylish and smart.
mommore Diaper Bag Large Totes Handbag Key Features:
4 trunk nails to keep bag off ground
Includes coordinating changing pad
3 color options
Who Should Buy a Diaper Bag
If you have a baby or child (or maybe both), then you will probably be taking supplies with you whenever you go anywhere to keep them entertained, fed, or changed. The harsh reality is that the younger they are the more items they need and the more often they need them. For babies, a diaper bag is crucial to making sure they have all they need for your outings. If you get the right diaper bag and keep it well-stocked, that diaper bag can honestly be the biggest help you have when you're taking your baby anywhere. In fact, we dare say a good diaper bag may just be the difference between a relaxing adventure and a miserable, stressful one.
For the more experienced parent, they may feel confident enough to just slip a couple diaper and wipes in the car and be on their way – understand that is tempting fate. Never has a parent had a 100% success rate with this trick, no matter what they claim. When you go out unprepared, you will inevitably encounter the bored toddler who gets into everything (when a toy or book you could have packed in a diaper bag would have entertained him), or your newborn who hasn't pooped in days (you're actually kind of worried about that) decides the middle of grocery shopping is the perfect time for a blow out diaper that ruins all her clothing. The point is, no matter how experienced you are, or how confident you are in your parenting, planning for the unexpected is the real sign of a parent-pro. You may be able to get away with a large purse that pulls double duty, but you're not going to be safe with your wallet and only your wallet if you have a baby or toddler.
Important Features to Consider
A diaper bag should have a few important features. Here's what to consider when selecting a diaper bag:
Tote. A tote is all about accessibility. You'll sometimes have the option to zip up a diaper bag tote, but most don't require that for you to carry and all the better! You'll be able to juggle your baby and your bag a lot easier when you can reach in and grab what you need while comforting your baby and you can usually see into the bag so you know what you're grabbing and when.
Backpack. Zippers will secure all of your belongings in a backpack, but that's not always a plus for baby supplies. Sometimes you have only one hand free while you hold a wiggly baby with the other and getting something unzipped in that scenario is virtually impossible.
Convertible. The bag that will convert from a tote to a backpack is clearly the most versatile; you can change the way you wear these types of diaper bags to accommodate the specific situation. And since parenthood is all about preparing for the unknown, you'll certainly appreciate that. However, remember that the saying "Jack of all trades, Master of none" does apply here, too. The straps on the backpack configuration won't be ergonomic and the closure on the tote may still need to be closed to avoid spills.
Insulated. If you're taking your kid's food in this, baby or no, you'll more than likely encounter situations that would benefit from a cooler effect. An insulated bag that will keep your baby's bottle or your child's yogurt cool and safe for hours after you leave home has plenty of appeal. They may not be as versatile in function and the padding is certainly not breathable so you'll suffer if the bag is one you wear in the hot sun, but you may weigh your options and decide insulated is your top priority.
Specific pouches. If you have a pouch that's been specially designed for an item, you're less likely to forget it and you're more likely to keep it secured. For example, a bottle holder will keep it from toppling over and leaking into your bag, and a diaper slot is perfect to make sure they're flat and not crumbled – and remaining leak-proof during wear.
Frequently Asked Questions
What do you really need in a diaper bag?
There are comprehensive lists on several sites, but the main contents of a diaper bag you want to make sure you have are a way to deal with dirty diapers and feeding. Since that's pretty much all babies do, the diaper bag starts pretty easy. (Which is ironic because new parents will inevitably be the ones who pack the diaper bag full of every possible need.) Though diapers, wipes, changing pad, bottles, and formula or a nursing cover (if you choose) are most important, you may want to prepare a bit more for longer bouts out of the house with your baby or toddler. A diaper cream will keep your baby from being stuck with a sore bottom out and about, and a few burp cloths are always nice and handy. A pacifier, if your child takes one, may be the most vital to your sanity and your child's and to prepare for being unable to reach a trash can, you may want to invest in individual diaper trash bags. Prepare for the worst with your child and go ahead and pack a spare set of clothing – you never know when a blow out diaper or accident is going to happen. You may also want a blanket, snacks, baby's hat, and toys or books to entertain.
You'll also want to pack a few things for you in the diaper bag, as well. First and foremost, pack that hand sanitizer! Kids have a lot of messes that you'll need to deal with and afterward you may not always be able to get to the bathroom to wash hands right away. A small first aid kit may be a big-time lifesaver and you may also want a shirt for you, too, after spit up and milk leaking. Other items mom may want: Sling or wrap to carry baby, camera, tissues, and an emergency contact sheet so you have those numbers handy should the worst happen.
Do you really need a diaper bag?
Whether or not you need a diaper bag depends entirely on what the intention behind the question is. Do you need a bag for your baby, in which you keep his necessary items? Yes. You won't want to leave the house unprepared or you're going to be stuck with a baby who's pooped and is hungry and everyone will know that you've done it because the baby will scream to tell on you.
If, however, you mean "do I need to buy a specific diaper bag to keep my baby's supplies handy?" then the answer is no. You can use any bag you wish to keep the baby's supplies. We would caution you though, diaper bags have the pouches and waterproofing and a wide range of features that will come in handy. So we suggest you give it plenty of consideration.
How many diaper bags should I have?
You only really need one diaper bag, but there are plenty of reasons you may want others. If you coordinate your purses with your outfit, you may be inclined to do so with the diaper bags, as well. (Though that is some next-level amazing self-care parenting that isn't super common.) You'll want to think about possibly getting a smaller diaper bag that's insulated for when you know you'll be taking your child's food and want to keep them cool. If it's a fast trip, you can just pop a couple diapers and wipes and possibly get away with just that as the diaper bag, or you can slip it into your regular diaper bag, as well.
If your diaper bag is a feminine sort, then you may want a diaper bag specifically for each parent to make sure either parent can take the baby when he or she goes out. You may also want to keep diaper bags pre-packed for specific, common outings. For example, you'll love having a "doctor" bag which has plenty of toys for the waiting room and a place to keep any paperwork you need or will get. If you take your child to a nice dinner or special occasion (how daring!), then you may want a nicer bag that's a bit more "fancy" to make sure you don't stick out like a sore thumb with a hot pink baby bag.
How do you carry breast milk in a diaper bag?
Breast milk, once expressed, refrigerated and brought to room temperature, must be consumed within four to six hours. You'll probably want to err on the side of caution, though, and stick closer to the four-hour mark. If you're going to be in a hot climate and the temperature will raise your baby's milk above room temperature (between 68 and 72 degrees F), then you'll want to have the milk eaten even faster. Keep in mind, once a baby has drunk on a bottle, it should be finished within the hour, or the bacteria will render it unsafe.
If you know (or even suspect) you're going to be longer than that, then you'll want to be prepared for that, as well. An insulated diaper bag will keep your milk cool and safe for much longer. If your diaper bag isn't insulated, then you can get a small insulated cooler bag that is meant to fit just a couple bottles and won't take up too much space in your diaper bag. Make sure the bag is leak-proof and keep a cooler pack in the insulated bag to keep the milk safe for several hours.
Other Diaper Bags We Reviewed
We looked at 20 other diaper bags. Even though they didn't make our 5 best diaper bags list, they're the best of the rest and each is still a great option for you. The information you'll need to compare each one is included with the listing.
Backpack Diaper Bags
ActiveDoodie Dad Diaper Bag Backpack
With a military, tactical theme, this backpack diaper bag is perfect for the tactical dad.
Key Features:
Includes changing pad
Insulated bottle pouch
Stroller straps
Cost: $80
Bamomby Multi-Function Diaper Bag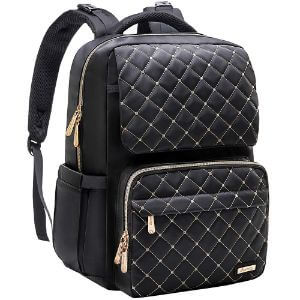 With a bit of style and a lot of function, this is an excellent option for your backpack diaper bag.
Key Features:
2 color options
Attachable stroller straps
Includes changing pad
Cost: $30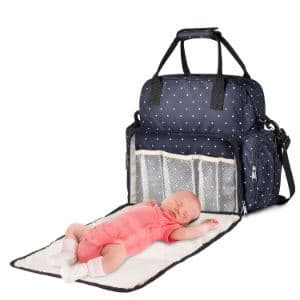 When the changing pad seamlessly unfolds from the backpack, you'll never have to worry about losing it, and that's a big win!
Key Features:
2 color options
15″L x 6″W x 13.7″H
Tissue pocket for fast grabs
Cost: $30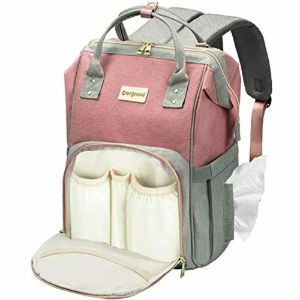 This backpack has comfortable and ergonomic straps as well as a handle that will let you comfortably carry it one-handed, as well.
Key Features:
Insulated front pouch
3 color choices
Includes USB cable, insulated bottle bag, and stroller straps
Cost: $35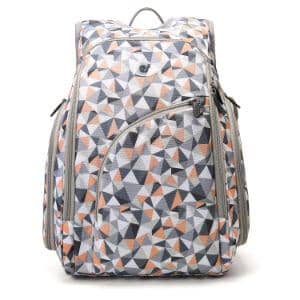 With several functional pouches and zippers to make this diaper bag highly efficient, you'll be pleasantly surprised it was designed with comfortable straps for long-term wearing, too.
Key Features:
5 colors available
11.7″L x 7.8″W x 15.6″H
Padded shoulder straps
Cost: $40
HaloVa Diaper Bag Multi-Function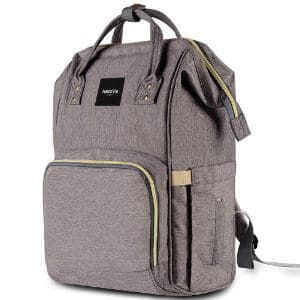 This diaper bag is a backpack with several functions, including several carrying options and specialized pockets.
Key Features:
Anti-theft pouch
Separate foil -ined pockets to keep a bottle warm
6 color choices
Cost: $30
RUVALINO Multifunction Travel Diaper Bag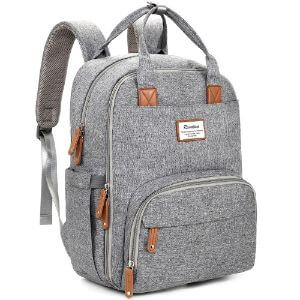 The straps on this diaper bag are carefully padded and that means you'll be able to wear it comfortably while you carry baby, too.
Key Features:
Reinforced seams and straps
11.8″L x 7.8″W x 16.5″H
6 color options
Cost: $40
Ticent Multi-Function Diaper BagBackpack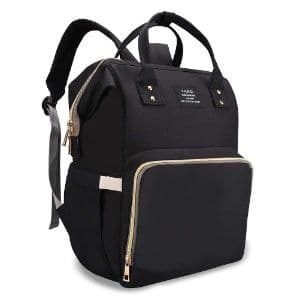 Though this is an excellent diaper bag, it's stylish enough that you won't feel out of place carrying it into the grocery store or a nicer establishment, either.
Key Features:
Made with waterproof and insulated materials
8 colors available
1-year warranty
Cost: $30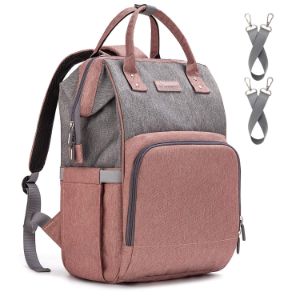 While wearing this diaper back on your back, you can reach around and grab the bottles or cups stored in the side cup pouches one-handed.
Key Features:
Anti-theft pocket for cell phone and wallet
Waterproof front pocket
4 color options
Tote Diaper Bags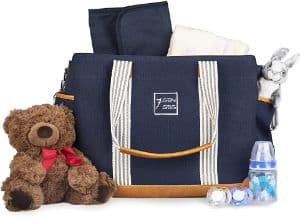 You'll be able to fit a lot of gear in this diaper bag, which means you can use it for virtually any outing with your baby.
Key Features:
Includes matching stroller straps and changing pad
10 pockets
2 color options
Cost: $40
Baby Essentials Diaper Bag Tote 5 Piece Set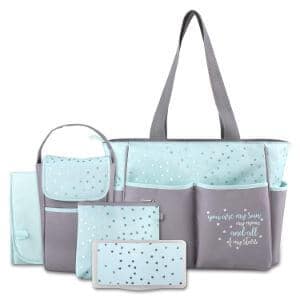 This set has something for virtually any scenario, which means this is likely the only purchase you'll need to make for your baby's diaper bag(s).
Key Features:
Design printed "You are my sun, my moon, and all of my stars"
3 color options
Water-resistant lining
Cost: $35
Columbia Badger Ridge Insulated Baby Tote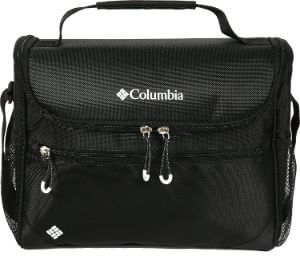 This diaper bag is functional and simple-looking, but contained within is an insulated lining that will let you keep your little one's food and drinks cool for longer.
Key Features:
2 mesh side pockets
Secure zippered closure
Adjustable shoulder strap
Cost: $20
Hafmall Multi-function Large Convertible Travel Baby Bag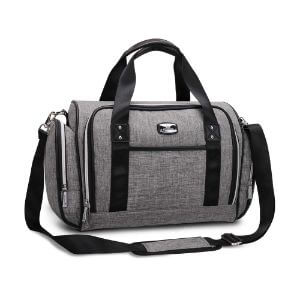 This diaper bag is an excellent choice if you want to keep your bag interchangeable and comfortably used by either parent.
Key Features:
Unique front open
2 insulated pockets
Specialized tissue pocket
Cost: $35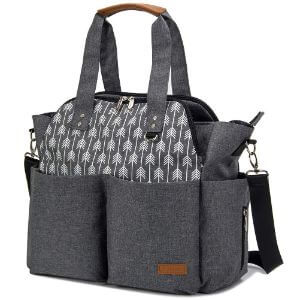 The front pouches on this diaper bag are excellent for quick access, making it a great option for any parent.
Key Features:
2 insulated bottle pouches
9 external pockets; 8 internal
Magnetic closure for fast access
Cost: $45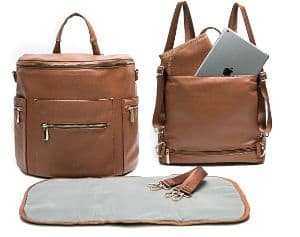 The sophisticated leather-appearance on this diaper bag will make it classy enough that you may use it even when you don't have your baby with you!
Key Features:
11 color options
Convertible – backpack or tote
Made with 100% soft Pu Leather
Cost: $50
Moclever 5PCS Diaper Bag Tote Set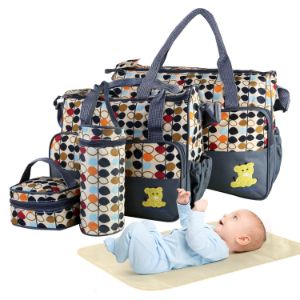 This set will give you all you need to effectively store the supplies for feeding, changing, and entertaining your baby all with a one-click-purchase.
Key Features:
Large bag has 22 lb capacity
1-year warranty
Water and stain-resistant
Cost: $45
mommore Breast Pump Bag Diaper Tote Bag
This diaper bag is extra useful for conveniently storing your breast pump, so if you need a handy way to quickly access and stow one, this may be the answer.
Key Features:
Padded laptop pocket
Total 12 pockets (3 insulated)
XL capacity: 26 liters
Cost: $40
Pomelo Best Versatile Diaper Bag Tote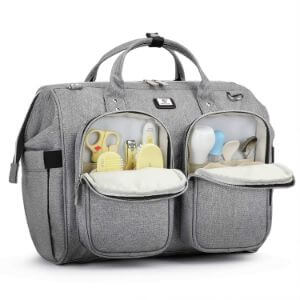 This diaper bag has plenty of little pouches and pockets to keep all the little knick-knacks your baby may need – and all securely zippered closed, too.
Key Features:
Rivet reinforced handles
Adjustable, removable shoulder strap included
5 colors available
Cost: $40
Skip Hop Diaper Bag Tote with Matching Changing Pad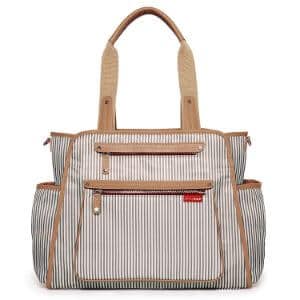 You can easily carry a lot in this diaper bag, and tossing it over your shoulder will keep your hands free and all the contents well within arm's reach.
Key Features:
3 divided sections
Includes machine-washable changing pad
11 pockets
Cost: $100
Skip Hop Women's Duo Signature Diaper Weekender Bag
This diaper bag has plenty of room and specialized mesh bags perfect for taking your little one away overnight or for a weekend (hence the name).
Key Features:
Padded shoulder strap
7 color options
Durable reinforced leather trim
Cost: $100