Having a bouncer for your baby can be an excellent way to keep your baby a part of your daily life, even when he doesn't really do much. You can place the bouncer on the kitchen floor while you're making meals, and on the table as you're eating them (Just be sure not to leave baby unattended). When your baby's curiosity and ability to interact begin to develop, you're going to love the portability anew because that bouncer can go just about anywhere you do so your needy baby can always see you. When buying a bouncer though, there are a lot of little features you're going to want to check out to get the right one for you. But don't worry; we've done the legwork for you.
We reviewed dozens of bouncers to find the best of the best. We looked at bouncers that travel well and those that pull double duty as a rocker or swing, too. We read up on cleaning instructions and padding vs safety and no matter what you're looking for in a bouncer, we've found one for you.
The more we researched jumpers, the more obvious it became that the Fisher-Price Infant-to-Toddler Rocker had to be our top pick. You can keep your baby stationary to bounce on his own or let him rock his way through the day. The way that it easily transitions from your newborn to your toddler with be greatly appreciated, especially during any regression stages your little guy goes through.
The 5 Top-Rated Baby Bouncers
*Ratings are from Amazon at the time of publication and can change
Our Top Pick: Fisher-Price Infant-to-Toddler Rocker
The Fisher-Price Infant-to-Toddler Rocker is the perfect bouncer to take your little one from birth to toddler. If you fold the bottom bar out so that the seat is reclined and horizontal, it becomes a feeder. (That is, a chair that is ideal for feeding your child his first solids.) You lower the bar, and it secures into a bouncing seat that's safe for your newborn. (This is also the same position that will work as a seat for your toddler). Lift that same bar and it will roll on the rocking seat bars.
The seat comes with a mobile-style toy bar to entice and engage your baby and battery powered vibration and music boxes. It will hold a child up to 40 lbs and when your older kid makes a mess, (or your little one does) you can just remove the seat and pop it in the washer; clean up is as easy as that.
With over 14,000 reviews on Amazon and an overall rating of 4.7 stars, you can feel confident in your satisfaction in this bouncer. And for right around $39, it's an excellent value for your little one.
Fisher-Price Infant-to-Toddler Rocker Key Features:
Multiple modes; bouncer, rocker, seat
6 style choices available
Machine washable seat cover
Our Runner-Up Pick: Tiny Love 3 In 1 Rocker Napper
The Tiny Love 3 In 1 Rocker Napper is basically the only piece of furniture you'll need for your newborn. This bouncing seat will lock into place with a latch, giving you a perfect view of your little one from a comfortable sitting position. You can slide her over to you next to the computer or while you're watching TV or aim her wherever you'll be and she'll love to watch her surroundings.
When she's sleeping, or when she's about to sleep, you can recline the seat all the way flat and the sides lift, converting this into a bassinet. You can also fold in the bouncer bar along the floor, allowing the seat to become a rocking one. The upright position is great for independent sitters whom you can spoon feed in this bouncer. There are three reclining positions; upright, recline and flat and you can choose a stable or rocking option for each.
The customer reviews on this bouncing chair are not to be overlooked. Not only does it have a respectable 4.0 stars on Amazon with nearly 300 reviews, the reviews themselves are glowing. If you just don't know what will fit your space, or what will be your (and your baby's) preference with seating and napping choices, this is a solid investment to cover all your bases.
Tiny Love 3 In 1 Rocker Napper Key Features:
Bouncer Chair, Rocker and Napper all-in-one
Moving mobile with lights and music
One handed transitions between inclines and movement
Best Budget Pick: Sassy Cuddle Bug Bouncer
Sassy Cuddle Bug Bouncer
For a bouncer that will secure your little one happily without breaking your budget, check out the Sassy Cuddle Bug Bouncer.
The Sassy Cuddle Bug Bouncer has the same features a lot of its competitors have: an excellent to selection on it's lap bar, a vibrating box to soothe your baby and a lightweight frame that will make transport easy enough that even a post-op C-section mom could do it. It even has a removable fabric seat that you can pop in the washer and clean with ease. What sets this particular bouncer apart, though, is the incorporated blanket that will let you tuck your baby into the bouncer, without adding a complication of a blanket. You can wrap the bug's wing around each side of your baby and swaddle her, making it all the easier for her to get her little newborn catnaps with comfort and security. And you'll love that when she gets a little more active, her constant kicks won't be able to kick this "blanket" off; its sewn into the bouncer and not going anywhere.
This particular bouncer only has a few reviews on Amazon (with a 4.5 rating so far), but if you'd like to check out a lot more reviews, take a look at the Whimsical Bumble Bee model of the same Sassy Cuddle Bug Bouncer. It has an overall rating of 4.0 with well over 300 customer reviews and several answered questions that will also apply to this model, as well. And take note, depending on the model you choose, this bouncer only costs between $35-$40 – an absolute steal!
Sassy Cuddle Bug Bouncer Key Features:
Battery operated vibration box plays lullaby music
25lb max weight limit
3-point harness and incorporated swaddle "wings"
Best Baby Bouncer Chair Pick: Bright Stars Playful Pinwheels Bouncer
The Bright Stars Playful Pinwheels Bouncer is a bouncing seat that will entertain your little one enough that you can give your arms a break and how you spend that break is entirely up to you. (We know this may be a foreign concept to a new mom who's trying to balance a perfectly clean home with a happy baby but you can even spend this little break relaxing!)
The seat features a box along the bottom that vibrates to soothe your little one and the 3-point harness will keep her secure as long as she's unable to sit up from the recline. The soft fabrics won't irritate baby's sensitive skin and the seat that removes from the metal frame is 100% machine washable. The toy bar will engage and entertain your baby so you can encourage her development by drawing her attention and focus to these toys.
This bouncer has an overall rating of 4.3 stars on Amazon and with over 700 customer reviews, it's safe to bet on this bouncer as a quality investment.
Bright Stars Playful Pinwheels Bouncer Key Features:
25 lb recommended weight limit
1 C battery required (not included)
Lightweight; only 5.3 lbs (ideal for moms with lifting restrictions)
Best Portable Baby Bouncer Pick: BABYBJORN Bouncer Balance Soft
BABYBJORN Bouncer Balance Soft
For an easy transport that will let you take your baby without any extra hassle, try the BABYBJORN Bouncer Balance Soft.
The BABYBJORN Bouncer Balance Soft has an ergonomic design that is doctor approved to provide full support to your baby's back, neck and head. You can keep this bouncer upright and allow the little kicks and wiggles to propel your baby into a fun play time or recline this seat in two other positions for him to rest or sleep. Each stage locks into place securely from the back. And when not in use, you can simply push the seat flat and store it (or transport it) with ease. And if you've ever struggled with where to put a baby down while you're away from home, you understand this portability is invaluable.
You can use this bouncer from birth on to age two, as long as your little one's weight checks. You'll want to heed the recommended 7.8 pound weight minimum, 28 lb maximum. And when your child is able to walk and sit unassisted, you can reverse the fabric for a more traditional seat for your little guy. You can also take that fabric right off the frame and pop it in the washing machine; which will definitely come in handy.
We can't help but be impressed by the numbers on this bouncer; It has over 1800 customer reviews and has a spectacular 4.8 star rating. We think that's enough people's endorsement to make us sure this bouncer will keep you and your little one pleased.
BABYBJORN Bouncer Balance Soft Key Features:
5 color options
Removable and machine washable seat
4 positions: play, rest, sleep, and transport
Who Should Buy a Baby Bouncer
If you have a baby, you need a bouncer; there's just no two ways about it. You may think that between the swing and the crib and the bassinet, you'll be set. But you're not. You need a place to plop that baby that you can move with relative ease. Chores will still need done and if nothing else, mommy will still need to make herself a sandwich while you're recovering from birth. You can't move a swing, crib, or bassinet very easily and moving from one room to the other will be made easier (and therefore life will be easier) with a bouncer.
If you aren't expecting or the parent to an infant, but you know someone who is, you can be the absolute rock star gift giver by buying this for your friend or family member. She may not have registered for one, but you giving her one (in addition to something off her registry – never neglect the registry entirely) will be anticipating her needs before she has them. She will use it thoroughly and likely always remember what brilliant person gave her that convenience.
Important Features to Consider
A baby bouncer should have a few important features. Here's what to consider when selecting a bouncer for your baby:
Cleaning recommendations. No matter what age your child is, the fundamental rule of children is that they make messes. Even if they're only nursing and won't be eating in the bouncing seat at all. They could still have a blow out diaper or spit up and you're going to want to have a way to clean it. If the seat is completely removable, straps and all, and machine washable, that's best. But, really as long as the fabric is removable and machine washable, you should be okay. We suggest you be leery of any bouncy seat that is "wipe clean."
Portability. The entire point of the bouncy seat is that it isn't a bulky contraption that you have to lug everywhere with you. That being said, there are still differing levels of portability and if you plan on using it as your go-to, everywhere-you-go-in-the-house place to put your baby, you'll want to grab a comfortable and portable one. If you plan on traveling with your baby and want to bring the bouncer so that there's someplace for you to put your baby on, then you may need to sacrifice a little to get a little. Try looking for a bouncer that's more travel-friendly; a collapsible bouncer will work great for these instances.
Mobiles/toy bars. If you use this early on, a mobile or bar across the lap or just above your baby's head will be incredibly useful for entertaining. They will be able to look at shapes and objects before they can really interact with them and kicking their feet will help those objects hanging off the mobile swing, giving them movement to watch. As they get a bit older, they'll be able to associate the movement of their feet with the movement of the objects, pushing their development. When they can reach out you'll need to be careful their baby strength doesn't rip things off the bar and destroy the bouncer or hurt the baby. We highly recommend a mirror and adding a chain of rings long enough to lower toys to a reachable level. This should help prevent destruction and keep you from playing fetch when they drop it.
Power supply. Most bouncing seats will run on batteries; particularly C batteries. You can look into the battery life, but the chances are you'll need to replace them every few weeks if you use the seat often. If you find one that operates on electric power, keep in mind you'll need to lug that power cord around with you and plan accordingly. If you don't plan on moving the bouncer often, though, the ease of the plug and play can be incredibly tempting. If the seat's only movement are the bounces when the baby bounces, you won't need to worry about this one at all.
Motion. Bouncers will often do more than bounce. The most common movement they add in is vibration; but that's not all they do. Does the bouncer rock or swing, too? If it's a combination type then you'll be able to try out different methods for soothing your baby. Some go in different directions and some use different movements and the more you have available to you, the more likely you will be to find something that will work for your baby. And if your little one likes variety, all the better to have several options.
Padding. Sometimes you can look at a particular style or model of bouncer and think to yourself that it just can't be comfortable to sit in for very long. Because of this, you may be inclined to choose a more padded bouncing seat. You'll need to weigh safety with comfort when you're considering this, though. Note that a bouncer is intended for use only during waking hours, so that you will be observing baby consistently to prevent any suffocation. That will likely be the biggest deterrent for any risks, but it's still probably worth consideration when picking out a bouncer with extra padding.
Frequently Asked Questions
What is a baby bouncer and how does it work?
A baby bouncer is sometimes also called a bouncing or bouncy seat. Sometimes they can be confused with a jumper but a bouncer is something you can put even a newborn in without concern. The typical age for a bouncer is birth to about 3 months or so. You can safely keep babies in the bouncer until they're sitting up on their own. You may find that some bouncers are better for newborns than others; a deeper seat will keep your baby's head more secure. A baby bouncer is perfect for when you bring that baby home and think, "Well, now what do I do with this baby?" You can put the baby down, believe it or not.
Beyond newborn, the bouncer will come in handy when you need to do something but want to keep a close eye on the little one. You'll find popping this on the floor in the bathroom is a perfect solution to needing a shower with an especially needy baby.
Are baby bouncers safe for newborns?
A bouncer is one of a few things that are considered safe for your newborn. (In case you were wondering the others are car seats, swings, and rockers.) If you're worried about your little one's wobbly neck you can add in a newborn insert but you'll want to take extra care for anything near baby's face. Even without the insert, remember that you only want to use the bouncer (or swing, rocker, and car seat) during awake times and when you're monitoring them. If you're asleep, then baby can't be in these things. Even if you're just prone to accidental naps (as most new mothers tend to be), you should place baby someplace safer, like his crib if you're not alert.
When can you put your baby in a bouncer?
For many parents, the bouncer is the first place they put the baby down once they bring her home from the hospital. So if you're wondering how old the baby needs to be the answer is you can place your baby in a bouncer from day one. And the vibration that most seats employ will soothe a newborn. It's one of the few things you can use, so don't forget to grab one!
If you're looking for suggestions of when, specifically, to put your baby in a bouncer, then all the time! Be sure to keep a constant eye on her if you put her anywhere off the ground. You can put her in the seat on the table when you're eating dinner, or on your desk while you're working; even in front of the shower while you're cleaning yourself.
What's the difference between a baby bouncer and a baby jumper?
A baby bouncer is a seat that is reclined and is meant for your baby that can't sit up yet. Once your baby starts sitting up, it is no longer safe for him to use a bouncer seat. You will use the bouncer for your babies from birth to about four months or so. The older he gets the more closely you'll need to watch because one day he may surprise you and sit up without any warning.
A jumper is more geared toward an older infant, right before walking. The jumper has toys that will require your baby's interaction and will allow him to use his legs to jump up and down safely. He'll need to be able to stand upright with some support to get full use of a jumper. It's perfect for a child who wants to move and go, but doesn't quite have it figured out yet. The typical age for the jumper to be a baby favorite is roughly 6-10 months.
Other Baby Bouncers We Reviewed
We looked at 20 other bouncers for babies. Even though they didn't make our 5 best baby bouncers list, they're the best of the rest and each is still a great option for your baby. The information you'll need to compare each one is included with the listing and we broke them into the following categories:
Baby Bouncer Seats
4moms mamaRoo high-tech baby swing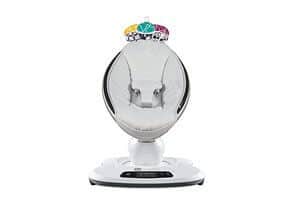 Connect this bounder to your phone via Bluetooth and control your baby's movements without even having to get up.
Key Features:
4 fabric styles
5 motion patterns and speeds
25-lb weight limit
Cost: $220
Baby Einstein Neighborhood Symphony Bouncer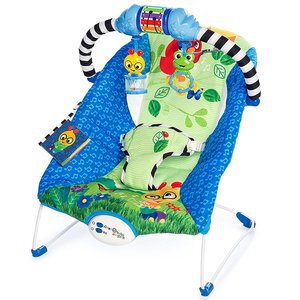 This bouncer has a toy bar and book attached that will keep you from having to fetch as he tosses them.
Key Features:
Machine washable seat
Battery powered vibrating seat
Removable book and toys
Cost: $40
Baby Trend Hello Kitty Bouncer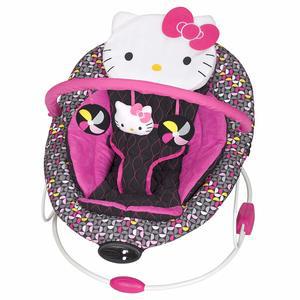 This vibrating bouncer has a fun Hello Kitty theme and if your child has a theme working, this could work perfectly for her.
Key Features:
Removable cover
Vibration and music
Lap bar with toys
Cost: $55
Disney Minnie Mouse Garden Delights Bouncer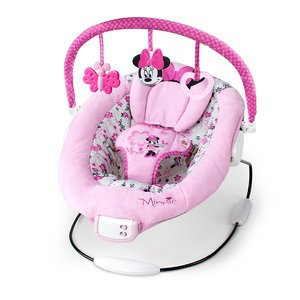 This comfy and classic bouncer will keep your little one both contently sleeping or happily entertained.
Key Features:
3 toys on toy bar, including teething toy
Vibration auto-shuts off after 15 minutes
Music features 7 melodies
Cost: $40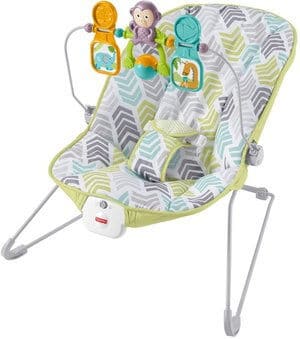 This bouncer seat comes in 7 different colors and patterns, allowing you to customize your seat to best match baby's room or theme.
Key Features:
Spinning toys on toy bar
Vibration seat
20-lb max weight limit
Cost: $35
Fisher-Price Comfort Curve Bouncer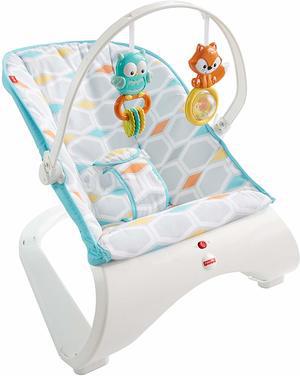 As your baby kicks and wiggles, this seat will sooth her with the gentle bouncing each movement makes.
Key Features:
Vibration seat
Machine washable seat
Removable toy bar
Cost: $35
Ingenuity SmartBounce Automatic Bouncer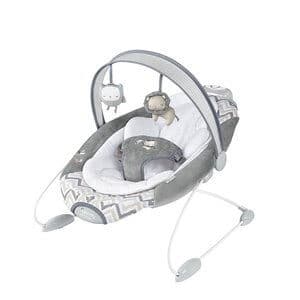 The toy bar pops right off so you'll be able to distract your baby while he's in it and still have easy access to him whenever you want, too.
Key Features:
2-speed auto-bounce
3-point harness
Removable infant insert
Cost: $60
Nuna LEAF Curv Baby Seat Cinder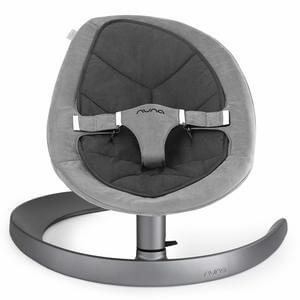 This seat was designed to mimic that of a leaf on the wind; push your child once and watch her soar for over 2 minutes!
Key Features:
Locks stationary for feeding
3-point harness
130-lb weight limit
Cost: $310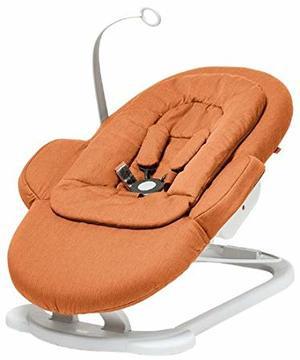 This bouncer can, with a separate purchase of Stokke Steps Highchair, be added to the lift and convert your child's comfy seat into one where she'll be able to eat with you at the table.
Key Features:
Includes newborn insert
5-point harness
20-lb weight limit
Cost: $35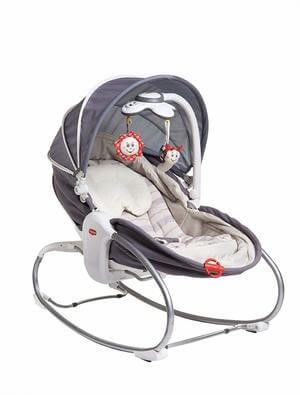 If you plan on taking baby out to the porch or deck with you, you'll love the sun shade offered with this bouncer.
Key Features:
Adjusts to napper
9 different melodies
3-point harness
Travel Baby Bouncers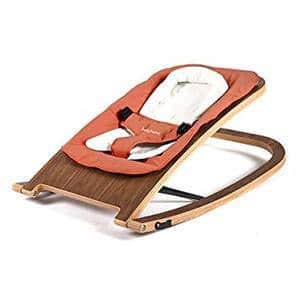 This wood bouncer folds flat for storage and portability and gives your little one a comfortable seat in the meantime.
Key Features:
4 color choices
3-point harness
20-lb max weight
Cost: $180
KidCo BouncePod Travel Bouncer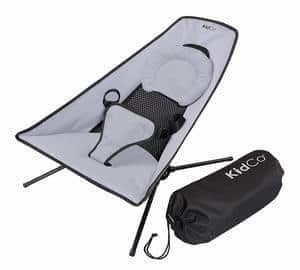 This portable bouncer features non-skid feet so you won't have to worry about it sliding and when not in use, it folds up in a snap.
Key Features:
Includes adjustable headrest and carrying case
3-point harness
Machine-washable fabric
Cost: $30
Skip Hop Uplift Multi-Level Adjustable Bouncer, Grey
This bouncer can be pushed all the way down to a flat fold or lifted up to eye level in your seated position, making him a part of your table talk.
Key Features:
Twist knob lets you adjust to any height
Features melodies and soothing sounds
Vibrates with a tuck away mobile
Cost: $120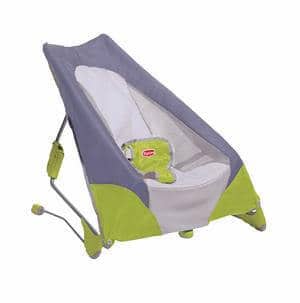 With a few pulls of latches and bars, this bouncer folds flat and slides into a carry case for you to store or take with you.
Key Features:
Breathable mesh sides
Includes carrying case
3-point harness
Baby Bouncing Swings
ConvertMe Swing-2-Seat Portable Swing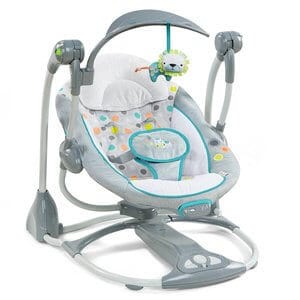 This bouncer pulls double duty as a high quality swing, as well.
Key Features:
Swing features timer and music
Seat has vibration box
Folds for portability
Cost: $70
Fisher-Price Newborn-to-Toddler Portable Rocker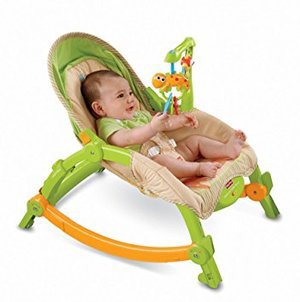 Lifting the feet along the bottom will turn this bouncer seat into a rocker.
Key Features:
40-lb max weight
Removable mobile
Vibration box
Cost: $45
Graco DuetConnect LX Swing + Bouncer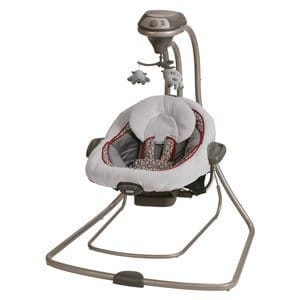 Pull this seat off the swing for a true bouncer seat that lets you bring baby with you wherever you go.
Key Features:
5-point harness
2-speed vibration
Recline option with infant insert
Cost: $130
Graco EveryWay Soother with Removable Rocker, Josephine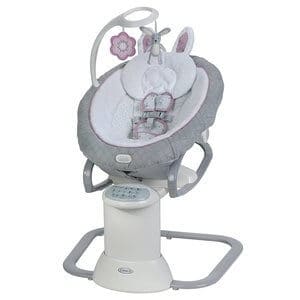 Just as the name suggest, this combination bouncer seat will be able to move and soothe your baby every way imaginable!
Key Features:
16 possible seat options
Remove seat for a rocking bouncer
2 vibration settings
Cost: $200
Graco Glider Lite LX Gliding Baby Swing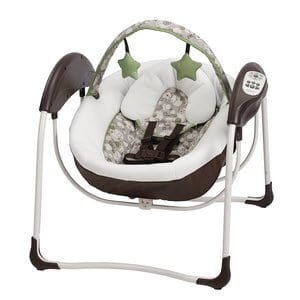 As a stationary seat, this bouncer is a great and portable way to take your baby from room to room and the glider/swing feature will keep him happy for even longer.
Key Features:
Removable mobile
6 gliding speed
Built-in timer
Cost: $70
Ingenuity SmartSize 2-in-1 Soothing Solution, Rowan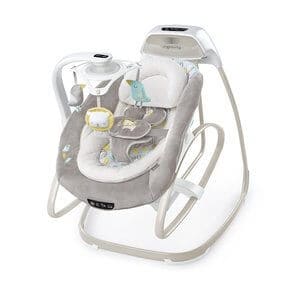 Pull this bouncer off the swing and you can take it with you and put it places you couldn't put the bulky swing.
Key Features:
Swing, bouncer and rocker
Lighted mobile
4 vibration modes
Cost: $190
Products You May Be Interested In: