Once your baby can hold his head up on his own and stand with only a little support, then he may be ready for a jumper. They're particularly helpful as a place to put your baby after he outgrows the bouncer and while he has a time limit to his patience. You may find the jumper engages and entertains him for a lot longer than you had imagined. But finding the right jumper for your child's needs and interests can get complicated. We're here to help though, so a read below should definitely get you started.
We looked at dozens of jumpers for your baby and have brought you the best of the best. We looked at music and lights for when your little one still can't interact much and toys that require heavy involvement for when your child's development can better benefit from them. We looked at standard jumpers with springs and at doorway jumpers that will transport a bit better, too. No matter what kind of jumper you need, we will very likely have it on our list.
Throughout our research, the Fisher-Price Rainforest Jumperoo stood out as the clear winner of our top pick. The seat is secured with 4 springs that are completely enclosed to prevent pinching and the activity stations are complemented by a small tray that's perfect for smaller toys or a light snack. (For when you're able to supervise snack time.)
The 5 Top-Rated Jumpers
*Ratings are from Amazon at the time of publication and can change
Our Top Pick: Fisher-Price Rainforest Jumperoo
The Fisher-Price Rainforest Jumperoo is the gold standard by which you should compare all jumpers. The seat allows your child to spin a full 360 degrees and at each turn of his body, there will be another developmentally stimulating activity with which he can interact. And, big bonus that most jumpers don't feature, it folds and pivots into a nested position that will allow you to move it from room to room or take it with you in the car. When this is his favorite thing in the world, this feature will be your favorite.
Two soft leafs hang overhead and provide a canopy of sorts that will act as a mobile for your little one to reach and play with while he jumps and develops his leg strength. The seat is height adjustable and when (not if) he gets that seat dirty, you can simply pop it off and into the washing machine with no issues.
Even if you paid no attention to the above facts regarding this jumper, read these numbers and allow your doubts to be soothed. Around 13,000 people have provided customer reviews for this jumper on Amazon and have given it an overall rating of 4.7 stars. Four. Point. Seven. That means most of 13,000 people gave this jumper a perfect rating.
Fisher-Price Rainforest Jumperoo Key Features:
Folds for easy portability
2 size choices for more activity options
Requires 3 AA batteries
Our Runner-Up Pick: Skip Hop Silver Lining Cloud Baby's View 3-Stage Activity Center
The Skip Hop Silver Lining Cloud Baby's View 3-Stage Activity Center is a converting jumper that will grow with your little one from about 4 months to 5 years or older. As a jumper, you'll be able to pop her in it as soon as she can hold her head up and keep her body mostly stable. Once she loses her patience for being confined and wants to move and shake, it functions as an activity center that she will walk around. You'll keep the same toys in the jumper and let her use the table to assist her walking as she moves from one activity to another. The final stage, and one that will last the longest, is the table and chalkboard. You will need to purchase stools separately but once you have those, this table will last your little one for as long as she fits at the table.
The jumper includes a bounce boars that will assist your little one's jumps and includes a little foot keyboard that is easily viewed from the peek-a-boo transparent tray on the table. All of the toys are secured with a clipping system and that means you can take them with you or store them away when your little one outgrows them.
There are over 6,700 customer reviews for this jumper that have given it an overall rating of 4.8 stars – quite impressive, really. So if you have any hesitation on this jumper, take those numbers into consideration and feel a bit more at ease.
Skip Hop Silver Lining Cloud Baby's View 3-Stage Activity Center Key Features:
Bounce board maximizes jumping
Jumper, Activity table and chalkboard table, all-in-1
3 color choices
Best Budget Pick: Evenflo ExerSaucer Door Jumper
The Evenflo ExerSaucer Door Jumper will fit any doorway from three to six inches wide – and that's well within the range of most standard doorways, so you won't need to worry about it fitting your door. The clamp secures without the use of any tools, so installation is a breeze. The seat itself is framed so it's durable and won't put any extra pressure on your little one's body as she jumps. The pad is also removable and you can place it directly into the washer keeping it clean, no matter how messy your baby is.
The strap is adjustable to your child's height and the spring that keeps your little one's jumps especially entertaining is completely covered so you won't need to worry about any pinching fingers. It's so compact that you won't have to worry about the space it takes up in your home and when it's not in use, you can easily remove and store it, meaning the door it's hanging in will still be usable.
There are over 6,500 customer reviews on Amazon that have earned this jumper an overall rating of 4.5; not bad at all. And for the price, around $45, those numbers seem even better. This jumper goes to show you that you won't need to spend a fortune to get your little one a fun jumper she'll love.
Evenflo ExerSaucer Door Jumper Key Features:
Fits most standards doorways
5 color options available
Fully removable seat is machine washable
Best Activity Jumper Pick: Baby Einstein Neptune's Ocean Discovery Jumper
The Baby Einstein Neptune's Ocean Discovery Jumper is one that will engage and entertain your child all through his jumping months. Not only will the toys be a fun addition to his day, they'll help him progress and develop his mind as well as his motor skills. The seat rotates 360 degrees so he'll be able to twirl as much as he wants, however he sees fit. And, should he particularly enjoy the light-up sea turtle with numbered keys, you can remove that and he can take it with him.
The activities located around the seat feature toys that will teach your little one (or at least begin early exposure to) classical music, numbers and colors. And he'll learn them all in not one, but three languages; English, Spanish, and French. Included on the jumper are toys that will help you engage and teach your child as you play with him; like the flash cards that will let you familiarize him with objects and under water creatures.
With an overall rating of 4.7 stars on Amazon and over 5,200 customer reviews, you can be reasonably confident that this is a solid investment of which your baby will get plenty of use.
Baby Einstein Neptune's Ocean Discovery Jumper Key Features:
Removable sea turtle station
English, French and Spanish languages
4 height adjustments
Best Doorway Jumper Pick: Graco Bumper Jumper
Graco Bumper Jumper
Check out the Graco Bumper Jumper for the best jumper you can hang in your doorway!
The Graco Bumper Jumper mounts steadily to your doorway with a clamp that secures to your door's trim or frame. It comes with two toy hangings that your little one will love to play with; or you can choose to hook your little one's favorite toys onto the provided hooks on the straps. The base of the seat includes a tray perfect for little toys or snacks. Just make sure you're keeping a close eye on any snacks she eats while jumping as that could be quite the choking hazard.
The spring is completely covered so you won't need to worry about pinching and the straps are adjustable for your little one to fit comfortably in for as long as she meets the weight requirements (25 pounds). But, the likelihood of your little one still wanting confined to the jumper by the time she reaches that weight is pretty slim.
This jumper has over 1,600 customer reviews on Amazon with an overall rating of 4.7 stars, which is pretty spectacular. If you're interested in getting one for your bub, you can pick one up for a very reasonable $40.
Graco Bumper Jumper Key Features:
25lb weight limit
No-mark clamp keeps doorway protected
3 color choices
Who Should Buy a Jumper
Once your little one graduates the bouncer, the jumper is probably a good next step. That is, once he's a bit more solid and can hold himself up steadily with support. That's what the jumper will provide him: support. And it will also provide him fun! When you want to challenge him and stimulate his development, a jumper is a toy that will facilitate that. As he learns how to interact with the different pieces and parts of the jumper and he's (of course) jumping; which will help him gain control over his little body. Anything that will help him and entertain him is a win in our books, and when you see how long he'll be happily confined, it'll be a win in your book, too!
If you have a friend or family member that has a little one approaching the age where he won't be able to safely use a bouncer anymore, then a jumper would be a great gift for him. Or, if you plan on having the little guy over frequently, then having a jumper will be a great way to keep him happy. If you're a grandma who's just had what is sure to be the first of many grandchildren, a jumper seems a worthy investment. Likewise, you'll want to pick one up if you run a daycare or watch children in the home.
Important Features to Consider
A jumper should have a few important features. Here's what to consider when selecting a jumper for your baby:
Interactive toys. While you may put your baby into the jumper before he can really interact with toys, placing him in a jumper that gives him toys that he wants to play with will help promote that development. Most activity jumpers will have several different toys that will touch on different developmental stages during his time in the jumper. For example, he may have a piano that will teach him to push buttons and then also a twisting toy that clicks while he turns it, teaching him multiple motor skills.
Music and lights. Before he begins touching with purpose, you'll see he is going to be incredibly interested in lights and sounds. Putting him in a bouncer that has a variety of lights and music will keep him happy for longer and the longer he's jumping the more likely he is to figure out the toys on his jumper and fine tune those motor skills. So anything simple that will keep him happy while he learns, the better and the more complicated toys encourage steps in the right direction for him.
Cleaning instructions. There's a good chance your activity jumper will have a tray where you can place toys and, even if you originally intend to not feed him in the jumper, you'll probably find that he'll sneak some food into the jumper clasped into his chubby little fingers. And even if he doesn't squirrel food away into his jumper, there's still a pretty good likelihood that jumping enthusiastically may make him spit up a bit. Or, those big baby poops are going to be quite messy if he jumps around, squishing it all over. Needless to say, your jumper will need to be cleaned. The easiest cleaning will be if you can remove the fabric seat and toss it in the washing machine. Then you can wipe the jumper down with Lysol, towels and an old toothbrush for the little crevices things get stuck in. (Or if it doesn't interfere with any of the electronics, just take it outside and hose it down.)
Height adjustments. A jumper that will adjust in height is a must. Your little one will grow a lot in the months that he uses a jumper. You'll want to be able to adjust the height on it so that he's always in a standing position. He shouldn't be too high so his legs are dangling or too low so he's in a sitting position. You should make sure that the height is always keeping him standing on flat feet. That will help teach him to strengthen those legs.
Weight limits. You'll want to adhere to the weight limits on the specific jumper you have. You can tear or damage an activity jumper and possibly hurt the baby but this is particularly important on the door frame jumpers. Should you ignore them and your not-so-little one jump enthusiastically on a doorway jumper, then there's a substantial risk to the frame of your door and more importantly, to your child. If the hook slips or pulls the frame off the door, your little one will be unsupported and fall, and the clamp will come tumbling down onto him.
Size. There are a lot of jumpers that take up a lot of floor space. For a smaller home you may need to opt for a doorway jumper that you affix toys to so that he will have things to play with while he jumps. An activity bouncer has a large footprint so even getting it through doorways will be a struggle. You'll likely want to keep the jumper stationary, in one place in the home, and probably against a wall to minimize the impact to your walking space. (Although you may find it easier for everyone if you sacrifice your walk space for your little one's happiness and just put her in the middle of the room.)
Frequently Asked Questions
What is a jumper and how does it work?
A jumper is a seat attached to an elastic strap or springs that allow your baby to stand with some support and push off the ground, causing him to bounce himself safely. They're often referred to by brand names, Johnny (or Jenny) Jump Up or a Jumperoo. These most commonly refer to doorway jumpers, where the jumper is a seat attached by a strap and robust clamp that will affix to the doorway and stay in place. Your door will need a very securely installed and thick trim and you'll need to make sure you use a door that isn't above anything dangerous. You can even use this to interact and play with her and lightly swing her, too, but only under close observation.
The other type of jumper can often be referred to as an activity jumper, or maybe as an exersaucer. These will work independently and not require you install or uninstall for use. You will need to do some minor assembly once you purchase it, but once it's together there's a good chance you'll keep it together until your little one grows out of it. The activity jumper will be more likely to have toys and music or lights on it making it a toy that will grab your baby's attention for longer.
What age is appropriate for a jumper?
Barring any developmental delays or exceptions on either end of the developmental spectrum, your little one will likely start using a jumper around 4 months. Your baby will likely provide you the age that will be her max; that is, she'll be very vocal when she no longer wants to use it. That usually happens around the time that she's crawling or walking. (And who can blame her? We wouldn't want to be confined if we were newly able to interact with the world we've just been looking at for months!) That usually happens around 10 months or so. You may still be able to get short spurts of satisfaction in it, just to go to the bathroom but expect for that jumper to be history by the first birthday. (And prepare for it because you will mourn that loss as you spend your entire day chasing after her.)
Do baby jumpers help with leg development?
Yes, jumpers can help leg development; although speculation of this benefit may be overstated. Jumpers will help in initial phases of leg development; practicing with stability and control. But overuse of a jumper may actually cause delays, so you need to be careful not to overuse. If he becomes too dependent on the jumper to offer him support, he may not be comfortable trying to develop further and stand on his own. Furthermore, with a lot of extended use, you may see hip and legs developing skewed and leaned forward. (Due to the support that the seat offers if he leans while jumping.) His posture may be worse overall and he may get too used to pointing his toes that he can have delays in walking.  This will not happen for most babies and it won't happen unless your little one is over using the jumper. As with all things; moderation is key.
How long should I allow my baby to exercise in a jumper?
According to most pediatricians and child development exerts, you should limit your little one to about 20 minutes in the jumper at a time. We don't think you should watch a clock, though! Sometimes your little one will love the jumper and sometimes she'll see it as a prison. The truth of the matter is that most of the time your baby will put her own limits on time spent in the jumper. Some days she'll be happy as a clam in it for a half hour, 45 minutes (although that will not be often, so don't expect that.) Other days, her attention will wane and she'll want out after five minutes. If your little one just loves to play in the jumper, then let her have it sometimes! You should make sure she isn't in the jumper all day, of course. She needs variety at this stage to nurture developmental growth.
Other Jumpers We Reviewed
We looked at 20 other jumpers. Even though they didn't make our 5 best jumpers list, they're the best of the rest and each is still a great option for your child. The information you'll need to compare each one is included with the listing. We've grouped them in the following categories for your convenience:
Activity Center Jumpers
Baby Einstein Musical Motion Activity Jumper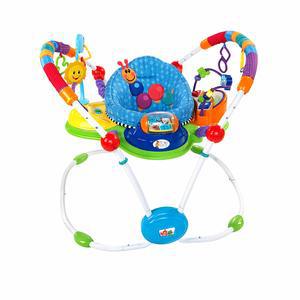 As if the 3 play stations don't offer enough activity, you can also attach rings with your little one's favorite toys along the top bars.
Key Features:
Adjustable height
Padded high back seat for support
360-degree rotation
Cost: $290
Baby Einstein Neighborhood Friends Activity Jumper
This jumper has music your child will enjoy and a volume control you'll adore.
Key Features:
3 play stations
High back seat with 3-d caterpillar
5 height adjustments
Cost: $90
Creative Baby Eric Carle The Very Hungry Caterpillar Activity Jumper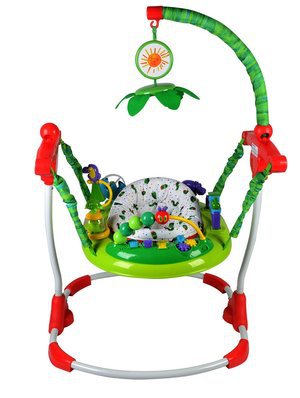 If you read the Very Hungry Caterpillar to your child, they'll love the connection to this themed jumper!
Key Features:
360 degrees of fun; 4 play stations
Removable music tray
JPMA certified
Cost: $80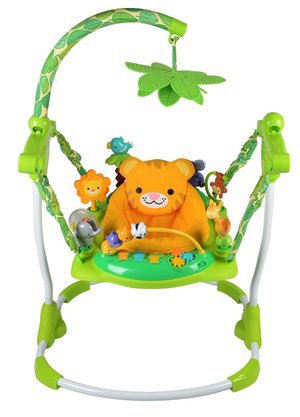 Let your little once bounce around and learn shapes, colors and more with this jumper.
Key Features:
Over 10 activities
JPMA certified
Sturdy frame, rubber nonslip feet
Cost: $70
Disney Baby Finding Nemo Sea of Activities Jumper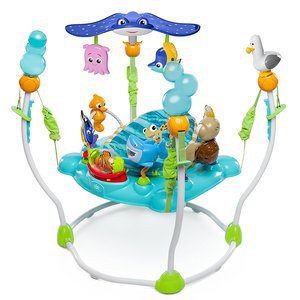 Let your little one enjoy all her favorite characters with this jumper that features the cast of Finding Nemo.
Key Features:
Over 13 activities
25-lb max weight
Removable toys for take and play
Cost: $130
Evenflo Exersaucer Bounce and Learn
Your little one will have plenty to do to keep him entertained with over 13 play activities on this jumper.
Key Features:
3 height adjustmnts
4 play stations
3 color choices
Cost: $90
Evenflo ExerSaucer Jump and Learn Jumper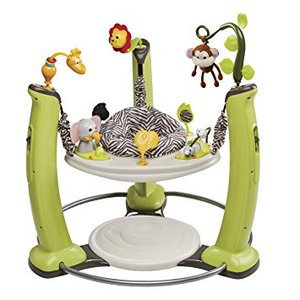 With three height adjustments and a bounce base, there's every possibility your little one will get the most out of his jumps on this jumper.
Key Features:
3 color choices
58 learning activities
Take-with-me toys
Cost: $110
Fisher-Price 4-in-1 Step 'n Play Piano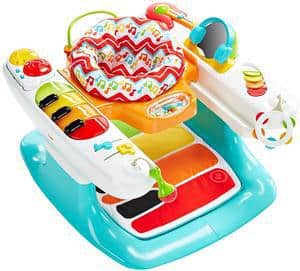 This jumper will encourage those jumping movements by playing a different tone for each key your child jumps on.
Key Features:
Soft keyboard mat
3 AA batteries required
Sliding seat
Cost: $90
This jumper offers a 360 degree seat rotation and toys all around, so your little one will never be lacking stimulation.
Key Features:
3 adjustment heights
Music and lights encourage and reward bounce and jumps
Removable, machine washable seat
Cost: $85
Fisher-Price Pink Petals Jumperoo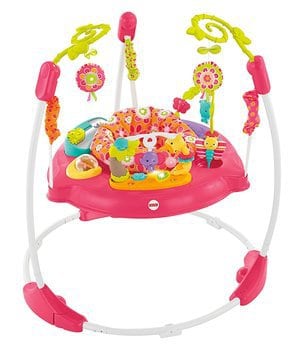 Your baby will be rewarded for her jumps with lights, sounds and music that will keep her moving.
Key Features:
Removable machine washable seat
360-degree seat rotation
3 height adjustments
Cost: $90
Kolcraft Baby Sit and Step 2-in-1 Activity Center
When the time is right, this jumper will convert into a walk-behind walker that will further encourage your baby's development.
Key Features:
2 color choices
10 developmental activities
Machine washable seat
Cost: $85
MINNIE MOUSE PeekABoo Activity Jumper
While your little one enjoys the lights and sounds, you'll appreciate being able to turn the music and sound down or even off.
Key Features:
Removable, machine washable seat
4 height adjustments
360-degree spinning seat
Cost: $85
Oribel PortaPlay 4-in-1 Foldable Travel Activity Center
This jumper converts into a play table when your little one outgrows the jumper, so you'll be able to use this jumper for years and years.
Key Features:
Folds flat for portability
Seat spins a full 360 degrees
Adjustable height
Cost: $130
Summer Infant Pop N' Jump Portable Activity Center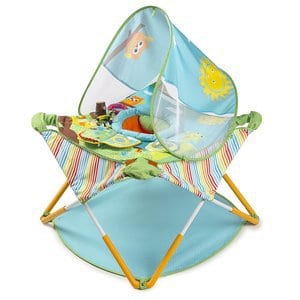 This jumper is ultra-portable, allowing you to take it with you and the sunshade is perfect for taking it with you to the beach.
Key Features:
Comes fully assembled
Seat is removable and machine washable
3 height adjustments
Doorway Jumpers
Baby Einstein Sea & Discover Door Jumper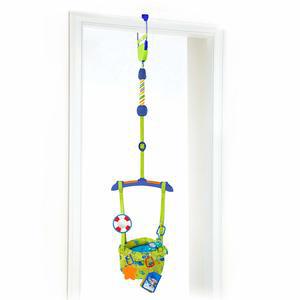 All you'll need for your little one to enjoy this jumper is a sturdy door frame.
Key Features:
Includes 4 interchangeable toys
24-lb max weight recommendation
Fully adjustable straps
Cost: $20
Disney Baby Door Jumper, Minnie Mouse
No matter what mess your little one makes in this seat, it is removable and machine washable, making your clean up a breeze.
Key Features:
Adjustable height via straps
Waist snaps into place to secure little one
Minnie's ears and face are wrinkle fabric
Cost: $20
Graco Bumper Jumper in Little Jungle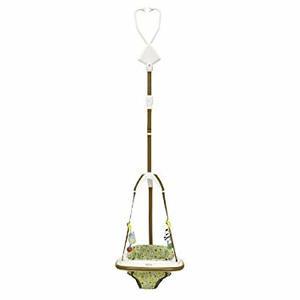 This jumper includes a tray for his toys or a small (non-choking-hazard) snack.
Key Features:
Soft bumper on clamp protects door frame
Machine washable seat
25-lb max weight
Cost: $45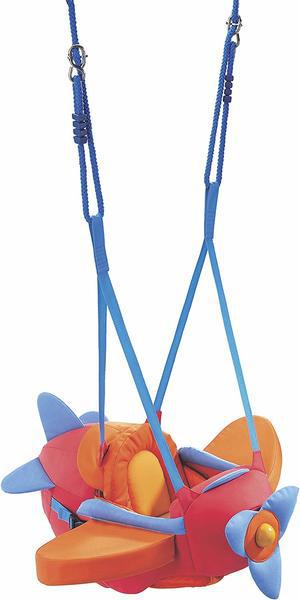 Not only will you adore the look of your child flying in an airplane, but he'll love the extra attention and airplane sounds you'll inevitably make, too.
Key Features:
Soft plush design
66-lb max weight
Hanging hardware sold separately
Cost: $130
Jolly Jumper The Original with Super Stand
Just because you don't have a door frame that will allow you to use an aerial style jumper doesn't mean you're out of luck with this framed jumper.
Key Features:
6 ft tall sturdy frame
Folds flat for easy storage
28-lb weight limit
Cost: $140
Merry Muscles Ergonomic Jumper Exerciser Baby Bouncer -Blue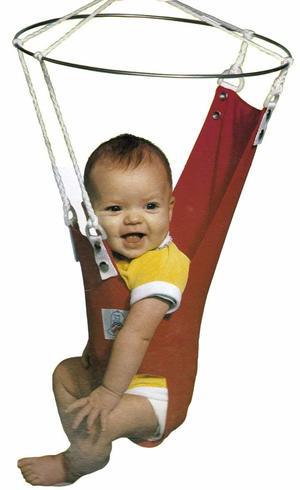 This ergonomic design is especially helpful if your child is at risk for hip dysplasia.
Key Features:
Designed to teach baby to walk on soles of feet, not tip-toes
Created by occupational therapist
Use from 3 months up
Cost: $90