Utilizing a breast pump is a good way to make sure that no matter what life throws at you and your little one, you're still giving them the nutrition only mommy can provide. Even if you plan on exclusively breast feeding (or even if you plan on formula feeding!) a reasonably priced breast pump can help you keep your stress level down during what will inevitably be one of the most stressful time periods of your life. Knowing what kind of breast pump to get, though, can be so much more complicated than just picking one up at the store the next time you're out.
We reviewed dozens of breast pumps to find the best of the best. We evaluated double breast pumps and single; electric and manual. There are great pumps for maximizing your milk production and some even for just relieving the pain when you become accidentally engorged on your first night away from the baby. We looked at them all and listed our top finds below.
Pretty early in our research we found that the Spectra Baby USA – S2 Plus Premier Electric Breast Pump stood out among its peers as the clear winner of our top pick. Not only will you find this pump earns the "hospital grade" label, you'll find that, when compared to other breast pumps, this one will give you the best result with the most ease.
The 5 Top-Rated Breast Pumps
*Ratings are from Amazon at the time of publication and can change
Our Top Pick: Spectra Baby USA – S2 Plus Premier Electric Breast Pump
The Spectra Baby USA – S2 Plus Premier Electric Breast Pump has a closed tubing system so you won't need to clean the tubing and that will save you a lot of pain and heartache; those tubes are so long they can seem impossible to dry. The digital read out gives you so much control on your pump session; you can increase or decrease the vacuum and the let down phase as well as keep track of time spent pumping with its clock. (You may be surprised how easily you get stuck and zone out, having no idea how long you've been pumping!)
This pump was designed by mothers and registered nurses to help new moms (and veteran moms) maximize their milk extraction. Not only is that an emotionally appreciated fact for other mothers, it's so fundamentally obvious that this was designed by people who know what they're talking about – not just in theory but in practice, too.
There are nearly 2,000 customer reviews on this pump that have earned it an overall rating of 4.3 stars on Amazon. Between that and the completely reasonable price tag (>$160), we're huge fans and we think you will be, too!
Spectra Baby USA – S2 Plus Premier Electric Breast Pump Key Features:
Back-flow protector creates a barrier from milk and pump
Includes 12V power adapter, Power cord, 2 bottles, 2 backflow protectors, 2 valves, 2 tubes and 4 flanges
BPA/DEHP free
Our Runner-Up Pick: Lansinoh Manual Breast Pump
The Lansinoh Manual Breast Pump is a compact and simple manual pump that has plenty of people singing its praises – and we're among them. The handle is an ergonomic design so you'll be less likely to tire during your pump. And hey, if you were heavy into fitness pre-baby what a great, slow ease back into it. Because if you plan to use this all the time, you'll definitely burn some calories and built some impressive forearms. The intention with this pump is more likely to be an occasional use, but even if you use it frequently, it still has dual modes so you won't be missing out on much going manual.
Two flange sizes are included, a regular (25mm) and large (30.5mm) so you'll be more likely to get a comfortable fit that will give you the best results. The pump comes with the storage bottle and the Naturalwave Teat and cover. The Naturalwave Teat is a feeding nipple for the bottle that will pop directly onto the bottle after you pull the pump off and giving it to your baby will encourage baby's instinctive feeding motions, hopefully making the transition from breast to bottle and back a smoother one.
This single, manual pump has nearly 350 customer reviews on Amazon with an overall rating of 4.2 stars. The reviews for this pump are full of pictures comparing how much milk they get with this pump versus how much less they get fro other pumps. When taking all that data into account, we're convinced this is an excellent buy.
Lansinoh Manual Breast Pump Key Features:
Dual expression modes: stimulation and expression
Includes 2 flange size, pump, stand, feeding nipple and lid
Maximize comfort with an ergonomic handle and 2 size flanges to choose from
Best Budget Pick: Bumblebee Manual Breast Pump
The Bumblebee Manual Breast Pump is a manual pump, meaning you'll use suction to extract your milk. It's made of food-grade silicone and is free of BPA, PVC, and Phthalates. A handy, easy-to-use system, the Bumblebee Manual Breast Pump offers hands-free operation and includes everything you need to relieve engorgement, stop leaks, or pump anytime, anywhere.
It collects up to four ounces of breast milk and comes with a breast pump stopper, a dust cover lid, and a luxury pouch, making it perfect for traveling and on-the-go pumping. Beyond the safety and quality, we just adore the potential of this pump. Even if you have 0 intention of pumping, you need this pump. You will very likely become engorged at some point and there's a good chance that's going to catch you off guard. Keeping this little guy in your purse will save you so much pain and keep you from having to lug around (or maybe even purchase) the big pumps.
And did we forget to mention the best part? It's under $20. For a breast pump!
Bumblebee Manual Breast Pump Key Features:
Made with food-grade silicone
Includes pump, dust cover lid, breast pump stopper, and a luxury breast pouch
Dishwasher- and microwave-safe
Best Manual Breast Pump: Philips Avent Manual Comfort Breast Pump
The Philips Avent Manual Comfort Breast Pump is a no-fuss pump that will let you pump what you need and go back to what you were doing. It has a soft textured "massage cushion" (aka flange) that will help stimulate your milk flow so you can get the most out of each pumping session. Avent is so committed to maximizing your baby's feedings it even has its own app that you can download for your phone to keep track of your baby's feedings, your pumping and a lot more.
You'll get a small natural Avent bottle (4 ounces), a newborn nipple, and a lid so you have everything you'll need to go from pumping the milk to storing or feeding the baby all in one go. And because it's Avent, you'll be able to use any Avent bottle, so once you start pumping more than 4 ounces at a time, then you can attach a bigger bottle, easy-peasy.
It's rated at 4.1 stars with over 1,100 customer reviews and you can pick one up for around $30. And if those numbers don't sway you, there's one more: it comes with a full 2-year warranty.
Philips Avent Manual Comfort Breast Pump Key Features:
Includes Natural bottle 4oz with a newborn nipple, lid (for storage), pump and flange and 4 breast pads
Compatible with other Philips Avent products
BPA-free plastic
Best Electric Breast Pump: Medela Pump in Style Advanced Double Electric Breast Pump with On the Go Tote
The Medela Pump in Style Advanced Double Electric Breast Pump with On the Go Tote is intended for mothers who pump several times a day. The tote has plenty of room for you to bring extra bottles and the cooler will keep your milk at a safe temperature until you can get it into a refrigerator. This set includes everything you'll need for going out and about or for going back to work. There are 2 kinds of power adapters, a standard 120V plug and a battery adapter (The 8 AA batteries are not included).
By affixing this pump to both breasts at the same time, you'll minimize the time spent pumping away from the baby and if you need to, you can pop the tubing off one side and pump from only one breast while your little one is nursing on the other. Medela is probably the most popular name in breast pumps right now, and with good reason. This company has thought of everything and included it with the set, making everything just a bit easier on you. And the quality of everything included is undeniable.
This pump has nearly 1,300 customer reviews on Amazon and they've awarded it an overall rating of 4.1 stars. If you plan to use your pump frequently you won't want to overlook this one!
Medela Pump in Style Advanced Double Electric Breast Pump with On the Go Tote Key Features:
Includes 4 bottles, 4 lids, pump, 2 flanges, tote, cooler, ice pack, 2 power cords and 2 tubes.
Pump with batteries or 120V power cord
1- year manufacturer's warranty
Who Should Buy a Breast Pump
If you have a baby or are about to have a baby, you need some form of breast pump. Period. Dot. Even if you plan on immediately going straight to formula and never looking back, there's a good chance your body didn't get the memo. And the same goes for if your baby is weaning from your body's liquid gold. In these cases, grabbing an inexpensive breast pump will save you a lot of pain by avoiding engorgement. Actually, a possible unpleasant side effect of frequent engorgement can be clogged ducts and mama, trust us; you do not want to be crying in the doctor's office while he sticks a cotton swap up your milk duct. You read that right. Because when you're in that position, you will gladly time travel and pump frequently, clean the pump, parts and your boobs and do anything in your power to avoid it.
Probably the most obvious reason to purchase a breast pump is if you plan on going back to work after your baby is born. You may decide to go to formula at the point or you may take a pump to work and stock up for the sitter to keep giving baby breast milk. (However you choose to feed your baby is entirely up to you, though and you should never let anyone make you feel guilty with whatever you decide.) Additionally, if you see your production going down as your baby sleeps for longer periods of time, you can increase your milk by pumping while the baby sleeps. The more you pump, the more milk you'll make.
If you do decide to exclusively breast feed, you still deserve a night out with a glass of wine (or the whole bottle – we won't judge how you live up your one night out). But since that alcohol will transfer to your milk, you'll need to do the "pump and dump" trick where you pump the infected milk and try not to cry while you dump that liquid gold down the drain.
Important Features to Consider
A breast pump should do several things well. Here's what to consider when selecting a breast pump:
Power supply. If you opt for a manual breast pump the source of the pumps power will be you. If you're opting for the manual because of the easy transport, keep in mind several of the electric pumps have a battery option, too. The battery doesn't last as long and it can get pretty pricey using the batteries exclusively, but it will give you the best of both worlds, at least temporarily. Some pumps also include a AV cord adaption for you to plug into your car. We don't recommend driving while you pump but there's nothing stopping you on a long road trip if you're the passenger. The standard power supply for an electric pump is the regular 120V plug.
Dual-phase expression. This is a key phrase that can help maximize your milk excretion. When your baby eats, she will first take quick and strong pulls to try to get as much milk as fast as she can. Then, after she's been eating for a few minutes, her pulls become stronger but slower. These are the two phases that an electric breast pump tries to imitate. It will start, just as a normal feeding would: with the "stimulation" phase that will encourage your "let down." If you've never experienced this, it's when your breasts feel heavy and your milk flows more freely as if the milk had been held back and with the rapid suckling, it is all let down. It can sometimes be uncomfortable or even painful, which means even while using the pump, there can be some discomfort. But if your pump does this, then there's a good chance you will maximize your milk production and extraction
Manual vs. electric. Don't get us wrong, there are certainly reasons to consider each of these types. Manual cost less, they're simple and transport well, and most of all, you have a much more direct control on the strength of the extraction. With a manual, you can also simulate the two types of feeding and control exactly when you switch from the stimulation phase to the stronger pulls. And you can stimulate more than once with greater ease. But when you wake up for your 2 am feeding and the baby falls into a deep sleep before nursing on both sides, you probably won't want to put the muscle in to extract your neglected side. With an electric pump, you'll be able to purchase accessories that will allow you to pump hands free while there is no such option with the manual.
Replaceable and removable parts. Most of the parts for your breast pump won't actually come into contact with your secreted milk, so you shouldn't need to worry about cleaning out the motor very often. But the tubing, valves, connectors and shields will all need cleaned regularly. Because of this, you'll want to be able to separate and remove them easily. In fact, if you're using your pump frequently, you may want two complete sets of these parts so that you don't need to wash every single time you pump. With two sets, you'll only need to wash after every other pump. And should anything happen to any of these parts, replacing them should also be simple, so make sure you're not using a discontinued or hard to find set.
Single or double. If you're planning on exclusively breastfeeding – or if you're planning on pumping only occasionally for whatever reason – you may want to stick with a single pump. To mainline the process and maximize efficiency, you can pump on one side while your baby is latched on the other. This is especially helpful in the late night feedings when they don't really wake up enough to nurse on both sides. If you plan on using that pump often, (or even exclusively) you'll want a double pump that will get that milk out of you and into bottles ASAP. Single pumps are a little less expensive but not as much as you may imagine. And keep in mind that most double pumps will still give you the option of single side use, too.
Motor lifespan. This only applies to the electric pumps, obviously, but there just is no two ways about it: If you plan to have a bunch of kids, you'll probably need to replace the pump every couple kids. Most pumps will come with a 1-year warranty and you can probably expect to get two kids out of the pump but anything more may be pushing it; especially if you use it frequently. You may get through three or four kids using the same pump if you don't use it often. But keep in mind the pump is just like any electronic device: It has a lifespan. The more you use it, the faster you'll burn through it. In fact, you may notice that the suction diminishes over time and if that's the case, you'll want to replace it to make sure you're getting the most from your pump.
Frequently Asked Questions
What is a breast pump?
A breast pump is a mechanism that will extract the milk from your breasts. There are manual and electric pumps for a variety of reasons and no matter your need, there is a pump that will help. If you're struggling with feeding your baby (and most mothers will at some point, so do not allow it to stress you out or make you feel guilty), a breast pump may just be your life line. Whether your baby struggles with a latch, has a lip or tongue tie, has severe nipple confusion, or you are simply not interested in the breast-to-baby process, it is exclusively your business. As long as the baby is fed somehow, then you're doing it "right." Your body will, no matter what your method of feeding, likely start your adventure into motherhood by producing milk. And you're going to want a plan for all scenarios; you don't want (another) crisis you need to solve at 2 am.
Is it painful to use a breast pump?
Let's put it this way: Using a breast pump is no more painful than it is to nurse an enthusiastic eater. And that's the good news. If you plan on using your pump in between nursing sessions, then your milk supply won't be as dramatically affected if it attempts to simulate a nursing baby. The reality is that it will likely just feel uncomfortable at worst. It shouldn't actually be painful and if it is, there is probably another cause. If it is bothering your nipples, you could purchase a shield, but treating the nipple will be your best line of defense. You'll want to use a nipple cream or lanolin to make sure the nipple is healing and always, always, always clean your nipples after pumping, treating them, sweating – anything. You need to keep those breasts especially clean while you're feeding your child from them. If your nipples are cracked or bleeding you must be extra diligent because if the skin is irritated, you can get an infection. Which will lead to some very unpleasant times.
How long do you pump at a time?
As with all things in life, especially with regards to parenting: You do what you can, when you can. If you're able, then about 30 minutes per pumping session is what will likely insure you're getting everything. Or, if you'd like to just read your body, watch your milk flow. If you've stopped getting anything after 10 minutes, just go a few minutes more and call it quits. The few minutes after every pump will help you maintain and increase your milk flow and will insure you're getting the "hindmilk," or the milk that is released last. The "foremilk," or the milk released at the beginning of a nursing or pumping session, will have less fat. The longer you nurse and the "emptier" you become, and the higher the fat content of the milk. (Think of it as your body producing fat to make up for the lack of milk it had built up.)
If you want to make sure your baby is gaining weight, then that hindmilk will certainly help. But keep in mind that it is a gradual change in the milk composition each and every time your milk is extracted. Pumping will let you see this by showing separation after it has settled; the fatty part will appear like a thick cream and the milk will look more transparent and thin. Each time you pump it will likely look different – the more recent the last extraction, the more fat there will be. So your morning pump session, after a good sleep will likely take longer (and produce less fatty milk) than your shorter, more fatty supply in the evening after pumping or feeding all day.
How many times a day should you pump?
How many times a day you should pump is entirely dependent on how much you want to produce. The more you pump, the more you'll make and over time, the more you'll get each time you pump. If you're not trying to increase your supply but only maintain what you have going, then pump as needed. If you just want to relieve yourself of the heavy feeling of being engorged or full, then wait until you feel like you should. If you're exclusively pumping, you'll want to mimic how often your baby eats. So for a mom with a newborn, you'll probably want to pump 8-12 times a day. For moms that nurse and pump, some of those 8-12 feedings will be with baby to breast and you'll subtract how often she does that from the number of times you need to pump. You can keep meticulous track to make sure you're doing everything but really, mama, as long as baby is fed, you're doing great.
Other Breast Pumps We Reviewed
We looked at 20 other breast pumps. Even though they didn't make our 5 best breast pump list, they're the best of the rest and each is still a great option for you. The information you'll need to compare each one is included with the listing and we've grouped them into the following categories:
Manual Breast Pumps
Haakaa Silicone Breastfeeding Manual Breast Pump
This is a great pump to keep in your purse or in your car or desk – anywhere to make sure you'll never suffer from a painful engorgement.
Key Features:
Made with 100% food grade silicone
3 oz capacity
BPA PVC and Phthalate Free
Cost: $15
Greenstar Advanced Breast Pump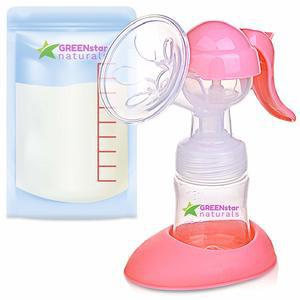 You won't have to worry about the sound of this manual pump, so you can use this discretely wherever you'd like.
Key Features:
Bonus 10 bags for milk storage
Include 5 ounce bottle
18 month warranty
Cost: $20
This hand pump has a silicone flange that will make the extraction of your milk comfortable and maximize your product.
Key Features:
Includes 4 oz bottle, nipple and lid
Made with FDA-grade, BPA-free plastic and flexible silicone
Ergonomic handle for easy pump
Cost: $20
Medela Manual Harmony Breast Pump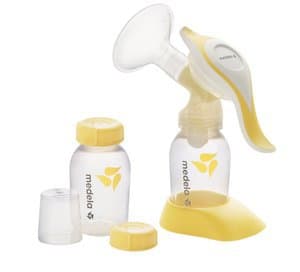 You won't miss out on the dual-expression phases with this manual; you will have full control on your stimulation and expression.
Key Features:
Soft-touch, ergonomic swivel handle
2-Phase Expression Technology
Includes 2 5 ounce bottles and lids
Cost: $30
Medela Symphony Double Pumping System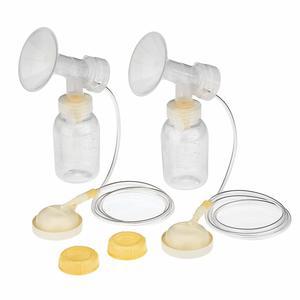 In case your hands just don't have the strength or endurance to maintain a pumping session, with this pump, you can use your feet!
Key Features:
Includes two 5 oz bottles and lids
Floor pump to relieve hands
100% BPA-free
Cost: $55
Papablic Manual Breast Pump Kit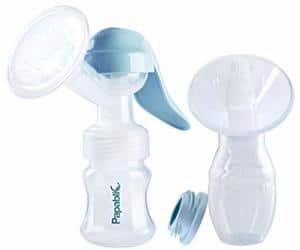 This pump set has a regular, hand-express breast pump and a silicone breast pump, so keep one in your car or purse so you'll always be prepared.
Key Features:
Bottle adapter so all bottles can be used to collect milk
Two modes and an ergonomic handle design
100% BPA Free materials and FDA Approved Food Grade Silicone
Double Electric Breast Pumps
Ameda Purely Yours Breast Pump – Carry All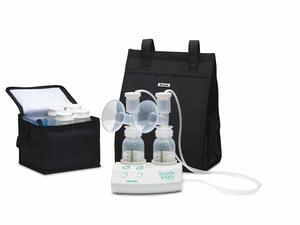 This is a set that will have you completely prepared to exclusively pump while going back to work.
Key Features:
Includes double pump, tote, 4 bottles, cooler and ice packs
Battery adapter will let you use on the go
Closed system to prevent milk leaking
Cost: $155
Bellababy Double Electric Breast Feeding Pump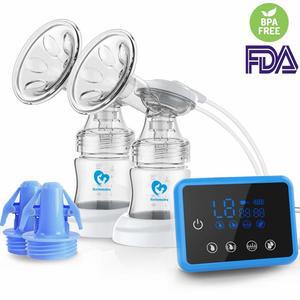 This breast pump utilizes a sensitive LED digital screen to let you control your pumping and make it more effective.
Key Features:
4 sucking modes
Includes 10 storage bags and 2 bag adapters allowing you to pump directly into bag
USB adapter or large capacity battery
Cost: $80
Bellema Mini Portable Single Electric Breast Pump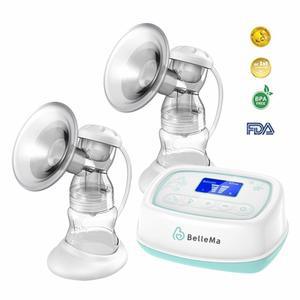 With a memory function, you won't have to mess with the settings every time, you can just keep it on your preferred setting and only change when you need.
Key Features:
9 suction modes
Ultra quiet design
Dual phase expression
Cost: $40
Evenflo Feeding Advanced Hospital Strength Breast Feeding Closed System Pump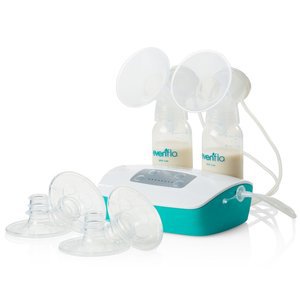 This pump is a closed feeding one so you won't need to wash the tubing out in between each pump and that will save you a lot of time and hassle.
Key Features:
32 different settings
3 flange sizes included to get the right size for you
Includes two 90-minute online breastfeeding and pumping classes
Cost: $75
Freemie Liberty Mobile Hands Free Breast Pump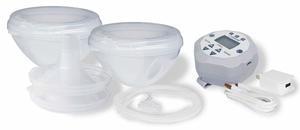 This pump is designed to be hands-free all on its own, no extra bra purchase required!
Key Features:
100% hands-free pumping
Cutting edge noise reduction technology
Programmable sleep time
Cost: $300
Lansinoh Smartpump Double Electric Breast Pump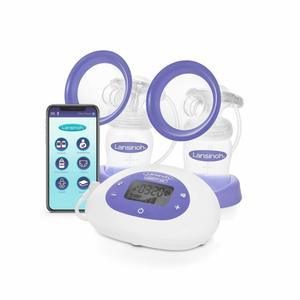 This set includes everything you need – and access to the Lansinoh baby app that will help you track and control your pumping.
Key Features:
Includes tote, cooler, 3 flanges, 4 bottles, 2 nipples and covers, 4 lids and double pump
Connects to your Bluetooth
Dual Expression Mode
Cost: $125
Little Martin's Electric Double Breast Milk Pump Kit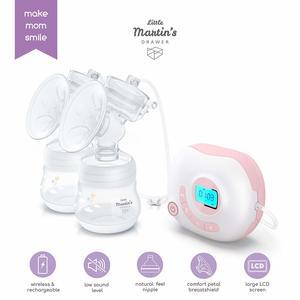 If you'd like to pump and feed, you can convert this double pump into a single with absolutely no problems.
Key Features:
3 modes: Simulation, Normal, and Deep suction
"Whisper quiet" motor
Battery operated, charging cable included
Cost: $150
Momcozy Electric Double Breast Pump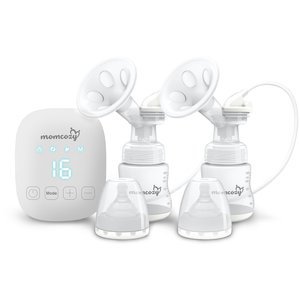 This electric double breast pump will utilize a dual phase suction that will allow you to maximize your milk production.
Key Features:
Closed system for easy cleaning
USB charge
16 adjustable suction levels
Cost: $70
Signature Pro by Lansinoh Double Electric Breast Pump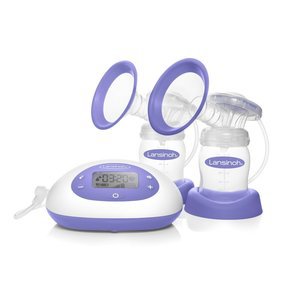 This electric pump is easy to clean and easy to operate making the whole process a lot more seamless.
Key Features:
Dual expression phase modes
8 suction levels
Includes 2 bottles and 2 Naturalwave Teats
Single Electric Breast Pump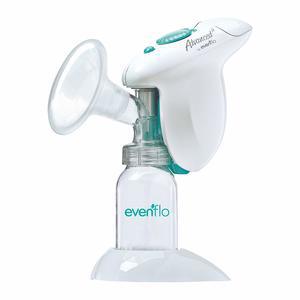 This pump is battery powered so you can pump on-the-go without the hassle of cords or tubes.
Key Features:
Battery or power cord operation
Ergonomic handle
Adjustable suction strength
Cost: $40
Medela Swing Single Electric Breast Pump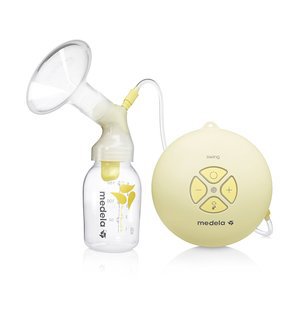 This compact pump includes a drawstring bag so you can discretely and conveniently store this in your tote, purse or office.
Key Features:
Dual expression phase
Includes 1 bottle, 1 nipple and cover, pump and stand
AC or battery adapter included
Cost: $130
Philips AVENT Single Electric Comfort Breast Pump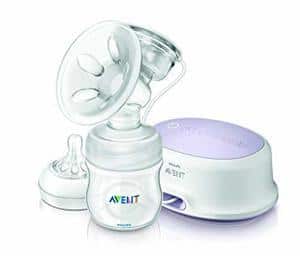 This pump has an overall rating of 4.2 with nearly 150 customer reviews and has earned the distinction of being Amazon's choice for Phillips Avent Pump.
Key Features:
Dual expression mode
3 suction settings
Includes pump, 1 bottle and 1 nipple
Cost: $130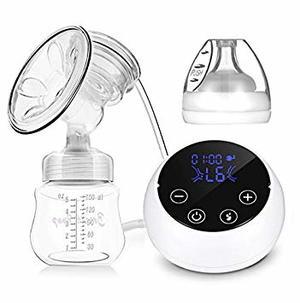 With this set, you'll have the pump, a 5 ounce bottle, a nipple and cover along with a USB charger so you'll have everything you need.
Key Features:
9 suction modes
100% BPA free medical-grade material
2-year warranty
Cost: $35