One of the undeniable truths of babies is that they grow. Whether we, as parents, like it or not, they don't stay that squishy little baby you brought home from the hospital for long. And usually right around when they grow to toddler age and size, it's time to move them up to a toddler bed. You may have a crib that transitions into a toddler bed, but even if you planned ahead for the growth of your child, you may have a new baby coming that will make the purchase of a toddler bed necessary, still.
We reviewed dozens of toddler beds to identify the best of the best. We looked at the durability and construction to determine which is most likely to last the longest. But we also took into consideration the opportunity with a new bed to tempt your child into that transition with a favorite character, theme, or color, as well.
We found that the Delta Children Plastic Toddler Bed stood out among its peers as the clear top pick. With its wide variety of choices and reasonable price, we couldn't resist it and we doubt you'll be able to either. It's lightweight and easy to put together, making it an easy-to-use bed and the fun characters will appeal to your little one, too.
The 5 Top-Rated Toddler Beds
*Ratings are from Amazon at the time of publication and can change
Our Top Pick: Delta Children Plastic Toddler Bed
The Delta Children Plastic Toddler Bed comes in a variety of themes and you can opt to add in the mattress or get just the frame, bringing your choices number to a whopping 24! Some assembly is required and that includes the decals; you'll just place the decals during assembly. And getting those lined up evenly will likely take as long as the rest of the assembly combined!
The frame of this bed is a sturdy steel and the headboard, foot board and side rails are all a high-quality plastic that will last for multiple kids' toddler stages. The bottom is made of a light fabric sewn directly onto the frame so it won't go anywhere, but you will definitely need to heed the weight restriction of 50 pounds. And, unfortunately, jumping on the bed is probably a bad idea for the bigger kids. (But when is it ever a good idea?)
There are over 1,000 customer reviews on Amazon for this toddler bed and the overall rating is 4.5, so you can be confident that this is likely a good investment for your family. And if all else fails, keep in mind, it's only a $50 buy.
Delta Children Plastic Toddler Bed Key Features:
24 style choices
Recommended for 15 months and up
Maximum weight 50 lbs
Our Runner-Up Pick: Orbelle Trading Padded Toddler Bed
The Orbelle Trading Padded Toddler Bed is the focal piece of any room and your little one's room will be no different. With side rails on both sides and a middle foot on each side, too, this bed will keep your little princess safe. (And she'll definitely feel like a princes in this classy bed!) It has an elegant look with its ultra soft micro-fiber polyester fabric on the headboard and foot-board. And the solid wood frame will last until your first child using this bed is in college. The wood is a white finish and the fabric is a light grey color.
The fabric is surface clean only, but with a mild soap and water, stains will lift with relative ease. For what it is, it's actually a rather heavy bed, at 27 pounds. For a toddler bed, though that's a great feature because it means little one won't be able to move it and cause mayhem.
With well over 100 customer reviews on Amazon, it has earned a rating of a solid 4.6 stars. And if the style is one that will fit your decor and preferences, we're convinced the quality will be sure to please, as well.
Orbelle Trading Padded Toddler Bed Key Features:
Solid wood and micro-fiber construction
All tools included for assemblt
53″ x 30″ x 27″
Best Budget Pick: Dream On Me Classic Toddler Bed
The Dream On Me Classic Toddler Bed has a classic and sleek design that is reinforced with a leg in the middle on each side to keep your little one from harm. You can choose from the 10 color options and match the decor in your little ones room or match the crib he's transitioning out of to make the switch less traumatic.
This bed frame meets or exceeds all applicable ASTM and CPSC requirements so you can sleep easy knowing that your little one is safe. It has a safety rail on either side to make sure that, even if you don't place this against the wall, he'll be guarded from both sides. And you can expect a high quality in the construction and the materials used: all materials are free of phthalates, latex, lead and BPA.
This toddler bed has an overall rating of 4.3 stars on Amazon with nearly 1,500 customer reviews. Price depends on the color and stain you choose, but each is right around $50-$60 and for the quality of wood you'll be getting, you are really getting a steal with this!
Dream On Me Classic Toddler Bed Key Features:
57″ x 28″ x 30″
Hearty cherry wood construction
Recommended 50 lb weight maximum
Best Toddler Travel Bed: hiccapop Inflatable Toddler Travel Bed
The hiccapop Inflatable Toddler Travel Bed is the epitome of portability. When you want to use it, you can blow it up and let your little guy sleep comfortably and when you're done, just fold it up and store it in your bag; it's as easy as that. And, it may even give him a little bit of extra fun to sleep on something new. (Ah, to experience an air mattress for the first time.)
It's relatively common to spend the first year or so of your new child's life not travelling as much as you want. But when he graduates to a toddler, you may find your apprehension diminishing. This is the perfect bed for you to start taking your little one with you. The mattress is a completely separate entity that you'll place inside the (also inflatable) frame that provides bed rails to keep your little one from rolling out of bed. The frame even has a handle to make moving it around super easy.
With almost 800 customer reviews and an overall rating of an impressive 4.7 stars, it's easy to see why this is Amazon's choice for toddler travel beds. And it's ours, too!
hiccapop Inflatable Toddler Travel Bed Key Features:
Made with inlay-enforced vinyl, which is 40% thicker
Inflates in under 30 seconds
Lifetime guarantee
Best Themed Toddler Bed: Step2 Hot Wheels Toddler to Twin Bed with Lights Vehicle
What kid doesn't want to sleep in a race car bed? With the Step2 Hot Wheels Toddler to Twin Bed with Lights Vehicle, you'll be giving your little one just that. And while it fits a toddler mattress very well, it can easily accommodate a twin mattress, too. While we don't expect he will be taking this bed through his teen years, it's more than a little appealing to know that there won't be pressure on you to buy a new bed just because he's grown too much.
All along the frame of this bed is a track for your little one's cars. The headlights on this bed actually turn on and function as a nightlight your little one will adore.  There are parking spots for him to store his cars along the top and you can purchase additional track that will let the cars zoom down and off the foot of the bed. All this fun may distract him from sleep occasionally but it will go a long way in exciting him for transitioning to his new big kid bed. Taking his cars during bedtime will probably help with that, so don't let it stop you from spoiling your special kid.
It has a customer rating of 4.5 stars on Amazon and between the quality and those glowing reviews, it's not hard to see that if you have a little one who's a big fan of cars, this car could be the best part of growing up for him.
Step2 Hot Wheels Toddler to Twin Bed with Lights Vehicle Key Features:
Accommodates toddler or twin mattress
Tap-on headlights
Tracking all along bed frame
Who Should Buy a Toddler Bed
When a child starts climbing out of his or her crib, even after it's lowered to the lowest setting, it's time to move that kid to a big kid bed! If you don't transition to a toddler bed after the first climb out, you run the risk of your child getting hurt doing it over and over again. Even the best little mountain goat climbers slip occasionally, and minimizing those climbs are certainly the best choice for your little one. (Although we understand the resistance; you could be unwilling to face your little one growing up or be loathe to give up the freedom you have with the confinement of a crib.)
The other scenario you could be encountering for buying a toddler bed is if you're toddler is simply aging out of a crib. Even if they're a well-behaved child who would never climb out of their crib in a mischievous or adventurous mood, she can't sleep in the crib for her whole life. At toddler age, it starts becoming developmentally helpful to progress them to a toddler bed that she can get in and out of independently. It will help with potty training, too!
Important Features to Consider
A toddler beds should have a few important features. Here's what to consider when selecting a bed for your toddler:
Bed rails. Your little one has slept with 360 degrees of protection for probably his whole life until you transition away from the crib. The freedom will be thrilling for him! But it can also be dangerous. Luckily, the amount of danger is minimized by being low to the ground, but a toddler bed with sturdy bed rails will lessen the risk of injury even further.
Grows with your child. Even if you missed the boat on a crib that transitions into a toddler bed, you still can find a transitional bed after his toddler years. There are toddler beds that will convert into a twin or full sized bed (possibly with additionally purchased bed rails). You may be able to prolong the use of your purchase and save some cash in the long run this way. But keep in mind the initial investment will likely be a bit more steep and by the time your toddler transitions again she may have very strong opinions about personalizing her room. And about everything else.
Enticing themes. It probably goes without saying that the more excited your little one is about a transition the less likely he is to shirk it. So if he has a favorite TV show or animal or theme, then getting a toddler bed that includes those themes will help smooth that transition. Be careful not to turn the bed into a jungle gym, though – he may never sleep if you do. As with most parenting, you'll need to walk a fine line.
Snug fit for your mattress. You'll find most toddler beds will fit with a crib mattress. However, you will absolutely need to double check before purchase. If you make the transition and find that the mattress isn't snug, you'll need to solve that somehow. Not only will a wiggly mattress be less safe for your little one (he could slip, trip or even get his extremities stuck in the spaces between frame and mattress), the excess space will be a black hole for your little one. He'll loose things in the night there and cry for you, or worse, you'll find really disgusting things like squirreled away milk cups or half chewed goldfish while you change the sheets.
Similar to crib. You may want to consider the extra comfort your little one will feel if you choose a toddler bed that is similar in style to the crib, then you may ease his anxiety of the transition. If he had a white crib, a white bed could provide some extra soothing; a wood bed the same stain as the crib will help the emotional stress of your baby and also help you maintain the decor theme uninterrupted.
Weight limits. If you're the parent (or grandparent) of a little one who's not really all that little for his age, then you'll want to pay close attention the the weight limits on toddler beds. A plastic and metal toddler bed with a cloth bottom may not be the one for your big (or rough and rowdy) kid. Conversely, you may be able to save a few on getting the less expensive toddler bed with a smaller weight limit for your little guy.
Frequently Asked Questions
What is a toddler bed?
A toddler bed is just like a bed you would sleep in – but smaller in all ways. It uses the same mattress your crib does and that will save you some on the transition. (Unless you're transitioning because you have a new baby coming into the picture, of course.) The bed's frame will also be much lower to the ground so that your little one will be able to crawl in and out of the bed without any assistance. For that same reason, they won't have a box spring, either. It would only lift the bed too high. It will also have bed rails to keep your toddler from falling out of bed at night.
A toddler bed is really a transition bed. It's not a crib, but it's not a "real" bed, either. It will help train your child to sleep in a "regular" bed by allowing them to make the same baby moves without any painful consequences. After a few years in this transitional bed, they'll be able to sleep without rolling out of bed and will be big enough (and stable enough) to climb into a higher and larger bed.
When should I move my child from a crib to a toddler bed?
There's no right or wrong answer on when to move your child out of his crib and into a toddler bed. You'll need to choose a time that will suit your family's needs and make sure you're cognizant of your toddler's cues that he's ready. Typically, that will happen between 1.5 and 3.5 years. The biggest cue you'll see is if your little one starts trying to climb out of his bed, or more so if he succeeds. If he climbs out of his crib, you'll need to make the transition and that may lead you to making it sooner than planned. As is usually the case with children, your child will love to ruin your plans. But, as we're sure you don't need told, you'll want to what you can to discourage climbing for safety reasons. Other cues include walking himself to bed or if he's simply too active inside the crib and he makes you a bit nervous.
Some advice you may get is to put off the transition as long as you can. Barring a new little one that needs that crib, keeping your little one in the crib may let you hold onto some semblance of your sanity. For a lot of parents, transitioning a their child to a toddler bed is the end of napping altogether. For bedtime, your little one will be exhausted and singing and reading enough will help ease them to sleep. But a nap won't work like that.  Because a child will likely still need a nap until the age of three, putting off the transition will also help your child. Not only will a well-rested child develop more consistently, they'll be less cranky throughout the day. So while there's not necessarily a wrong answer to this question, you definitely do not want to rush it.
How do I transition my child from a crib to a toddler bed?
For most children the transition to a toddler bed coincides with other transitions; potty training or breaking a pacifier habit, for example. The pressures to "grow up" may be difficult – especially for a first born; especially when a new baby is coming. You'll need to be sensitive to these emotional traumas for your child and try to maintain as many consistencies as possible. That means when you transition, put the toddler bed in the same space as the old crib. It also means keeping with your bedtime routine. In fact, if you don't have a bedtime routine before you transition, start one. Read on the floor with her, rock and sing her in the rocking chair, and keep at it after she's in the toddler bed.
For a toddler bed transition, now is not the time to get new bedding and change up the decor. You can do that after the transition is solidified or better yet, when you transition from toddler bed to an adult bed. You can let her pick some new sheets or a pillow, to get her excited about the transition, but keep the same blanket, even if that's not her comfort item. You will definitely want to make sure your kiddo keeps everything that is a comfort to her. Her special stuffed animal, of course, has to stay, but everything that's been a constant in her bed needs to stay, even if she doesn't seem like she cares about it. You can probably get away from those items after a bit, but don't change more than you need to when transitioning.
How long does a child stay in a toddler bed?
You can keep your child in a toddler bed as long as they fit. The size of toddler beds is the same as a crib mattress: 52″ long and 28″ wide. Weight capacities are a bit different for each toddler bed, so make sure you check your specific model, but generally 50 pounds is about the max weight. If your child still fits comfortably within those parameters, then you can keep him in that toddler bed. You may find your child doesn't exceed the criteria until approaching middle school or he may already be past the standards before kindergarten. The vast majority of children can use their toddler beds until they're about 7 years old. (Although as soon as they're not rolling out of bed and feel comfortable with it you can make the transition up, if you want.)
Other Toddler Beds We Reviewed
We looked at 20 other beds for toddlers. Even though they didn't make our 5 best toddler beds list, they're the best of the rest and each is still a great option for your toddler. The information you'll need to compare each one is included with the listing and we grouped them into the following categories:
Metal and Plastic Toddler Beds
Cilek Spyder Race Car Children Bed Frame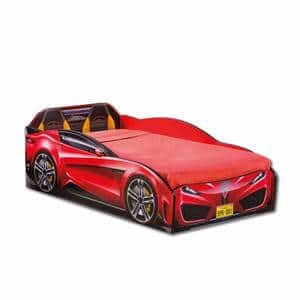 Another race car bed option for your toddler but this one is made of wood construction, if that's your preference.
Key Features:
4 color options

Made of CARB P2 compliant particle board.

29″ x 54″ x 19″ H
Cost: $200
Little Seeds Monarch Hill Ivy Metal Toddler Bed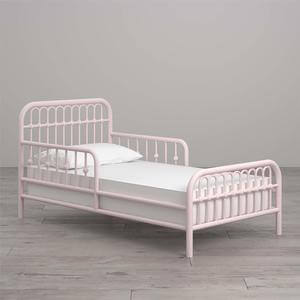 This metal framed bed for your toddler is a classic design that would make anyone feel like a princess.
Key Features:
4 colors available
Made with painted steel tubing
Coordinates with all Monarch Hill collection pieces
Cost: $110
Little Tikes Jeep Wrangler Toddler To Twin Bed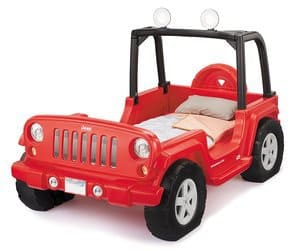 This is especially appealing if you drive a jeep and then your little one can sleep in the matching set.
Key Features:
Converts from toddler to twin
Working lights
200 lb weight limit
Cost: $425
Little Tikes Pirate Ship Toddler Bed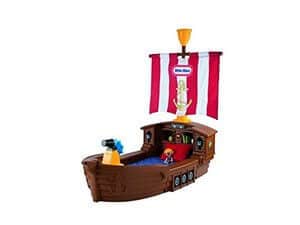 Ahoy, mateys! This is an excellent choice for your pirates and boat lovers to crash into at night.
Key Features:
Includes ship wheel and operational lights
Built-in toy box and bookcases
47″ x 86″ x 84″
Cost: $385
Step2 Thomas The Tank Engine Toddler Bed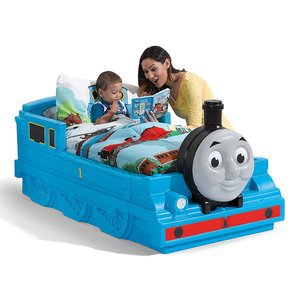 We love the visual of reading Thomas the Train to your little one before bed while he's sitting in Thomas the Train.
Key Features:
Train decals for realism
Shelf behind Thomas' face
29.5″ H x 33.5″ W x 67″ D
Travel Toddler Beds
When not using this mattress as a bed, you can simply fold it over for a comfortable seat.
Key Features:
Folds into a carrying bag
Machine washable
58″ x 39″ x 7″
Cost: $135
Milliard Portable Toddler Bumper Bed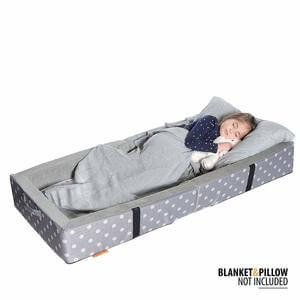 This travel bed folds up conveniently into a little travel cube with a convenient handle.
Key Features:
Cover is machine washable
Includes removable sheet
55″ x 26″ x 7″
Cost: $70
Regalo My Cot Portable Toddler Bed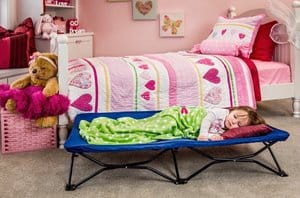 This bed folds up just like a folding camping chair (just with 6 legs instead) and travels just as easily.
Key Features:
Steel frame and fabric top
48"L x 24"W x 9"H
Holds up to 75 lbs
Wood Toddler Beds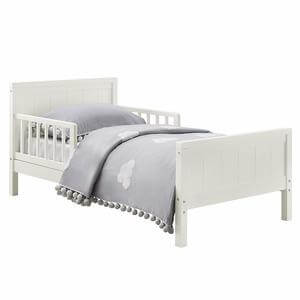 This bed has solid head and foot boards but slotted side rails, allowing your little one a larger line of sight which may go a long way in making him feel comfortable.
Key Features:
3 color choices
50 lb weight limit
29.5″ x 54.4″ x 25″
Cost: $95
Big Oshi Contemporary Design Toddler & Kids Bed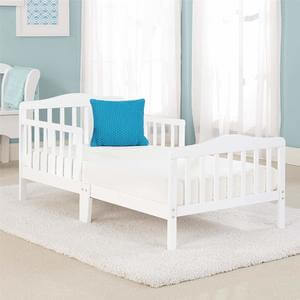 With slats all around him in this wood toddler bed, it may just seem similar enough to his old crib that he'll be eased with the transition.
Key Features:
5 color choices
Standard or sleigh bed style available
Made of solid pine wood
Cost: $60
Canwood Whistler Junior Loft Bed, Toddler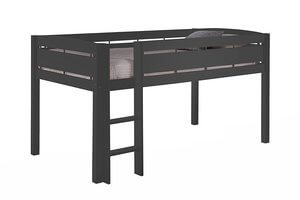 This is for a more responsible and trustworthy toddler, for sure, but if you can count on him not to pull any wrestling jumps off the top, this will give you a lot more space for his things.
Key Features:
6 color choices
Full length guard rails
80.5″ x 41.5″ x 45.4″
Cost: $260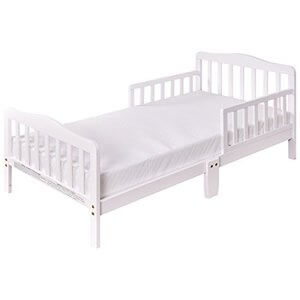 This solid wood bed will come with some assembly required, of course, but it's so simple, you won't have any troubles at all.
Key Features:
2 color choices
Sturdy wood construction
Eco-friendly lead free, non toxic, and easy to keep clean paint
Cost: $65
Delta Children Canton Toddler Bed
This bed is a sleigh style that a lot of cribs have had as of late, so it may fit his room decor best.
Key Features:
2 color choices
Set option with mattress
JPMA certified to ASTM standards
Cost: $75
Delta Children Wood Toddler Bed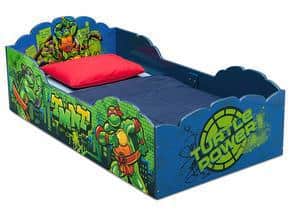 This is the perfect bed for your little one to feel like he's in the sewers with his favorite turtles; and weirdly enough, that's a good thing.
Key Features:
Made with sturdy wood frame
JPMA certified to meet or exceed CPSC and ASTM standards
54.53″L x 29.92″W x 18.90″H
Cost: $115
Disney Minnie Mouse Wood Twin Bed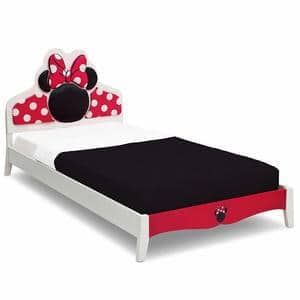 You may want to purchase some side rails separately for this bed, or you could just place it up against the wall and secure a dresser on the other. But for a big Minnie Mouse fan, this is a must-have.
Key Features:
Sturdy wood construction
Heavy weight (65 lbs) won't slide
79″L x 42.5″W x 39″H
Cost: $290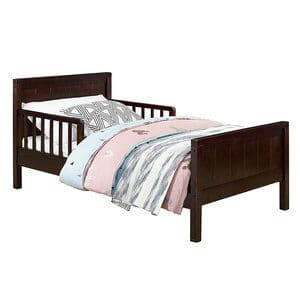 This gorgeous bed will be a safe and excellent fit for your little one up until she hits 50 pounds.
Key Features:
3 color choices
Sturdy wood construction
50 lb weight limit
Cost: $110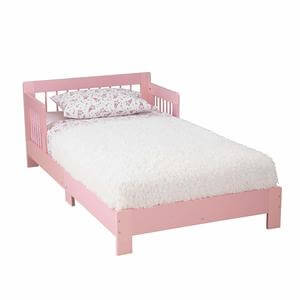 This soft pink bed has no foot board and while you may want to be more cautious in her transition because of that, it will also look a lot more like "adult" beds, so she may just love this.
Key Features:
Fits crib mattress
Sturdy wood construction
30″ x 24″ x 10″
Cost: $80
Little Colorado Traditional Toddler Bed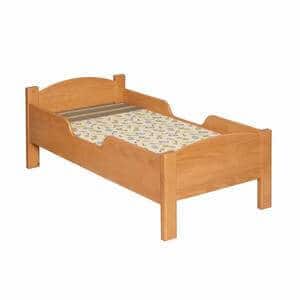 We love that this bed has side rails that go the entire length of the bed, making it ultra safe, no matter how much your toddler flails and flings herself.
Key Features:
6 color choices
Made with Pine Wood, Carb Phase 2 Baltic Birch Plywood
55″ x 30″ x 22″
Cost: $190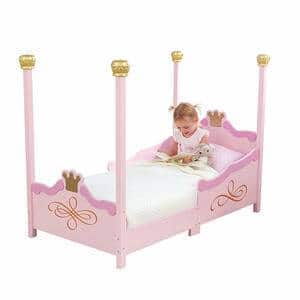 This bed is made for a princess and if that fits your little one, take a good look!
Key Features:
4 post bed
Pint finish and gold trim and detail work
50 lb weight limit
Cost: $160
South Shore Savannah Toddler Bed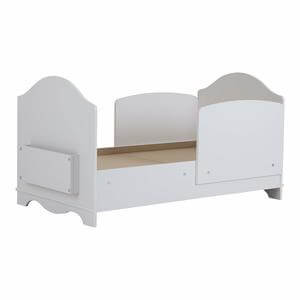 The side rails on this bed are removable and, should you choose, you can pop one of the rails on the back and convert this into a daybed.
Key Features:
Converts to daybed
Includes storage along footboard
5 year limited warranty
Cost: $115