We won't make light of it: having multiple kids is hard. Everything you thought you had the hang of gets a bit more difficult and sometimes it can feel like you're starting all over trying to learn how to become a parent. The jump from 1 to 2 is a hard one to make and if you are used to using a stroller to get things done with your baby, you're in for a rude awakening when you do it with two. Because 2 kids means double stroller and picking the right double stroller involves a lot more than you may think. But don't let this decision add to your stress! We've found the top strollers for you.
We reviewed dozens of double strollers to identify the best of the best. We looked at portability and different configurations that will be less likely to cause your kids to fight. We kept in mind your needs, too; whether you want to jog or push the stroller through a crowded theme park, we have the stroller for you included in our list, for sure.
During our research, the Baby Jogger City Mini GT Double Stroller stood out as a clear winner. It has a hand brake that will allow you to lock it into place without having to stop and use your feet and each seat is so independent that your kids won't fight over which is in the "good" seat. With its durable construction and a smooth ride, the overall feel is simply more finished than its peers.
The 5 Top-Rated Double Strollers
*Ratings are from Amazon at the time of publication and can change
Our Top Pick: Baby Jogger City Mini GT Double Stroller
The Baby Jogger City Mini GT Double Stroller uses a patented quick-fold technology to fold which will allow you to fold simply by pulling the handles on each of the two seats. It folds in half and the wheels come off for additional space saved, but we want to be clear that this does take up a good amount of room even folded. You can fit it in your trunk or the backseat, but you probably won't be able to fit your biweekly groceries in there, also.
Contrary to what the name may suggest, this is not a jogging stroller, but rather, it is intended more for the 'stroll' in stroller. The tires are 8.5″ and all terrain, though so you won't struggle pushing it across the grass or through the gravel. The seats have a combined maximum weight of 100 pounds and the head height for your little ones is 26 inches, so be sure to measure their sitting heights. (It will probably get you to about the age where you're not going to want to push them anyways.)
With an Amazon rating of 4.4 and over 100 customer reviews, you can be reasonably certain that the City Mini is a solid buy. And while this stroller doesn't come with all the extras, you can purchase practically any upgrade you can imagine from a glider board for your third child to parent consoles or child tray.
Baby Jogger City Mini GT Double Stroller Key Features:
100 lb weight capacity
4 color choices
Large undercarriage and adjustable handlebars
Our Runner-Up Pick: Joovy Scooter X2 Double Stroller
The Joovy Scooter X2 Double Stroller is a side-by-side with a lot of extra perks that you're sure to love. There is a canopy that goes across both seats or can be pulled back to give your kids more open feel and it has a see-through window that will allow you to keep your eyes on them. It also comes standard with a unique owner's console of sorts; it's essentially a satchel across the back behind the seats and in front of the handle bars. On this, there's two cup holders and 2 separate zippered pouches that will easily fit wallet, phone and all the extras you need for your little ones. And your kids have their own storage in the side of their seat.
For a bit extra protection and a lot extra peace of mind, there is a lap bar that goes across both seats and that may just go the extra mile for reigning in your kids' crazy. Each seat reclines independently, so you can allow one to sleep while the other jabbers away. The undercarriage is the stroller equivalent to an extended cab truck; it's bigger than most strollers by quite a bit. And the way it's angled up, you won't be kicking it with your steps.
This stroller has nearly 600 customer reviews earning it an Amazon rating of 4.6 stars. All those little extras make it a perfect choice for the zoo and just about everything else.
Joovy Scooter X2 Double Stroller Key Features:
90 pound combined weight limit; 1 hand fold
4 color options
30″ wide; fits through most standard doors
Best Budget Pick: Delta Children City Street Side by Side Stroller
The Delta Children City Street Side by Side Stroller is a compact stroller you can easily fold up and store in your trunk and still have room for your groceries or any unplanned purchases. You can even slide it under your kids' feet in the car so that its presence in your life will be virtually nonexistent – until you need it.
There is no undercarriage in this stroller, but it does have a solution for storage you can still use. On the back of each seat is a mesh storage bag that can keep your essentials. And on the side of a handle, you'll also have a cup holder that you can utilize; be it for your drink or your kid's sippy.
For a double stroller with over 800 customer reviews and an overall rating of 4.4 stars, you probably wouldn't expect it to have such a reasonable price tag: Under $55! Each color varies a bit in price, but the range is small: $80-$90. And for all you're getting for that price, it is money well spent.
Delta Children City Street Side by Side Stroller Key Features:
2 individual retractable canopies
2 large storage bags on back; parent cup holder
 360 degree swivel front wheels
Best Jogging Double Stroller: BOB Revolution Flex Duallie Jogging Stroller
The BOB Revolution Flex Duallie Jogging Stroller may very well be the only name you know when it comes to jogging strollers, and with good reason. It's popularity has taken off in recent years as has the idea that parents of multiples may actually still want to do all the things they enjoyed before they had multiple kids. The handlebar adjusts to your height so you can size it just right and not put any undue strain on yourself.
The large wheels and suspension system lets you push yourself (and the stroller) without worrying about how the kids handle it. Their ride will be as smooth while you're jogging or walking and with all the extras to make their ride more comfortable, you won't find any reason not to get this stroller on your kid's account. It has individual canopies that cover each kid almost completely in the event of rain or intrusive sun. Each seat will also recline so your kids' naps won't necessarily be ruined by you getting your run in for the day.
The BOB Revolution has an Amazon rating of 4.6 with over 200 reviews and considering its price tag, its target audience is pretty specific. It's an expensive stroller, that's fair to say, but with running strollers, you get what you pay for and this is the best running stroller money can buy.
BOB Revolution Flex Duallie Jogging Stroller Key Features:
Air filled tires; mountain bike-style suspension
3 color options
50 lb capacity for each seat; 100 lbs combined
Best Lightweight Double Stroller: ZOE XL1 Umbrella Stroller System
ZOE XL1 Umbrella Stroller System
The ZOE XL1 Umbrella Stroller System is a perfect compact umbrella stroller that you can pop in your trunk and leave it so that you'll always be prepared!
If you want compact for a double stroller, the ZOE XL1 Umbrella Stroller System is the best you can get! It is essentially two strollers that are designed to be connected to one another securely but can be separated should the need arise. And, if you happen to only have one with you while you drop by the mall, just grabbing one of the strollers is a huge perk you're sure to appreciate. No matter how much you need a double stroller right now, it's incredibly appealing to have that option.
You can fold and go and leave it in the car or store them separately for when one child outgrows the need for a stroller. There are a total of three cup holders on this stroller with a large mesh undercarriage and reclining seats that will let your little ones ride in comfort. The canopy of each seat extends to cover and protect your children almost entirely and the lap bar can go a long way to help keep your kids contained.
The versatility of this double stroller is the biggest selling point, but let's not forget that it's only 11 pounds! For your children 5 months or older, this stroller is a good investment, to be sure. And the nearly 800 customer reviews on Amazon suggest that, too – giving it a respectable 4.3 star rating.
ZOE XL1 Umbrella Stroller System Key Features:
50 lb capacity per seat; 100 lb combined
3 color options available
1-year warranty
Who Should Buy a Double Stroller
A double stroller is primarily for families with two or more children. Particularly, the biggest market for double strollers are families with a toddler and baby on the way. You can find strollers that will accommodate much older children, too of course, but you'll need to double check weight and height restrictions. Plan ahead and make your purchase only after you've considered your family's size (both physical size of each child and the number of children you're planning). And, of course, you'll need a double stroller if you're having twins!
If you have a close family where you watch your nieces and nephews or your grandchildren, you may also benefit from a double stroller. Even child care providers will find plenty of use for a double stroller. Really the answer to "Who should buy a double stroller?" is: "Anyone who cares for 2 or more small children."
Important Features to Consider
A double stroller should have a few important features. Here's what to consider when selecting a double stroller for your family:
Travel systems. If you're getting a double stroller for twins, this may be even more necessary, but even if you're just having your second child, you may still want to find a double stroller that will allow you to easily place your infant car seat securely within it so that you won't need to take baby out of her supportive travel method. The best bet to make sure that your car seat fits your stroller is to stick to the same brand for both. If you have a Britax car seat, a Britax stroller will most likely fit the car seat. Be careful with how this limits you, of course, but as with a lot of baby products; sticking to the same brand can often make things simpler.
Convertibles. You can turn some double strollers into a lot of different things. You can take the seats off altogether and turn it into a beach cart on some of these! But, primarily, you'll benefit from a stroller that will allow you to re-configure it from time to time; whether that's due to children growth or children attitudes, it's probably a good idea to plan for some necessary adjustments (attitudes and strollers alike). These convertible strollers are typically tandem strollers and you can flip the seat around to make them face just about anywhere. If they both want to see where you're going, face them both forward. When the older kid in the back starts messing with the younger, flip her around and make her face you and your "get-it-together" face. If they're in a good mood and just all about spending time with each other – run with that! Face them to each other and let them giggle and talk. (And then flip them both back when they start fighting.)
Jogging. If you're a motivated parent who is determined to get (or keep) in shape, then having two little ones with you won't hold you back! Find a stroller that has some suspension and big wheels with excellent traction so you won't have to plan your workouts around when you're kids aren't around. Not only will the ride be smoother for your kids, but the effort you'll exert pushing two humans while running will be minimized, too.
Wheels. Speaking of wheels, you'll want wheels that will suit your specific needs. If you plan on using your stroller for jogging, like we mentioned above, get big tires. Hiking or walks in the grass will require durable rubber wheels that won't get torn apart by some sticks and gravel. If you're planning on a paved sidewalk as the typical path on your adventures out, then a sturdy foam-like wheel will lend to a smooth ride for your kids and an easier push for you.
Upgrades. There are plenty of upgrades you can make to your stroller: Rain covers, children's trays, cup holders and so much more. But when we refer to upgrades, we mean to ask, "Can this stroller grow with your family?" What's the max weight capacity, and how old are your specific kids likely to be when they reach that? If you have kids that are tracking top percentage on weight or height for their age, it's worth considering how long you'll actually be able to use it.
Gliders. You'll also want to consider your family planning, some. If you're not done having kids, or you plan on having more soon, you may want to take a look at whether you can purchase a glider seat or standing glider to attach to your double stroller to make it better able to accommodate your family. Even if your oldest will be able to walk most of the time, there's a good chance you won't be able to convince him to marathon walk around Disney without some serious complaint.
Storage. There are two potential places you can store your possessions and your kids on a standard double stroller: The handles and the undercarriage. You can't really do anything about a stroller that doesn't come with an undercarriage unless you want to do some heavy duty DIY modifications. For that reason, we highly recommend getting a stroller that comes with a good undercarriage (most do). The handle "Parent's Console" as it's sometimes called, is a tray and a cup holder or two; usually just for your cup and wallet and anything you're hiding from your kids (like an emergency pacifier). Fewer double strollers come with these included, but don't stress it too much – they're super simple and pretty cheap to buy and install later.
Frequently Asked Questions
Do double strollers work for a toddler and a baby?
Absolutely! You may not want to put a newborn into the stroller, or at least not without some additional padding, but you can purchase a newborn insert that will work in the stroller for some extra support. Always be sure to strap your baby in, and finding a stroller with a 5-point harness is a good idea if you plan on using the stroller right away. And check the recommendations to see what age your baby should be before use.
Alternatively, you can find a stroller that will lock your infant's car seat into place within it. If you're using the same brand stroller and car seat, this is a lot more likely to work, but there are some "universal fits" that you can find, too. But, we have to reiterate this point over and over: Be careful and make sure your baby is secure before you walk away with the insert in the stroller.
What is a tandem double stroller?
You may also know a "Tandem" double stroller as a "Front and back" double stroller. And just like a tandem bicycle that allows two people to ride it, one in front of the other, a tandem stroller will put one child ahead of the other. A note on tandem strollers that you will want to keep in mind: The larger child goes in the back. It's much more difficult to push the stroller if it's front heavy. Plan for that and avoid some fights by making sure your children know before they start assigning themselves seats.
Should I choose a tandem or side-by-side double stroller?
There's no right answer to this question, so we'll just tell you what each does best. Side-by-sides are better for running and turns. Tandems are better for crowds and going through doors. Side-by-sides can handle your kids switching seats without you struggling with weight distribution. Tandem strollers have assigned seats: oldest always  in the back. (That may not seem like a big deal to you, but it is to a 4 year old who has just learned the phrase "That's not fair!")
Tandem strollers can be converted into several positions (if that's the model you choose). Side-by-sides are all face out, kid next to kid, no matter how much they want to face you or each other. For a positive take on the answer to this question: Get a tandem if you plan to go through crowds and a side-by-side if you want to jog. On a more cynical note: Get a tandem if you want your kids to fight nonstop and a side-by-side if you enjoy making everyone in a crowd hate you. Each have pluses and minuses.
Can you travel with a double stroller?
No matter how convenient they are, we can't deny that most double strollers take up a lot of space. And that makes travelling with them a bit more tricky. You can still check them at the gate for your flight at the airport (Although call ahead to make sure! And print out anything you see online for the regulation – You can never be too careful), but you'll probably get a few side-eyes from employees who have to lug it around. A more compact double stroller will probably make the entire experience a bit more pleasant. You may want to pick up an umbrella-style double stroller for frequent flying.
For your road trips, most double strollers will fit comfortably in your trunk. You won't be able to fit a lot of your luggage in, too, but you can definitely fit the stroller. An umbrella stroller will fold up the smallest, so even with road trips, it may be worth looking into getting one if you travel with your kids a lot.
Other Double Strollers We Reviewed
We looked at 20 other double strollers. Even though they didn't make our 5 best double strollers list, they're the best of the rest and each is still a great option for your family. The information you'll need to compare each one is included with the listing. We've broken them into the following categories for your convenience:
Convertible Double Strollers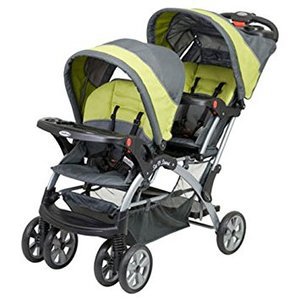 You can put your infant car seats in each of these stroller seats or remove the back seat altogether to leave a board that will allow your big kid to sit facing you as you push.
Key Features:
Removable child trays, parent console with cup holders and tray
Spacious undercarriage
3 color options
Cost: $140
Contours Curve Tandem Double Stroller for Infant and Toddler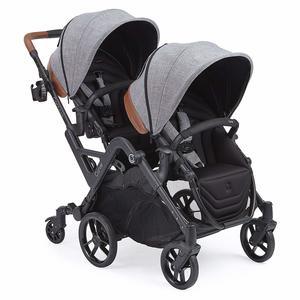 You can flip each of these seats however you choose or replace one with the bassinet (sold separately) for your newborn.
Key Features:
Front and rear suspension, rubber coated wheels
2 color choices
Large undercarriage and parent cup holder
Cost: $700
Contours Options Elite Tandem Double Stroller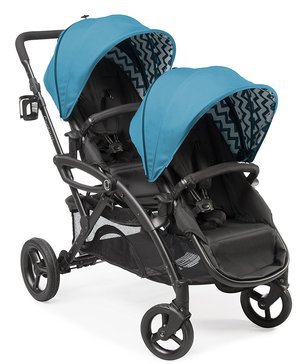 You can flip each of these two seats or pop in an infant car seat for maximum versatility.
Key Features:
Aluminum frame; individual canopies
4 color choices
Mesh child pockets; large undercarriage
Cost: $340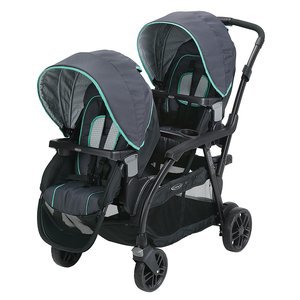 Flip each of these seats into whatever combination you'd like and remove the back for a child sit and stand option that will allow your stroller to grow with your family.
Key Features:
27 riding options; including Graco infant car seats
2 removable seats
1 hand folding
Cost: $255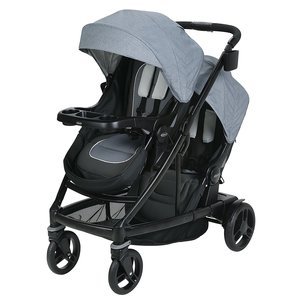 This stroller starts as a single and with the addition of the second seat below the first, grows right along with your family.
Key Features:
2 toddler seats included
Undercarriage also acts as foot rest for second seat
50 lb weight capacity per seat; 100 lb combined
Tandem Double Strollers
Baby Trend Sit N Stand Double Stroller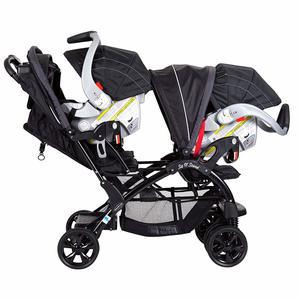 You may not be able to flip these seats around, but you can remove the back seat to allow your bigger child the option of sitting and standing.
Key Features:
Car seat compatible
3 color options
Removable children trays; parent's console
Cost: $160
Chicco BravoFor2 Standing/Sitting Double Stroller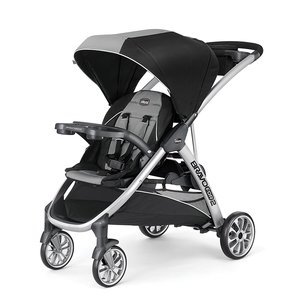 This stroller looks just like a standard single stroller at first glance, but when you look closer you'll see the sit and stand option on the back for your older child.
Key Features:
Removable kid tray; owner's console
2 color choices
Mesh back pocket for older child along back of seat
Cost: $270
Chicco Cortina Together Double Stroller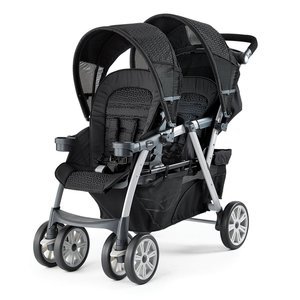 This stroller will accommodate two infant car seats or any combination of the stroller seat and inserted, compatible car seat.
Key Features:
2 cup holders for front seat
2 color options
Zippered undercarriage
Cost: $300
Graco DuoGlider Click Connect Stroller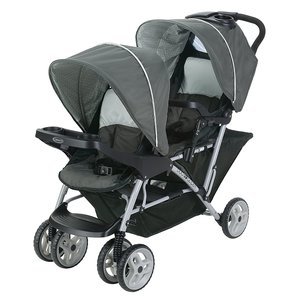 Use this stroller as it is or insert one or two infant car seats and uses lockable front wheels and suspension for a safe and smooth ride.
Key Features:
40 lb seat weight capacity; 80 lb combined
1 hand fold
Parent console with tray and cup holder
Cost: $130
Graco Roomfor2 Click Connect Stand and Ride Stroller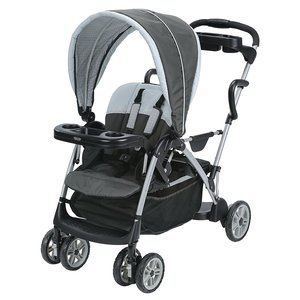 This double stroller is perfect for your baby and older child and with a rating of 4.5 and almost 400 customer reviews, it's no surprise it's Amazon's choice for sit and stand strollers.
Key Features:
Handlebars for the back seat
50 lb weight capacity for each seat; 100 lb combined
Reclining front seat with canopy
Cost: $110
JOOVY Caboose Too Ultralight Graphite Stand-On Tandem Stroller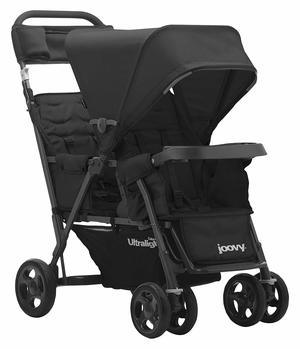 This stroller's rear seat can also be a sit or stand with its full seat that happens to be removable to leave a standing step for your bigger child.
Key Features:
Front seat: 3 months – 45 lbs; rear seat 2.5 years – 45 lbs
universal car seat adapter secures most car seats to stroller with ease
Weighs 23 lb
Cost: $220
Kinderwagon RED Hop Double Child Stroller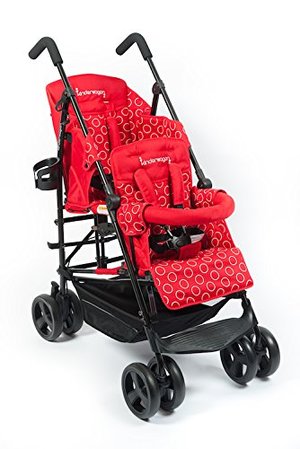 This umbrella stroller is ultra compact and secures your (1) car seat so you're sure to get plenty of use of it.
Key Features:
Folds to 45.5″L x 12″W x 15.5″H
50 lb max weight capacity
Weighs 21.6 lbs
Side-by-Side Double Strollers
Baby Jogger 2016 Summit X3 Double Jogging Stroller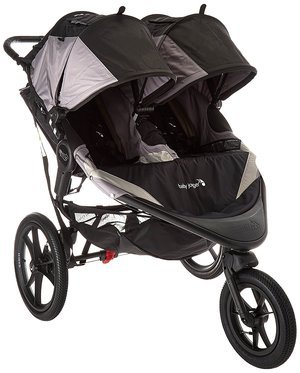 This is the jogging stroller from the company that is named after joggers, so you just know they know what they're doing.
Key Features:
16″ rear and 12″ front air filled tires
All wheel suspension
2 color choices
Cost: $650
Baby Trend Expedition Double Jogger Stroller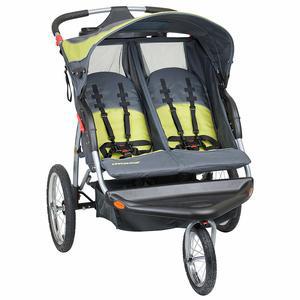 This jogging stroller has a locking front swivel wheel and rear brake system that is sure to keep your little one safe while you get your sweat on.
Key Features:
Independently reclining seats
50 lb weight limit on each seat; 100 lb combined
Large undercarriage and parent console
Cost: $170
Britax 2017 B-Agile Double Stroller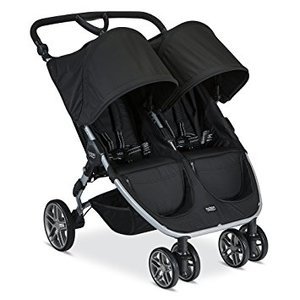 This stroller will recline to accommodate your sleeping children and with a width of 31″, it will fit through standard doorways.
Key Features:
50 lbs per seat; 100 lbs max
UV 50+ ventilated canopy
2 color choices
Cost: $250
Evenflo Minno Twin Double Stroller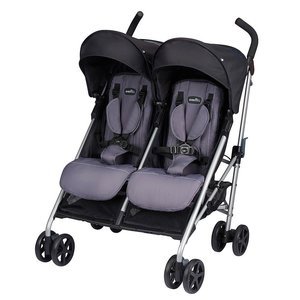 Each seat folds, opens, and locks into place independently so you can be sure that each child is in a secure place.
Key Features:
5-point harnesses
Fully and independently reclining seats
large mesh undercarriage
Cost: $140
J is for Jeep Brand Scout Double Stroller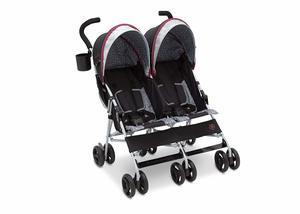 This umbrella stroller may not have an undercarriage but it does have a mesh storage compartment on the back of each seat, giving you plenty of space from which to work.
Key Features:
Parent cup holder on handle
2 color choices
Rear locking brakes
Cost: $90
Kolcraft Cloud Side-by-Side Double Umbrella Stroller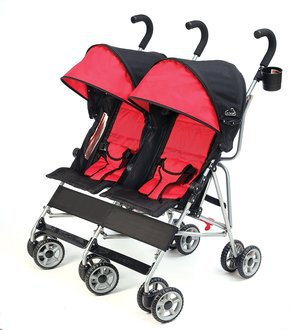 These seats have padding that can be removed to provide a breathable mesh back to keep your little ones cool.
Key Features:
Folds to 13″L x 12.5″W x 43.5″H
3-point harness system
Independent, large canopies
Cost: $115
Thule Urban Glide 2.0 Double Jogging Stroller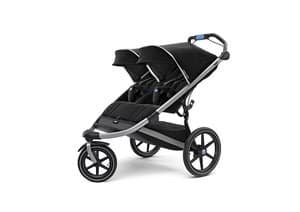 This stroller is perfect for your jog with its large 16″ rear wheels and suspension system.
Key Features:
1-handed reclining seats
Adjustable handlebar
Hand brake and rear wheel locks
Cost: $680
ZOE XL2 v2 Umbrella Twin Stroller System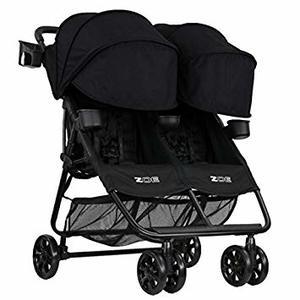 This side-by-side version of our lightweight stroller pick is still a solid investment and it, too, is a great option for a lightweight stroller.
Key Features:
Independent shade canopies
3 children cup holders; 1 parent
2 color choices
Cost: $250