If you have a baby and you want to leave the house, a baby stroller is an invaluable piece of equipment to have on hand. Strollers come in many different styles; many people, from new parents to seasoned grandparents, find it difficult to choose the best baby stroller for their particular needs.
We evaluated dozens of baby strollers in our quest to identify the best of the best. Some of our considerations included safety features, ease of use, ease of folding or storing, and value. We looked at travel systems, lightweight umbrella strollers, double strollers, jogger strollers, and more.
Our top pick was the Summer Infant 3D Lite Convenience Stroller. This one has many features that all parents and caregivers will appreciate, from a lightweight frame and sturdy design to an easy-to-recline seat, a safety harness, and an easy-fold system that comes complete with a carrying strap. It was the clear winner when stacked up against all of the other strollers on the market.
The 5 Top-Rated Baby Strollers
*Ratings are from Amazon at the time of publication and can change
Our Top Pick: Summer Infant 3D Lite Convenience Stroller
The Summer Infant 3D Lite Convenience Stroller has so many features that it's difficult to list them all. Caregivers will appreciate how easy it is to use. Weighing only 13 lbs, it will be no problem to carry the stroller in one hand and your baby in the other. There is a large basket underneath for the diaper bag, as well as a cup holder and a storage pouch. The stroller also folds down quickly and easily, and it comes with a carrying strap so you can easily carry it onto public transportation or take it out to the car with your baby and diaper bag in tow.
Your little one will also love this stroller because of its many comfort features. The 5-point harness is adjustable and meant to grow along with your baby. The seat is well-padded and reclines easily for convenient napping and diaper changes. Also, the large, adjustable canopy and sun visor will keep the sun out of your baby's face.
Summer Infant 3D Lite Convenience Stroller Key Features:
Large canopy
Storage basket and pocket
Cup holders
5-point harness
Reclining seat
Carrying strap
Our Runner Up Pick: Graco Fastaction Fold Jogger Click Connect Baby Travel System
It was a close call, and the Graco Fastaction Fold Jogger Click Connect Baby Travel System came in as the runner up. If you choose this stroller for your baby, it very well may be the only stroller you'll ever need. Because it is a travel system, you can safely transport your infant when you use his or her compatible infant car seat. Because it is a jogger stroller, you can use it while jogging and on a wide variety of terrains. It's the ultimate crossover stroller, providing versatility as well as all of the safety and convenience you'd expect from the Graco name.
The stroller comes with the Graco Click Connect car seat as well as a base that remains in the car. Simply click the car seat into the stroller and you're off! Once your little one is sitting up, the large canopy, the harness, the reclining seat, and the large, air-filled tires will keep them comfortable and safe. With a lockable front swivel wheel, you'll be able to maneuver easily whether you're jogging or out for a stroll. In addition, there's a storage basket underneath the seat as well as storage trays for both the parent and the child.
Graco Fastaction Fold Jogger Click Connect Baby Travel System Key Features:
Includes the infant car seat and a car base
Lockable front swivel wheel
Air-filled tires
Large sun canopy
Safety harness
Reclining seat
Lots of storage
Best Budget Pick: Baby Trend Rocket Lightweight Stroller
If you are looking for a lightweight, easy-fold baby stroller option that won't break the bank, the Baby Trend Rocket Lightweight Stroller might be the perfect option. The stroller combines ease of use with comfort and is available to those on a budget.
The handles are comfortable to grip, and parents will find the storage basket and organizer tray convenient when they need to take along the baby, the diaper bag, keys, a drink, and a cellphone. The parking brake will keep the stroller safely in place while you load your little one into it or pull out the diaper bag, and it folds down easily to allow for putting it in the trunk or taking it on public transportation.
Your baby will be safe and happy, too, thanks to a five-point harness, a sun-blocking canopy, and a reclining seat. This stroller is recommended for babies who can sit up and will hold toddlers and preschoolers up to 50 lbs.
Baby Trend Rocket Lightweight Stroller Key Features:
5-point safety harness
Storage basket
Parent organization tray with 2 cupholders
Dual-foot parking brake
Easy fold-down mechanism
Large canopy
Comfort-grip handles
Best Travel System: Evenflo Pivot Modular Travel System
The Evenflo Pivot Modular Travel System offers parents a full-size luxury stroller option that will fit infants as small as 4 lbs and preschoolers as large as 50 lbs. It has six modes of use for the ultimate in versatility: Have your child face you or face out into the world, and you can use the stroller as a frame stroller, a toddler stroller, or an infant travel system. The travel system includes the SafeMax Infant Car Seat.
Parents will enjoy the storage space, the ease of use, and the ability to fold the stroller quickly down to a slim profile that fits easily in the trunk. You will also enjoy the peace of mind that comes with the SafeMax seat; between the nearly foolproof installation, the anti-rebound bar, and the impact-absorbent building materials, your baby will be safe and secure whether in the car or in the stroller.
The ergonomic handles and cup holder will keep you comfortable during your walks; a large sun canopy and the shock-absorbing cruiser tires will keep your little one comfortable, too.
Evenflo Pivot Modular Travel System Key Features:
Six modes to choose from depending on the size of your child
Safety harness
Easy-fold mechanism
Ergonomic handles
Large tires for comfort
Includes the SafeMax Infant Car Seat for rear-facing babies up to 35 lbs.
Large sun canopy
Large storage basket
Best Jogging Stroller: Baby Trend Expedition Jogger Stroller
The Baby Trend Expedition Jogger Stroller is our top pick among jogger strollers. Its front swivel tire, large bicycle tires, padded seat, and large canopy keep your baby comfortable by minimizing jostling and blocking the sun. Two cup holders keep both you and your child hydrated as you run, and the 5-point harness gives you peace of mind that your little one is safe and secure.
The stroller will accept any of the Baby Trend infant seats to make it a travel system, so you can use it for newborns up to 50 lbs. A trigger release allows you to fold it up effortlessly to store in the trunk or to take on public transportation. The extra wide comfort handle is perfect for you to rest your hands on while running, and the storage basket will hold all of your accessories during your workout.
Baby Trend Expedition Jogger Stroller Key Features:
Accommodates babies from 5 to 50 lbs
Lockable front swivel wheel
Large bicycle tires in the back
Padded, reclining seat
Large sun/wind canopy
Easy to fold
Ergonomically correct comfort handle
Storage basket and cup holder
Who Should Buy a Baby Stroller
Baby strollers are the perfect gift for a baby shower. Several coworkers or friends might chip in to purchase a stroller, with our without a travel system, for a parent-to-be in their office or circle. While those who are expecting a baby through pregnancy or adoption are the most likely people to use a baby stroller, they can also be purchased at other times.
Many parents use a sling, wrap, or baby carrier to keep their babies close and might not purchase a stroller when the baby is small. As the baby grows into a toddler, however, those parents might need a stroller. If a mom or dad wants to jog or run with their baby, a sling or wrap is not safe; they would be better off purchasing a jogger stroller. And parents who are having a second child often consider purchasing a double stroller around the time their second baby is born.
Finally, grandparents, daycare providers, and church nurseries might benefit from having a baby stroller on hand to easily take any babies or toddlers that they are caring for a walk.
Important Features to Consider
A baby stroller should include a few important features. Here's what to consider when choosing a baby stroller for your baby or small child:
A safety harness. You are going to need to buckle your baby into the stroller, so be sure the harness is easy to use and not likely to be unbuckled by your baby. A five-point harness is safest, but a three-point harness is good, too.
Comfort features. If the stroller is uncomfortable, you won't be having peaceful or happy walks. Look for features like a padded seat, an option to recline, and a sun canopy to keep the bright light out of your little one's eyes.
Comfortable handles. You will want to be comfortable, too, so look for ergonomically correct handles with comfort grip material, if possible.
Storage space. When you go for a walk, you won't just have your baby; you will need space to store your cellphone, a drink, your keys, and maybe a diaper bag, library books, a jacket, and so on. A storage basket or pocket, a tray, and a cup holder make your walks more convenient.
Folding mechanism. It is likely that you will want to fold down the stroller to store it in your car's trunk or to carry it onto a public bus or subway.
Frequently Asked Questions
When can I put my baby in a stroller without the car seat?
Always read the manufacturer's instructions, but most strollers allow you to use it without a car seat once the baby can sit up on his or her own. For many babies, this will be around the age of 6 months old. If your baby is not sitting up at 6 months, ask your pediatrician if it is safe to begin using the stroller without the car seat or if you should wait longer.
Can you use a stroller for a newborn?
You can use some strollers for a newborn. It is important to read the manufacturer's instructions. If the stroller is part of a travel system or if it is compatible with an infant car seat, then you can use it with your newborn as long as they meet the weight requirement. Usually, these types of strollers are appropriate for babies over 4 or 5 lbs.
When can a baby sit up in a stroller?
Most babies can sit up in a stroller somewhere around 6 months of age. If your baby cannot, you can either wait until he or she is sitting unassisted or you can check with your pediatrician to see if your child is ready.
How long can a baby use a stroller (until what age)?
Each stroller is different, so it's important to read the manufacturer's instructions for your particular stroller. Most have a maximum weight capacity of between 40 and 50 lbs. Your child's feet should rest on the footrest and not drag on the ground and the harness should fit properly with the child sitting up straight, so it is possible that if your child is tall, they will outgrow it in height before they reach the weight limit.
Other Baby Strollers We Reviewed
We also looked at 20 other baby strollers. Even though they did not make our top 5 picks for baby strollers, they're still among the best and great options to consider for your baby. The information you need to make a decision is included with each listing.
Travel Strollers
Baby Jogger City Mini GT Travel System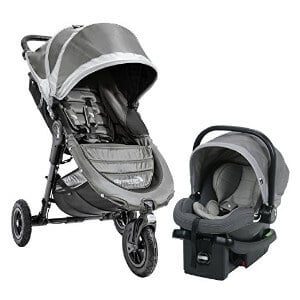 Traveling is simple when you use your City GO infant car seat to the City Mini Stroller. The infant seat is included and the stroller will accommodate your baby up to 35 lbs.
Key Features:
One-hand, compact fold
All-terrain wheels
Telescoping handlebar
Cost: $500
Britax 2017 B Agile & B Safe 35 Elite Travel System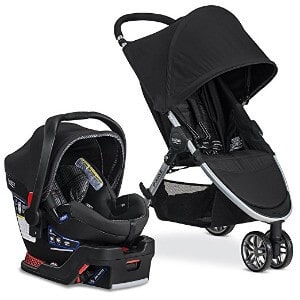 The popular Britax name doesn't disappoint with this travel system: With two layers of side-impact protection in the car seat and a lightweight stroller frame, going for walks will be both safe and easy.
Key Features:
Includes the B Safe Elite 35 Car Seat
Accommodates children up to 50 lbs
One-hand quick fold
Cost: $320
Chicco Bravo Trio Travel System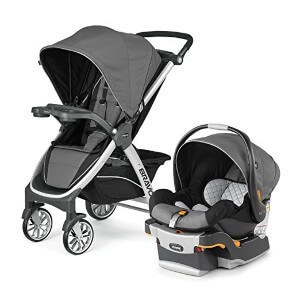 This stylish travel system includes the Key Fit 30 Infant Car Seat and will accommodate newborns up to 50 lbs. Lots of storage space, including cup holders.
Key Features:
One-hand fold
Convenient parent tray
Auto-positioning wheels
Cost: $380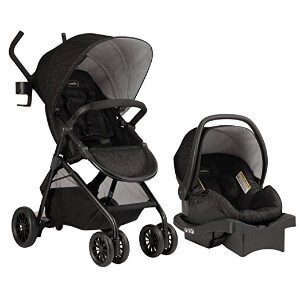 This travel system has an ride-along board to accommodate a toddler or preschooler, as well as extra-long sport-style handles and an oversized storage basket for convenience. Includes the LiteMax Infant Car Seat.
Key Features:
Storage basket that can be accessed from the front or the back
Three-position footrest
Full coverage canopy
Cost: $150
Safety 1st Smooth Ride Travel System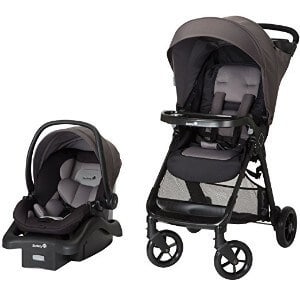 This stroller includes the OnBoard 35 LT Infant Car Seat for babies from newborns to 35 lbs. The stroller is lightweight and easy to carry and maneuver.
Key Features:
One-hand lift-to-fold feature
Secure QuickClick attachment
Super-size canopy with peek-a-boo window
Lightweight Strollers
Baby Jogger Anniversary City Stroller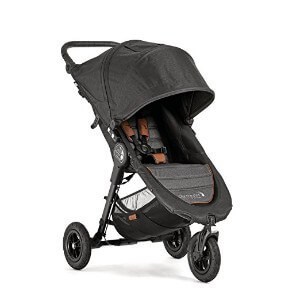 This three-wheel stroller has all-terrain tires and a front suspension that will minimize jostling no matter you walk with your baby. A plush padded seat and adjustable handlebar makes you and your little one comfortable.
Key Features: 
Hand-operated parking brake
Adjustable canopy
Accommodates child up to 65 lbs
Cost: $310
Chicco Capri Lightweight Stroller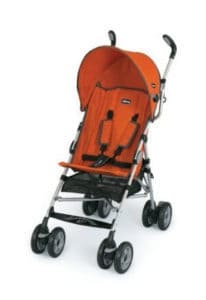 Weighing only 11 lbs, this very lightweight stroller folds down easily and comes with its own carry bag to make traveling with your little one a snap!
Key Features:
Reclining seat
5-point safety harness
Front wheel suspension for a smooth ride
Cost: $85
J is for Jeep Brand North Star Stroller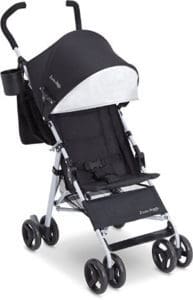 A mesh back increases airflow and keeps your child comfortable while you enjoy the extra-long foam handles, a parent cup holder, and lots of storage space.
Key Features:
Accommodates child up to 40 lbs
Extended canopy with sun visor
Compact umbrella fold
Cost: $50
Kolcraft Cloud Plus Lightweight Stroller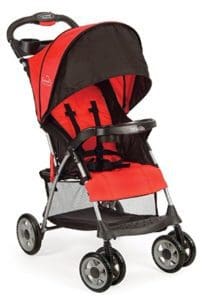 This ultralight stroller weighs in at under 12 lbs and includes features that will keep your child comfortable, such as a large canopy and a reclining seat. Accommodates children up to 50 lbs.
Key Features:
One-hand fold
5-point harness
Lots of storage space
Cost: $65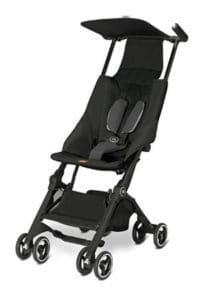 This stroller weights only 9.5 lbs and was the Guinness World Record-holder for the world's smallest stroller.  Don't let the size fool you: It can accommodate a child up to 55 lbs and carry an additional 11 lbs of gear.
Key Features:
Adjustable harness
One-hand steering
Front swivel wheels
Double Strollers
Baby Trend Navigator Double Jogger Stroller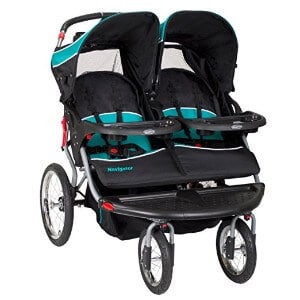 This side-by-side tandem stroller can function as a travel system when used with Baby Trend infant car seats (not included). Perfect for twins or siblings!
Key Features:
Locking front swivel wheels
Bicycle back wheels
Effortless trigger folding design
Cost: $230
Baby Trend Sit and Stand Double Stroller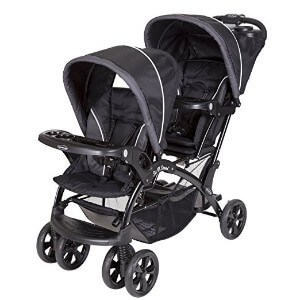 This stroller is versatile, offering two options: Put your children in one in front of the other sitting down or, for older children, remove the back seat and the second child can stand on the back.
Key Features: 
One-hand fold
Large storage basket
Accepts two infant car seats (not included)
Cost: $170
Joovy Caboose Graphite Stand On Tandem Stroller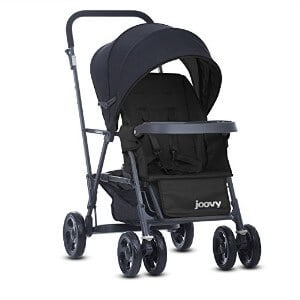 Put your younger child in the seat and let your older child sit or stand on the bench. This is a compact tandem stroller that is great for an older child who likes to hop on and hop off when you stop.
Key Features:
Two-year warranty
Car seat adapter that fits most major brands (infant car seat not included)
Front seat has recline and canopy
Cost: $105
Joovy Scooter X2 Double Stroller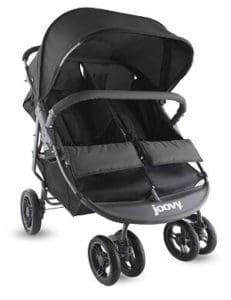 This side-by-side stroller has  a fairly narrow width (30″) to get through most standard doorways. Independently reclining seats and footrests will keep both children happy and comfortable.
Key Features:
Huge basket and canopy
Large wheels with sealed bearings
Accommodates children of 45 lbs each (90 lbs total)
Cost: $210
Kolcraft Cloud Side-by-Side Double Umbrella Stroller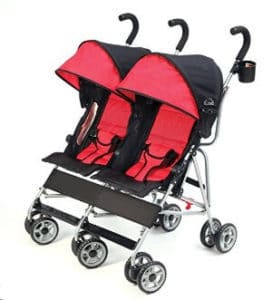 Enjoy the roominess of a side-by-side double stroller and the convenience and ease of the umbrella-style folding mechanism. This lightweight double stroller features a large canopy and reclining seats.
Key Features:
Easy umbrella fold for ultimate portability
3-point safety harnesses
Roll-up seat backs
Jogging Strollers
Baby Trend Range Jogger Stroller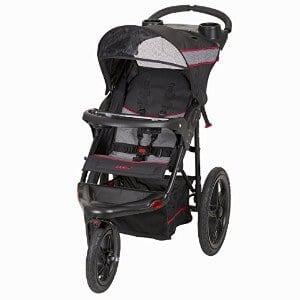 This stroller features a lockable front wheel for better maneuverability and trays for both parent and child. Adjustable canopy protects baby from sun and wind.
Key Features:
Extra wide handle
Footrest reflectors for nighttime running
Multi-position reclining
Cost: $90
Baby Trend Xcel Jogger Stroller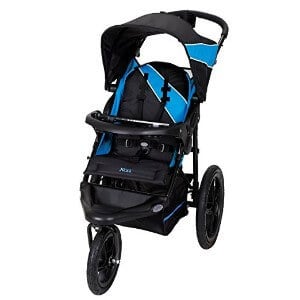 This jogger accepts any Baby Trend infant car seat (not included) for safe jogging with a small baby. The reclining padded seat with 5-point harness will keep your little one safe and sound.
Key Features:
Large bicycle tires
Swivel front wheel
Easy compact fold
Cost: $95
BOB Revolution Flex Jogging Stroller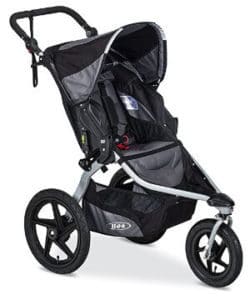 The large, air-filled tires and mountain bike suspension on this stroller will ensure a smooth, jostle-free ride for your baby and a smoother running experience for you.
Key Features:
Near-flat recline
Ventilation
Extra-large sun canopy
Cost: $450
Schwinn Interval Jogging Stroller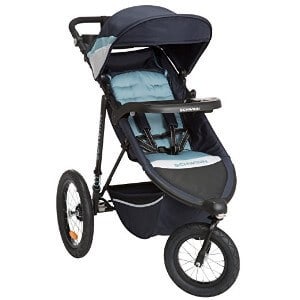 Performance shocks smooth out your running surface so your baby enjoys a smooth ride. The adjustable handles keep you comfortable, too, no matter what your height.
Key Features:
Lockable swivel wheel
Air-filled bicycle tires
Parent tray for storage
Cost: $140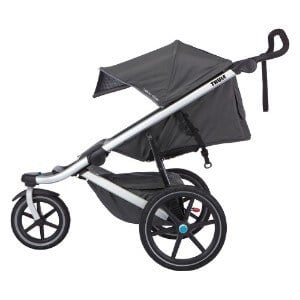 With a swivel front wheel, adjustable handlebars, and padded seat, the Thule Urban Glide is truly a luxury when it comes to jogging strollers. Accommodates children up to 75 lbs.
Key Features:
Ergonomic handlebar with water-repellent pads
Compatible with many infant car seats (not included)
One-handed compact fold
Cost: $450