If you want to make sure your baby's head always smells like a baby (and not like spit-up or a dirty diaper), you'll want to make sure you're washing him as is recommended. While you shouldn't bathe a newborn as often as an older child or even a toddler, and you won't want to wash him the same way, either. Starting with sponge baths and working your way up to baths where he can be a bit more covered in warm water is all going to be covered by your nurse and doctor and his first bath will be given by the same medical professionals. Take a few notes and ask questions if you worry. However, picking up a baby shampoo that will be gentle on the baby's skin and head is critically important to a successful baby bath. If you're not sure what to look for, let us make it simple. We've done your homework for you!
We reviewed dozens of baby shampoos to identify the best of the best. We found the baby shampoos that will pull double duty as also baby body wash, and the tear-free baby shampoos that are specially designed for baby's fine hair. We looked at baby shampoos for extra-sensitive scalps and those that are best for cradle cap. No matter what you're looking for in a baby shampoo, we have the right one for you.
After a nice relaxing bath, your baby may sleep all the more sound, but for other tricks and tips on a good sleep schedule, you may want to try How To Get A Newborn To Sleep Through The Night (6 Simple Tips To Follow) and How To Get A Baby To Nap Longer.
From the start, the Aquaphor Baby Wash and Shampoo stood out among its peers and proved all through our research it was the obvious choice for best overall baby shampoo. With a gentle formula, reasonable price and excellent quality, there was no competition.
The 5 Top-Rated Baby Shampoos
*Ratings are from Amazon at the time of publication and can change
Best Baby Shampoo Overall: Aquaphor Baby Wash and Shampoo
Aquaphor takes what they know of skin moisturizing and adds it to your baby's cleaning routine with Aquaphor Baby Wash and Shampoo. With their baby shampoo, they take extra precautions on the gentle formula of their wash and though they have a fragrance-free wash, it's still infused with a natural chamomile essence to lead to silky smooth skin.
The soap makes for a light lather and foam so that you'll be able to easily rinse your baby without too much need for excessive water and pouring (which means less risk of water in baby's eyes) and you'll be done with the bath even faster. That's a huge blessing for any baby who screams all through bathtime, too.
There's plenty of support on Amazon for this baby shampoo, and a quick look at the numbers will likely have you convinced as well. With an impressive overall rating of 4.8 stars, earned from nearly 700 customer reviews, you can be sure this is a shampoo with which you'll be satisfied.
Aquaphor Baby Wash and Shampoo Key Features:
24.5 fl oz
Paraben and tear-free
Subscribe and save options available
Best All-Natural Baby Shampoo: The Honest Company Dreamy Lavender Shampoo & Body Wash
With The Honest Company Dreamy Lavender Shampoo & Body Wash listing, you'll also get the coordinating face and body lotion so that your little one will have the same smells in bathtime as he does during lotion and jammie time. That will keep the smells from becoming too much for him and the calming lavender scent will allow your baby a bit of aromatherapy to help ease him to sleep – or to simply calm him after he gets worked up during bathtime.
There are no dyes, parabens, phthalates, synthetic fragrances (only natural ones), or formaldehyde donors in this wash, so you can take comfort that what you're giving your baby is completely natural and gentle on his skin. It's hypoallergenic, so even the baby with sensitive skin will see the benefits of the aloe, chamomile, olive, shea butter, and calenula to give him soft and moisturized skin.
Sitting with just around 400 customer reviews on Amazon, you have every reason to take confidence in the overall rating of 4.5 stars. Should you need more convincing, though, then you'll be all the more confident after reading through those glowing reviews.
The Honest Company Dreamy Lavender Shampoo & Body Wash Key Features:
10 fl oz baby shampoo
2-pack listing
3 scents available
Best Budget Baby Shampoo: Johnson's, Tear Free Baby Shampoo
You know the brand name and probably already trust it. Johnson's, Tear Free Baby Shampoo isn't just known for its quality baby products, it's also known for making them reasonably priced. This baby shampoo is no different. It's not designed for dual-use – that is, you can use this shampoo as a head-to-toe wash, but for a baby who has ahead full of hair that needs special attention, this is an excellent option for you.
There are no parabens, phthalates, sulfates, or dyes in this shampoo and several of the ingredients used in the formula are specifically chosen because they're naturally derived ingredients. The tear-free component to this shampoo is probably the most well-known one – in fact Johnson's may very well have been the first brand to boast such a claim, so you know they have it down by now.
Though the ratings on Amazon make this baby shampoo appealing (a whopping 4.7 stars given by more than 400 customer reviews), the real selling point is the price tag. You can pick this up for under $5.
Johnson's, Tear Free Baby Shampoo Key Features:
Hypoallergenic, no-tear formula
Gentle on delicate hair and scalp
13.6 fl oz
Best Baby Shampoo for Cradle Cap: Mustela Foam Shampoo for Newborns
Mustela Foam Shampoo for Newborns is perfect for your little one who's struggling with a dry scalp. Even if the doctor tells you it's common and okay that your baby has cradle cap (and it is!) you may still want to do something about it. Though you should definitely not scratch it yourself to get rid of flakes, a healthy head of hair is still important and this shampoo will get your baby where she needs to be.
You'll simply massage the airy foam into your baby's scalp to prevent and reduce the dry skin; the fact that it's already foamy means you won't have to be vigorous this scrubbing clean, either. This formula is safe for newborns, too so you'll be able to use it even before you're immersing your baby in water – so a easy-rinse foam will be all the better.
While the result may be the best part of this shampoo for you, there's plenty else to celebrate, too. It has an overall rating of 4.6 given by roughly 2,000 customer reviews, and you can pick it up for under $15.
Mustela Foam Shampoo for Newborns Key Features:
Tear-free,
5.07 fl z
Made with avocado perseose
Best Baby Shampoo for Sensitive Skin: Baby Dove Tip to Toe Baby Wash and Shampoo
The Baby Dove Tip to Toe Baby Wash and Shampoo will let you use one soap to wash your baby's head all the way to her toes. You can even use this particular formula on those little babies with sensitive skin, making it all the more versatile for you and your baby. It's also excellent on baby eczema if your baby is struggling with other skin problems, too.
Made with 100% natural ingredients, with no parabens, phthalates, or dyes this shampoo will have you feeling confident and comfortable with what you're using on your baby's delicate skin. The tear-free design means you also won't struggle with any guilt if you accidentally get soap in your baby's eyes.
This head-to-toe baby shampoo and body wash has excellent reviews with plenty of feedback, so you can be confident in the accuracy. With nearly 3,000 customer reviews and an overall rating of 4.7 stars, that's definitely good news.
Baby Dove Tip to Toe Baby Wash and Shampoo Key Features:
Rich moisture formula also available
2 size and packaging options
Head-to-toe wash
Who Should Buy a Baby Shampoo
If your baby has hair, then you'll need to think about what you're going to use to wash it. A dedicated shampoo will be best to give the hair the nutrients it needs, but shampoo and body wash for a baby are certainly more than sufficient. The key is gentle. If what you're using is gentle enough to wash baby's skin without causing irritation or drying it out, then it's also more than adequate. After all, your baby's skin and hair have been completely immersed in amniotic fluid for months, there's bound to be some issues with adjusting to an entirely different environment. In order to mitigate the discomfort from harsh cleaners, gentle baby shampoo is necessary. Using your own shampoo will almost undoubtedly cause irritations. Just like you want to be careful what you're feeding your baby and putting on his insides, you'll need to watch what you're putting on his outsides, too.
For a baby who has specific hair and scalp problems that need to be addressed, though, there is all the more reason to find the best baby shampoo for him or her. If, for example, baby has some dry skin on his scalp (also known as cradle cap), then a shampoo that works to fix that problem is certainly preferable to the kind that does nothing for it. If your child has particularly curly hair, then you'll also want to consider a baby shampoo designed for their hair's specific needs. Just because all babies need gentle shampoo, doesn't mean they all have the same hair. Be sure to get the baby shampoo that's best for you little one's very individual needs.
Important Features to Consider
A baby shampoo should do several things well. Here's what to consider when selecting a baby shampoo:
Gentle versus sensitive. Gentle baby shampoo will be gentle on your baby's hair and, with very rare exceptions, all baby shampoos are made to be gentle. Sensitive baby shampoos are for babies who you know have allergies or particular sensitivities – they'll have more limited ingredients and though they will also be gentle, they'll be an extra level of sensitivity for your baby's skin and hair.
Natural ingredients. One way to help mitigate the risk of harsh chemicals often in shampoos is to avoid chemicals entirely. Finding a baby shampoo made entirely of natural ingredients will help make sure that your baby's scalp will be less likely to suffer damage of hair washing. It's also less likely that your child will have an allergic reaction to specific ingredients if those ingredients are all-natural. (Bear in mind this isn't a guarantee, but it does mitigate the risk.)
Dry scalp and cradle cap. If your baby's scalp has flaky and dry skin, it's called cradle cap and it's very common in newborns who go from the submerged moisture of amniotic fluid to the dry air in the outside world. To battle it, there are more intense moisturizers that are excellent at preventing your baby's scalp from drying out oo much. The old trick to try to eliminate it is baby oil, but if you aren't crazy about the idea of your baby looking a bit greasy, then a baby shampoo that's specially meant to improve the cradle cap. And bear in mind, that the baby oil will need to be washed out, too, or even it will contribute to the dry scalp.
Curls. Curly hair needs different treatment than straight hair and it's best that you get used to that idea as soon as possible. In order to prevent curly hair drying out, you won't want to wash it as frequently, but even when you do wash it, using a curl-specific shampoo will allow the baby's curls to stay lush and uniformed. Otherwise, you may find your baby's hair tangling and frizzy each day.
No-tears. Gentle and natural are excellent qualities in a baby shampoo, but they don't necessarily mean that it's also a no-tear formula. Plenty of natural ingredients will still make baby tear up and just because a shampoo is gentle on your baby's hair, doesn't mean it'll be gentle on baby's eyes. If you're looking for something that won't make your child scream and cry if it gets into her eyes, look for baby shampoos that are specifically labeled, 'No-Tears' to make sure that's what you're getting.
Frequently Asked Questions
When can you use baby shampoo?
If you find a mild baby shampoo, it's very likely safe to use from day one, but you will need to be careful for a few other reasons, too. You may not realize it, but too many baths too soon can actually harm your baby's skin, so you'll want to hold off for a while. If, for example, your baby is born without hair, shampoo isn't strictly necessary, so you can skip it until the hair comes in. Once it does, or if she's born with hair, then you can wash it as needed. Bear in mind that more frequent baby shampoo will dry out hair and scalp, which may restrict hair growth and can cause cradle cap and a dry, itchy scalp.
How do I wash my baby's hair?
In order to wash your baby's hair, you'll need to be as gentle as you can, just as you always are with your little one. You'll wet her hair with lukewarm water, (Make sure it's not too hot or too cold!) then massage in a dime size pile of baby shampoo into her hair. After you've created a mostly uniform sudsy cover for your baby's head, then you'll rinse with warm water, leaning baby back so gravity helps keep water out of your little one's eyes. You can place a dry washcloth on her forehead to prevent any running water from entering her eyes to be extra careful, too.
Due to the umbilical cord, you're not going to be able to immerse your baby in water until it falls off. When it has, you can, carefully, allow your baby to sit or lie at an incline in a bath, sink, or basin. Doing this will make it easier to wash and rinse your baby's hair because lying her back in a deep recline can let you ensure that the soap and shampoo won't get into your baby's eyes.
Is it good to wash your hair with baby shampoo?
The appeal to using a baby shampoo resides primarily in the absence of a common ingredient in adult shampoo – sodium lauryl sulfate. This is a cleaning agent that will thoroughly clean your hair, but it can also dry it out, too. Baby shampoos tend to use amphoteric surfactants as a cleaning agent – it's far gentler and will dry your hair out far less. That's a big perk for hair that tends to dry out easily, but the downside is fairly significant. Because baby shampoo is gentler, it's also less effective. This isn't a concern for a baby since they don't have the hormones that create oils as quickly, nor do they do many things to make their hair dirty – so they don't need a more thorough clean. If you use baby shampoo on your adult hair, you may need to use it more often and that may defeat the purpose.
How often should I shampoo my baby's hair?
You won't want to overwash your baby's hair because it can damage both the hair and the scalp. Because of this, you'll want to limit your shampooing of baby's hair to roughly once a week at most. This doesn't, of course, take into consideration any messes that may happen. For example, if your baby spits up and it gets in her hair, or baby food ends up there (and these are both far more common than you may think), then you'll want to give an unplanned wash. In that case, just push the next bath to at least a week after.
Other Baby Shampoos We Reviewed
We looked at 20 other baby shampoos. Even though they didn't make our 5 best baby shampoos list, they're the best of the rest and each is still a great option for your baby. The information you'll need to compare each one is included with the listing.
Baby Shampoos for Cradle Cap
Bella B Bee Gone Cradle Cap Baby Shampoo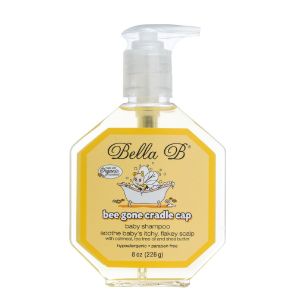 This baby shampoo takes on the task of ridding your baby of the dreaded cradle cap and does it well!
Key Features:
2 size options
Includes tea tree oil
Foaming shampoo formula
Cost: $10
Dr. Eddie's Happy Cappy Medicated Shampoo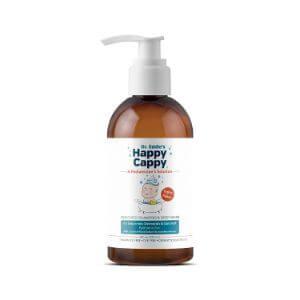 Designed by a doctor, there's a very high probability that this medicated shampoo is all you'll need for your little one's dry and flaky scalp.
Key Features:
8 oz
Shampoo and body wash
BPA-free formula
Head-to-Toe Baby Shampoo and Body Wash
Aveeno Baby Gentle Wash & Shampoo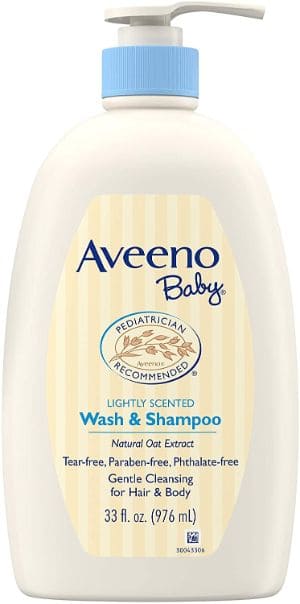 This body wash and baby shampoo uses a natural oat extract to give your baby soft smooth skin.
Key Features:
33 oz bottle
Lathering formula
Can be used every day
Cost: $15
Babo Botanicals Moisturizing Baby 2-in-1 Shampoo & Wash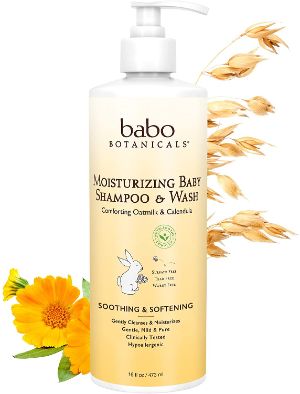 This baby shampoo and body wash is excellent for dry skin and is free of the common chemicals in washes (like sulfates, gluten, paraben, phthalate, soy, dairy, and more!)
Key Features:
5 packaging and size options
Hypoallergenic
Sulfate-free
Cost: $15
Baby Dove Tip to Toe Wash and Shampoo Calming Nights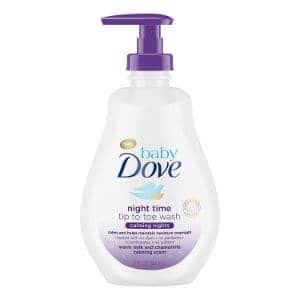 If you find your little one is having some trouble settling down each night, you may benefit from this calming shampoo and body wash that will give baby the aromatherapy benefits of calming chamomile.
Key Features:
13 oz bottle
100% skin-natural ingredients
Made without dyes, sulfates, or parabens
Cost: $10
Babyganics Baby Shampoo & Body Wash Pump Bottle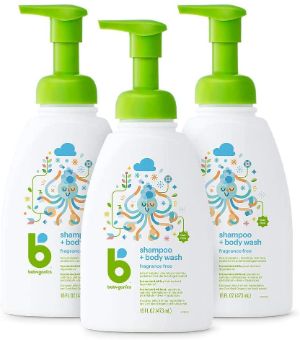 You'll easily be able to pump the shampoo and body wash contained within this bottle one-handed so you'll have maximum control on your squirming, wet baby.
Key Features:
3 fragrance options
2 packaging options
16 oz bottle
Cost: $30
Burt's Bees Baby Bee Shampoo & Wash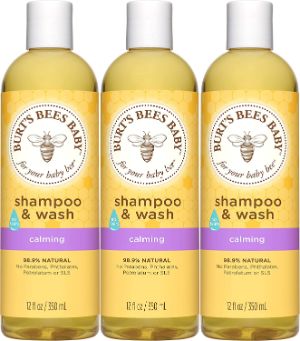 This calming baby wash and shampoo will help your little one soothe himself into sleep and make his bedtime routine far more pleasant for you both.
Key Features:
3 scents available
Buy more and save; 2 packaging options
Made with no phthalates, parabens, petrolatum, or SLS
Cost: $26
California Baby Calm Shampoo and Body Wash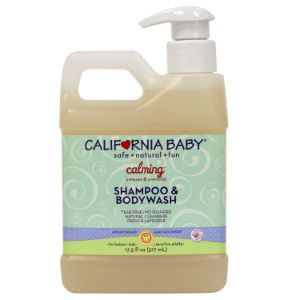 This baby shampoo and body wash combination is ideal for babies who need the extra calm provided by the chamomile scent.
Key Features:
Allergy tested gentle
3 size options
Plant-based formula
Cost: $30
California Baby Super Sensitive Shampoo and Body Wash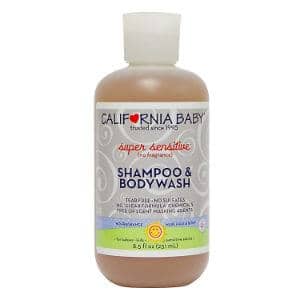 This baby shampoo and body wash is geared towards those little ones with especially sensitive skin, making sure sensitive won't prevent clean.
Key Features:
19 oz bottle
2 packaging options
Fragrance-free
Cost: $30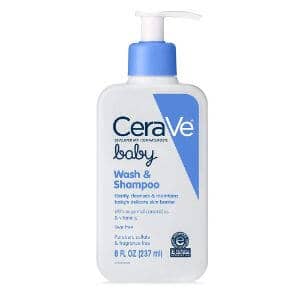 Available for purchase with this body wash and shampoo is a lotion bundle that will make sure your baby's skin is as silky smooth as the day he was born.
Key Features:
Made with essential vitamins and ceramides
Paraben, sulfate, and fragrance-free
8 oz bottle
Cost: $10
This hair and body baby wash and shampoo is hypoallergenic so your baby is less likely to have an allergic reaction to it.
Key Features:
13 fl oz
No parabens, colorants, or mineral oils
Made with organic Calendula
Cost: $10
EverJoyn Organics Baby Shampoo & Body Wash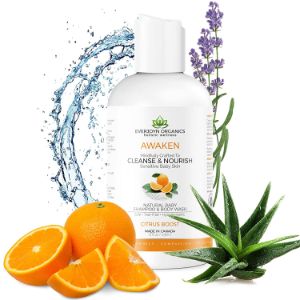 The EverJoyn company takes a holistic approach in all they create, so you can expect natural, organic, vegan, and safe products from them.
Key Features:
Citrus scent
8 oz
Cruelty-free
Cost: $15
Mee Beauty Baby Wash Kids Shampoo
This baby shampoo and body wash is infused with pure honey to prevent dry skin and as a wonderful bonus, it also gives your baby a sweet smell.
Key Features:
Aloe and chamomile
Low suds for easy rinse
2 size options
Cost: $15
This body wash and shampoo for babies uses natural and hypoallergenic ingredients to make a gentle gel that will allow your baby to get clean without any damage to his skin and hair.
Key Features:
2 sizes available
2 packaging options
Pump dispenser
Cost: $15
My Little North Star Organic Baby Shampoo & Body Wash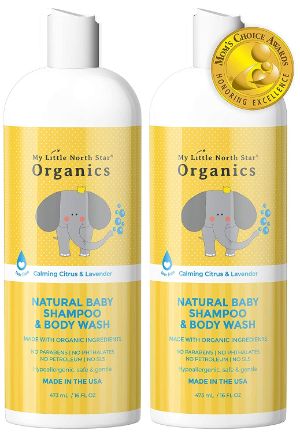 This baby shampoo and body wash will allow you to soothe baby's skin with vitamin E, aloe vera, and essential oils.
Key Features:
16 oz bottles
2-pack
Paraben and sulfate-free
Cost: $20
Puracy Natural Baby Shampoo & Body Wash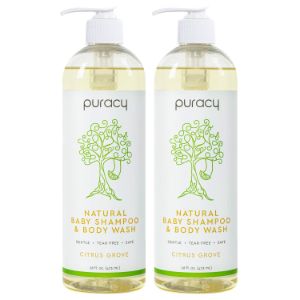 With this 2-pack, you'll have the convenience of a pump dispenser and a safe and gentle shampoo and body wash specially designed for your baby's soft skin and hair.
Key Features:
Refill available
Buy more and save; 2 packaging options
Citrus scent
Cost: $20
SHOOSHA Organic Sensitive Skin Baby Wash and Shampoo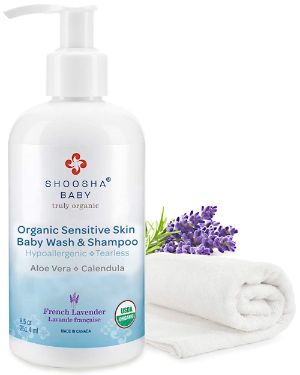 This baby shampoo and body wash are perfect for little ones with especially sensitive skin, as it is both hypoallergenic and tear-free.
Key Features:
French lavender scent
8.5 oz
USDA organic
Cost: $15
Sun Bum Baby Bum Shampoo & Wash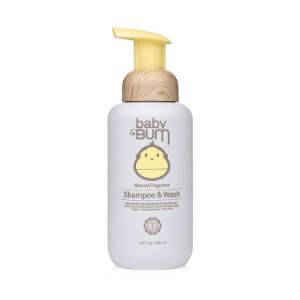 This baby shampoo and body wash is made with nourishing coconut oil to make your baby's skin and hair all the softer.
Key Features:
2 fragrance options
2 packaging options
Plant-based, mineral oil-free
Tear-Free Baby Shampoos
Johnson's Curl-Defining Tear-Free Kids' Shampoo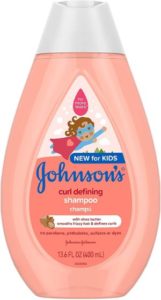 If your little one has curls, then make the most out of them with this curl defining baby shampoo.
Key Features:
13.6 oz
Paraben, phthalate, sulfate, and dye-free
Enriched with shea butter
Cost: $5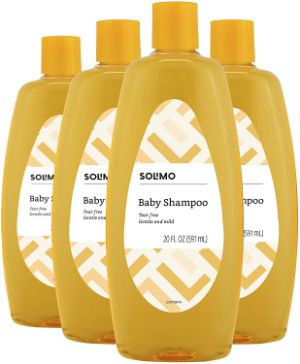 Amazon's brand is a tear-free baby shampoo that will give you all you need in baby shampoo and at an excellent price!
Key Features:
Paraben-free
20 oz bottle
Satisfaction guarantee
Cost: $3