When picking toys out for your baby, you have plenty to think about, and not just your little one's entertainment (although that should definitely be a factor). You should think about how long the toy can hold your child interest and what else it offers your baby. Can the toy progress their development or push them to reach milestones? Will that toy keep them quiet when those moments are required? Does using that toy relieve the pain of teething and make your life a bit less stressful?
When considering what each toy can give your baby, we looked at dozens of baby toys and considered the durability as well as the safety. We read hundreds of reviews to find the best of the best. While some of these toys can be used for years, we primarily considered those that are intended for babies under 1 year old.
In our research (and in our experience), the Baby Einstein Take Along Tunes Musical Toy is a clear winner. It has lights and makes music, and for a baby, it just doesn't get better than that.
The 5 Top-Rated Baby Toys
*Ratings are from Amazon at the time of publication and can change
Our Top Pick: Baby Einstein Take Along Tunes Musical Toy
The Baby Einstein Take Along Tunes Musical Toy is such a well-loved toy, there's every possibility you've already seen this toy plenty of times before. This toy lights and plays music so well that it engages your baby and is a must-have for you. The handle of this toy also has securely attached beads that will allow your baby to grasp and bat at them or your older baby to pull them to his mouth and chew safely.
The music can be switched by the push of a button and when your baby realizes she has that kind of power, this will make her day! And for those 7 melodies that your baby is flipping through; don't worry! This toy also comes with a volume control so that you can turn it down and the tune won't drive you crazy.
This light and melody toy has an overall rating of 4.8 stars with over 26,000 customer reviews. With numbers like these, it's easy to see how it could be Amazon's #1 Best Seller for baby musical toys.
Baby Einstein Take Along Tunes Musical Toy Key Features:
Recommended for ages 3 to 36 months
Requires 2 AA batteries (not included)
Plays 7 melodies
Our Runner-Up Pick: Tiny Love Meadow Days Sunny Stroll Stroller Arch
Because the Tiny Love Meadow Days Sunny Stroll Stroller Arch has so many colors, textures, and moving (but not electronic) parts, it's intended for your baby anytime from birth on. There are a total of 8 stimulating activities included in this arch, which are designed to sharpen their cognition, fine motor skills, and senses. The hanging objects will give your bub plenty to look at and once she starts reaching for things. There's even a hanging teething ring that can be pulled!
The universal claw fastener clips on and screw into place to keep it securely attached to whatever you place it on. Typically, you'd place this on a stroller or bassinet, but you can place it on virtually any seat your baby plops on. We especially like the idea of keeping it folded up in the diaper bag and whipping it out at a restaurant to put on the highchair when she gets a bit temperamental. (But kudos to you for not letting your baby hold you hostage in your home just because she's temperamental.)
This playful arch has over 3,000 customer reviews on Amazon giving it a whopping 4.7 star rating. It's also Amazon's #1 Best Seller for baby stroller bassinets and carrycots. We're certain you'll appreciate the happy distractions it can give your little one, too.
Tiny Love Meadow Days Sunny Stroll Stroller Arch Key Features:
8 stimulating activities
Claw fasteners screw tight
Built-in easy-to-grasp teether
Best Budget Pick: The First Years Stack Up Cups
The First Years Stack Up Cups are toys that all babies have to have at some point; they're simply too well-loved to overlook. Not only will you be able to use these cups to work with your baby learning his colors, you'll be able to watch his motor skills develop as he learns to stack.
These also make wonderful bath toys because each has a differently shaped hole along the bottom. When the water runs out from those holes, that means he's (slightly) less likely to drink the bath water. Which is always a good benefit since there'a 50/50 shot he's tinkled in that water. The cups also feature embossed numbers on the bottom which will add to the toy's educational value and their interactivity.
These cups have an overall rating of 4.8 stars and over 38,000 customer reviews on Amazon, which are pretty spectacular numbers for a toy. But if you want to see the most impressive number for this toy, check out the price tag: Just $5!
The First Years Stack Up Cups Key Features:
Includes bonus link
8 brightly colored cups with holes
Age recommendation 6 months and up
Best Teething Toy for Baby: Safety 1st featuring Mombella Ellie Elephant Teether
The Safety 1st featuring Mombella Ellie Elephant Teether is a teether that your baby can grasp himself and chew away on without causing any concern for you. It's made of a durable but soft silicone that your baby won't be able to chew apart and is soft enough to not make your baby's gums bleed if he really goes to town on it. The entire teether is the same material so he can chomp on any part but the top is made with bumps that will relieve some of the pain caused by teething. The extra texture will help those little teeth push the rest of the way through; which may actually minimize the overall time spent cutting teeth. (Hallelujah!)
The design of the handle is one that will encourage two-hand use and with both hands on the teether, getting it into his mouth by himself will be all the easier. So if you have a baby cutting teeth early, this may be extra helpful for you and your little one.
The numbers on this teether are genuinely impressive: It has an overall rating of 4.8 stars with over 6,200 customer reviews. And not only that, but it's just $7, making it an absolute steal!
Safety 1st featuring Mombella Ellie Elephant Teether Key Features:
Dishwasher and freezer safe
BPA, Phthalate, Latex, and Lead-Free
Made with food grade silicone
Best Toddler Toy Pick: Fisher-Price Brilliant Basics Rock-a-Stack
The Fisher-Price Brilliant Basics Rock-a-Stack is a safe toy that babies will enjoy, but it's toddlers who will play with this as it is intended. They will be the ones who figure out how to stack in order so all the rings fit. A baby will pull them off and enjoy mouthing each individual ring and trying to put them back on the base which will teach them motor skills and encourage interaction with the toys and a toddler will stack them in all kinds of configurations and use them as bracelets; all of which will inspire their creativity.
The top ring is half transparent to allow your baby to see the beads contained within that will make a rattling sound and that alone will be a source of entertainment. You may find that your toddler puts them all together and then keeps the rattle ring with him, he likes it so much. The base is also designed for wibbly-wobbly play that they're bound to enjoy.
This classic toy is certainly a well-loved one, as well. It has over 4,000 customer reviews earning it an overall rating of 4.9 stars on Amazon. With numbers like those, it's no wonder this is such a popular item among parents for stacking rings for their babies; and we're confident they'll please your baby, too.
Fisher-Price Brilliant Basics Rock-a-Stack Key Features:
5 colorful rings to stack
Base designed for wibbly-wobbly play
Top ring is transparent, reflective and rattles
Who Should Buy Baby Toys
If you have a baby, you'll need to buy that baby toys. If you hadn't thought of that, there's a good chance you would have sooner rather than later. Chances are, even early on you won't be able to stare at the baby 24/7 to engage and entertain her. (You have to go to the bathroom at some point.) You'll need a way to keep her happily entertained while you take a minute to yourself. (You don't get them often, but don't forget that they are necessary.) You can register for these or, if it's too late to get them for your shower (or your child's birthday), you may just want to pick up a few now. Your sanity will thank you.
You'll also need to buy baby toys if you have any friends or family that have infants or are expecting. They're likely going to register for specific things, and we would never suggest you neglect a mom-to-be's registry. (Seriously, she has enough to worry about with all the things she'll need to buy, now because people opted to instead get her baby another stuffed animal or blanket. Just get her something off her registry.) Baby toys are usually pretty cheap, though. So, pick up an extra gift that's more personal (like a toy) that her baby will enjoy and she hadn't even thought to get. (Because she's busy growing brain cells for another human.)
Important Features to Consider
A toy for your baby should have a few important features. Here's what to consider when selecting a toy for your baby:
Age appropriate. Not only will a toy outside of your baby's recommended age bracket be less likely to entertain him, they could just be unsafe. Buying ahead can save you time and money but toys that are designed for older kids often have moving parts or removable pieces that your baby may be able to choke on. And if you give it too early, you may think his lack of interest means he doesn't like the toy when really, it's just too advanced for him.
Teething everything. Your baby will put everything in his mouth. If you find a toy that has that in mind with it's design, all the better. Not only will you want to look for things that are safe for your baby to nom on, you'll also want to find at least a few toys that may actually ease the teething discomfort. For example, a teether meant to be given to your little one frozen or one that vibrates when your baby bites down on it is a good investment. The toys that relieve pain (if only momentarily) are worth their weight (and then some) in gold.
Lights and noises. Babies can't see all colors when they're first born, but lights and noises are appreciated almost immediately. Finding a toy that deploys this tactic is a good idea, especially for those early months. In fact, you'll find even your toddler will appreciate a new style of light. And, if you didn't already know this, there's a long period of time where you can place your baby under a ceiling fan and light and they'll be absolutely mesmerized. Which means you can go grab an actual shower. Just be sure baby is secured and safe of any risks before leaving him.
Like mommy. Children always want to be like their parents. It's only natural to emulate the person you spend the most time with, so swiping your phone or wallet or makeup while you're not looking is a real risk.  And we mean risk. Because not only can they damage your valuables, they can eat the wrong thing or touch something that will hurt them. You can mitigate that risk (some) by buying toys that are baby-safe versions of your possessions. You'd be surprised how long you can fool your kid that they have a remote, too.
Longevity. Keep the two aspects of longevity in mind when picking out a toy for your baby. First, how long will that toy occupy your baby each time you give it to her? If it doesn't her hold attention for very long, then you may want to look somewhere else. Second, how long will that toy be age appropriate? If there's a short range on the age recommendation, you may want to pass. But something that says 3-36 months could be a lifesaver.
Interactive. Your baby may not be able to respond with a toy right away but when the floodgates to interactivity open, that is all she'll want to do. So keep that in mind and pick up a few toys that will respond to her pushing buttons and twisting knobs. Puzzles and shape sorters are great for older babies and for younger ones, those that baby can smack or pull (like to place above an activity mat) are perfect to keep her entertained.
Frequently Asked Questions
When should you give your baby toys?
When a baby is first born, they can't control their own movements, much less touch and play with things. However, they can strengthen their eyesight by focusing on lights or bright colors. (Keep in mind they don't see all colors from birth, still, though.) You can show them plenty of black and white toys (or just be aware that the bright colors or lights aren't always seen) to help them focus; seeing is the newborn toy. You can also rattle a toy in front of them to get their attention and make them look a certain way. (This may help with tummy-time.) As a newborn, though, you will be their best toy. The sounds you make, the movement you make to let them focus on you – you're baby's first toy.
As soon as your baby starts reaching for things or grasping, then you know you can start picking out toys that are more interactive. Heed the age recommendations and make sure you don't let your child play with anything too soon. You may want to start with simple rings for her to grasp and fling around (be careful not to let her smack herself in the face with too many rings connected). You'll place them in her hands for her still at this age. (It'll likely be around 3 months.) That's when toys start being more fun for your baby; after they can grab, they'll learn to push buttons, and turn dials and a whole new world will open up!
Are vinyl toys safe for babies?
This is an entirely fair question to pose because even though there is vinyl everywhere you look in your every day life, babies put everything in their mouths. Which means their toys need to be made to a higher standard than nearly everything else. And you need to know if the toys you're getting your baby are safe! Vinyl has been used in our homes for over 50 years, and is one of the world's most researched plastics. Polyvinyl Chloride (PVC) is made with some chemicals that activists and concerned parents want to be assured are not absorbed by their baby. PVC can contain vinyl chloride, dioxin and phthalates which some activists say cause cancer or other problems. However, there isn't a scientific agency that has been able to find in their research that the chemicals used to make these toys are unsafe for your baby. The CDC has conducted research and reported a summary of their findings that you can check out if you want to see more on the subject.
Manufacturers do understand the hesitation and because of this, we have toys being made with minimal PVC or altered vinyl to keep these chemicals out of the toys altogether. This isn't an admission of unsafe practices, just a proactive way to keep the market happy. And if you are still worried, you can opt for toys that are labeled PVC-free. You will always want to stay away from lead (lead paint in toys from other countries has been a concern lately), and BPAs (Bisphenol A). Make sure the toy is labelled accordingly. For a bit more on the subject, check out the Intelligent Mother's article, Are Toys Made Of PVC Safe? Let Us Find Out Together.
What age does a baby use a rattle?
A rattle is one of the first toys babies can play with independently. Once they start grasping things on their own you can hand him a rattle and let him play on his own. The typical age for reaching out and grasping is between 3-6 months and that's when traditional rattles will be your baby's best friend.
The beauty of a rattle, though, is that now there are different types and that means you won't have to wait on your baby to be old enough to grasp before they can start enjoying the rattle noises. You can buy rattles that are attached to Velcro bands that secure around baby's wrist or ankle and just the normal movements he makes will cause a rattling noise that he'll love.
What is the Child Protection and Toy Safety Act?
The Child Protection Safety Act was created by Congress in 1966 in order to give the FDA authority to ban toys that contained harmful chemicals, were flammable or had radioactive hazards. (Up until that point, toys could be sold made of gasoline, and Hulk-making radiation – no one regulated it.) They re-branded the act in 1969 to further define the FDA's responsibility as the Child Protection and Toy Safety Act. During their control of the agency, the FDA primarily dealt with ensuring toys were nonflammable and preventing sharp or puncturing edges on toys. In 1973, the Consumer Product Safety Commission was formed, and the FDA no longer had toy regulatory power.
The entire purpose of the CPSA was to make sure the toys children are playing with can't harm them. That means any choking hazards, flammability, chemicals, crushing risks and laceration potential are all taken into consideration. (And more!) Toys that have any of these risks are all now labeled to keep you from buying a 10 month old little beads that will choke her. The "Warning" labels are the most noticeable action taken by the CSPA that will keep your children safe; all you need do is adhere to the warnings.
Other Baby Toys We Reviewed
We looked at 20 other toys for a baby. Even though they didn't make our 5 best baby toys list, they're the best of the rest and each is still a great option for your baby. The information you'll need to compare each one is included with the listing and we've grouped them into the following categories:
Developmental Baby Toys
Baby Einstein Octoplush Plush Toy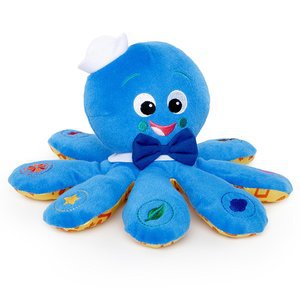 Your baby will teach himself to squeeze and push buttons with this octopus.
Key Features:
Teaches colors in English, Spanish, and French
Includes volume control
Requires 2 AA batteries (not included)
Cost: $15
Ball Drop 2 Sets of Swirl Ball Ramp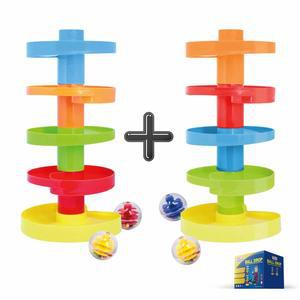 This will help your baby with hand-eye coordination and the excitement she'll get from watching the ball loop and fall will be fun for you to watch, too.
Key Features:
Set of 2 ramps
Recommended for 9+ months
9 layers of loops and 4 balls
Cost: $25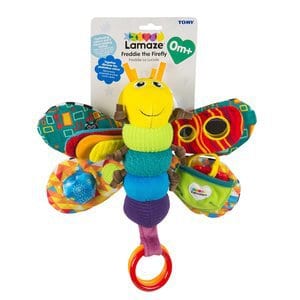 This will excite your baby from infancy to toddler-dom with a variety of stimulation.
Key Features:
Made of multiple textures including soft velour
Hook to stroller, play mat or to baby's clothes
Mirror, teether and jingle
Cost: $20
Sassy Developmental Bumpy Ball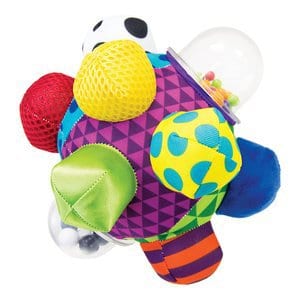 The bumps on this ball will encourage grasping and transferring from one hand to another.
Key Features:
5.4″ diameter
Recommended for birth – 3 years
Rattle and multiple textures included
Cost: $10
Sassy Wonder Wheel Activity Center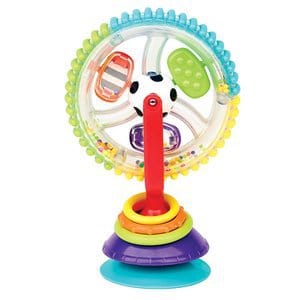 This is a perfect toy that will keep baby happy in a high chair while you're getting her dinner ready for her.
Key Features:
Suctions to a flat surface
Mini balls rattle just beneath surface
Multiple textures
Cost: $10
VTech Baby Lil' Critters Roll and Discover Ball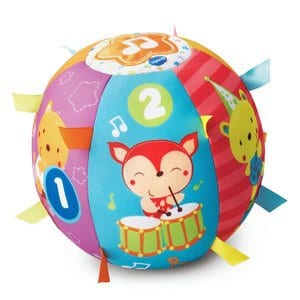 Theoretically, a ball that your baby has to chase stimulates crawling. Even if it doesn't work for that purpose, though, a ball is always good entertainments for a baby,
Key Features:
Recommended age: 6 months 2 years old
2 AAA batteries included
Plush musical ball
Cost: $15
VTech Busy Learners Activity Cube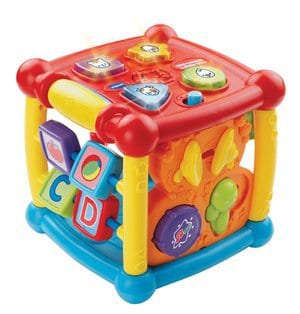 The fun part about toys like this is that when the sounds start to annoy you (and all sounds can accomplish that when repeated as many times as a children will), you can simply turn it off.
Key Features:
6 sides of activity
Lights and sounds on multiple sides
2 AAA Batteries required
Cost: $20
VTech Sit-to-Stand Learning Walker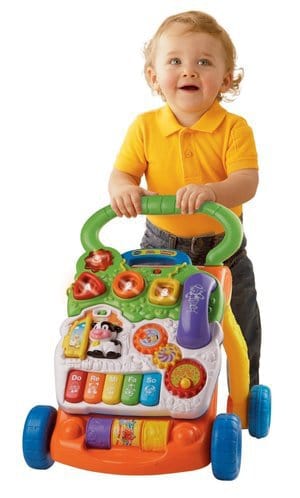 You can lay this flat on the ground for play and when the time comes, elevating it will guide your baby in learning to walk.
Key Features:
Shape sorters, piano keys, 3 light-up buttons
3 color choices
2 AA batteries included
Cost: $25
WolVol Educational Kids Toddler Baby Toy Musical Activity Cube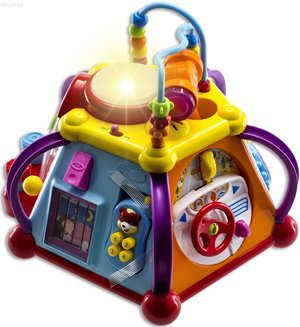 There's a lot going on with this activity cube and that will surely keep your baby busy for an extended period of time.
Key Features:
Detachable phone and hammer included
11.5 x 11 x 7 inches
3 AA batteries required (not included)
Musical Baby Toys
Baby Einstein Octopus Orchestra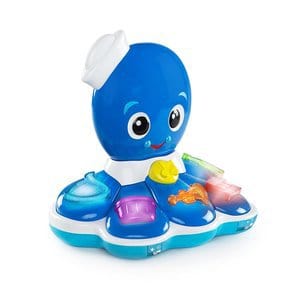 This is a great toy that you can use as a tool to facilitate happiness during tummy-time.
Key Features:
Lights and music to entertain baby
Self-play or melody modes
Large buttons for little hands
Cost: $10
Baby Einstein Star Bright Symphony Toy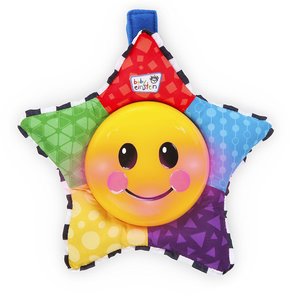 You can attach this star to his crib and allow the lights and music lull him to sleep or attach it to the infant car seat and encourage him to reach for it.
Key Features:
Velcro strap to attach to other toys or products
Play 6 classical melodies
Requires 2 AA batteries
Cost: $15
Discover & Play Piano Musical Toy
The soft cloth piano keys will allow your little one to play with absolutely no risk of pinching little fingers.
Key Features:
Plays 15 classical melodies
Self-play and melody modes
Requires 3 AA batteries
Cost: $20
Fisher-Price Classic Xylophone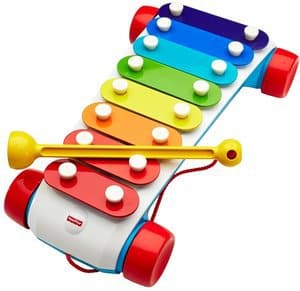 What childhood is complete without a xylophone on which to learn to hit keys and make music?
Key Features:
Attached mallet will never get lost
Wheels allow baby to pull along
8 key xylophone
Cost: $15
Your baby will still want your remote more than her own; but this way at least she can pretend while you use yours.
Key Features:
45 sing-along songs, melodies, sound effects, and phrases
10 buttons introduce colors, numbers, and shapes
2 AAA batteries are included
Teething Baby Toys
Baby Banana Infant Training Toothbrush and Teether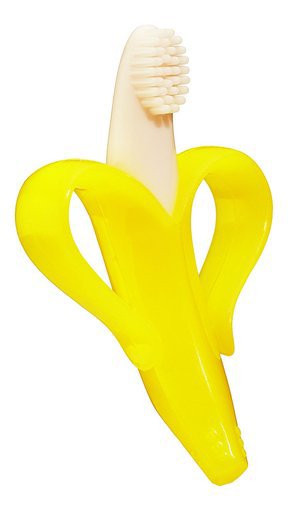 Not only will this give some comfort for your teething baby's sore gums, it will start the habit of good oral hygiene.
Key Features:
Dishwasher and freezer friendly
Recommended for ages 3-12 months
7 color options
Cost: $10
Bumkins Silicone Baby Teether, Nintendo, NES Controller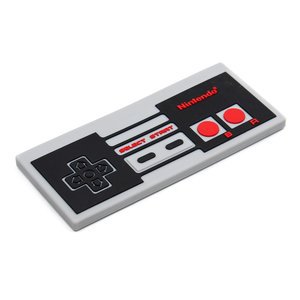 We just love the visual of your baby playing (aka chewing) on an NES controller while you play with yours.
Key Features:
100% food grade silicone
Dishwasher Safe (top rack only)
BPA, PVC, Vinyl, Phthalate and Lead free
Cost: $10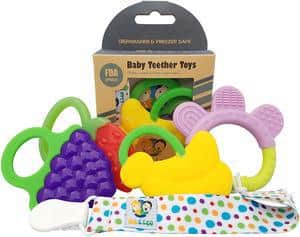 This is a set of 4 teethers and a clip that will allow you to secure the teether to your baby and prevent yucky floor contamination when your baby inevitably drops it.
Key Features:
Made of food-grade silicone
BPA, PVC and Phthalate Free
100% satisfaction guarantee
Cost: $15
Manhattan Toy Winkel Rattle and Sensory Teether Toy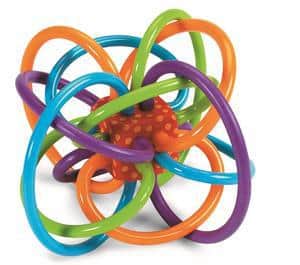 This toy stimulates two-handed play and the maze of tubing will keep them busy trying to figure out where each goes.
Key Features:
Includes 2 teething activity toys
Middle cube rattles
Surface wash only (don't submerge)
Cost: $15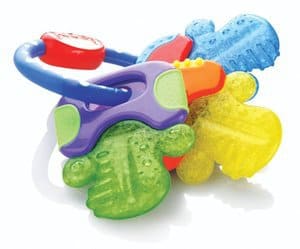 For a modern take on the old teethers, you can pop these keys filled with Nuby's PurIce in the refrigerator to provide cooling for baby's sore gums.
Key Features:
Multiple textures
3 months and above
BPA Free
Cost: $5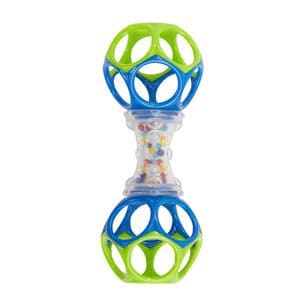 Two flexible teething balls are held together by a rattling handle that is easy to grip and will maintain attention for much longer than you may expect.
Key Features:
BPA-Free
Wipe clean (don't submerge)
Clear textured handle so baby can see beads
Cost: $5