If you're looking to feed your baby the best, you may want to consider organic baby food. While it might be more expensive than traditional baby food, baby food made with organic ingredients is free of many of the chemicals and pesticides you'd find in other products.
We reviewed dozens of organic baby foods to identify the best of the best. We considered the price, flavor options, additives, fillers, safety, and customer reviews when looking at each product.
After deliberation, the Sprout Organic Stage 2 Baby Food Pouches are the best option out there. Each pouch is full of whole, organic fruits, vegetables, and grains. They also have far more flavors than most brands out there and are affordable. Over 50% of their flavor options include vegetables as the first ingredient, helping shape your baby's preferences for the future.
The 5 Top-Rated Organic Baby Foods
*Ratings are from Amazon and might change over time.
Best Organic Baby Food Overall: Sprout Organic Stage 2 Baby Food Pouches
If you want the best of the best available, we recommend the Sprout Organic Stage 2 Baby Food Pouches. These baby food pouches are incredibly convenient since they come in a pouch form. They're easy to throw into the diaper bag on the way out the door. All ingredients are organic and non-GMO, so you can rest assured that you're only feeding your baby the best. Furthermore, none of their formulas contain any additives, preservatives, fillers, or concentrates.
This brand also has far more flavors than most other options. With over 12 different flavors, there are plenty of foods for your baby to choose from. Plus, most flavors include a veggie as the first ingredient, which is not usually the case with baby food. 50% of their flavors include some sort of vegetable as the first ingredient. This brand also makes a variety of other products, including stage 1 and stage 3 foods, so you can continue using them throughout your baby's development. These particular pouches are made for six months and up – which is around the time when your baby will be starting solid foods. However, you can continue to use them as your baby ages. There is not a maximum age limit, and some toddlers have been known to like them as well!
Sprout Organic Stage 2 Baby Food Pouches Key Features:
No concentrates, added sugar, artificial flavors, or colors
Wide variety of flavor options
Six months and up
Convenient pouch
Best Organic Baby Food Jars: Gerber 1st Foods Baby Food Jars
Gerber 1st Foods Baby Food Jars come in quite a few different flavors. There is not as big of a variety as for our top pick. However, there is still plenty to give your baby a little bit of everything. All jars included two and a half full servings of organic fruits and veggies. They are also not expensive, which makes this one of the more affordable, organic options out there. Most flavors can be purchased in a pack of six, though there are a few variety packs you can purchase as well. It is important to note that not all flavors are organic. Look for the prominent "organic" labeling on the jar to ensure the one you're purchasing is organic.
All ingredients are non-GMO, unsalted, unsweetened, and free of starch, artificial flavors, and colors. Many customers reported that their baby enjoyed this food quite a bit, though some were disappointed that it cost so much more than the usual Gerber brand baby food does. Also, since Gerber doesn't just make organic baby food, it can sometimes be difficult to tell just what jars are organic and which aren't. Overall, they're an excellent option for any baby, but not quite as good as our top pick.
Gerber 1st Foods Baby Food Jars Key Features:
Many different flavors available
Non-GMO
Unsalted and unsweetened
Affordable
Best Budget Organic Baby Food: Happy Baby Organic Stage 2 Baby Food
If you're trying to stick within a tight budget, Happy Baby Organic Stage 2 Baby Food is the product to get. These pouches aren't much more expensive than your usual baby food, but they're entirely organic. These foods are stage 2 in particular, which introduce a vast range of options to your baby after they have tried the simpler purees. There are tons of different flavor options and combo packs you can purchase. If you purchase in bulk, like through our link, you can save even more on these very affordable foods. All formulas are carefully blended to match your baby's age and developmental level, so you'll always be able to provide the correct meal for your little one.
This company includes a whole range of different stage baby foods and snacks. They even make some products for children and toddlers. If you like these baby foods, you can use this same brand for your baby's whole development.
Some customers did have trouble with their order and reported receiving expired pouches, however. These seem to be the vast minority though, but we do recommend checking the expiration date on the pouches when you receive them.
Happy Baby Organic Stage 2 Baby Food Key Features:
Many flavors available
Stage 2
Non-GMO
Other stages available
Best Organic Baby Formula: Happy Baby Organic Infant Formula
As far as organic baby formula goes, Happy Baby Organic Infant Formula is by far the best option. It is modeled very closely after breastmilk and is made for easy digestion. It included prebiotics for gut health and is formulated with both DHA and ARA. It contains over twice as many prebiotics as most other formulas on the market. Plus, it includes all the necessary iron, folic acid, choline, vitamin D, and calcium. The milk used in the formula comes strictly from organic dairy farms. The formula is also free of corn syrup and carrageenan.
As you might have noticed, Happy Baby also provides organic baby food, allowing you to stick to the same brand as your baby transitions to solid foods at about six months of age. This formula is designed to be used until your baby hits 12 months, however.
This formula, in particular, should be suitable for most babies. In contains all the necessary ingredients and is designed to be as close to breastmilk as possible. However, there is a sensitive formula as well that you can check out if your baby tends to have stomach pains.
Happy Baby Organic Infant Formula Key Features:
Includes DHA and ARA
Modeled after breastmilk
For babies 0-12 months of age
Contains prebiotics
Best Organic Baby Cereal: Happy Baby Organic Clearly Crafted Cereal
Cereal is a common component of a baby's new diet. Many parents start their child on cereal as their first solid food, though this is not required in the least. For parents who choose to feed their babies cereal, we recommend the Happy Baby Organic Clearly Crafted Cereal. This cereal is made to rigorous standards. It is made with both oats and quinoa, which helps develop your baby's taste. It contains added vitamin C and iron to help with brain development. It also includes a variety of textures, making it great for older babies as well. The pack is also resealable, so you don't have to worry about it going bad as quickly as other brands.
It is entirely made with organic whole grains and is developed specifically to match your baby's developmental level. This food is designed for sitting babies, though it can be used for older babies as well. It is perfect for mixing with purees and adding a little extra oomph to your baby's diet. There are a few different cereal options made by this came company, so be sure to check them out if you like this one.
Happy Baby Organic Clearly Crafted Cereal Key Features:
Oats and quinoa
Contains a variety of textures
Resealable
Contains vitamin C and iron
Who Should Buy Organic Baby Food
If you can afford it, organic baby food is the best option for most babies. Organic food often contains fewer pesticides and other chemicals, which can interfere with your baby's development. Your baby's stomach is susceptible when they are young, so it is often a better option to choose an organic baby food that is going to be gentle on their stomach. Plus, at the same time, you'll be supporting sustainable farming practices and supporting small businesses, which make up much of the organic farm industry.
Organic food also contains no antibiotics and no added hormones. This isn't necessarily as important when we're talking about fruit purees since these don't contain these ingredients anyway. However, infant formula and any food made with dairy will often contain these ingredients unless it is organic. In some cases, studies have even shown that organic foods are more nutritious as well, which is something to keep in mind.
Important Features to Consider
Organic baby food should have a few essential features. Here's what to consider when selecting an organic baby food for your little one.
Variety. No one likes eating the same thing all the time, including your baby. Having a variety of tastes available makes it more likely that your baby will find something they like, keeping them engaged at mealtime as you introduce more foods. Most importantly, though, feeding your baby a wide variety of foods also increases the likelihood that they'll like more foods once they start having more of a say in what they eat.
Cost. Organic food often costs more than non-organic food. This is because the licensing required to claim the label "organic" can be quite expensive. Furthermore, the demand for organic food is very high right now. That doesn't mean you have to spend a fortune on organic food, though. As we showed in our review section, there are tons of organic baby food options that aren't very expensive. There is not often a significant difference between the cheaper organic food and the more expensive organic option. Often, it has more to do with their marketing costs and the ingredients they're using in their food.
Taste. Organic food isn't going to be very useful if you can't get your baby to eat it, so the overall taste is also vital. This will vary from flavor to flavor, of course. However, certain brands might just make foods your baby finds tastier than other brands.
Stage. Baby foods are often designed for specific ages. You should choose the food that matches your baby's age.
Convenience. We are always on the go these days, so it is vital to choose a food that can go with you. Jars used to be very common. However, now pouches are often just as universal, if not more so. Choose whichever package you prefer.
Frequently Asked Questions
What is organic baby food?
Organic baby food has to meet specific standards to claim the word "organic." It is not just a word companies can use however they want. To call themselves organic, companies must use milk and other animal products that are raised in a way natural to their behavior. This often means they must live on certified organic land where they are allowed year-round access to an outdoor space. The animals also have to eat an organic diet and cannot be treated with antibiotics or hormones.
On a crop level, the company must use ingredients from non-GMO seeds. They cannot rely on pesticides, herbicides, or fungicides.
Is organic baby food better?
There are several reasons why organic baby food can be considered better than other sorts of baby food. Most obviously, it is free of pesticides and other similar chemicals that might be harmful to your baby. Furthermore, it has even been found to be more nutritious than regular baby food. Plus, you're also supporting sustainable farming practices when you purchase these organic baby foods.
How long is organic baby food suitable for?
Most organic baby food will have an expiration date on the package. Before it is opened, most baby food will last for upwards of a year or more, especially if it is in a jar. Once you open it, though, you will usually need to use it within a day or two.
What are the benefits of organic baby food?
Organic baby food does not contain pesticides or herbicides. These chemicals are toxic and can potentially harm children. Some have been linked with developmental problems and other similar health problems. If the baby food contains dairy, it will also be free of antibiotics and synthetic hormones. Organic baby food is also more nutritious, and, by purchasing it, you are supporting sustainable farming practices.
Other Organic Baby Foods We Reviewed
We looked at 20 other organic baby foods. Even though they didn't make our five best organic foods for babies list, they're the best of the rest, and each is still an excellent choice for your little one. The information you'll need to compare each one is included with the listing.
Organic Baby Food Pouches
Earth's Best Organic Stage 2 Baby Foods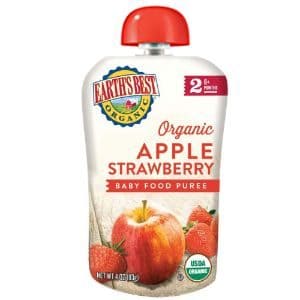 This baby food contains no artificial colors or flavors. It is designed for babies over six months and comes in a BPA-free pouch.
Key Features:
Many flavors available
BPA-free packaging
Babies 6 months and older
Cost: $15
These organic food pouches by Gerber contain three ingredients each. They feature age-appropriate textures and real ingredients to ensure your baby is getting proper nutrition.
Key Features:
Inexpensive
Unsweetened and unsalted
No added starch, artificial flavors, or colors
Cost: $20
Happy Baby Organic Clearly Crafted Stage 2
The clearly crafted line by Happy Baby is made according to stringent standards and premium ingredients. You'll find flavors like guava, avocado, and kale among these baby food pouches.
Key Features:
Organic, premium ingredients
Stage 2
Age-appropriate
Cost: $31
Happy Tot Organic Stage 4 Super Foods Variety Pack
These stage 4 foods are packed full of tasty ingredients and contain plenty of omega 3s, fiber, and vitamin C. There are four different flavors of this particular line available. However, this company makes a few other baby food lines as well.
Key Features:
Contains tons of nutrients
Completely organic
Superfoods include in each flavor
Cost: $25
For a less expensive option, these foods are a fantastic choice. They are made by Amazon and are entirely organic while costing much less than other organic brands out there.
Key Features:
Satisfaction guarantee
USDA Organic
Non-GMO
Cost: $14
Made with non-GMO and completely organic ingredients, this is one of the most popular baby food brands out there. The pouches are resealable and do not contain any BPA.
Key Features:
Child-safe pouches
Unsweetened and unsalted
Kosher
Cost: $24
For savory baby food, this is a great option. It is made with real, wild-caught salmon and contains very little sugar. It contains very similar nutrients to breastmilk.
Key Features:
Family-owned company
Savory blend
Made with real, wild-caught salmon
Cost: $24
Organic Baby Food Jars
Earth's Best Organic Stage 2 Baby Food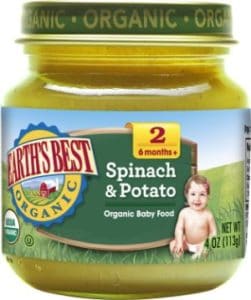 Earth's Best baby food is quite popular as well. It is designed for babies six months and older and comes in resealable, BPA-free jars.
Key Features:
USDA-certified organic
No artificial colors, flavors, or preservatives
For babies over six months
Cost: $18
This baby food does not contain any sweeteners, salts, starches, artificial flavors, or colors. This brand also makes a variety of other products, allowing you to work through the baby food stages as your baby gets bigger.
Key Features:
2nd Stage food
Age-appropriate texture
Includes real fruits and veggies
Cost: $22
Mama Bear Organic Baby Food Tub
Made with completely domestic, USA ingredients, this organic baby food is designed for babies over six months of age. It contains no artificial flavors or colors.
Key Features:
Stage 2
Non-BPA packaging
No artificial colors or flavors
Cost: $13
Organic Baby Formulas
Baby's Only Dairy with DHA and ARA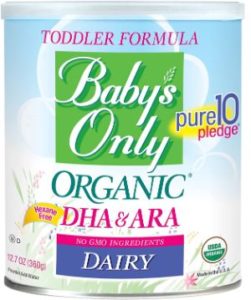 This is one of the few formulas that derives DHA and ARA from organic egg phospholipids. It is rated "best in class" by the Clean Label Project.
Key Features:
BPA-free packaging
Kosher certified
Non-GMO
Cost: $90
Earth's Best Organic Gentle Infant Formula with Iron
This organic baby formula is designed to be used during a baby's first year of life. It included partially hydrolyzed whey for fussiness and gas.
Key Features:
Water-extracted DHA
Certified organic
Non-GMO
Cost: $29
Earth's Best Organic Low Lactose Sensitivity Infant Formula
For babies with sensitives, this organic formula is a fantastic option. It contains omega-3s and omega-6s for a balanced diet.
Key Features:
No artificial flavors or colors
Added iron
Lutein for eye health
Cost: $28
Mama Bear USDA-Certified Organic Infant Formula
Made in the USA, this formula meets all the nutritional and quality standards set by the FDA. It provided complete nutrition for your baby's first year.
Key Features:
No artificial growth hormones
Non-GMO
Made in the USA
Cost: $23
Modeled after breastmilk, this infant formula contains no genetically modified ingredients and includes DHA and ARA to support brain and eye development.
Key Features:
Easy on sensitive stomachs
No corn syrup solids included
USDA-organic certified
Cost: $33
Organic Baby Cereal
Amara creates some powdered baby food that can be mixed with breastmilk or formula to create oatmeal or a similar grain. All of their flavors are organic and include no added sugar.
Key Features:
Designed for breastmilk or formula
No added sugars or concentrates
Good source of fiber
Cost: $11
Earth's Best Organic Whole Grain Oatmeal and Multi-Grain Cereal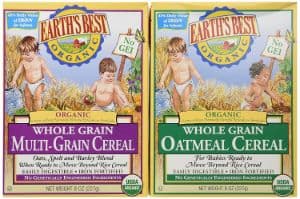 This combo pack of food is made with whole grains and does not include any genetically modified ingredients. It is iron-fortified and made to be easily digestible.
Key Features:
Iron-fortified
USDA organic certified
100% organic
Cost: $15
Gerber Baby Cereal Organic Rice
Gerber also makes an organic baby cereal line, including this rice cereal. Of course, they offer a few other flavors as well. This food included lots of added iron to support brain health and learning.
Key Features:
Pediatrician recommended
Contains lots of added vitamins
Single grain cereal
Cost: $20
Healthy Times Organic Whole Grain Barley Baby Cereal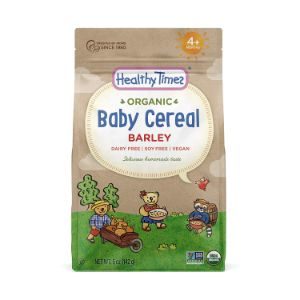 This cereal is made with certified organic ingredients and is ultimately soy and dairy-free. It is also vegan, making it very easy on developing tummies.
Key Features:
No added salt, sugars, or flavors
Single grain
No GMO ingredients
Cost: $14
What's Up Baby Food Organic Cereal Travel Packs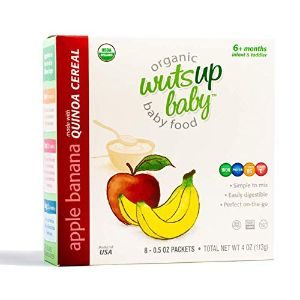 This baby food is designed to mimic breastmilk, making it an excellent first food option. It contains lots of different nutrients and is free of common allergens.
Key Features:
Great first food
Free of common allergens
Includes prebiotics
Cost: $12