While you may not have your sleep too terribly impacted the first few months of your pregnancy, those last few months are definitely a doozy! Whether you're just so uncomfortable with your ever-increasing size, or you have to get up a half-dozen times each night to use the bathroom, sleep doesn't come easy when you're pregnant. While we can't promise to give you an uninterrupted 8 hours each night, the right pregnancy pillow may very well improve your sleep in a meaningful way.
We reviewed dozens of pregnancy pillows to identify the best of the best. We've looked at full body pregnancy pillows shaped as a C and those shapes as a U, so no matter what type you prefer, you'll find the cream of the crop. We've also found the multi-purpose pillows that will help your nursing after you've had the baby and the wedge pillows that will support your growing belly. No matter what you're looking for in a pregnancy pillow, we have the right one for you.
If you're concerned about when you bring your new baby home, then you may want to check out How To Prepare For Your Baby. For mamas who are a bit more concerned with how they're going to handle delivery, then maybe you'll want to check out How To Stay Fit During Pregnancy.
QUEEN ROSE Pregnancy Pillow
If you're interested in the ruler of all pregnancy pillows, look no further than the QUEEN ROSE Pregnancy Pillow.
During our research it was easy to determine the winner of the best overall pregnancy pillow; it was obvious it had to be the QUEEN ROSE Pregnancy Pillow. With such high quality and all-encompassing support for your changing body, there are plenty of reasons to make this pillow a new staple in your sleeping routine.
The 5 Top-Rated Pregnancy Pillows
*Ratings are from Amazon at the time of publication and can change
Best Pregnancy Pillow Overall: QUEEN ROSE Pregnancy Pillow
The QUEEN ROSE Pregnancy Pillow will give you the most out of your pregnancy pillow, allowing you to tuck your pillow in a variety of ways and make your sleep customized specifically to your comfort. You can change that each night and as you grow; which means the way you use this pillow can change as your body changes, too. And the zipper on the cover is protected so you won't have to worry about it scratching you as you re-configure how the pillow is shaped.
Each cover is removable and machine washable but several also have different compositions to give different benefits. The velour cover, for example, is plush and soft and adds to the luxurious feel. The green bamboo pillow listed will allow you to remove the arm of the pillow to customize your comfort even further, making it ideal for those who toss and turn and reposition pillows over and over.
There are no two ways about it, this pregnancy pillow has impressive numbers behind it. With well over 7,000 customer reviews on Amazon and an overall rating of  4.4 stars, you're sure to be tempted on numbers alone. Those numbers and the quality features combined, though, and we think you'll be sold.
QUEEN ROSE Pregnancy Pillow Key Features:
Machine washable cover
6 colors available
3 size options
Best C-Shaped Pregnancy Pillow: PharMeDoc Pregnancy Pillow
PharMeDoc Pregnancy Pillow
For a pregnancy pillow that will give you the extra support you need without taking up the entire bed, try the PharMeDoc Pregnancy Pillow.
The PharMeDoc Pregnancy Pillow has a storage bag that will allow you to easily stored it in a closet or under your bed. That means that you'll be able to keep it compactly and securely stowed in between each pregnancy, making it perfect for women who plan on having multiple pregnancies. Don't be surprised, though, if you also find yourself using this pillow well after you're pregnant, too. It rolls up tightly to make it easy for travel, so you'll be able to take it with you when you go on your baby-moon, so sleep will never be as difficult as before your purchase.
The super-soft material features double-stitched seams to make it more durable and the cover is removable and machine washable, so you can ensure you're not breathing in the same germs day in and day out. It's filled with a polyfill blend that will give you increased support while maintaining its density.
Over 6,500 customer reviews on Amazon means you'll be able to trust in the reliability in the overall rating. And considering that rating is 4.5 stars, there's plenty of justification for this purchase.
PharMeDoc Pregnancy Pillow Key Features:
Includes storage bag
30″W x 57″L x 7″H
4 colors available
Best Budget Pregnancy Pillow: WEILORI Pregnancy Pillow
WEILORI Pregnancy Pillow
If you're looking for ways to save money without eliminating your comfort, try the WEILORI Pregnancy Pillow.
The WEILORI Pregnancy Pillow will give your back and belly support no matter how many times you toss and turn or which side you settle on. And with the connecting strap, you won't have to worry about the pillows slipping or spreading out too far to keep supporting your body's torso. You can even fold it on top of itself for more support on one side or the other, or use it for an inclined angle for your baby once it's born.
The invisible zipper will let you snuggle in without scratching your skin – because that's probably the last thing you want when everything about your changing body feels uncomfortable and tight, anyway. The cover is made with 100% cotton for maximum comfort and the filling is an ultra-supportive polyester fiber to make sure it won't lose its shape as your stomach grows and adds more and more weight to it.
This pregnancy pillow has plenty of features to sway you, but the biggest factor that you'll find convincing is the cost. You can pick this pillow up for right around $20 – a total steal!
WEILORI Pregnancy Pillow Key Features:
Machine washable pillow
100% money-back guarantee
6 patterns available
Best Pregnancy Pillow Wedge: hiccapop Pregnancy Pillow Wedge
When the weight of your growing stomach is too much to bear without some help, a pregnancy wedge pillow like the hiccapop Pregnancy Pillow Wedge is an absolute must. You'll save your body the extra strain of trying not to hunch over your bump and the support will help keep your body at an optimal angle and relieve pressure from your back and hips, as well.
This wedge is made with a super-supportive, high-density memory foam composition so you won't struggle to find a comfortable position, your body will sink into the pillow just enough to make it comfortable without letting the weight of your stomach cause problems in your position and angles.
Nearly 2,500 customers felt strongly enough about this pregnancy pillow wedge to come back to Amazon and take the time to leave a rating. Consider how strongly you have to feel about a product to do that and you'll be all the more impressed by its overall rating of 4.6 stars.
hiccapop Pregnancy Pillow Wedge Key Features:
2 color options
2-sided; more firm side/less firm reverse
Removable, machine washable pillow cover
Best U-Shaped Pregnancy Pillow: Meiz Pregnancy Pillow
Meiz Pregnancy Pillow
For the kind of pregnancy pillow that has the widest variety, don't miss the Meiz Pregnancy Pillow.
The Meiz Pregnancy Pillow is a full-body pillow that offers you support and comfort in your bed as you toss and turn your way through those exhausting last few months of pregnancy. Though it will take up a lot of bed space, the realistic answer to this problem is that sharing a bed when you're twice the size as usual and miserable is probably not any less convenient than using a pillow to ensure you're getting the rest you need.
With the wide variety of functions with this pregnancy pillow, before, during, and after delivery, you'll be sure to get your money's worth. Sleeping with the support on your growing belly and aching back is, of course, the most common use, but that's not all this pillow can tackle. You can use the plush comfort to sit on with a bit less pressure directly on your baby during labor and the nursing configuration is all the more useful once your baby is born. (Whether you nurse or bottle-feed, putting the baby on your lap to feed him or her is one of the most comfortable ways to do it.)
With a solid overall rating of 4.4 stars, earned by just over 2,000 customer reviews on Amazon, you have every reason to believe this pregnancy pillow will be just what you're looking for. – After all, an 84% satisfaction percentage means you have an excellent statistical likelihood for your satisfaction, as well.
Meiz Pregnancy Pillow Key Features:
5 colors available
2 size options
Premium polyester filling
Who Should Buy a Pregnancy Pillow
For the pregnant woman who can't sleep after she becomes pregnant, a pregnancy pillow will offer positions for her that may have never worked before – because she's never had this kind of body shape or needs before. You may be able to make do with several pillows, but re-positioning it if you toss and turn will wake you up more than a bathroom trip. For that reason, a pregnancy pillow for the woman sleeping poorly because of her changing body is an unparalleled form of comfort for her sleep.
If you have other problems sleeping while you're pregnant beyond the struggle to get comfortable, a pregnancy pillow may still be able to help. For example, pregnant women often suffer from acid reflux that flares particularly painful at bedtime when they try to lie down. If arranged properly, a pregnancy pillow can give your body an incline to prevent the stomach acid from washing up your throat as easily. If you suffer from knee or hip pain, you may need to work on the position to ensure your blood is flowing properly to the best areas. That is to say, a big belly that needs all your excess blood will often prevent the blood circulation to your legs. Sleeping on your sides, with a pillow between your knees will promote good circulation and relieve some of the pressure from your hips and lower back.
QUEEN ROSE Pregnancy Pillow
If you're interested in the ruler of all pregnancy pillows, look no further than the QUEEN ROSE Pregnancy Pillow.
Important Features to Consider
A pregnancy pillow should have a few important features. Here's what to consider when selecting a pregnancy pillow:
Wedges. If you sleep mostly well while pregnant, but just feel a bit more pressure on your stomach with the weight of a growing baby, you may be interested in finding a wedge to stuff under your belly as you sleep. As you grow, less and less of the wedge will likely be visible but the support will be more and more helpful.
Other stomach support. There are other pillows that you'll use to support your stomach, too. The most common one is a pillow and back support two-for-one. Rather than needing you to readjust each time you turn from side to side, these two pillows are strapped together and you'll lie on top of the strap to keep you in the position that's most likely to keep you from feeling aches and pains the next day. That is to say, if you find yourself waking out of breath and on your back, this type of pregnancy pillow can help. You'll be kept on your side so that you won't have to worry about what kind of choices you make in your sleep.
U-shaped. The U-shaped pregnancy pillows are all-encompassing; they'll wrap around your back, under your head and go down around your stomach. You can easily pull the edge of either side to reach in between your legs to provide support for your hips and knees. That means you'll still have plenty of circulation support. This pillow is also the biggest, so if you're sharing a queen or double sized bed with someone, then they may have a pretty cramped space. You'll be able to configure this pillow into a nursing pillow after the baby is born, as well.
C-shaped. Slightly smaller than the U-shaped pregnancy pillows, you may have a bigger fan with your spouse if you use a C-shaped pregnancy pillow as it will encroach less on your bed partner's space. You'll still have some back support, but not quite as much and you'll still have your leg and head support to make sure you're blood and oxygen are at optimal levels, too. You can configure to be a nursing pillow, but it's not as easy. And the biggest drawback from a C-shaped pregnancy pillow is that you'll have to switch the pillow when you switch sides –  and doing that a dozen times a night is a giant pain. However, if sleeping with your significant other is important to you, this may be your best bet.
Stomach sleepers. We have to make clear that sleeping on your stomach while pregnant is not recommended. Not only that, but you'll very likely find it so unpleasantly comfortable when you've reached your late months in pregnancy that it won't be a concern at all. However, if you've found a way to get comfortable then more power to you. There are pillows that will make it a bit more safe and comfortable for you and the baby. Talk to your doctor, though. Pillows that have, essentially, a hole cut out for your belly and sore breasts exist to try to give mamma a break, and even if for just occasional use (the occasional massage, even?) they may be worth a look.
Frequently Asked Questions
What is a pregnancy pillow and how does it work?
A pregnancy pillow is a pillow that is designed to meet the unique physiological needs of a sleeping pregnant woman. With the growing belly, and organ shuffle that pregnancy causes, finding a position to sleep in which accommodates these specific needs is vital to preventing pregnancy misery and could even help with an easier childbirth. (That may sound extreme but a well-rested mother with excellent circulation is going to struggle less than one without those benefits.) They'll tackle a large number of needs – circulation changes and growing pressure to name a few.
You'll find a variety of pregnancy pillows; U-shaped pillows that cover your entire body to support every part, C-shaped ones that act similarly with slightly less bed encroachment, stomach supports and wedges to prevent that stomach from weighing you into an uncomfortable angle. No matter what you specifically are struggling with when you try to sleep, there is a pregnancy pillow meant to tackle that struggle.
Do pregnancy pillows really help?
Do pregnancy pillows help a pregnant woman find a comfortable position when she's miserable? Yes, they absolutely can. You will have more options and the kind of support you'll need to make sure your body reaches an optimal circulation and safe position for you and your baby. You'll likely notice fewer aches and pains from sleeping poorly and in an awkward position, as well.
However, they will not prevent you from needing to get up to go to the bathroom. And, though they can incline your sleeping to help, they won't stop your acid reflux. They can give you the support you need to minimize swelling, but they won't eliminate it completely. The fact is, they can help, but they won't get rid of all those negatives that are associated with pregnancy and sleeping will still not be as pleasant as before you were pregnant.
Why do you put a pillow between your legs when pregnant?
The best reason for a pillow between your legs is to make sure your baby is getting the best circulation. Without the extra pressure of the weight of your leg hanging down, your circulation won't get bogged down in your leg, and you won't suffer the consequences, and neither will your baby. That also means you're less likely to get legs cramps and Charlie Horse (though you'll still need to make sure you're properly hydrating, as well.) And finally, it's likely going to be the most comfortable position.
Worthy of note on positioning the pillow between your legs: You should aim to keep your leg aligned with your hips, parallel to the bed. For this reason, you'll want a firm pillow that won't allow your leg to sink into the pillow. Positioning this way will promote the most amount of blood flow and prevent the pressure that the weight can cause on your hip and lower back. A firm pillow keeping your legs straight can prevent a lot of pain that lasts well after you get up.
Is it OK to sleep on your right side when pregnant?
You may not realize it, but there are certain risks to sleeping in certain positions while you're pregnant. Because of this, the most risk-free position you can sleep in is on your side. You'll probably find that on your own because sleeping any other way is uncomfortable, but let's work through it with data, too. Sleeping on your stomach will put too much pressure on the baby and probably your back, so you'll want to avoid it. (And it's incredibly uncomfortable so you won't want to, realistically, anyways.) Sleeping on your back is going to allow gravity to push down on the baby and, frankly, arrange your organs a bit, making it harder to breathe. Additionally, each of those positions will prohibit optimal circulation, so you'll want to avoid it. To avoid circulation problems entirely, you'll want to sleep on your left side, with a pillow between your legs. Sleeping on your left side will ensure the most amount of blood and nutrients are getting to the placenta for your baby.
It should be noted, however, that this guidance is for the later months in your pregnancy. You can sleep on your back and either side as long as you aren't showing yet because the point is to avoid the extra pressure and circulation cut off that can come with it – caused by the weight of the growing baby. If the baby (and the placenta) aren't big enough to produce weight to apply pressure, you don't need to worry. You should also note that it's unlikely that sleeping on the wrong side will actually harm your baby, but the recommendation is the safest. If you're nine months pregnant and miserable, you sleep however you can, and that's probably going to be just fine. (Check with your doctor if you sleep differently than is recommended on a regular basis, though.)
Other Pregnancy Pillows We Reviewed
QUEEN ROSE Pregnancy Pillow
If you're interested in the ruler of all pregnancy pillows, look no further than the QUEEN ROSE Pregnancy Pillow.
We looked at 20 other pregnancy pillows. Even though they didn't make our 5 best pregnancy pillows list, they're the best of the rest and each is still a great option for you. The information you'll need to compare each one is included with the listing.
C-Shaped Pregnancy Pillows
AngQi Full Body Pregnancy Pillow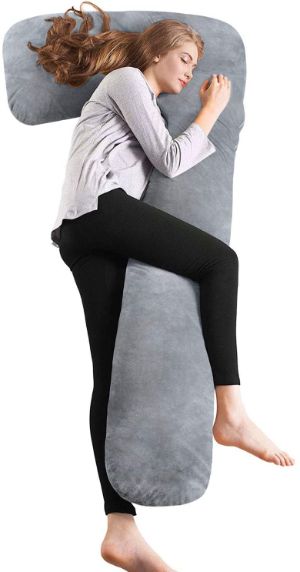 Though this pillow may be more of a '7' shape, it will still provide similar comfort and footprint in your bed as any other C-shaped.
Key Features:
4 color options
31″W x 65″L
Cool jersey knit cover
Cost: $50
Cheer Collection Premium Total Body Pillow
This pregnancy pillow will give you support for your legs and back as well as your stomach and neck.
Key Features:
Microfiber composition
2 shapes available: 'J' or 'L'
Removable cover is machine washable
Cost: $40
Futurebatt C-Shaped Maternity Pillow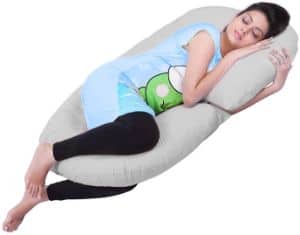 Perfect for side sleeping well into your final trimester, this pillow gives you just the support you need.
Key Features:
57″L x 30″W x 7″H
3 color available
Lifetime warranty
Cost: $30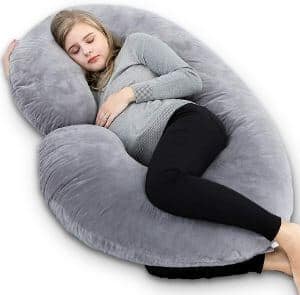 This pregnancy pillow is a luxuriously plush one to make sure that you sleep as comfortably as possible, even in pregnancy.
Key Features:
Zipper cover
Removable and machine washable pillowcase
3 colors available
Cost: $45
Leachco Snoogle Original Maternity Pregnancy Pillow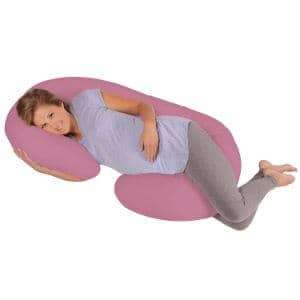 Depending on your height, this pillow may be able to reach all over to give you support everywhere – if it isn't quite big enough, you'll still get plenty of extra support to make this a quality purchase.
Key Features:
2 colors available
Patent designed by RN and Mom
Machine washable removable cover
Cost: $60
Restorology 60-Inch Full Body Pregnancy Pillow
If you're struggling to sleep into your pregnancy, this full-body c-shaped pregnancy pillow may just be all you need to soothe you into a sound night's sleep.
Key Features:
Removable and machine washable cover
Zipper cover
Satisfaction guarantee
Stomach Support Pregnancy Pillows
This pillow gives support to the two most common problem areas for a pregnant woman's sleep: stomach and back.
Key Features:
Stretch panel to connect pillows
2 color options
28.7″W x 14.2″L x 4.4″H
Cost: $25
Boppy Pregnancy Support Pillow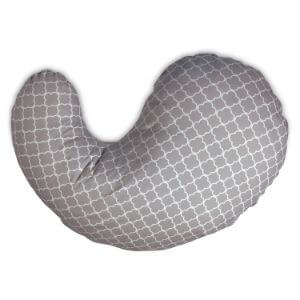 You can use this pillow in your pregnancy for support to your stomach and breasts, and after you deliver your baby, this can double as a nursing pillow, too.
Key Features:
Removable, machine washable cover
Easy-to-use zipper
20″L x 5.5″H x 16″W
Cost: $40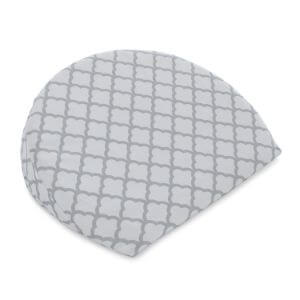 Wedging this pillow under your growing belly will keep it fro weighing you down and straining your body by putting you in an unnatural position.
Key Features:
Firm and versatile composition
Machine washable cover
2 color options
Cost: $15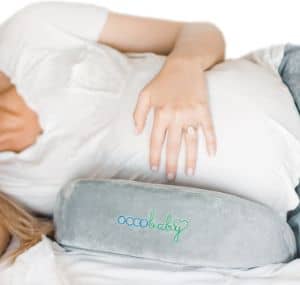 If the weight of your stomach and the growing baby inside it has you struggling to sleep, this wedge pillow will be a big help.
Key Features:
Memory foam composition
Removable machine washable cover
2-sided design: firm or soft
Pregnancy Pillows for Stomach Sleepers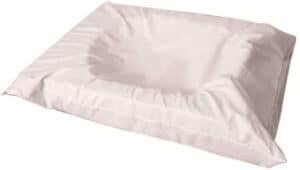 Though you may not find it comfortable for a good night's sleep, this pillow can at least make it a bit more comfortable so that you can feel the position for which you're longing.
Key Features:
Multi-functional: For belly, breasts, or baby
25″W x 14″L x 3″H
Made from open-cell foam
Cost: $80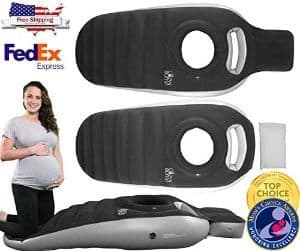 This pillow is excellent for temporary use and will allow you to find a comfortable position, as well as fold up for maximum portability.
Key Features:
Inflatable
3 colors available
Chest cutout
Cost: $65
EARTHLITE Pregnancy Massage Cushion
This pregnancy pillow is more robust than most of the others on our list but is still an excellent option if you want to take a little break and get a back massage, for example.
Key Features:
Space for arms, belly, face, and breasts
Fill belly space during first trimester
2 colors available
U-Shaped Pregnancy Pillows
AngQi 55″ Full Pregnancy Pillow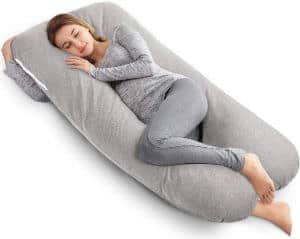 This pillow will give you excellent support all over your body to fit every change of your body's shape and size.
Key Features:
Jersy knit cover
3 sizes available
3 color options
Cost: $65
bable 59″ U Shaped Pregnancy Pillow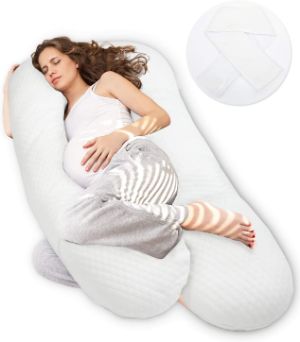 With a soft composition and a removable pillowcase, you'll easily be able to wash to make sure you're always sleeping cozy and clean.
Key Features:
Adjustable Velcro belt to secure in place
100% pure polyester filling
Cover is 35% bamboo, 65% polyester
Cost: $60
Bamibi Multifunctional Pregnancy & Breastfeeding Pillow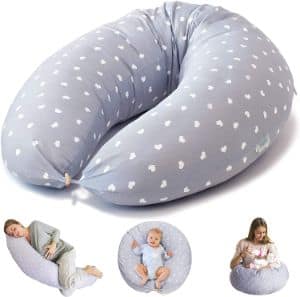 This u-shaped pregnancy pillow is so versatile, you'll easily be able to use this from pregnancy to after and for your baby, too.
Key Features:
Invisible zipper
Safety straps
Polyester filling
Cost: $40
Bluestone Full Body Maternity Pillow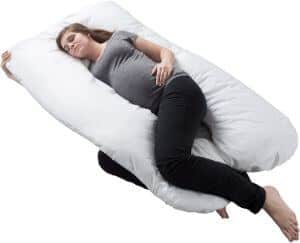 This full-body pregnancy pillow will give you all the support you need, anywhere you could possibly need it.
Key Features:
60″ D x 38″ W x 7″ H
Cover 100% cotton' polyester hollow filling
Satisfaction guaranteed
Cost: $40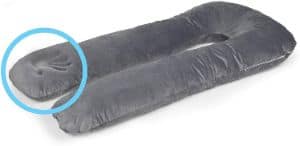 This pillow will allow you to sink in and mold to your body to make sleep and comfort far less elusive.
Key Features:
Zippered inner cover
Shredded memory foam filling
Removable outer cover is machine washable
Cost: $45
PharMeDoc Organic Pregnancy Pillow
By fully surrounding you with support on every side, you'll feel more comfortable with this in your bed, no matter what angle or side you sleep on.
Key Features:
Machine washable cover
Made with 100% organic cotton and recycled polyester filling
100% satisfaction guarantee
Cost: $100
vanlord Pregnancy Women Pillow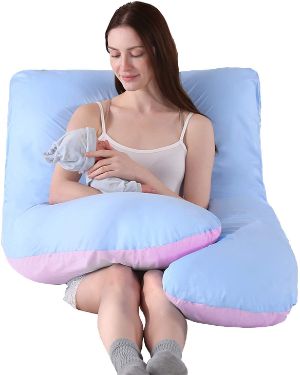 This pillow easily transitions from pregnancy pillow to nursing pillow, so you'll be able to find plenty of use for it, even after you've delivered your baby.
Key Features:
2-tones; blue and pink
Inner and outer covers
hidden zippers
Cost: $30