If you can't decide on just one thing sto give your friend or family member who's expecting a baby, then a gift basket is an excellent idea to give variety. But even after deciding that you're giving a gift basket to a mom to be, you may struggle with what to include. You'll want the necessities, and the fun items, too, but what if you just want the questions removed from your gift giving equation? A pre-made gift set can be the solution you're looking for and if so, look no further!
We reviewed dozens of baby gift baskets to identify the best of the best. We looked at gift baskets with variety and those with specific themes (like clothes or bath products). We found the baby gift basket for every budget and the gift sets that are sure to wow the mom to be. No matter what you're looking for in a gift basket for a baby, we have you covered.
From nearly the beginning of our research, we identified the Babyganics Hero Essentials Gift as the obvious choice for our top pick spot. With the variety of items in the basket, all made with high-quality of the baby-safe ingredients, there can only be one choice for best overall baby gift basket.
The 5 Top-Rated Baby Gift Baskets
*Ratings are from Amazon at the time of publication and can change
Best Baby Gift Basket Overall: Babyganics Hero Essentials Gift
The Babyganics Hero Essentials Gift has just about everything to make sure your little one is going to be in a world as rid of germs and bacteria as possible. The hand sanitizer will work brilliantly for making sure anyone who touches the baby won't be transferring communicable diseases through their hands and it's moisturizing and alcohol-free so it won't destroy any of the skin on guests' hands, either. There's also a pack of toy, table, and highchair wipes that make sure the surfaces that a baby touches are as clean as can be. And to make sure the feeding items he uses are equally germ and bacteria-free, the foaming dish and bottle soap is non-toxic and non-allergenic.
For bathtime, there's a foaming head-to-toe shampoo and body wash that is both allergenic and tear-free. The bubble bath included will have the baby giggling with glee and it, too, is non-allergenic and tear-free. For after bath, this gift basket includes an extra-gentle daily lotion.
Babyganics Hero Essentials Gift Key Features:
No products tested on animals
Paraben, sulfate, phthalate, mineral oil, petrolatum, artificial dye, and fragrance-free
Includes 2 hand sanitizers, lotion, bodywash & shampoo, bubble bath, surface wipes, dish & bottle soap
Best Baby Bath Gift Basket: Aquaphor Baby Welcome Baby Gift Set
The Aquaphor Baby Welcome Baby Gift Set may not be the flashy, fun gifts you had in mind for a gift, but it is packed full of the exact gifts that the new mom is going to use. Picking a specific brand of diaper, or cute outfit is subjective – you may pick something your friend doesn't like. The pacifiers you give may not have the nipple the new little one can latch onto – the safest way to make sure you're giving the mom-to-be a gift basket she will absolutely use is to give her a high-quality pack of necessities, like these.
The Aquaphor brand is known for effectively smoothening irritated skin, and when they modify their products' formula to better respond to baby's gentle skin, you better believe they know what they're doing! The risk of a reaction for a baby is low and the chance of efficiently maintaining soft skin and getting rid of diaper rash is high.
Don't take our word for it, though. This gift set has an overall rating of 4.8 stars on Amazon with over 400 customer reviews. That's plenty to tempt us!
Aquaphor Baby Welcome Baby Gift Set Key Features:
Comes in reusable canvas bag
Includes 3-in-1 diaper rash cream, and advanced healing for especially bad cases
Contains head to toe wash & shampoo and water wipes
Best Budget Baby Gift Basket: Johnson's Tiny Traveler Baby Gift Set
If you know the new baby's life will include a bit of travel, then the Johnson's Tiny Traveler Baby Gift Set may be the best bet for you to give as your baby gift basket. It includes travel-sized containers that will allow the baby to travel with his favorites anywhere he goes. He can even go with mom and dad on a plane without breaking any TSA regulations, and that's always a huge bonus.
Numbers don't lie and that's only good news for this gift set. Nearly 1,000 customer reviews on Amazon have given this gift basket an overall rating of 4.8 stars. The best number associated with this gift set, though, has to be the cost. You can pick it up for under $6, making it perfect for the thrifty spender.
Johnson's Tiny Traveler Baby Gift Set Key Features:
Stores in a reusable fabric tote
Each wash & shampoo and bedtime lotion are 1.7 fl oz
Includes face/hand wipes and max strength Desitin
Best Baby Girl Gift Basket: Dodo Babies Baby Bandana Gift Bag
Dodo Babies Baby Bandana Gift Bag
Dodo Babies Baby Bandana Gift Bag features a wide variety of teething and feeding-related gifts that will allow you to give the gift of adorable to the new little girl.
The Dodo Babies Baby Bandana Gift Bag focuses on the bibs, but that's not all there is! The two included pacifier clips are nearly universal, so you can attach them to most styles of pacifiers and secures to the baby's clothing or bib easily. You'll also have a durable plastic pacifier case and reusable carrying case gift bag to include all the items in this set.
Those bibs, though, really are a thing of beauty! They're adjustable with three sized snap options and made with 100% cotton fronts and a soft polyester fleece back to make extra soft on baby's skin. Made a hypoallergenic design that is perfect for baby's aged from three to twenty-four months, they're absorbent and stylish, too.
With over 300 customer reviews, there's a good chance the rating is an accurate representation of the quality and this listing has an overall rating of 4.6 stars. That's more than enough to tempt us!
Dodo Babies Baby Bandana Gift Bag Key Features:
Includes zipped pacifier case and bib carrying bag
2 pacifier clips, and 4 bibs
100% satisfaction guarantee
Best Baby Boy Gift Basket: Nikki's Deluxe New Baby Blossom Clothing Bouquet
The Nikki's Deluxe New Baby Blossom Clothing Bouquet gives the mom-to-be a beautiful bouquet that will certainly last longer than any baby shower flowers. Faux greenery and daisies add to the classic bouquet-style gift basket to add all the more to the aesthetic, and it builds up that "Wow!" factor and beautiful presentation when you give it.
These blue-themed items are all contained within a reusable white flower pot and if you're the creative sort, then adding the baby's name onto the pot in paint or stickers is an excellent way to personalize this gift basket to make sure your friend or family member knows you had her little one specifically in mind when you picked out this gift. (She never needs to know it's a pre-made gift basket, after all.)
Nikki's Deluxe New Baby Blossom Clothing Bouquet Key Features:
0-3 month onesies (3)
Contains 3 bibs, 2 receiving blankets, socks, and mittens
Reusable flower pot
Who Should Buy a Baby Gift Basket
If you know someone pregnant, then it's a good idea to give the gift of a baby gift basket for the baby shower. When you don't know exactly what to get, then buying a pre-made gift basket is a good idea to make sure you're not filling your own basket with useless gifts. When you get a gift basket, then you can take comfort in the fact that the items contained within the gift set are desired enough to be universal.
If you're interested in those pre-made gift sets but aren't satisfied with just those, then you can always incorporate those smaller gift sets into your bigger gift or basket. If you do that, it's always a good idea to fill up one of The Best Diaper Caddies with other items from their registry.
Important Features to Consider
A baby gift basket should have a few important features. Here's what to consider when selecting a gift basket for a baby:
Size. Sometimes the size of a gift basket is important in relation to the quality of the gift, and other times, it's about how much you can afford to spend on the gift. The "Bigger is better" statement is not necessarily true when it comes to a baby gift basket. The quality of the items isn't going to be indicated by the size, so you should discount the size as much as possible. If you're looking to make the impressive size gift but don't want to spend on a huge amount of quality items, we suggest buying a few quality items and filling the rest with diapers and wipes.
Gender clothing. It probably goes without saying that you don't want to get a baby boy a pink onesie that says "Daddy's Little Girl," but you may not know the gender (or you may want to steer clear of giving the stereotypical bubblegum pink for everything. Remember that most people give gifts that are the "gender color" (boys get blue, girls get pink). If you want to give a bit of variety to mom and baby, try more gender-neutral colors. You can still get plenty of adorable clothes without overwhelming Mom with just one color.
Contents. If you don't know what it is, or the quality of it, and it's not on the registry, don't get it. It seems simple, but there are a lot of people who mess it up, trying to fill a gift basket. If you're buying a pre-made basket, then you'll want to check the contents carefully. You don't want to get a basket with a bunch of items you know they don't need or already have.
Practical or fun? You don't have only to give practical gifts for a baby shower. You can absolutely seek out things you love – just bear in mind the gift is for someone else, not you. So buy the adorable little boy suit if you want! But bear in mind there's only a slim chance a 3-month-old will be attending a black-tie event and need that suit. Maybe also consider getting something practical, too.
Frequently Asked Questions
What should you put in a baby gift basket?
You should stick with what you know. Gift giving to a mom-to-be is not the time to venture into unknown territory. If you're not a parent, that means you can either stick to the advice of other mothers you have in your life, stick to clothes you think are cute, or – maybe the smartest move – stick to the baby registry. If you do know all things baby, then you should pick brands you love and especially useful products. Some ideas for what you can put in the basket include your favorite bottles, pacifiers, burp cloths, sound machines, small baby toys, teethers, medicines, baby bath supplies (shampoo, soap, oil, bubble bath), clothes, blankets, wipes, and diapers. For all that is good and right in the world, please take our advice and include diapers.
How do I make a baby clothes gift basket?
There are several options for making a clothes baby gift basket. The easiest, of course, is to pick a pre-made one like the ones we've included on our list. If you plan to make your own, though, then you have several options. You can roll the clothes and attach each to a skewer to resemble a rose. You could also roll them and stack to make it resemble a cake (like the diaper cakes you've probably seen dozens of times). You could make a clothing layer in your diaper cake, even. To make it into a basket, you can easily just fill the bottom and lie the clothing in and propped on each other to display the cutest outfits with smaller items, like socks and booties, in the front. A crowd favorite for a clothes gift basket is the "Baby's Closet" – Where you wrap a large bow is decorative paper, secure a wood dow in the top, and cut doors in it to create a small closet. Hang all the outfits on new hangers so that you're giving baby clothes sized hangers as well as the clothing. Any shoes you get the mom-to-be should go along the bottom.
How do you fill the bottom of a gift basket?
Diapers! You could find all kinds of fillers to put in the bottom of a gift basket – some use tissue paper, some use shredded paper – and if you can't necessarily afford to fill the bottom with diapers, that's a more-than-acceptable alternative. For gifts other than baby showers, these are probably your best bet, in fact. But let's be honest – mama is going to go through plenty of diapers, and that space can be used to help her stock up.
What is the most useful baby shower gift?
See above. Diapers. However, that's not the only thing you should consider when picking out the most useful baby shower gift. The two questions you should ask yourself when giving a baby shower gift (beyond diapers) is 1- Is it on her registry? And 2 – Was it useful for me? The latter is, of course, a moot point if you've never had children, and in that case, you'll want to stick to the gifts that answer the former question. If you have some miracle helpful trick or took that helped your baby through something – share it! If you have a sleep sack that you found the best or a bottle that helped with gas, that's what you're going to want to make sure you give her.
Other Baby Gift Baskets We Reviewed
We looked at 20 other baby gift baskets. Even though they didn't make our 5 best V list, they're the best of the rest and each is still a great option for a baby. The information you'll need to compare each one is included with the listing.
Baby Gift Baskets with Variety
Nikki's Gift Baskets Joyful Arrival Deluxe Baby Gift Set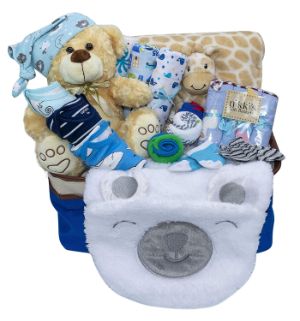 This gift basket comes with all the basics – receiving blankets, onesies, washcloths, bibs, scratch mittens, and more!
Key Features:
21-piece basket
Boy or girl option
100% cotton clothing
Cost: $130
Pregnancy Gift Est 2020 – New Mommy and Daddy Est 2020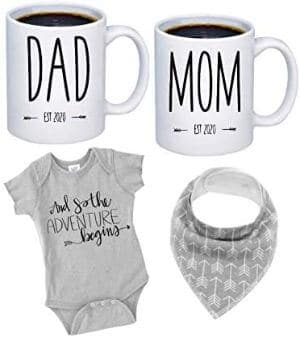 We love this set because it's not just for the baby – Mom and Dad each get a coffee mug, too. (And they're definitely going to need the coffee!)
Key Features:
Bandana bib
Onesie "And so the adventure begins"
Mom/Dad mugs established 2020
Cost: $35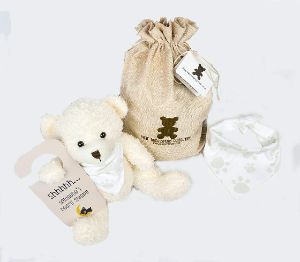 This little gift bag is made with sleep time in mind, it even features a nursery rhyme card to give you and baby a song to go with new teddy.
Key Features:
Baby bandana bib
20″ Teddy bear
Door knocker "Shhh… someone's beary sleepy"
Cost: $30
Munchkin New Beginnings Gift Basket
This gift basket gives your baby much of what he'll need to begin feeding, and all in one set that makes gift giving a piece of cake.
Key Features:
3 colors available
Includes 2 plates, bottle brush, fork/spoon set, feeder sac, teething ring, and rubber ducky
Made with Munchin favorites
Bath-Related Baby Gift Baskets
Aveeno Baby Essential Daily Care Baby & Mommy Gift Set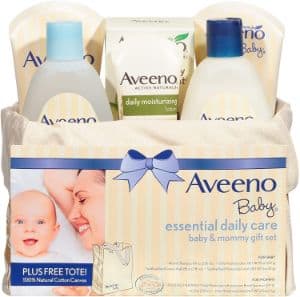 These bath and skincare items are perfect to make sure the baby's skin stays as soft as the day he was born.
Key Features:
For baby: wash & shampoo, lotions, creamy wash, and moisturizing cream
For mom: daily lotion, SPF 15 sunscreen moisturizer
From the #1 pediatrician recommended brand
Cost: $30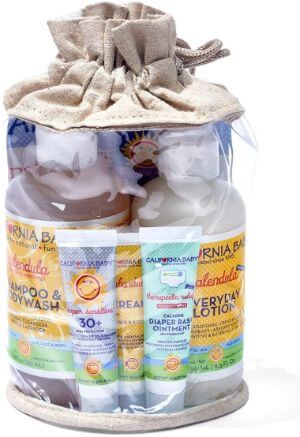 For everything for your little one's skin from bath to bottom, this gift sack has it all.
Key Features:
0.5 oz Sunscreen SPF 30
0.5 oz diaper rash cream
Shampoo/body wash, lotions, and moisturizing cream also included
Cost: $40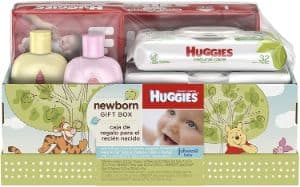 Joining two of the most trusted baby product brands (Huggies and Johnson's), this gift will make sure that baby's clean and smooth at all times.
Key Features:
Wipes pack (32), and wipes tub (w/64 wipes)
Include diapers! (24 newborn size)
Full-sized Johnson's lotion and wash & shampoo
Cost: $31
Johnson's First Touch Baby Gift Set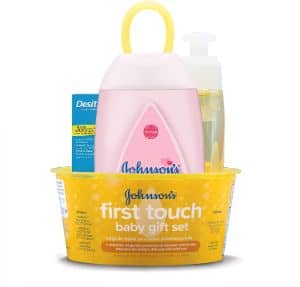 The handle little tote these bath products come in may just be the "bath tote" that mom uses on her little one for years to come.
Key Features:
Johnson's Head-to-Toe wash & shampoo
Johnson's body lotion, and shampoo
Desitin diaper rash cream
Cost: $10
Johnson's Sleepy Time 4 Piece Baby Gift Set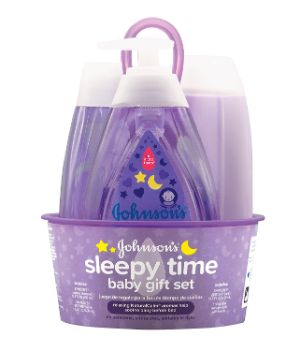 The nighttime version of the product above, you'll love how well this soothes your little one into a calmer bedtime routine.
Key Features:
Johnson's Bedtime Bath and Bedtime Lotion
Johnson's calming shampoo
Reusable plastic tote
Cost: $10
The Honest Company Baby Arrival Gift Set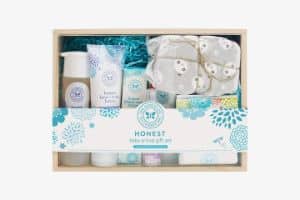 If you're interested in giving the gift that allows your friend to try new products without risk, these hypoallergenic products are definitely worth a look.
Key Features:
Includes wipes, size 1 diapers, shampoo & body wash, lotion, hand sanitizer, and all-purpose balm
Free of SLS, sulfates, parabens, synthetic fragrances, formaldehyde donor
Diapers made without latex, lotions, or synthetic fragrances
Cost: $50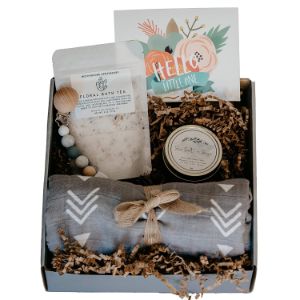 Why should the baby get the only gift? The mom just made a human! This gift basket will give a little something to each baby and mommy.
Key Features:
For baby: pacifier clip, receiving blanket
For mom: floral bath soak, sea salt, and sage candle
Pacifier clip is BPA-free silicone, perfect for teething
Baby Clothes Gift Baskets
Baby Aspen Little Princess 3 Piece Gift Set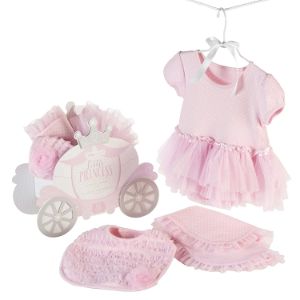 For the little princess coming into the world, this will have her dressing as feminine and frilly as can be.
Key Features:
Outfit fits 0-6 months
10″H x 12″W 6″D gift box
Includes onesie, bib, and burp cloth
Cost: $35
Disney Baby Girls Minnie Mouse Hat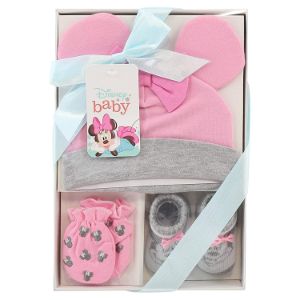 This set will give the new little bundle of love her essentials advertising her (or her mom's) love of Disney.
Key Features:
No-scratch mittens, bootie socks, and mouse-ear hat
Hat and mittens made with 100% cotton, socks with cotton and elastic and spandex for a stretchy fit
Age 0-3 months
Cost: $15
NAVI – 12 Monthly Onesies – Newborn Bodysuits Gift
For those adorable monthly pictures, this gift box will give a coordinating onesie for every month of the baby's first year.
Key Features:
12 short-sleeved onesies with nickel-free snaps
3 onesies in each size (0-3 months, 3-6 months, 6-9 months, and 9-12 months)
100% cotton
Cost: $50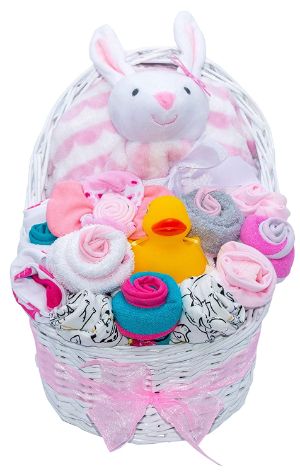 Though this basket isn't exclusively clothing, it is mostly clothing with mittens, bibs, cap, socks, and onesies all included in the 17-piece basket.
Key Features:
Basinet basket
Bunny head blanket, rubber duck, and washcloth also included
0-3 month onesies
Baby Healthcare Gift Baskets
Boudreaux's Complete Rash Kicking Kit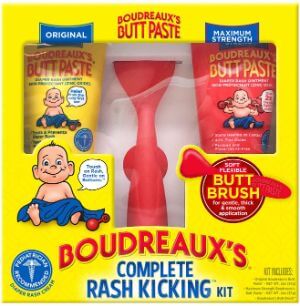 You never know when diaper rash is going to strike – and that's not a surprise you'll be unprepared for if you have this kit.
Key Features:
Includes soft butt brush for application
Includes original and max strength formulas
each tube is 2 oz
Cost: $15
Fridababy Bitty Bundle of Joy Mom & Baby Healthcare and Grooming Gift Kit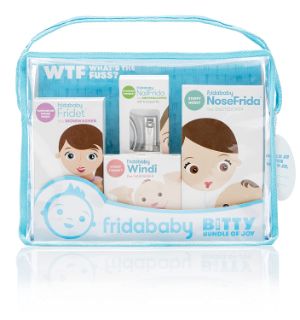 You can't give babies a decongestant, so mom will be left getting creative to un-stop her baby's breathing when he gets sick. – This gift set is a big help to make that less stressful for mom and baby.
Key Features:
Storage bag included
For mom: MomWasher (post-partum healing)
For baby: SnotSucker, SnipperClipper, and GasPasser
Cost: $50
Safety 1st Deluxe Healthcare & Grooming Kit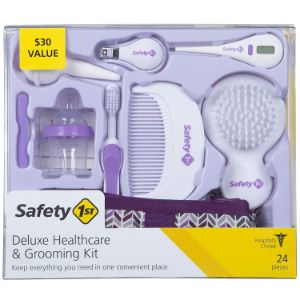 This is an excellent set of all mom will need to do the every day grooming for her new little bundle of joy.
Key Features:
2 colors available
Includes convenient storage clutch case
24-piece set
Baby Toy Gift Baskets
iPlay, iLearn 4 Plush Baby Soft Rattle Set
For a literal toy basket, this plush basket is itself, a toy, and comes full of other plush rattle and teether toys.
Key Features:
4 toys within plush basket for storage
Made with 100% baby-safe, soft material
Built-in rattles and squeakers
Cost: $25
WISHTIME Rattle Teether Baby Toys
When a baby finds out how to put things in her mouth, everything is fair game and these toys in a baby bottle plastic container is perfect to give them baby-safe teether toys.
Key Features:
9 pieces
BPA-free, 100% baby-safe materials
Best for 6+ months
Cost: $25