Diapers are probably the most expensive part of having a baby, and with that being the case, you may be even more frustrated with how difficult it is to store those diapers. You could just leave them in the box, but to save a bit, buying in bulk means you'll have a pretty large box to find a place for. If you keep the diapers in the box and within reach, you're going to trip over it and toddlers will pull out all the diapers the very first chance they get. It's much easier to store your diapers within a convenient reach and up out of the way. Bonus points if you can find a way to store them with other changing supplies. Enter the diaper caddy!
We reviewed dozens of diaper caddies to identify the best of the best. We looked at hanging diaper caddies that you can keep nicely in your little one's nursery and the portable ones that can go with you all over your house. We found the diaper caddies that go on the top of a dresser or changing table as well as the ones that will organize all your changing provisions. No matter what you need in a diaper caddy, we have one in the list below for you.
Putska Baby Diaper Caddy
If you're looking for a diaper caddy that stands out for its convenience and style, look no further than the Putska Baby Diaper Caddy.
Early on in our research, we could easily identify the Putska Baby Diaper Caddy as the obvious choice for our top spot. With the convenient compartments and the lightweight design, it's no wonder we've selected it as the best overall diaper caddy.
The 5 Top-Rated Diaper Caddies
*Ratings are from Amazon at the time of publication and can change
Best Diaper Caddy Overall: Putska Baby Diaper Caddy
The Putska Baby Diaper Caddy is made with a durable but light felt material that will allow it to maintain its shape while in use but not so rigid that it won't be easily carried via the two wide handles. There are plenty of compartments, so you're sure to be able to fit all your baby's changing necessities with no problem.
If you find yourself in need to transport this diaper caddy, or store it – you'll easily be able to do so – it folds flat when empty. It also includes a number of bonus gifts you're sure to appreciate. With this purchase, you'll also get two gender-neutral bandana bibs and two pacifiers, as well.
Over a thousand customer reviews on Amazon have earned this caddy an impressive overall rating of 4.7 stars. That's more than enough to convince us of the likelihood of satisfaction.
Putska Baby Diaper Caddy Key Features:
3-year warranty
2 color options
15″L x 9″H x 7''W
Best Hanging Diaper Caddy: hiccapop Nursery Organizer and Baby Diaper Caddy
The hiccapop Nursery Organizer and Baby Diaper Caddy has multiple methods for hanging to make sure you can hang it wherever you need it so that all your little one's diaper needs are easily accessed. And with eight different compartments, you'll be able to store all the things you need and then some. You'll be able to wrap the three buckle straps around your crib or changing table or use the two loops to hang on any hooks that you have mounted. (So if you want this hung above the changing table or a door, all you'll need to do is hang hooks to do so.)
The diaper caddy will hold up to 72 diapers and will do that without stretching or tearing. The reinforced shelves are backed by a lifetime warranty and the entire caddy is made with a stain-resistant fabric and is surface washable.
There's no denying the statistical likelihood being pleased should you make this purchase. There are over 1,200 customer reviews on Amazon that have earned this diaper caddy an overall rating of 4.8 stars – 95% of customers were pleased with their purchase!
hiccapop Nursery Organizer and Baby Diaper Caddy Key Features:
2 color options
18.75″W x 9″D x 20.5″H
100% Polyester; BPA, lead, and phthalate Free
Best Budget Diaper Caddy: Early Hugs Baby Diaper Caddy
The Early Hugs Baby Diaper Caddy is simplicity at its very best. There are no frills or complications, but wow, does this caddy fit the bill! You can keep it in the nursery or take it from room to room. It's actually portable enough that you could even keep it stocked in your car so you're never without your baby's changing essentials.
This caddy will stand the test of time with its sewn-in handles that won't tear combined with the reinforced seams and fortified base that will carry your diapers and other necessities without any problem. It's also collapsible so you can easily store or travel with it.
When you consider the numbers for this caddy, there's nothing but good news. Siting with right around 300 customer reviews on Amazon, this caddy has an overall rating of 4.8 stars. The best number associated with this caddy, though, has to be the cost: You can get it for right around $15!
Early Hugs Baby Diaper Caddy Key Features:
15″L x 10″H x 8″D
PVC, BPA, AZO dyes-free
3 colors available
Best Portable Diaper Caddy: Parker Baby Diaper Caddy
The Parker Baby Diaper Caddy is a versatile piece that you'll use for years – well after your little one has graduated out of diapers. Though the compartments within the caddy are specially sized for diapers, they're created by a removable insert, so that when you no longer want to use it as a diaper caddy, it won't lose its functionality – just adapt. There are also eight outer compartments that make it all the more versatile.
The felt construction of this bag is thick, making it strong and durable while maintaining a soft feel. If you plan on giving this as a gift, it's an excellent candidate to use as a gift bag and filling with all your favorite little outfits and gifts for the new mom or little one.
With nearly 1,000 customer reviews on Amazon, you can rely on the accuracy of this caddy's overall rating. And when that rating is 4.6 stars – well, that's more than a little tempting.
Parker Baby Diaper Caddy Key Features:
Handcut edges
2 sizes available
Removable insert
Best Diaper Caddy Organizer: Munchkin Diaper Duty Organizer
The Munchkin Diaper Duty Organizer has thought of everything when it comes to changing your baby. Not only is there a space for over twenty diapers, a wipe warmer (or a wipe container of your preference), and five compartments for your creams, lotions, medicines, hand sanitizers, but it also has a diaper bag dispenser. That means if you opt-out of a diaper-genie or trash can of any kind, you'll still have the diaper bags readily available to make sure even the stinkiest diapers aren't overwhelming your home's scent. It comes with 12 diaper bags as a bonus so you'll well on your way for wrapping each smelly diaper separately and effectively containing the smell.
With an overall rating of 4.7 stars, given by over 1,500 customer reviews on Amazon, it's a safe bet that this diaper caddy is made with quality construction and exceptional value.
Munchkin Diaper Duty Organizer Key Features:
9.5″W x 6″H x 10″L
12 scented diaper bags included
BPA-free
Who Should Buy a Diaper Caddy
If you're having a baby, then you will probably want to look into getting a way to store the diapers and related supplies for changing your baby. You'll probably have a diaper changing pad or table in the nursery, and along with that will come some kind of way to store the diapers within easy reach. Since you should never leave your baby unattended on that changing table, you should have the nursery set up so you can reach everything you need while keeping one hand securing your little one. A diaper caddy that allows you to store all the possible changing related supplies is a huge help to streamline the whole diaper process.
If you know someone having a baby, then you may find that a good portable diaper caddy is the perfect gift bag. Your pregnant friend or family will get plenty of gift bags, and she'll adore having a useful alternative. You can fill a soft diaper caddy with all the cute little outfits and gifts that you want to give her (but, as a reminder, don't entirely overlook the registry just to give the things you want her to have.)
One more note: If you've gotten by fine without a diaper caddy through the newborn phase, don't discount it just yet. When your little one is a mover and a shaker, you may just want a portable changing station. It's much easier to wrestle baby or toddler to change a bottom when the diapers are in reach.
If you're looking for something a bit more controlled and designed exclusively for on-the-go, then check out The Best Diaper Bags.
Putska Baby Diaper Caddy
If you're looking for a diaper caddy that stands out for its convenience and style, look no further than the Putska Baby Diaper Caddy.
Important Features to Consider
A diaper caddy should have a few important features. Here's what to consider when selecting a caddy for diapers:
Organizers. Very rarely will you need a diaper and absolutely nothing else while you're changing your little one's diaper. Whether you need just another wipe or medicines or creams, you're going to have the occasional surprise come up when you open that diaper. Having a way to organize those other needs, along with your diapers, is an excellent way to be prepared.
Hanging. If you're going to use your little one's changing table, then you may want to consider the convenience of hanging the caddy up within easy reach of it. It won't necessarily be a permanent fixture – sometimes they hang from a closet door, others are tied to the edge of a dresser or the crib. It will be more difficult to move, though, and they're going to be able to store plenty of diaper changing accessories, so you'll have the room you need, no matter how much you need.
Portability. You'll greatly benefit from a diaper caddy that you can grab and go with -more so than a diaper bag, in some circumstances. While a diaper bag will be more portable, the portable diaper caddy will allow you to move the caddy from room to room in your house, making it easier to change your little one when they're on the move. Changing pads are an excellent way to make your portable diaper caddy into a portable changing station. You'll want the diaper caddy to have a handle and be relatively compact, so you'll be able to carry it, but otherwise, you'll have your pick of design, fabric, and even size.
Customized sized compartments. While you may not think you're going to need to change the sizes of each one of the compartments, but the ability to change them based on the specifics you like in your diaper caddy is a convenience you're sure to appreciate. And it will come in handy as your baby grows and her diapers change in size.
Dresser top storage. If you have a permanent place that you're planning on changing your baby's diapers, it may make sense to get a more permanent kind of set up. That may not be truly permanent, and in fact, may just mean difficult enough to move that you won't do it – but it will very likely mean that it will stand up to a bit more wear and tear. You'll most commonly see these made of a hard material like plastic, or acrylic. Sometimes even an actual basket or metal, if those go with your decor better.
Frequently Asked Questions
What is a diaper caddy?
Diaper caddies are storage or organizers meant for diapers and the associated supplies. Sometimes they'll have dividers for added organization; some will store on top of your changing table, others will be soft, and you can carry them like a tote. You may find a caddy made with a rigid construction that isn't especially portable, or you can opt for a soft fabric. They can be compact – allowing you to take them from room to room, or they may be larger to store a wider variety of supplies and more diapers. When you're purchasing your caddy, you should keep in mind what type of supplies you want to store with your diapers; the more you want to have ready access to, the more exact you can be in picking out the best caddy for you.
How do you store diapers in a nursery?
There are plenty of ways to store diapers in your nursery. You may find just storing a few dozen out in the open, while keeping a bulk supply put away in the closet most convenient. Most people find that the best blend of aesthetically pleasing and convenient. A hanging diaper caddy that matches the baby's room decor will work brilliantly, as will a solid color rigid caddy to store diapers well in reach of wherever you plan on changing your little one the most frequently.
The beauty of having a couple of different diaper caddies is that you'll be able to prepare your entire house for your baby – no matter where you are. You can keep a more permanent fixture in your nursery and take a stocked portable one with you and baby as you travel throughout the home.
What should be in a diaper caddy?
Whatever you use to change a diaper! The most common supplies included in a diaper caddy are diapers (of course) and wipes. Your favorite diaper rash cream or ointment may be a good idea, too, since you don't always know when diaper rash rears its ugly head. If you're treating your newborn's umbilical cord or circumcision, you may also want to include alcohol wipes or antibacterial ointment. You may also want to include infant acetaminophen, teething tablets, or a toy or book to entertain your little one while you're busy changing them – you may just prevent the extra messes caused by little one reaching into the dirty diaper.
Is a diaper caddy necessary?
Strictly speaking, no – a diaper caddy isn't necessary. You can just keep them in the box and pull from there as you need them. That's not the most convenient option, though, so you will probably want to consider a caddy of some kind. The caddies that are specifically designed as a diaper caddy are more useful for your specific use in diaper changing, but it's not necessary to find a "diaper" caddy. You can use a tote, a crate, basket, or plastic bin with similar results. – It's your baby, your nursery, your home. You get to choose what you prioritize with each.
Other Diaper Caddies We Reviewed
Putska Baby Diaper Caddy
If you're looking for a diaper caddy that stands out for its convenience and style, look no further than the Putska Baby Diaper Caddy.
We looked at 20 other diaper caddies. Even though they didn't make our 5 best diaper caddies list, they're the best of the rest and each is still a great option for you. The information you'll need to compare each one is included with the listing.
Hanging Diaper Caddies
BAGLHER Hanging Diaper Organizer
Hanging this diaper caddy within reach of curious toddlers will still keep it safe because the zippered compartment protects the diapers from being strung all over the home.
Key Features:
Hook or buckle straps to hang
Holds over 51 diapers
10″W x 18″H x 7″D
Cost: $30
Cradle Star Hanging Diaper Caddy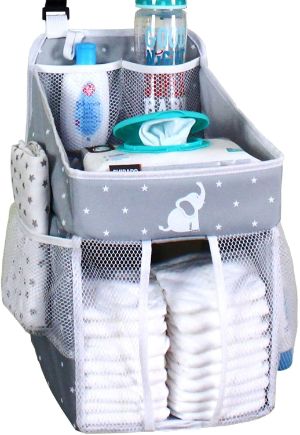 This diaper caddy will hang on nearly any edge with its two universal placement hooks
Key Features:
5 colors available
Made of 600D water-resistant polyester
6 compartments
Cost: $20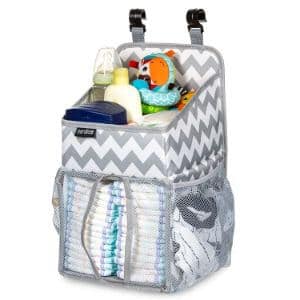 This diaper caddy will securely hold over 50 diapers as well as wipes and a few other essentials without any problem.
Key Features:
Made with baby-safe materials; BPA-free
Surface clean
2 universal hanging hooks
Cost: $25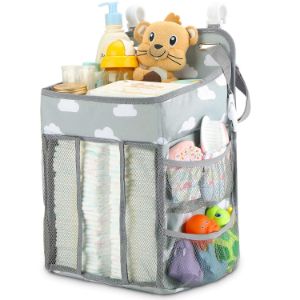 This hanging diaper caddy comes with a "no sagging" guarantee with four strong plastic boards to ensure the caddy maintains its shape.
Key Features:
Holds over 52 diapers
Made of 600D polyester
5 mesh side pockets
Cost: $20
Minnebaby Baby Nursery Organizer and Diaper Caddy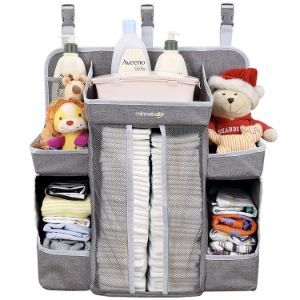 This diaper caddy will connect to virtually anywhere with your choice of the two strong eyelets or the buckle straps.
Key Features:
Lifetime guarantee
4 side compartments, top shelf, and diaper cubby
300D nylon fabric design
Cost: $30
Orzbow 3-in-1 Nursery Organizer and Baby Diaper Caddy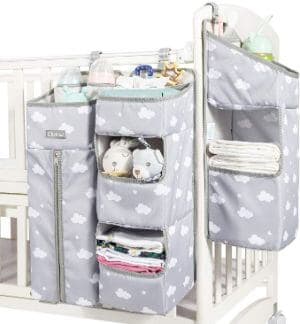 This diaper caddy contains a zippered diaper storage compartment along with seven side pockets to store all necessities.
Key Features:
Holds 52+ diapers
Adjustable buckle straps or play yard clips
3 color options
Cost: $35
Univivi Door Hanging Organizer Nursery Diaper Caddy
If your nursery is set up to complement a door hanging diaper caddy, this has all you'll need and may just be the best option for you.
Key Features:
4 large pockets, 3 small PVC pockets
2 adjustable metal hooks
49.6″H x 5.5″D x 14.76″W
Cost: $25
Vesta Baby Over the Door Hanging Organizer

This door hanging diaper caddy fits most doors with two metal hooks that accommodate up to 1.38″ thick doors.
Key Features:
2 utility pockets inside larger
39″H x 13″W x 4″D
4 large pocket compartments
Diaper Caddy Organizers
dexbaby The Spin Changing Station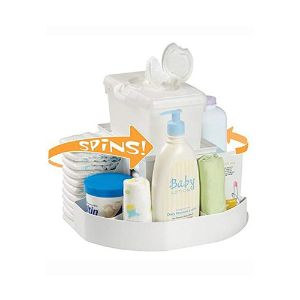 This lazy-susan style of diaper caddy organizer will allow you easy access in a convenient and spinning piece that will add aesthetically to your nursery.
Key Features:
2 diaper compartments and 6 other cubbies
13″W x 13″L x 7″H
Lifetime guarantee
Cost: $30
mDesign Plastic Spinning Lazy Susan Turntable Storage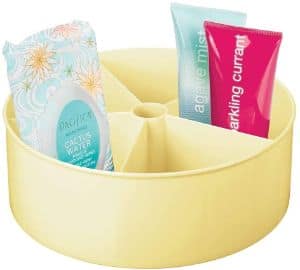 Spin this caddy and turn it to the exact supply you need for easy diaper changing.
Key Features:
4 color options
5 compartments
11.5″D x 4.5″H
Cost: $15
OXO Tot Diaper Caddy with Changing Mat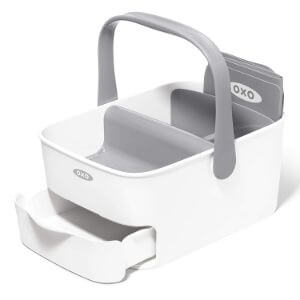 This is a heavy-duty diaper caddy that will stand up to regular use and the handle allows you to transport it if you so chose, as well.
Key Features:
Includes changing mat
Easy-access drawer
20″L "16.5"W
Cost: $35
Prince Lionheart Diaper Depot Clear
Though this manufacturer claims the caddy can hold between 16 to 18 diapers, we can personally vouch that is a vast understatement.
Key Features:
9″H x15.75W x 9″D
Hangs from most changing tables
Lid lifts open or holds wipes
Cost: $20
Ubbi Portable Diaper Changing Station Diaper Storage Caddy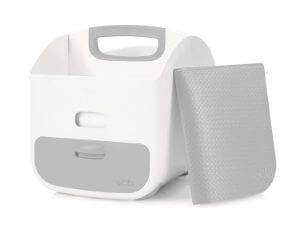 After use as a diaper caddy, this will maintain usefulness for your makeup, sewing supplies, or whatever else you need organized.
Key Features:
Includes changing mat
Easy access drawer
Made with durable plastic construction
Portable Diaper Caddies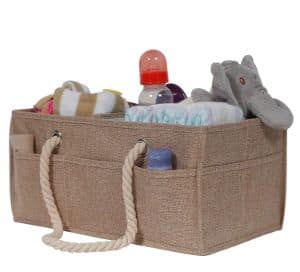 This portable diaper caddy is a highly-durable one made with heavy-duty rope and burlap.
Key Features:
2 color options
2 styles available
Customized compartments
Cost: $20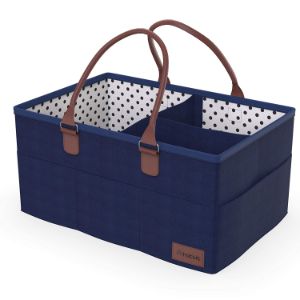 This compact and useful diaper caddy comes with eight side compartments and a complete 30-day satisfaction guarantee
Key Features:
Made with cotton design
3 color options
15″L x 10″W x 7″H
Cost: $20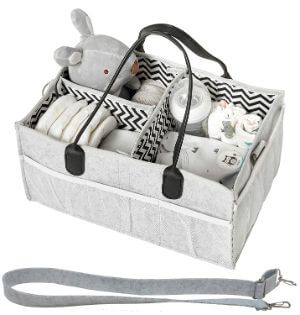 If you opt to carry this diaper caddy with you on the go, there's a shoulder strap included for your convenience.
Key Features:
7″H x 10″W x 15″L
Collapsible for storing
Durable and soft felt construction
Cost: $15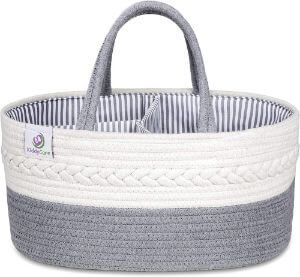 This rope style diaper bin has a soft lining that will add a layer of durability and style to your nursery and baby.
Key Features:
100% cotton canvas exterior
Removable compartments
100% lifetime warranty
Cost: $20
Munchkin Portable Diaper Caddy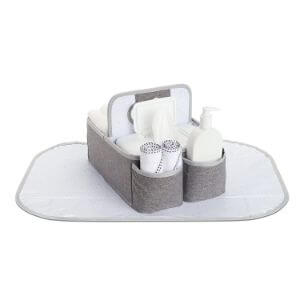 This diaper caddy is portable with its rigid handle, but is also excellent to keep somewhere you occasionally need a diaper changing station – like the car or your in-laws'.
Key Features:
13″L x 9.5″H x 9.5″W
3 side pockets
Includes changing mat
Cost: $20
Sorbus Baby Diaper Caddy Organizer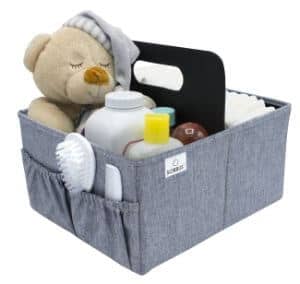 You can use this diaper caddy for so much more than just diapers, but the convenience of having a diaper changing station wherever you take this is undeniable.
Key Features:
2 color options
Removable handle
4 side pockets
Cost: $15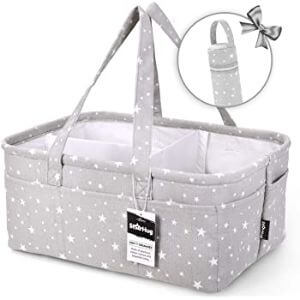 This diaper caddy includes the bonus gift of a temperature retaining bottle cooler to make sure your little one's milk, formula, or juice stays fresher longer.
Key Features:
100 cotton canvas exterior
16″L x 11″W x 7″H
10 external pockets
Cost: $30