Splish, splash, your little one is going to need a bath! If you are expecting a baby soon, a baby bath tub is going to make bath time much easier. A baby tub holds slippery little ones in place so you can lather them up and rinse them off without losing your grip. There are baby bath tubs that are best for infants, those that are for older babies who can sit up, and tubs that will accommodate a baby from the newborn period through toddlerhood. In addition, there are inflatable tubs and foldable or collapsible tubs that make travel easy.
With so many to choose from, we had our work cut out for us as we evaluated dozens of baby bath tubs. Our goal is to bring you the best, and we think we did! Our top 5 list is below, and you'll also find some additional ones as you scroll down. We looked at the various types of bath tubs, how easy they are to use, and what size and age baby they accommodate, then sorted them all out for you by category.
For more advice on getting your home ready for a new little one, you'll want to read 6 Ways to Prepare Your Apartment for a New Baby.
Our favorite baby bath tub overall is The First Years Sure Comfort Deluxe Newborn to Toddler Tub. This tub will help you keep your baby clean from birth until toddlerhood. It has a sling that will make your newborn feel safe and secure, support for a baby who can't sit up unassisted yet, and an upright back support for older babies who can sit up well but need some help not sliding around.
The 5 Top-Rated Baby Bath Tubs
*Ratings are from Amazon and might change over time.
Best Baby Bath Tub Overall: The First Years Sure Comfort Deluxe Newborn to Toddler Tub
The First Years Sure Comfort Deluxe Newborn to Toddler Tub came out heads and shoulders above the rest as we looked at various baby bath tubs. It will hold babies throughout their first year and even beyond, offering age-appropriate support as your little one grows. The machine-washable mesh sling keeps slippery and fragile newborns safe and secure, while the back supports keep older babies in place as they learn to sit up unassisted.
The tub has anti-skid pads at the bottom that will keep the tub in place inside of your big bathtub, sink, or even sitting on the floor. These pads resist mildew, so they won't become discolored or slimy. There's also a color-changing drain plug, so you don't have to lift the tub and flip it over when it's full of water. Simply pull the plug and let the water go down the drain of the tub or sink. The color on the plug will change if the water is too hot for the baby's safety.
Want to find some toys for your little one to play with before and after his or her bath? Check out our list of the best baby toys.
The First Years Sure Comfort Deluxe Newborn to Toddler Tub Key Features:
Transitions from newborn to baby to toddler tub
Includes a mesh sling for newborn
Mesh sling is machine washable
Provides back support for reclining or sitting babies
Color-changing drain plug alerts you when water is too hot
Anti-skid pads are mildew resistant
Best Baby Bath Seat: Angelcare Baby Bath Support
The Angelcare Baby Bath Support is our favorite bath seat for babies. This particular model is for babies up to 6 months old; once your baby is a bit older, you can get the next version, which is the Angelcare Baby Bath Booster (reviewed below). These seats are made a mildew-resistant plastic mesh material that stays clean and dries quickly between uses. It's slip-resistant and will keep your reclining baby in place as you bathe him or her. The material is soft and comfortable on your baby's skin.
You use this bath seat by placing it directly in the bathtub or sink. Wash your baby and, when you're done, simply shake the excess water off of the seat and hang it by its loop so it can continue drying. That's it! There is no assembly required; you can use it immediately. This seat will hold babies up to 20 lbs.
Angelcare Baby Bath Support Key Features:
For babies up to 6 months old and 20 lbs
Mildew-resistant plastic mesh
Lightweight
Dries quickly
Soft, comfortable material
Includes hanging loop
Best Budget Bath Tub: Summer Deluxe Baby Bather
The Summer Deluxe Baby Bather made our top spot for budget bath tubs. This product is made from a soft mesh material that cradles your newborn baby all the way to the time when he or she can sit unassisted. You can use it on the counter for the first sponge bath or place it directly in the sink or tub for a full bath. Once your little one can sit up on his or her own, you shouldn't use this bath anymore.
The baby bather has three reclining positions to keep your baby comfortable and secure. The support pillow keeps your newborn's head supported and prevents it from rolling back or to the side. The mesh fabric can be removed and washed in the washing machine for good hygiene. And the entire bather can be folded to store compactly once the mesh is dry.
Summer Deluxe Baby Bather Key Features:
For babies who cannot sit unassisted yet
Soft mesh material
Can be machine-washed
Use it on the counter or in sink or tub
Three reclining positions
Head support
Folds to store compactly
Best Inflatable Bath Tub: Mommy's Helper Inflatable Bath Tub Froggie Collection
If you are looking for an inflatable baby bath tub, our best recommendation is Mommy's Helper Inflatable Bath Tub Froggie Collection. This tub has an adorable froggie design that will amuse your little one and bring a smile to your face every time you use it. You can use it inside of your tub or place it on the floor and fill it with water. The inflatable design ensures that your baby's tub is soft and padded, and it will keep him or her from slipping around in the big tub or sink.
One unique part of this inflatable tub is that it has a saddlehorn feature that will keep your little one in place. This is particularly great for babies who are new to sitting unassisted, though it will help all babies avoid slipping and sliding around. You can choose to inflate the saddlehorn or leave it flat if you don't want to use it. This tub is for babies over 6 months of age who can sit up unassisted.
Mommy's Helper Inflatable Bath Tub Froggie Collection Key Features:
Use it inside the tub or place it on the floor
Has a drain plug for easy emptying
Soft and padded
Saddlehorn feature to prevent sliding
Adorable frog design
For babies 6 months+ who can sit unassisted
Best Collapsible Bath Tub: OKBABY Jelly Bather Bath Support
Are you looking for a collapsible baby bath tub that is easy to store or take with you on vacation? You'll want to check out the OKBABY Jelly Bather Bath Support, which earned the top spot in this category. It is made from a rubber mesh that will support your little one comfortable when you're bathing him or her. Then, simply shake it off, allow it to dry, and fold it to put it away in a drawer or the linen closet. You can also fold it flat to take with you in your suitcase or even an overnight bag.
This baby support for the bath has a non-slip base to keep your baby safe and secure. The rubber mesh material is comfortable and supportive. It comes with a hanging loop so you can hang the tub to dry. This baby bath tub comes in four colors, so you can choose the one that will best match your bathroom.
OKBABY Jelly Bather Bath Support Key Features:
Made from rubber mesh
Quick-drying
Folds flat
Non-slip base
Non-toxic materials
Hanging loop
Comes in four colors
Who Should Buy a Baby Bath Tub
New parents often find a baby bath tub to be a convenient and necessary item when caring for their babies. If you are expecting a baby or if you have a baby and don't have a baby bath tub, this is a product worth considering. There are several kinds available, from the ones that you can use on the counter or floor to the ones that are used inside of a tub or sink. You can also choose an inflatable or collapsible option.
It is also nice for grandparents and other relatives or friends who are caring for a baby to have a baby bath tub in their homes. This way, if the baby needs a bath, he or she will feel safe and secure and won't be slipping around in a big tub or sink. Baby bath tubs are generally inexpensive and easy to store particularly the foldable or inflatable ones.
Important Features to Consider
When looking at baby bath tubs, there are a few must-have features as well as some that you might want to have included. Here's what to consider as you shop for a tub for your baby or toddler.
Size. You will want to be sure that the tub is the right size for your baby. Check the weight limit so you know that your little one will fit in the tub for a while. Also, look at how large the tub is if you are going to be putting it in a smaller sink; you should make sure that it will fit where you want to use it.
Head and back support. Babies generally need head and back support when they are small, so make sure that the tub you are considering will provide that if you have a young baby.
Drain plug. While it's not absolutely necessary if your tub is the kind that fills with water, having a drain plug can help reduce the messiness caused by having to dump out a full tub of soapy water.
Anti-mildew or easy drying. A baby tub can get slimy quickly if it doesn't resist mildew or if it is not easy to dry. You will want to avoid that.
Anti-slip surface. Wet babies are notoriously slippery. Look for a tub that helps prevent slipping to help your little one stay in one place.
Frequently Asked Questions
Do you need a baby bath tub?
While a baby bath tub is not strictly necessary, it can help make bathtime more pleasant and less stressful for everyone. They keep little ones in place and support small necks, heads, and backs to help keep baby safe and secure.
How long do you use a baby bath tub?
Look at the weight and age limit on the bath tub you are considering. Some parents choose to stop using a baby tub when their little ones can sit up unassisted, while others prefer to use them past one year of age. This is really a matter of personal preference.
How often do babies need a bath?
Small babies who aren't really getting dirty can be bathed once or twice per week as long as neck folds, hands, the face, and the diaper area are sponged clean a few times per day. Older babies who are eating solid foods (and often wearing them!) might need a daily bath. Some babies have dry skin or baby dandruff, which can change those recommendations. Talk to your pediatrician about how often to bathe your baby, especially if they have any skin conditions.
How do you bathe a baby without a tub?
It helps to have another person to help with bathing if you are trying to wash a newborn without a baby tub. Alternatively, you can simply sponge-bathe a small baby: Lay your baby on a towel and cover him or her with a light blanket. Uncover just one body part at a time to wash and dry it; that will help keep your baby warm. Work quickly so he or she doesn't become chilled.
Other Baby Bath Tubs We Reviewed
In addition to the ones listed above, we also reviewed an additional 20 baby bath tubs. They're separated by category below so you can more easily make your decision.
Inflatable Baby Bath Tubs
Disney Nemo Inflatable Safety Bathtub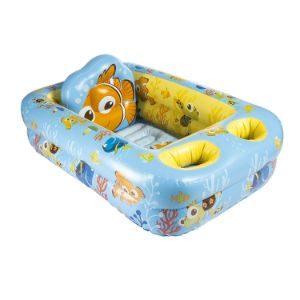 "Just keep swimming" with this inflatable tub featuring everyone's favorite clownfish. This tub has big storage pockets for shampoo and a non-slip surface.
Key Features:
Storage for shampoo, soap, and more
Temperature gauge
Includes hook to hang dry
Cost: $17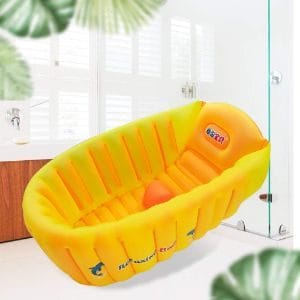 This bright yellow tub will keep baby well-cushioned during bathtime. There's a saddlehorn feature that keeps him or her in place to prevent slipping
Key Features:
Anti-skid design
Soft and comfortable
Air pump included
Cost: $20
Munchkin White Hot Inflatable Duck Tub
This adorable duck tub has an important safety feature: A temperature disk turns white when the water is too hot, so you can avoid burning the baby's delicate skin.
Key Features:
Temperature gauge
Textured bottom
Deflates and folds easily
Cost: $12
Nickelodeon Paw Patrol Inflatable Safety Bathtub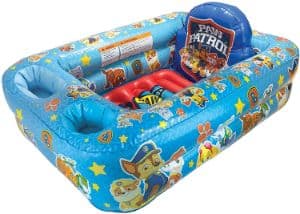 The Paw Patrol pups make bathtime extra fun! This is a nice, deep baby bath tub that is slip-resistant and has storage pockets for shampoo, soap, and other toiletries.
Key Features:
Water temperature display
Storage pockets
Deflates and folds up small
Cost: $30
Pawski Baby Inflatable Bathtub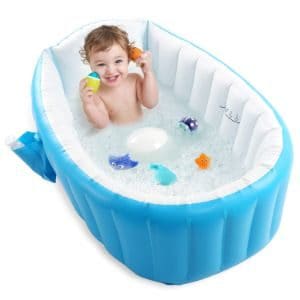 A convenient drain plug in the bottom of this tub makes it easy to empty. It is suitable for newborns, babies, and toddlers up to three years old.
Key Features:
Non-slip surface
Drain plug
Has a side pocket
Cost: $35
TOPIST Baby Inflatable Bathtub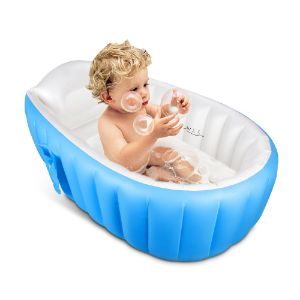 This soft tub will make it easy to bathe baby anywhere you happen to be, as it deflates for easy travel. It is good for toddlers up to four years old.
Key Features:
Drain plug
Skid-resistant surface
Portable, easy to deflate
Collaspible Baby Bath Tubs
BABY JOY Collapsible Baby Bathtub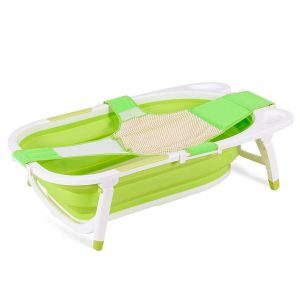 This collapsible tub pushes down flat to store under furniture, in a drawer, or in a linen closet. It comes with a mesh sling for small babies.
Key Features:
Has a drain plug
Non-slip surface
Mesh sling for small babies
Cost: $65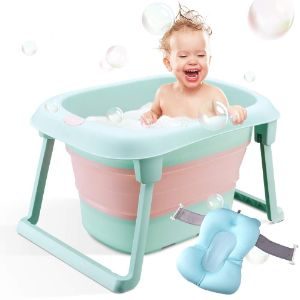 This tub takes you from the newborn period through the toddler years. Bathe tiny babies in the flattened tub, or unfold it for a large bathing area for bigger kids.
Key Features:
Includes bath cushion
BPA-free plastic
Non-slip design
Cost: $80
Foryee Collapsible Baby Bath Tub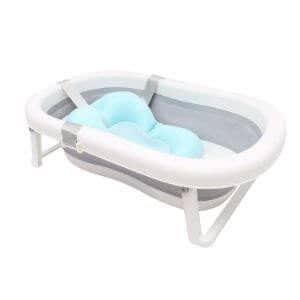 This non-toxic baby bath tub is odor-free. It comes with a sling to keep small babies securely supported; remove it to use with bigger babies and toddlers.
Key Features:
Includes mesh sling
BPA-, lead-, and toxin-free
Drain plug included
Cost: $55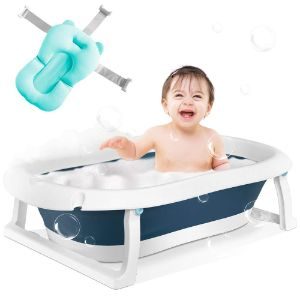 This collapsible baby tub is sturdy and secure, so you can feel confident bathing your baby or toddler. It includes a sling for newborns.
Key Features:
Adjustable depth options
Has a drain plug
Can hang from showerhead
Infant-to-Toddler Bath Tubs
A positioning bump and back support keep small babies in place while bathing, while toddlers can turn the other way for more room to play.
Key Features:
Color-change temperature indicator
Drain plug
Good for babies up to 18 months
Cost: $25
Fisher-Price 4-in-1 Sling 'n Seat Tub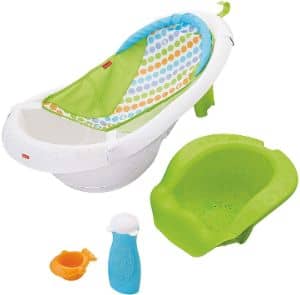 A mesh sling for newborns and a "sit me up support" for babies who don't sit unassisted yet help you and your little ones feel safe and secure.
Key Features:
Includes squeeze bottle and whale scoop
Drain plug
Hook for drying and saving space
Cost: $40
Use the included mesh sling to support newborns or new sitters, then remove it altogether to use the same tub for your toddler.
Key Features:
Drain plug
Hook for hanging
Non-slip interior
Cost: $30
This tub has it all, from infant support for newborns to a larger bathing space for bigger babies and even a step stool or tub support to make bathing easier or mom or dad's back!
Key Features:
Newborn insert
Clean rinse drains
Seat/stepstool included
Cost: $35
Summer Splish 'N Splash Newborn to Toddler Bath Tub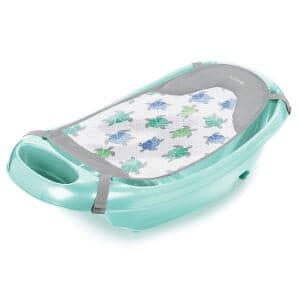 This is a tub that will serve your child for over a year, beginning with a mesh support for your newborn and ending with a large play area for your toddler.
Key Features:
Keeps baby in the right position for bathing
Includes a tray for soap and shampoo
Has a drain plug
Baby Bath Seats
This bath booster is the second stage of the seat that made the top spot in our "best bath seat" category. For babies 7-12 months and up to 26 lbs.
Key Features:
Mildew-resistant rubber mesh
Drains easily
Hangs with a hook for easy drying
Cost: $20
This is a soft non-traditional baby bath seat for small babies who are still bathed in the tub. Many colors and styles are available.
Key Features:
Soft and snuggly
Fits most sinks
Keeps baby warm and comfortable
Cost: $40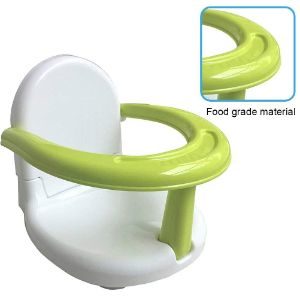 This is a skid-resistant safety seat that will keep your baby upright in the tub or contained while you take a shower. For babies who can sit unassisted.
Key Features:
For babies over 6 months
Foldable design
Easy to clean and dry
Cost: $45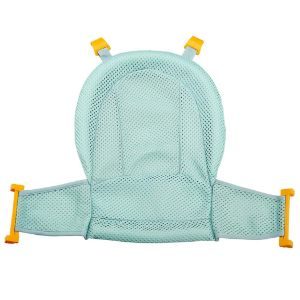 This bath tub sling holds small babies in place in the sink or larger baby tub. It is made of mesh that dries easily and won't build up mildew or odors.
Key Features:
Use with any baby tub or in the sink
Supports baby's neck and back
Can hold babies and toddlers up to 44 lbs
Cost: $10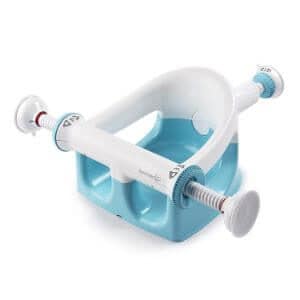 This seat has locking suction cups and fits bath tubs from 21 to 24 inches wide. It will keep your older baby or toddler in place and prevent slipping around during bath time.
Key Features:
Easy to set up and remove
Locks with suction cups
For babies 5 to 10 months
Cost: $30