One of the first maladies that your baby is likely to develop is a diaper rash. This is extremely common and nothing to worry about in most cases, but it's also uncomfortable for your baby and can become quite painful. In some cases, a mild diaper rash can progress into a bacterial or fungal infection, so it's important to prevent rashes where you can and treat them as they happen. The good news is that there are lots of options when it comes to treating and preventing diaper rash.
We've looked at dozens of baby diaper rash creams and sprays so we could recommend the best ones. We looked at the ingredients, how effective they are at preventing or treating diaper rash (or both!), and how parents who have used the products feel about them.
Our favorite diaper rash cream overall is Aquaphor Baby Healing Ointment. This is a nice, big 14-ounce tub, so it should last you a while. It will protect delicate skin from getting irritated in the first place, and if you use it on an active diaper rash, you should see an improvement within about six hours. This is a great diaper rash cream to have on hand to keep your baby comfortable whether or not he currently has a rash.
The 5 Top-Rated Diaper Rash Creams
*Ratings are from Amazon and might change over time.
Best Diaper Rash Cream Overall: Aquaphor Baby Healing Ointment
Aquaphor Baby Healing Ointment earned the top spot in our list of the best diaper rash creams. This is a thick ointment that goes on smoothly and keeps soft skin safe from moisture and acidity. It is clinically proven to work and contains no parabens, dyes, or fragrances. One great feature is that you will usually see an improvement within about six hours if your baby has a rash, so she will be feeling a lot more comfortable within a couple of diaper changes.
This versatile cream has uses beyond preventing and treating diaper rash. When the baby is teething and is starting to drool, you can apply a thin coating to her chin and neck to prevent a rash from the increased moisture. It will help minor scrapes heal up more quickly (a big help if you have a busy toddler!), and you can also use it on your baby's (or your own) dry skin. We think that you'll want to keep this product in your medicine cabinet for longer than your little one is wearing diapers because it is so useful in various ways.
Aquaphor Baby Healing Ointment Key Features:
14-ounce tub
Thick ointment
Free from dyes, fragrances, and parabens
Works in 6 hours
Can be used on any part of the body
Best Diaper Rash Spray: Diaper Rash Cream Spray by Boogie Bottoms
If you're looking for a touch-free option when it comes to preventing and treating your baby's diaper rash, we recommend Diaper Rash Cream Spray by Boogie Bottoms. This bottle is good for 200 sprays. Use it as a preventative or use it when your baby has an active rash for quick relief. The active ingredient is zinc oxide, which creates a barrier that keeps moisture away from your baby's skin. It does not contain any dyes, fragrances, or parabens.
This diaper rash spray has a consistency that won't run and isn't too thick to spray easily. After cleaning your baby's diaper area, simply shake the bottle, spray liberally, and re-diaper your baby. There's no need to rub it in, and it's great for wiggly little ones who don't want to stay still for you to apply a thick ointment. The bottle's small size makes it easy to toss in the diaper bag and take with you, too.
Diaper Rash Cream Spray by Boogie Bottoms Key Features:
1.7-ounce bottle (200 sprays)
Use as preventative or treatment
Active ingredient is zinc oxide
Medium consistency
Touch-free application (no need to rub)
Great for travel
Best Budget Diaper Rash Cream: Desitin Maximum Strength
Keeping your baby's bottom rash-free doesn't have to cost a lot, and our favorite budget-friendly diaper rash cream is Desitin Maximum Strength. This is a thick cream with a maximum non-prescription level of zinc oxide (40%) for fast relief. You can use it to prevent diaper rash and also treat it. Your baby will find it soothing, and the cream will protect his skin from wetness and chafing, even overnight.
This diaper rash cream is gentle enough for daily use. It is hypoallergenic and contains nothing that would irritate the baby's skin. The maximum strength is perfect for babies who tend to get diaper rashes easily as well as for those who get moderate to severe rashes that are hard to clear up. It will protect for up to 12 hours, so it also makes a great overnight barrier cream.
Desitin Maximum Strength Key Features:
4.8-ounce tube
Maximum level of zinc oxide
Prevents and treats diaper rash
Hypoallergenic
Dye-, fragrance-, and paraben-free
Protects up to 12 hours
Best Organic Diaper Rash Cream: Era Organics Diaper Cream
For those looking for an organic option, we recommend Era Organics Diaper Cream. This is a diaper cream based on zinc oxide and also containing soothing organic ingredients that can help relieve burning and itching. These include calendula, aloe vera, chamomile, and rosehip. This cream is non-stinging, which your baby will appreciate! It's gentle enough to use as a preventative cream with each diaper change but strong enough to combat diaper rash if and when it appears.
This diaper rash cream contains no fragrances, dyes, or parabens. It is also cruelty-free, so you can feel good about your choice to purchase it. It can help strengthen skin that has been chafed, making it great not only for the diaper area but also the folds of the neck that can become irritated during warm weather or while the baby is teething and drooling.
Era Organics Diaper Cream Key Features:
2-ounce tub
Contains zinc oxide
Contains organic ingredients
Prevents chapping and chafing
Soothes itching and burning
No fragrances, dyes, or parabens
Cruelty-free
Best Natural Diaper Rash Cream: Burt's Bees Baby Diaper Rash Ointment
Burt's Bees Baby Diaper Rash Ointment made our top pick among natural diaper rash creams. This is a pack of two 3-ounce tubes. Leave one in your diaper bag and the other on your changing table for convenient relief no matter where you find yourself changing your little one's diaper. You can use this ointment to prevent and treat diaper rash.
In addition to the maximum non-prescription levels of zinc oxide, this cream contains natural ingredients that will soothe your baby's delicate skin. These include lavender oil, jojoba oil, and shea butter. The ointment contains no artificial dyes, fragrances, parabens, or SLS, and it is not tested on animals. Pediatricians recommend it for its natural effectiveness and safety.
Burt's Bees Baby Diaper Rash Ointment Key Features:
Two 3-ounce tubes
Prevents and treats diaper rash
Maximum zinc oxide levels
Natural ingredients
No parabens or SLS
Not tested on animals
Who Should Buy Diaper Rash Cream
Any parent of a baby or toddler will likely find that their little one will have a diaper rash at least occasionally. Diaper rash cream is an essential part of the diaper-changing routine, so all parents should have some on hand. Grandparents and other caregivers should also have it available, as some babies need ointment with every diaper change in order to keep diaper rash at bay.
If you know someone who is having a baby, adding a tube or bottle of diaper rash cream to their baby shower gift will surely be appreciated! It will make a particularly cute accompaniment if you are purchasing something like a diaper pail. If you need suggestions, check out our list of the best diaper pails.
Important Features to Consider
When looking for a diaper rash cream for your little one, there are some features you will want to look for and, in some cases, features you'll want to avoid. Here are some things to keep in mind as you decide which product is best for your baby.
Ingredients. You will want to find a diaper rash cream that contains nothing that will irritate your baby's bottom. Choosing one that contains no dyes or fragrances will eliminate most irritants, but if your little one is allergic to common ingredients such as zinc oxide or shea butter, you will need to look for one that does not contain those substances.
Formulation. Do you prefer an ointment or a spray? If you would rather have a cream, decide whether you would like the one that goes on like a lotion or like a thicker paste.
Size. Keep in mind the size of the tube or bottle you buy if you plan on traveling with your diaper rash cream. You'll want something that will fit in the diaper bag easily and that can be included in your airplane carry-on, if applicable. (Are you looking for a new diaper bag? Here's our list of the best diaper bags!) On the other hand, if you are purchasing it for home use, you might want to look for a larger bottle or tub, since it will last longer and you'll need to buy it less frequently.
Scent. While diaper rash creams do not usually contain artificial fragrances, some creams have a strong smell that parents might or might not like. Read the reviews for any product you are considering to see what users have to say about whether the cream smells too strongly.
Frequently Asked Questions
What is diaper rash cream used for?
Diaper rash cream is used to prevent and treat diaper rash. Diaper rash occurs when your baby's delicate skin comes into contact with urine and stool. The acidity and moisture can irritate and redden the skin. Using a diaper rash cream and changing your baby's diaper frequently can help prevent and clear up diaper rash.
How does diaper rash cream work?
Most diaper rash creams work by creating a barrier between your baby's skin and any moisture that her skin comes into contact with. If the diaper rash is infected or caused by a fungus, your pediatrician might prescribe a diaper rash cream that can heal the infection.
Do you put diaper rash cream on every time?
Yes, you can use diaper rash cream every time you change your baby's diaper. After your baby's bath, you might want to leave him diaperless and without diaper cream for a little while to allow his skin to breathe.
How long should it take for diaper rash to clear up?
A diaper rash can take several days to clear up. If your baby's rash isn't getting better after two days with treatment or if it gets worse, contact your pediatrician for advice. In some cases, a prescription cream might be needed.
Other Diaper Rash Creams We Reviewed
We reviewed 20 other diaper rash creams and sprays in addition to the ones described above. While these didn't make our top 5 list, they're still the best of the rest and a great choice for your baby's tushie. You can see the information you'll need to compare them in the Key Features section of each listing.
Diaper Rash Creams and Ointments
A+D Original Diaper Rash Ointment
Lanolin and petrolatum combine to create a barrier that keeps your baby's skin soft, supple, and, most importantly, diaper rash-free.
Key Features:
1 pound tub
Spreads easily
Can also be used on other body parts
Cost: $11
Anti Monkey Butt Baby Diaper Rash Cream
This is a zinc oxide diaper rash ointment that also has calamine powder in it to relieve itching and inflammation as it protects and heals skin.
Key Features:
3 oz tube
Fragrance-free
Relieves itching
Cost: $7
This is a tub of zinc oxide diaper rash cream that prevents and treats rashes. It goes on smoothly and easily to soothe irritated skin.
Key Features:
1 pound tub
Inhibits digestive enzymes
Works in one diaper change
Cost: $13
Made with just six simple ingredients, this diaper rash remedy provides a thick barrier of protection. This ointment is tough on diaper rash and gentle on baby's skin.
Key Features:
4-ounce tube
40 percent zinc oxide
No harsh ingredients
Cost: $7
This zinc oxide formula goes on like a cream and is gentle enough to use with every diaper change. It also wipes off easily.
Key Features:
1 lb tub
Creamy consistency
Creates a moisture barrier
Cost: $13
Dr. Smiths Quick Relief Diaper Rash Ointment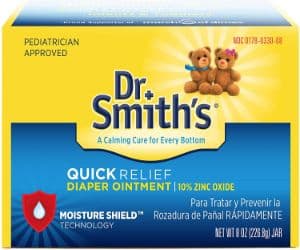 Zinc oxide, beeswax, lanolin, and other gentle ingredients work together to create an easy-to-apply and easy-to-remove cream for your little one's bottom.
Key Features:
8-ounce jar
Pleasant scent
Gentle for daily use
Cost: $18
This is an excellent cream to have on hand because in addition to making quick work of diaper rashes, it will also clear up eczema, acne, and minor scrapes.
Key Features:
4-ounce tube
Contains aloe vera, clove oil, and vitamin E
Has many applications
Cost: $10
TriDerma Stubborn Diaper Rash Healing Cream
This is a non-greasy cream that is a great alternative to heavier ointments. It can be used for various skin reactions and rashes.
Key Features:
4-ounce tube
Contains aloe vera
Great for any type of rash
Cost: $11
Triple Paste Medicated Ointment for Diaper Rash
Your baby will enjoy the soothing effects of this hypoallergenic, gentle medicated ointment. It can be used to both prevent and treat diaper rash.
Key Features:
16-ounce tub
Fragrance-free
Works quickly
Diaper Rash Sprays
This spray heals baby's bottom after she develops diaper rash. It's also great for scrapes and various skin irritations and will promote healing.
Key Features:
3-ounce bottle
Doesn't sting
Heals various skin irritations
Cost: $25
BALM! Baby – Spray That Bottom
This natural, non-toxic, and vegan spray will soothe sore and itchy diaper rash. You can also use it on sunburn, scrapes, rashes, and more.
Key Features:
4-ounce bottle
Witch hazel is first ingredient
Vegan and cruelty-free
Cost: $14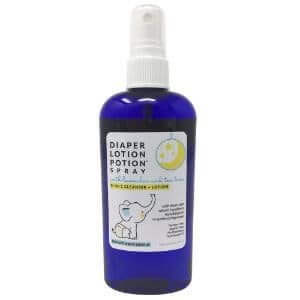 Use this spray at each diaper change to gently clean and protect your little one's tushie. You can use it with a damp or dry soft cloth or leave on the skin.
Key Features:
4-ounce bottle
Cloth diaper safe
Heals and protects
Cost: $8
This is the spray version of the diaper rash ointment reviewed above. Enjoy a no-rub formula that effectively prevents and treats diaper rash.
Key Features:
3.5-ounce bottle
Treats diaper rash quickly
Pleasant scent
Natural and Organic Diaper Rash Creams
This is a plant-based formula containing natural zinc oxide. It is fragrance-free and hypoallergenic, so it will soothe baby's rash without causing additional irritation.
Key Features:
3-ounce tube
Vegan, cruelty-free
Hypoallergenic
Cost: $9
Boudreaux's Butt Paste Diaper Rash Ointment
This is the natural version of the Boudreaux's ointment described above. In addition to zinc oxide, this one has naturally soothing aloe.
Key Features:
4 ounces
Contains aloe
Long-lasting
Cost: $7
Earth Mama Organic Diaper Balm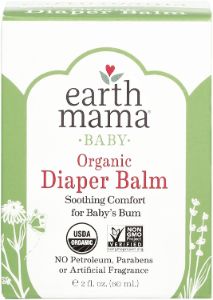 If you live an organic lifestyle, you'll love this 100% organic diaper balm, made with beeswax, herbs, and oils for natural and healthy diaper rash relief.
Key Features:
2-ounce bottle
Contains all organic ingredients
No petrolatum or parabens
Organic olive oil and beeswax are the main ingredients in this cloth-diaper-friendly diaper rash balm. It doesn't contain zinc oxide.
Key Features:
1-ounce container
Cloth diaper safe
Certified organic and cruelty-free
Cost: $11
This natural diaper rash cream prevents, relieves, and heals the irritation and burning that accompanies diaper rash. It is 98% natural.
Key Features:
3.8-ounce tube
Contains natural avocado
Fragrance-free
Cost: $9
NOLEO – 3 in 1 Organic Diaper Care

This is a cleaning lotion with a handy pump top that prevents and relieves diaper rash. Use at every diaper change for soft, comfortable skin.
Key Features:
8-ounce bottle
Made with 5 ingredients
Organic
Cost: $16

This diaper rash ointment is certified natural and soothes the redness and irritation of diaper rash quickly and gently. You can use with each diaper change.
Key Features:
2.8-ounce tube
Certified natural
Works quickly
Cost: $11