When your baby passes their first birthday, most parents' minds start to turn to potty training. No matter whether your kid finds this a breeze or something that takes a little longer, one essential item you'll need to buy is going to be a potty chair. Potty chairs bridge the gap between nappies and a regular toilet. Many kids find the height of a regular toilet intimidating, so having a potty chair within easy reach (at all times!) during potty training is essential.
We reviewed dozens of potty chairs in order to find the best of the best. During our search, we looked at features including how easy each potty was to clean, what age range the potty chair was best suited to, and if it doubled up as a step stool or potty seat.
As our top pick, we selected the Summer My Size Potty Chair. This is designed to look like a miniature toilet, and kids love it! As well as being comfortable designed for kids, it includes a compartment for wet wipes and makes a flushing sound when the handle is pressed.
The 5 Top-Rated Potty Chairs
*Ratings are from Amazon at time of publication and can change 
Best Potty Chair Overall: Summer My Size Potty Chair
As the best overall potty chair, we selected the Summer My Size Potty Chair. If your little one loves the idea of using your full-sized toilet but is a little intimidated, then this is the perfect solution. This potty is designed to look just like your standard toilet – meaning your toddler will instantly feel grown up!
The transition to an adult toilet is made even easier because you can also use the seat from this potty as a topper for your own toilet, keeping things familiar for your child. The removable bowl also means that this is easy to keep clean, and even has a compartment for wipes within the top of the potty. Reviewers love how much easier this potty makes training time – and that's all that matters!
Summer My Size Potty Key Features:
Built-in wipe compartment
Easy to clean
Push handle with flushing sound
Available in 4 colors
Best Portable Potty Chair: BabyBjorn Smart Potty Chair
If you need a portable potty, then the BabyBjorn Smart Potty Chair is a great choice. The Swedish company BabyBjorn has a reputation for intelligently designed products, and its Smart Potty is no different. The compact design is perfect for using on road trips and overnight stays.
The ergonomic design makes it comfortable for children to sit on, while the non-slip base means the feel safe and secure as this potty can't slide around underneath them. The smaller size also means this is an excellent choice for younger kids who are ready to start potty training that little bit earlier!
BabyBjorn Smart Potty Key Features:
Easy to clean and empty
Choose from 10 colors
BPA and PVC free
Seat features splash guard
Best Budget Potty Chair: IKEA Lilla Children's Potty Chair
IKEA is famous for creating clever designs on a budget, and the IKEA Lilla Potty Chair is another winner. This incredibly lightweight potty chair is a great budget choice, perfect as a spare, or to leave at the grandparent's house! It certainly doesn't have any bells or whistles, but it easy to clean even without a removable inner.
This is an excellent choice for smaller children, and reviewers love how lightweight it is. Plenty of people keep this in the trunk of their car for emergency potty training stops, or when staying at overnight stops when traveling with small kids.
IKEA Lilla Potty Chair Key Features:
Anti-slip base
Easy to clean
Lightweight
Available in one color
Best Potty Seat for Toilets: Jools Potty Training Seat
As the best potty seat for use on a standard size toilet, we recommend the Jools Potty Training Seat. This seat can easily be placed over your toilet, allowing your toddler to feel safe and secure. The non-slip base keeps this seat securely in place. Afterward, it can be hung up on the handy storage hook.
The shape of this potty seat suits most oval and round toilet seats, making this a great choice to take with you when traveling. The splash guard at the front helps to keep your floors clean, and this seat is just as easy to clean as your standard toilet.
Jools Potty Training Seat Key Features:
Choose from 2 colors
Non-slip base
Includes storage hook
Lifetime warranty
Best Musical Potty Chair: Fisher Price Royal Stepstool Potty
If you think a musical reward will do the trick for your child when potty training, then the Fisher Price Stepstool Potty is highly recommended! This 3-in-1 potty chair can also be used as a step stool and a potty seat. There's a sensor within the bowl of this potty, and it plays one of four different tunes to keep your kid entertained and rewarded at potty time!
You can also choose to use this without the tunes, although reviewers mention that a lot of kids enjoy the motivation of knowing they're going to be played a special song. The removable bowl makes this easy to clean, and the fact that it doubles up as both as a step stool and potty seat mean that's two fewer things to buy!
Fisher Price Royal Stepstool Potty Key Features:
Choose from 2 colors
Removable bowl for easy cleaning
Side handles for security
Plays four tunes
Who Should Buy a Potty Chair
If you're the parent of a new baby, you'll find the list of items you need to purchase just keeps on getting longer as your baby grows up! While things like potty training and transitioning to a toddler bed might seem far away while your baby is small, it soon comes around pretty quickly!
Potty chairs are a great way of getting your child used to using the toilet instead of wearing a nappy. Grandparents often also choose to add a potty chair or seat to their bathrooms, which can make family visits easier for everyone when it comes time for potty training!
Important Features to Consider
A potty chair should do several things well. Here's what to consider when selecting the best potty chair for your toddler:
Ease of cleaning. This is a pretty important one! You'll be cleaning your kid's potty chair a lot, so look out for one that has a removable inner or is a smaller size for use when traveling. You can also get potty chair liners.
Size. Smaller toddlers, such as when starting potty training, will often feel more comfortable with a smaller potty chair that keeps them feeling secure and close to the ground. Potty seats are great as they get a little bit bigger and more confident.
Additional extras. Some potty chairs have a sensor that plays music as your kid goes to the toilet, others have fun features such as handles that make a flushing noise when pressed. If your kid loves things like this, then it can be a great incentive to get them to use their potty chair.
Frequently Asked Questions
Is a potty chair or seat better?
This depends on the age of your kid, as well as how happy they feel about climbing up to use a standard sized toilet. Potty chairs ate great because they're small and sit at ground level, so toddlers can feel less intimidated when using them. The main disadvantage, of course, is that they need emptying out every time your kid uses them!
Potty seats attach to your existing toilet, which is great for getting your kid used to using a standard-sized toilet as they grow up. They don't need additional cleaning, but you'll need a step-stool so your kid can climb up there, and have somewhere to rest their feet. A lot of families, including mine, end up with both types!
When should I buy a potty chair?
As soon as you think your child is ready to begin potty training, which can start from any age from 18 months to three years. Girls are usually ready to start potty training a little earlier than boys, but as we all know, each child will take it at their own pace. It's a good idea to start looking at potties as your child reaches around a year old, so you've got everything you need on hand.
How do you clean a potty chair after pooping?
This has the potential to be a messy job, but there are a few things you can do to make it easier! It's a good idea to add a little water into the potty bowl before your kid has to use it. This makes cleaning out poop a bit easier! Tip out what you can into your toilet bowl, then use toilet paper to clean out the rest if necessary. Use a 10% bleach solution to clean the potty, and leave on to soak for 10 minutes before rinsing with soapy, hot water. Don't use bathroom cleaners designed for ceramics or porcelain, as these can be too harsh for plastic potties.
Do I need a potty to toilet train?
While it's not essential to have a potty chair, it's definitely a good idea. Either way, you'll definitely need a potty seat for the toilet so your child feels secure when sitting up there. Potty chairs are excellent for keeping close at hand, as sometimes you won't get much notice before your kid needs to go… right now!
Other Potty Chairs We Reviewed
We also looked at 20 other potty chairs. Even though they didn't make our 5 best potty chairs list, they're the best of the rest and each is still a great choice for your toddler. The details you'll need to compare each one is included with the listing.
Portable Potty Chairs
Babyloo 2-in-1 Travel Potty Chair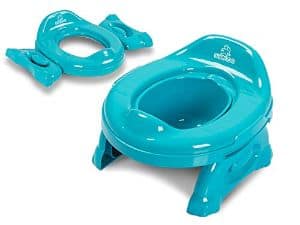 This lightweight potty chair can also be used as a potty seat, so it's perfect for traveling light.
Key Features:
Non-skid base
Compact
Choose from 5 colors
Cost: $20
This cute potty is extremely compact and comes with a carry handle for easy portability.
Key Features:
Watertight seal
Removable inner
Available in 2 colors
Cost: $30
OXO Tot 2-in-1 Go Potty for Travel
This portable potty is designed for use with disposable liners, or it can also be used as a potty seat.
Key Features:
Choose from 4 colors
Folding legs for compact storage
Quick to setup
Cost: $20
The First Years Minnie Mouse 3-in-1 Potty Chair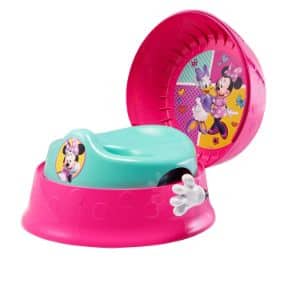 This compact potty chair can also double up as a step stool, and potty seat.
Key Features:
Plays sound when handle is pushed
Includes stickers
Can be used with Share the Smiles app
Cost: $25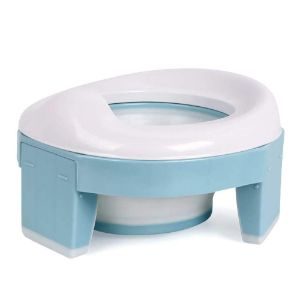 This portable potty chair is easy to clean, and by folding the legs outwards, it can also be used as a potty seat.
Key Features:
Includes removable and collapsible inner potty
Non-slip base
Lightweight
Potty Seats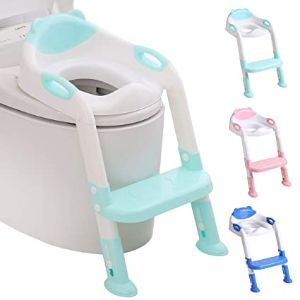 This adjustable height potty training seat includes a padded seat for comfort.
Key Features:
Comfortable side handles
Anti-slip base
Choose from 3 colors
Cost: $30
Gimars Portable Potty Training Seat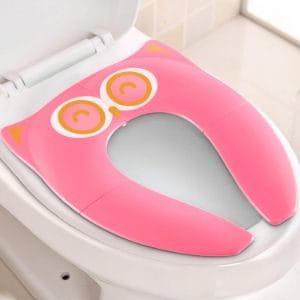 This plastic seat folds up incredibly small and is a great option when traveling with limited luggage space.
Key Features:
Choose from 3 designs
Non-slip base
Fits most standard toilets
Cost: $14
Jool Baby Products Folding Travel Potty Seat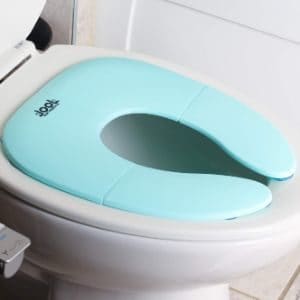 This folding potty seat uses suction cups on the base to ensure a secure and non-slip seat for your toddler.
Key Features:
BPA free materials
Includes travel bag
Choose from 2 colors
Cost: $15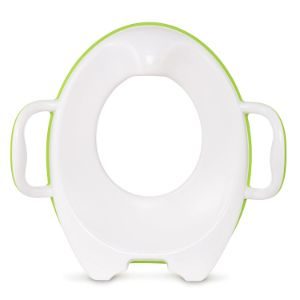 This sturdy potty seat is great for everyday use at home and has grab handles on either side for extra security.
Key Features:
Choose from 2 colors
Non-slip base
Contoured seat for comfort
Cost: $10
Nickelodeon "Calling All Pups" Soft Potty Seat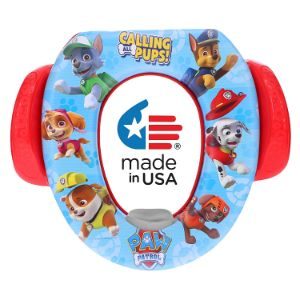 This soft and comfortable potty seat is perfect for Paw Patrol fans, but also comes in a huge range of other designs!
Key Features:
Comfortable grip handles
Choose from 15 designs
Wipe clean
Musical Potty Chairs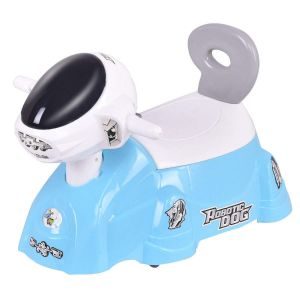 This cute robotic dog style potty chair might just be what your toddler needs to give potty training a go!
Key Features:
Removable potty inner
Activate music by pressing dog's ear
Can also be used as a ride-on
Cost: $36
Fisher Price Learn to Flush Potty Chair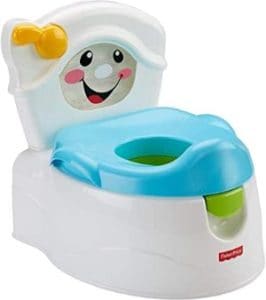 This musical potty chair includes potty sounds, music, lights, and a moving picture on the back!
Key Features:
Comfortable grab handles
Can be used as a potty seat
Easy to clean
Cost: $30
Fisher Price Thomas & Friends Railroad Rewards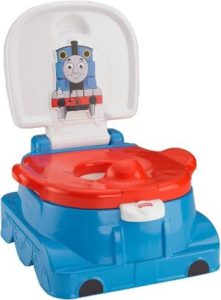 This potty chair includes engaging train sounds as well as a tune that plays as your child uses the potty.
Key Features:
Easy to clean
Converts to step stool and potty seat
Removable inner tray
Cost: $35
Nickelodeon Team Skye Deluxe Potty Seat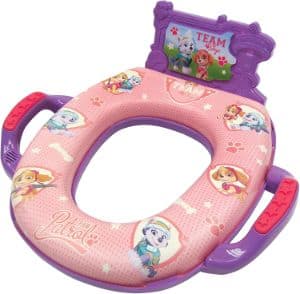 The built-in speaker on the back of this potty seat plays 3 different songs when your child activates it by gripping the handles.
Key Features:
Soft padded seat
Fits most standard toilet seats
Easy to clean
Cost: $24
Teamson Kids Musical Potty Chair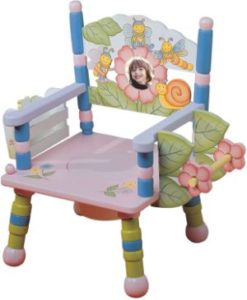 This wooden, garden-themed potty chair includes a lullaby you can activate by pulling the string.
Key Features:
Includes toilet paper holder
Non-toxic paint
Picture frame holder on the back
Other Potty Chairs
AISMEE Potty Training Toilet Seat
This chunky potty seat incorporates a step stool ladder for extra security.
Key Features:
Wide, anti-slip step
Ergonomic design
Choose from 2 colors
Cost: $37
DuDuEase Potty Training Toilet Seat
The upgraded version of this potty seat includes a comfortable and ergonomically designed padded seat.
Key Features:
Foldable design
Anti-slip base
Available in 5 colors
Cost: $36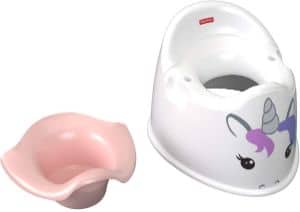 If your toddler loves unicorns, the this potty chair is a must!
Key Features:
Includes side handles
Easy to clean
Handle on back for portability
Cost: $22
The First Years Minnie Mouse Potty Chair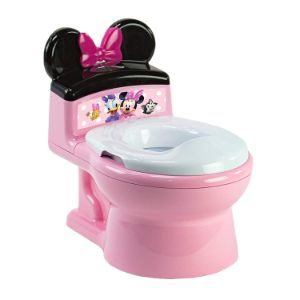 This cute mini-toilet style potty chair is also available in Mickey Mouse and Paw Patrol designs.
Key Features:
Can be used with Share the Smiles app
Includes flushing sound effects
Easy to clean
Cost: $30
The First Years Training Wheels Racer Potty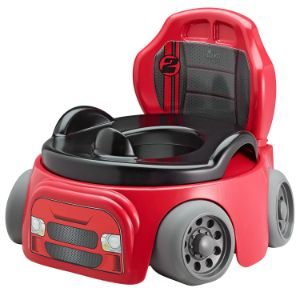 The fun racing car design on this potty chair is sure to appeal to kids who love race cars.
Key Features:
Can be used as potty seat
Easy to clean
Supportive backrest
Cost: $16